Content marketing is a long-term marketing strategy that you can have for your business. When you create a piece of content, it will be there for your audiences and customers to read and view. 
If you are working on social media content, the content lifespan might be shorter. This is because social media is created to constantly have new content so their users can have new contents to browse through all time. 
However, if you are working on a content marketing strategy, your content will work for you to create brand awareness and build followers for your business. 
Although the process of creating content can be challenging and takes time, it can be rewarding and very lucrative for your business in the long run.
If you are looking to start content marketing for your business but are not sure where to start, continue reading. 
Today, we are going to share how to start and be successful in your content marketing campaign without wasting your time and effort. 
What is Content Marketing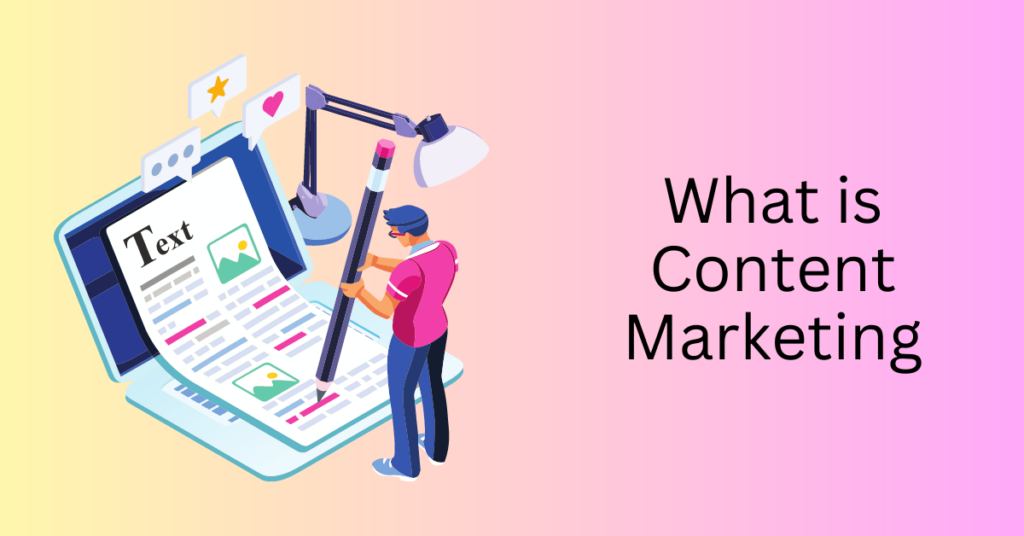 Content marketing is a strategic marketing approach that involves creating and distributing valuable, relevant, and consistent content to attract and engage a target audience. The primary goal of content marketing is to build and maintain a loyal customer base by providing valuable information and solutions to their needs and interests. 
This approach is different from traditional advertising, as it focuses on delivering content that educates, entertains, or informs rather than directly promoting a product or service.
Content marketing helps to build organic relationships with your audience and potential customers by providing value to them. And at the same time, your content is identified as the authority in your niche. This will help to grow trust for your customers.
Differing from other paid or traditional marketing, all content is created with a goal to create brand awareness and get sales for your business. In your content, you focus on providing value to your customers to build a reputation. And for the sales part, you can embed your landing page link in your content and direct your audiences to your landing page to get sales. All the sales processes will start on the landing page. 
Key Components of Content Marketing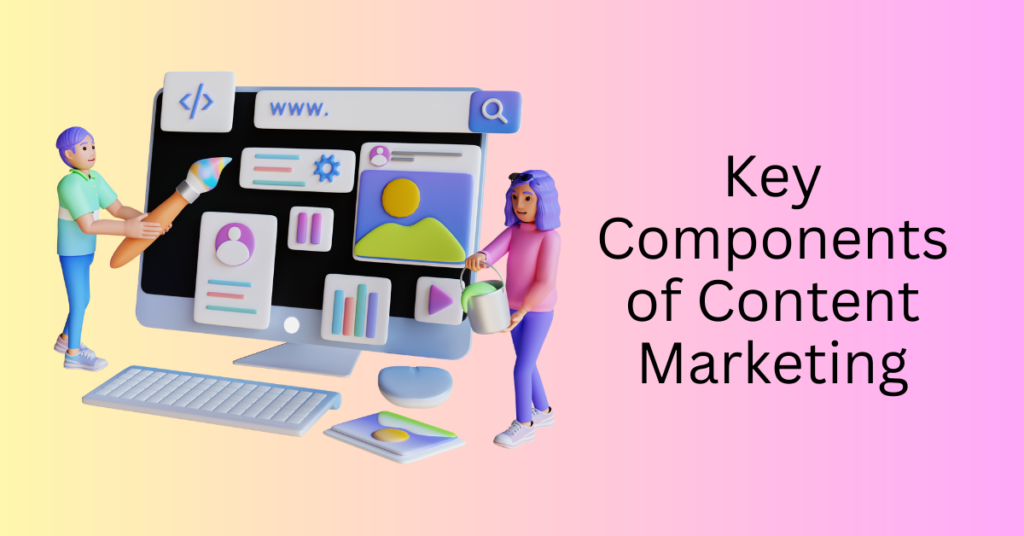 To run a successful content marketing campaign, you need to first understand the different components of content marketing. 
1 . Understand Your Audience
Before starting your content planning, you need to first understand who you want to write for. Only by understanding your target audience, you can create targeted content that can resonate with them better.
To do this, you need to first identify your dream customers based on their demographics, interests, and behaviour. Then, segmentize them and create different contents that are suitable for them.
2. Content Creation
Content marketing starts with creating different content around your business and niche to build a reputation for your business. This involves creating different types of content, such as articles, blog posts, videos, infographics, podcasts, ebooks, social media posts, and more. 
The content produced should be high-quality, relevant, and tailored to the preferences and needs of the target audience.
3. Content Distribution Channel
Once the content is created, it needs to be distributed through appropriate channels. It can be through your website, social media platforms, email newsletters, guest posting on other websites, and other platforms that your target audiences are.
The Benefits of Content Marketing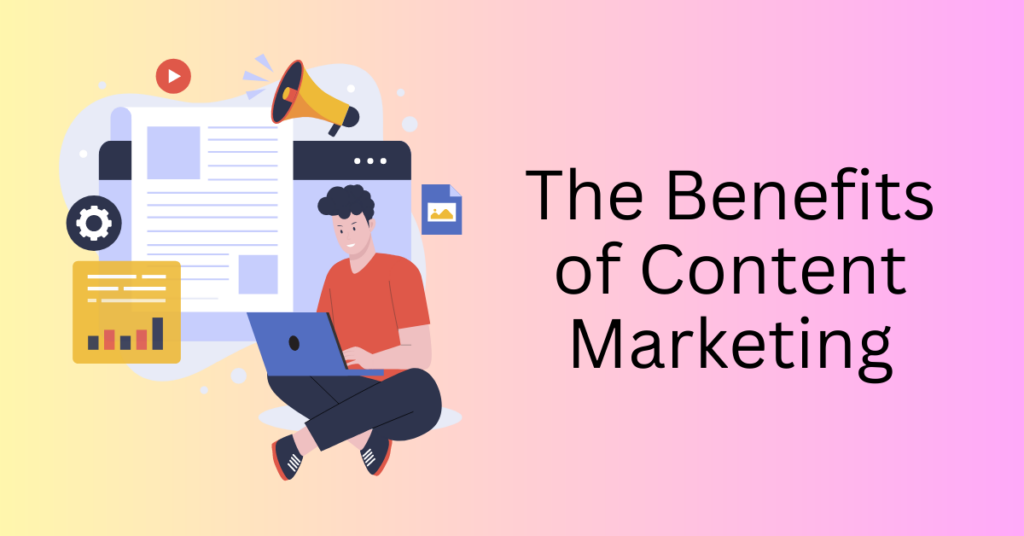 Content marketing offers numerous benefits for businesses and brands. First and foremost, it helps to build brand awareness and credibility. By consistently providing valuable and relevant content to the target audience, you can position yourself as an industry leader and expert.
This, in turn, boosts trust and loyalty among customers, leading to increased brand recognition and a positive reputation. When people find value in the content shared by you, they are more likely to engage with it and share it with others. 
Secondly, content marketing is a powerful tool for lead generation and customer acquisition. By creating content that addresses the pain points and interests of potential customers, businesses can attract and engage their target audience.
Content marketing also plays a crucial role in guiding prospects through the buyer's journey, nurturing leads, and eventually converting them into paying customers. By using different types of content for different stages of the customer's decision-making process, businesses can provide the information and support needed to make informed choices.
Content marketing contributes to a more cost-effective and sustainable marketing strategy that establishes lasting connections with customers and drives business growth.
Challenges of Content Marketing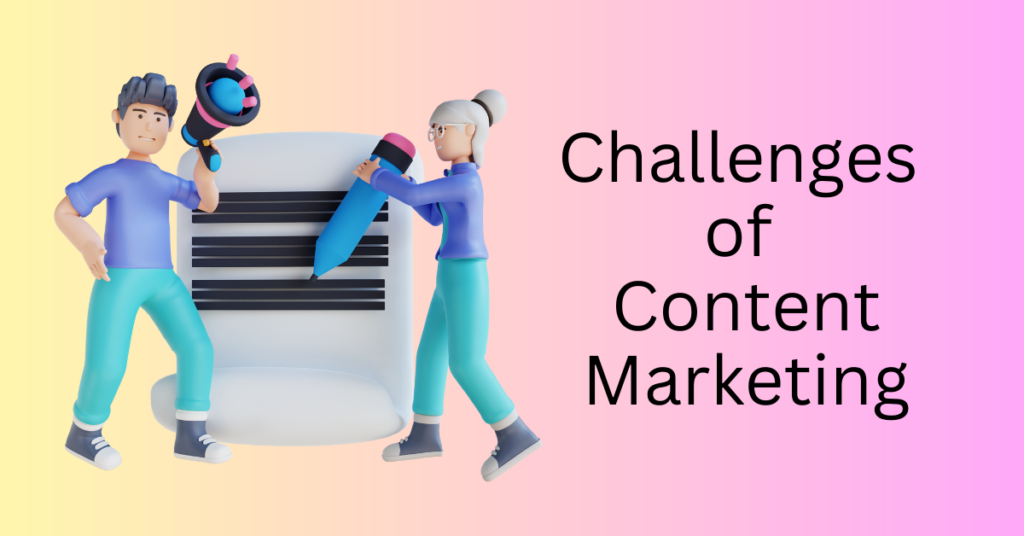 While the concept of content marketing seems simple, there are many obstacles that you will face on the journey. For example, content marketing is a long-term effort for growth. The end results might be good, but you don't know how it goes when you are building it. 
And therefore, you will be facing stress to create more content when there are not enough measurable results that you can see in the beginning. At the same time, it takes a huge effort to think of what content to produce and actually produce it. 
This is a boring process that you definitely won't like when you are doing it. But if doing all this can bring you five to six-figure monthly revenue for your business, why not. And when you are earning enough, just hire different content creators to do it for you. 
And you will be focusing on the strategy part of your business. 
How to Start Content Marketing For Your Business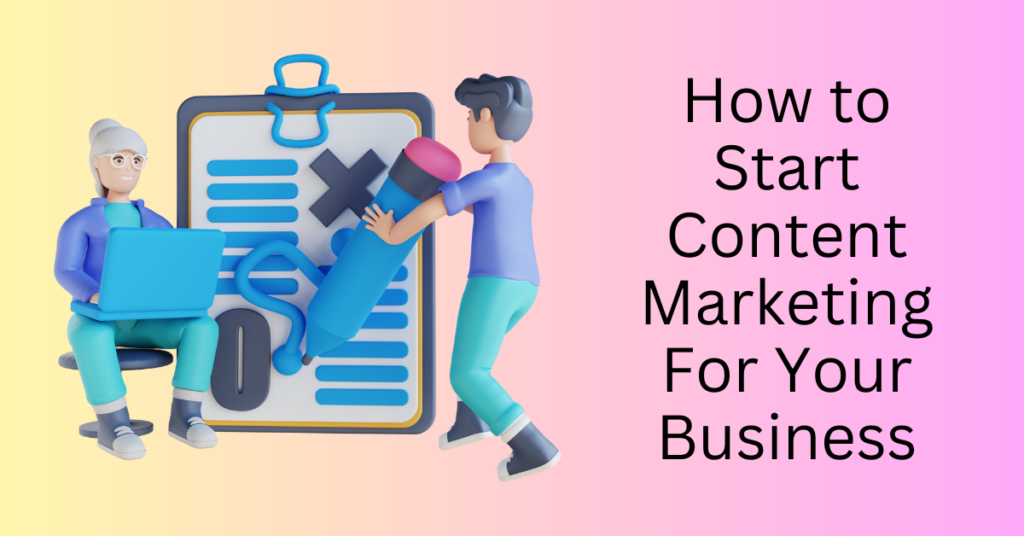 To implement a successful content marketing strategy for your business, you will need to follow a clear and proven plan. You need to know the goal for your content marketing and create a dedicated plan for each goal.
Let's go on for the step-by-step guide on how to start content marketing for your business. 
1. Set Your Goals
Before you start working on your content, you need to have a clear goal of what you want to achieve for your content marketing effort.
You can use content marketing to create brand awareness, get rank organically to get traffic to your landing page or even lead generation.
Then, set a very specific goal for your content and map out your content plan to drive your audiences towards the goal. For example, if you are creating a piece of content for brand awareness, then it should be a more generic topic where most people will get value from it. 
And if you're building the content for lead generation, then you can have some CTA links embedded in your content to direct them to your sign-up form or landing page to collect their contact details. 
2. Create Your Dream Customer Avatar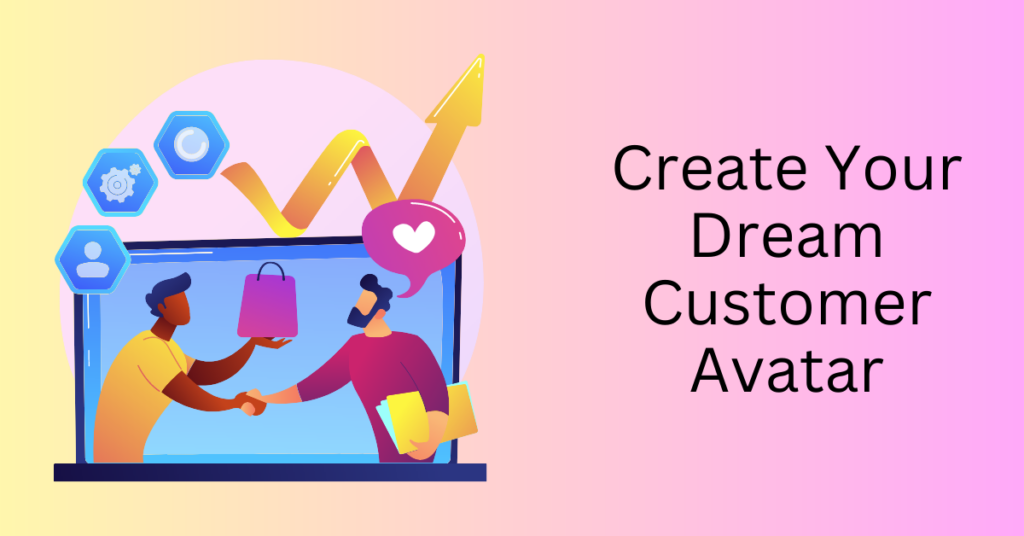 Once you have identified your goal, it's time to determine who your audience is. This is the most important step in preparing for your content marketing.
This is because audiences of different ages, sex and interests will resonate with different types of content. And since there are so many different contents on the internet, people will not read your content if it's not relevant to them. 
To overcome this, you need to create your dream customer avatar. A dream customer avatar is how you visualise your target audience for your business. And you want to have as much information about your dream customer as possible to create a more accurate customer avatar.
And your work does not stop here. From your dream customer avatar, you may further segmentize them. This is so that rather than generic content, you can create more targeted content for different groups of audiences. 
3. Market & Competition Research
To start content marketing, you need to know the latest trend in your industry. This means researching the popular keywords and seeing what your competitors are doing. 
Look at their content and see which type of content they are producing. Whether it is text, image or video-based content. And also, are they using a blog, social media or other platforms to distribute their content? 
Your competitors are your best teachers. Get a list of your top 10 competitors and create a scrapbook on what they are doing. And then, learn from them and create similar but better content to convert your customers.
4. Determine Your Marketing Approach
Your content doesn't matter. People will not be there monitoring what you are constantly posting. You can publish the same piece of content but with a different title and format to see whether it converts better. 
And of course, for your content marketing, you can use different strategies to get more views for your content.
If you are going for the organic ways, then it would be creating more high-quality content more often. Next, do keyword research and optimise your content around it so that it can rank higher on the search engine organically. 
There is nothing more important than getting ranked top on the search engine result pages (SERPs) if you are going for the organic way. When your contents rank on the top of the SERP, you can expect a good amount of traffic to your content. 
However, it takes time for your content to rank.
So, if you would like to cut short the journey, you may go for the paid ways to promote your content. This means paying for display ad campaigns to show your content to more relevant audiences. 
To do this, you can buy ads on different platforms like Google ads, Facebook ads, YouTube ads, solo ads or collaborating with influencers to promote your content. The good thing about paid traffic is that you will get traffic to your content once you start running the ads.
However, be very careful because you would want high-quality traffic that you can convert into customers. And at the same time, not losing money on the ad cost. 
Either approach you are going to take, the key is still providing value in your content so that your target customers can reach your content, become your leads and eventually be your paying customers. 
5. Choose a CMS Platform
Now you will need a place where you can manage and distribute your content. There are many different content management system (CMS) platforms that you can use to run your blog.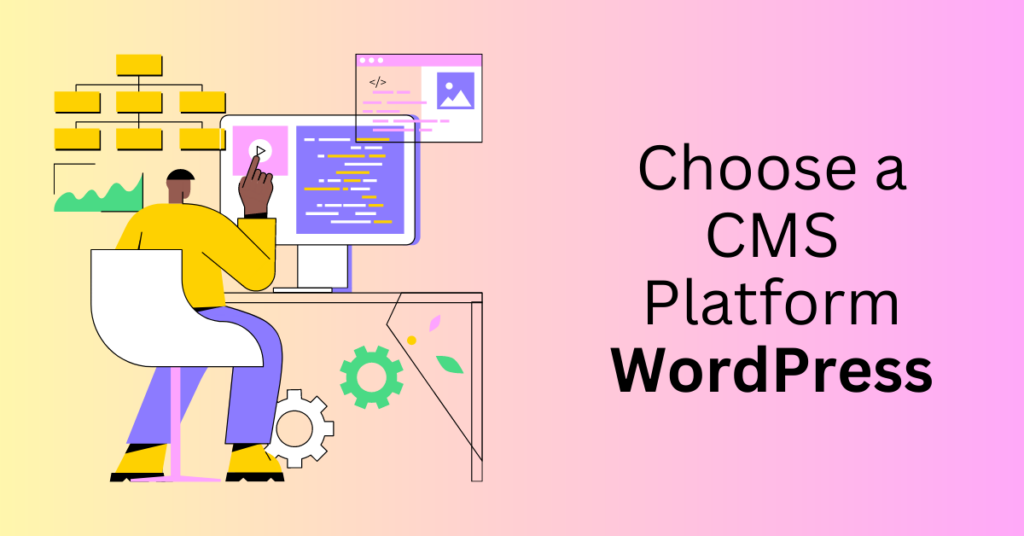 But we recommend using WordPress. WordPress is a user-friendly and easy-to-use platform where you can create and manage your content easily. 
There are no experience or technical skills required to start a WordPress website. All you need to do is to follow our WordPress Website Guide. And you will have your WordPress website launched in no time. 
Start Your WordPress Website with Bluehost Hosting – Exclusive Offer Available
6. Create a Content Calendar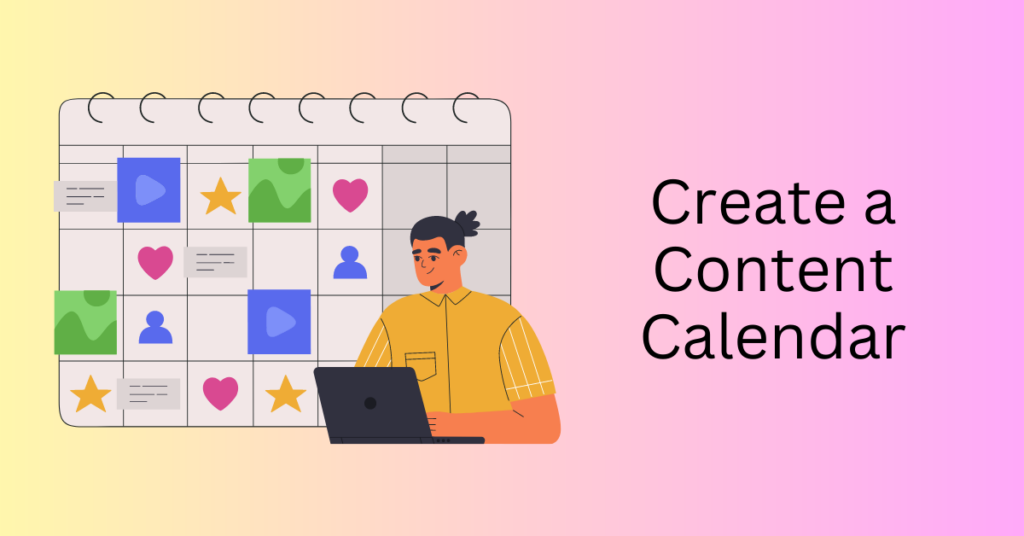 When you are creating your content online, consistency is important. Your audiences and the platforms will expect your content to be consistent. And for best cases, they are in fact waiting for your content to be published every week. 
If you are aware, the time of publishing your content will affect how the platforms show your content to your audiences. And this is why you will need to create a content calendar and make sure you follow it to get the most out of your content marketing. 
To create a content calendar, you can start by planning content ideas that align with your brand identity. Then, fill in the content type in your marketing plan. For example, if your content calendar is designed to post three times a week. Then, you can set the first post to be a general post, the second post to be reviewed and the third post to be a tutorial post. 
And do some research on the content posting time to see when is the best posting time for each social media platform. Some reports say that Tuesday, Wednesday and Thursday are the most effective days of the week. But do remember to always look at your own data to determine which is the best time for your posting. 
7. Produce Different Types of Content
Different audiences will engage with different content. And you will need to understand your customers to produce the best content for them.
In this part, I would separate it into two main parts.
Audiences in Different Stages of Your Sales Funnel
When you are engaging with your audiences, not everyone is in the same stage of the sales funnel. And the engagement level and messages for audiences in each stage of the sales funnel will also need to be different.
In general, there are four stages in the sales funnel. Awareness, Interest, Desire, and Action.
You don't send an offer to people in the awareness stage. They are not ready and less likely to buy from you. But instead, if you send an offer to audiences in the Action stage, they are more likely to buy.
By segmenting your audiences, you can create the right content for audiences in different stages of the sales funnel.
Different Types of Contents for Your Content Marketing
There are different contents that you can create for your audiences. And ideally, all contents lead to one goal, to close the deal.
And for your content, you can create a blog post, social media post, image or video. No matter what type of content you produce, remember to always align your content with your plan. 
You will need different content across different platforms. And even for social media platforms, there are different format requirements for different platforms. Understand the platform's requirements and repurpose your content to match the requirements of each platform. 
The tip for creating more content is to repurpose your one piece of content for different platforms. For example, if you are recording your YouTube video. You can cut the video into smaller video clips to be used for your Reels, Stories and TikTok video. Not only that, you can have the video transcribed to be your blog post and social media post.
And ultimately, you can also add some detailed info or guide into the content to make it a webinar script. 
No matter which formats you use, you need to always understand the platforms that you are using. And then, customize your content format based on the platform's requirements. Finally, ensure there is a clear call to action (CTA) in your content. This is so that your audiences will know exactly what you want them to do. It can be signing up to your email list, registering for your upcoming webinar or visiting your landing page to buy something. 
8. Nurture Your Leads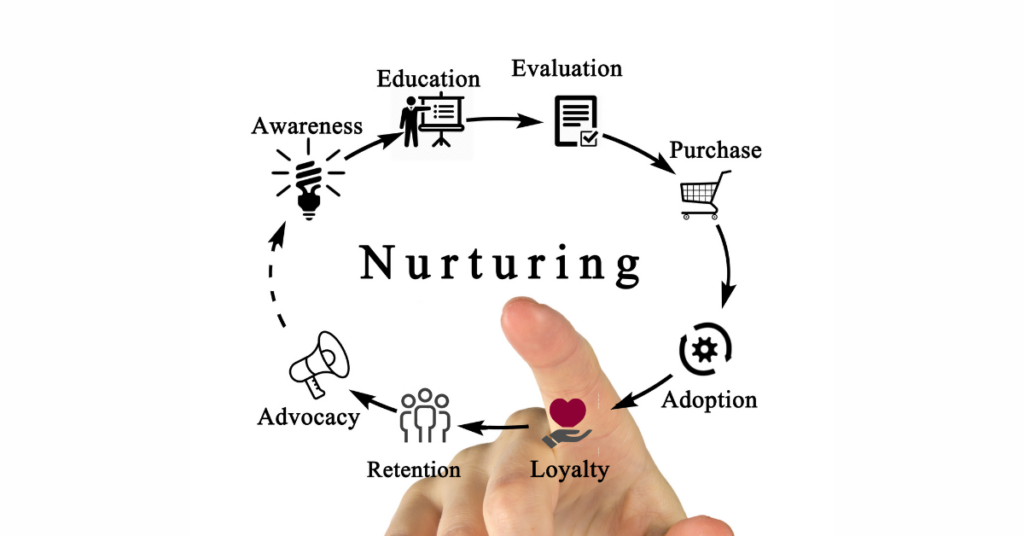 Getting your content out and collecting leads is just the first step of your marketing plan. Your leads will eventually stay as a lead or leave your list if you don't nurture them. They need something to motivate them to turn from a lead to a buyer. 
For this, you will need to follow up with them via emails or other methods like Messengers. When you are sending them emails, you can build your reputation by providing value in your emails. Not only that, you can also design different email sequences to promote your products or services. 
For example, you can write a 5-day epiphany bridge email sequence to promote your products. The email sequence will start by explaining your backstory and the obstacles you faced. Then, how you find the solution to solve the problems and the transformation you have that make you what you are today. 
9. Set up tracking and analytics
For all marketing campaigns that you do, you want to be able to measure the results from your work. To do this, you can use Google Analytics to evaluate your WordPress website content's performance. 
You can see which traffic source works well, and which content is getting more traffic. And when you get to know which content is working, you can then analyze and create similar content. 
After you get all your analytics data ready, it's time to see which strategy should you be focusing on to increase your ROI. Your ultimate is still to increase your revenue and get more traffic and customers to your website daily. 
You can focus on a few important metrics like engagement rate, conversion rate, subscriber growth rate and of course sales metrics to see which strategy and content works best.
Final thoughts: Get Started With Content Marketing
Content marketing is a long-term marketing strategy that takes time to see results. If you are not paying for ads to promote your content, chances are it will take a longer time for your content to get traction. 
If you would like to start your content marketing campaign today, you can follow our proven 9-step strategies to get success in your business. 
Start Your WordPress Website with Bluehost Hosting – Exclusive Offer Available