Etsy is one of the biggest online marketplaces in the world after Amazon and eBay. With more than 95 million active buyers, there are huge opportunities to sell your own products on Etsy.
Etsy is different from other marketplaces as they position themselves differently. Etsy is a marketplace that focuses on handmade, vintage, custom, and unique gifts. Due to this uniqueness, Etsy has been growing for the past decade. 
Looking at this, it is a huge opportunity for small sellers to build a business on Etsy. Selling on Etsy means you don't need to build and design your own eCommerce store. Instead, you just sign up for a seller account on Etsy and then, upload your product to start selling.
While it seems easy to start, the truth is, there are skills required to build a successful business on Etsy. And today, we will be sharing a step-by-step guide on how to sell on Etsy.
Start Building Your E-commerce Site With Shopify
How To Start Your Business and Sell On Etsy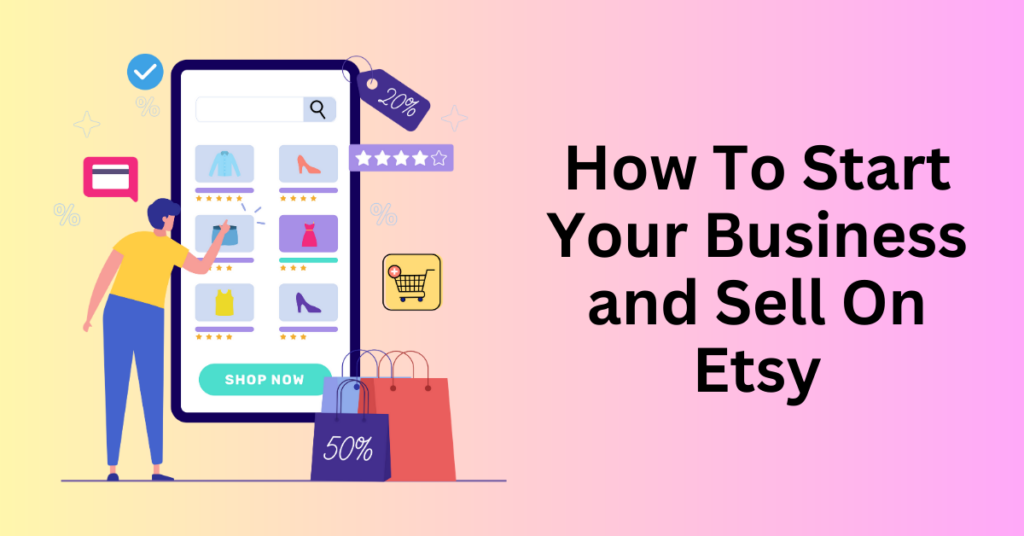 If you are just starting your first business online, follow our step-by-step guide and you will get your store launched and live in no time. First of all, assume that you already identified the product you want to sell and who is your dream customer, we will focus on setting up your Etsy store here.
Let's start.
1. Create an Etsy Seller account
First of all, you will need to register for an Etsy seller account. It is free to create an account on Etsy All you need to do is to visit Etsy.com and click Get Started.
Follow the guide and complete the registration form to create your account. Once your account is created, you will be redirected to your Etsy shop dashboard.
2. Setup Your Etsy Store to Sell on Etsy
Now, it's time to set your shop preference. This will include your shop language, the country you are selling from and the currency your store is operating. This is important because, for your Etsy store, it will translate your store to a different language based on the visitor's country language.
Next, you will need to enter your shop name. It can be a combination of letters and numbers, but no spaces are allowed. It is very important that you choose a shop name that is memorable and related to your niche.
If you have no idea what name to start, you can get some inspiration from a business name generator. Then, you may also use namechk to check whether the business name is available across different platforms like different social media and domain names.
3. Upload Your First Product to Sell on Etsy
As you already set up the basic setting of your Etsy shop, it's time to upload your first product and start selling. 
To do this, you need to create a listing. From the left sidebar, choose the "Listings" option, and then on the top right, click on the "Add a Listing" button. Then, you will need to tell Etsy whether is it a physical item or a digital file and whether are you making the product.
Create Your Listings
When you are creating a new listing on Etsy, there are a few important factors that will affect your listing.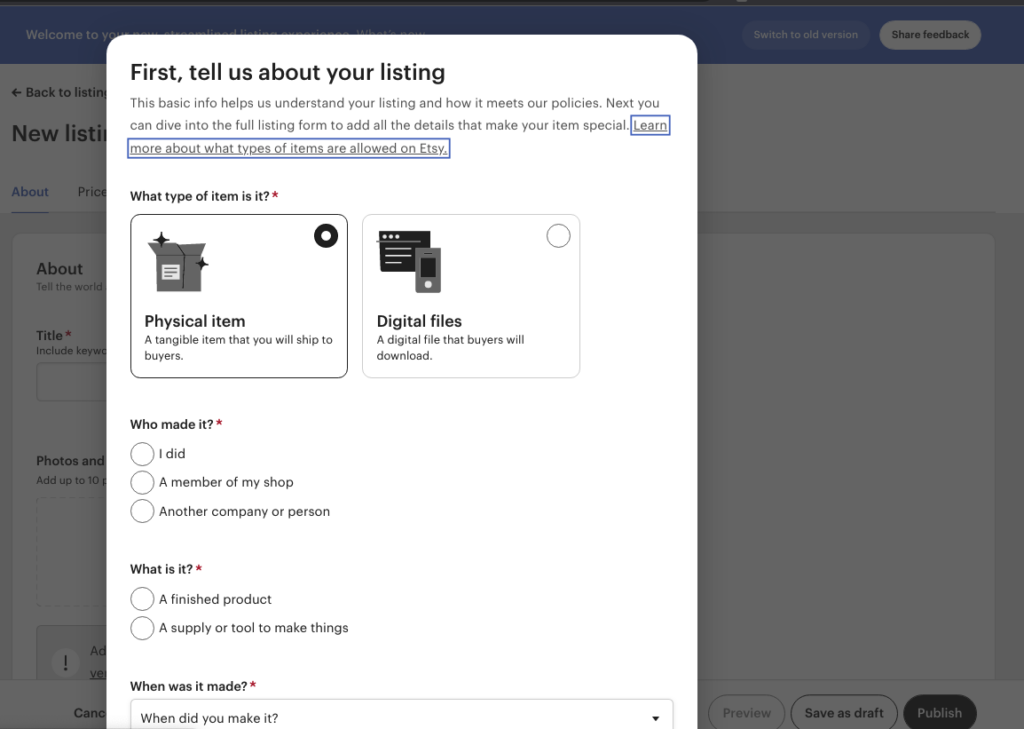 First and foremost, it is your product images and videos. While it is not mandatory to have a video for your listing, it does give a better visualization of how your product looks and works with a video.
However, if you are only using product images for your listing, make sure that it is high quality and clearly show your product and how it works. 
This is very important as your customers can't touch, smell or see the product in person. Their buying decision will be solely based on what they see in your product image.
Setting for Your Listings
On Etsy, you can add up to 10 images and one video for each listing. Make sure you fully utilize it as this is the only chance to persuade them to purchase.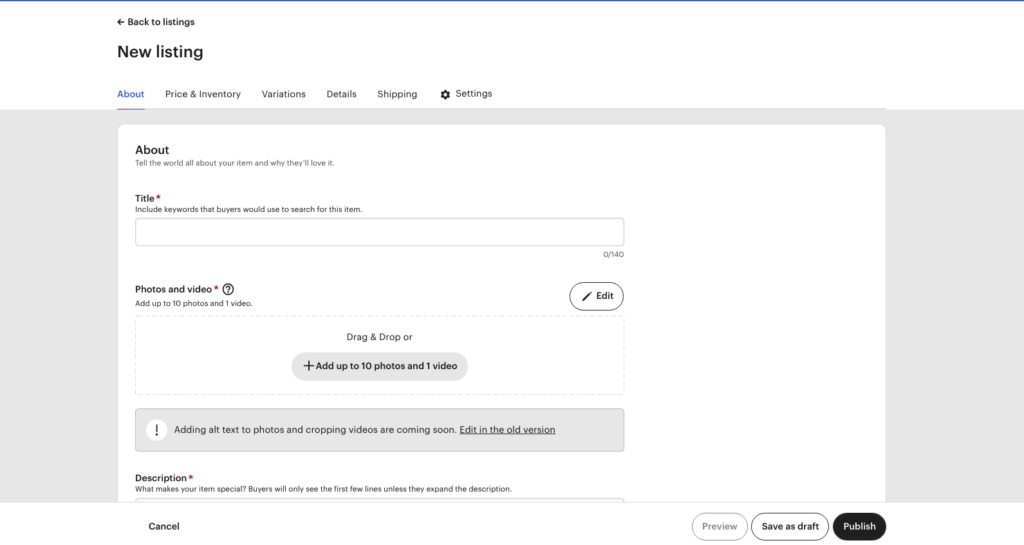 Then, you will need to fill in other product information like your product title, description, category, attributes, price, quantity available, shipping profile and other information.
When you are filling up your product title, description and tags, it is very crucial to remember how Etsy works in showing your product listing in the search results. There are so many different products in the same category and there is an algorithm for Etsy to determine which product comes first in the search result. 
And we call this Etsy SEO. You will need to research the keywords and optimize your listings to appear at the top of the search results. 
Then, set your price, quantity and SKU. Remember to calculate your cost well and consider all the Etsy costs and fees to avoid losing money.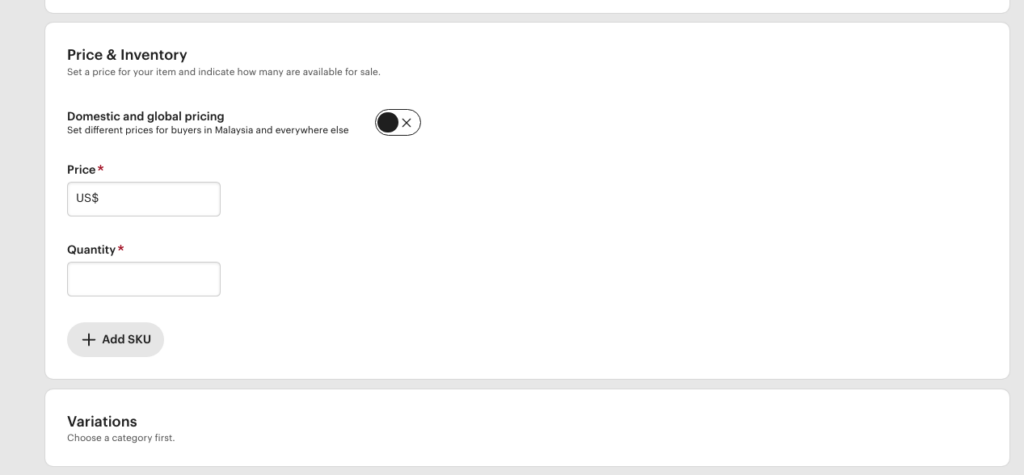 Finally, create your shipping profile to tell your customer where you are shipping from and what is the estimated processing and shipping time for the item. And of course, the important part will be how you charge for the shipping cost. Will there be free shipping, fixed shipping cost or expedited shipping options available?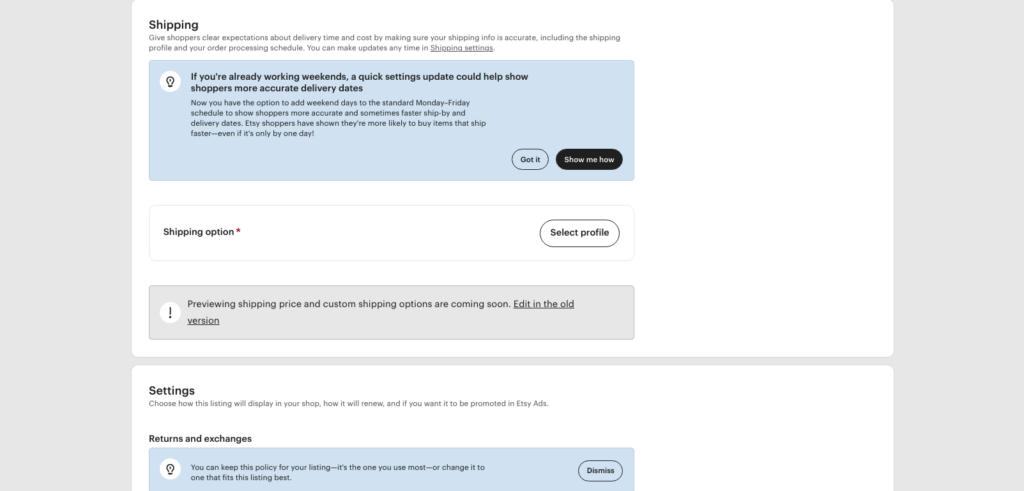 When you are starting out, we recommend having a least 10 listings uploaded. This is to show your customers that your Etsy store is not empty and that feel sceptical about buying from you. 
Do a quick check of your listings to ensure everything is perfect before publishing. You want to show a professional store to your customers. And don't let a small mistake affect your store performance.
4. Payment Method
When selling on Etsy, your customer will be paying Etsy first and Etsy will pay you once you reach a threshold amount.
Here, you need to select whether you're an individual seller or an incorporated business. Then, enter your personal information like name and address. And finally, enter the details of the bank account you want your Etsy revenue paid into.
5. Set up Etsy billing to Sell on Etsy
While it's free to set up an account on Etsy, there will be some costs for running your business on Etsy. If your earnings are not enough to cover the cost, you will need to pay Etsy to publish your listings and open your storefront. 
6. Customize your Etsy storefront to Sell on Etsy
When selling on Etsy, you don't get to customize the overall design of your storefront. You will need to stick to the Etsy store design.
However, there is still something you can customize to add some branding and personalization to your store.
Here's what you can customize for your storefront.
Profile and banner photo. You can have your business logo and a banner showing what you sell on your Etsy store. The banner will appear at the top centre when people visit your store. If you have any promotions or the latest collections, you can update your banner photo as well.
Create a user profile. There is no relationship between a website or business with your customer. They are more willing to deal with humans. You can create a virtual salesperson and put a face to the products you're selling through the marketplace. This will create a different experience for your customers.
The background story for your store. People like to read stories and it's how people can relate to your business. When you have a story to tell, it will be easier for them to resonate with your business. Tell them about the background of your store and why should they buy from you.
Shop policies. One of the headaches when running a business will be having a dispute with your customers. By having clear policies for delivery, payments, privacy, exchange and policy, you can avoid some of these cases as you already notify them before they buy it. This will lead to less hassle in dealing with customer service issues.
How Much Required To Sell On Etsy?
There are no upfront costs for selling on Etsy. You just need to manage your inventory and product cost to start.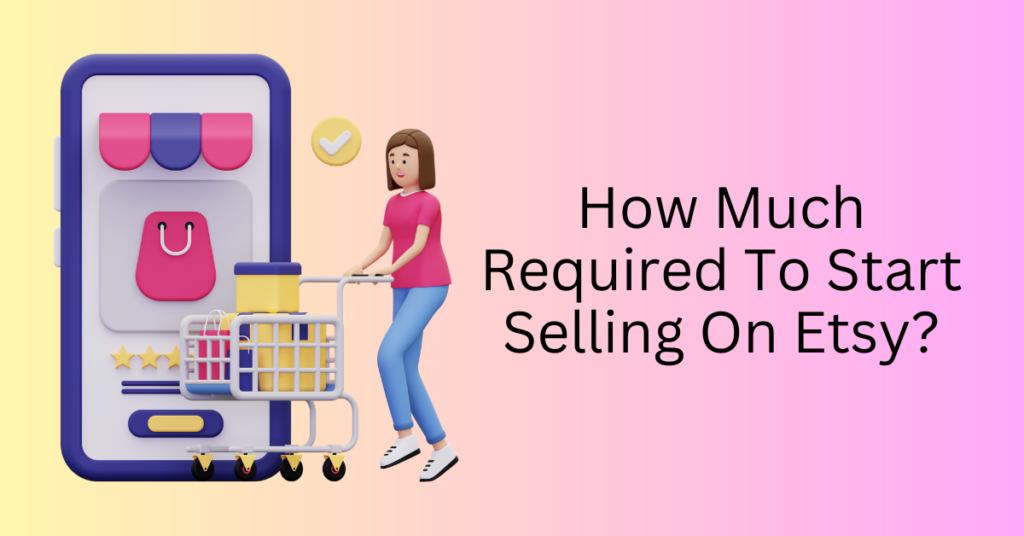 Etsy will only start charging you for listing fees, ad fees and transaction fees after your product is sold.
Listing fees to Sell on Etsy
This is the bare minimum you need to start listing your product on Etsy. Etsy will charge 20¢ for every new listing you upload to your store. This is regardless of whether is there a sale or not.
When you upload your listing on Etsy, your listing will be active for four months or until the item is sold. You will have the option to select manual renewal or auto-renew after the four-month period. Then, another 20¢ will be billed for every item. 
Transaction Fees to Sell on Etsy
As since you are selling on Etsy, they will charge a 6.5% transaction fee for the marketplace to facilitate the sale. That's in conjunction with the postage, shipping, and gift wrap pricing of each listing.
If you are selling in the UK, France, Italy, Spain, and Turkey, you will also need to pay a regulatory operating fee on each listing. It's charged based on the total revenue for the particular product, aka product price with any shipping fees charged. 
The transaction fees for each country are as below:
United Kingdom: 0.25%
France: 0.4%
Italy: 0.25%
Spain: 0.4%
Turkey: 1.1%
Payment processing fees to Sell on Etsy
Since Etsy will process all the payments on your behalf, you will need to pay some payment processing fees for that. And if you want to accept other payment methods like PayPal, Apple Pay, Google Pay, and Klarna, you can always enable Etsy Payments for your store. But, of course, it is subject to payment processing fees.
Currency Conversion Fees to Sell on Etsy
Etsy does all business in US dollars. If you are selling in other currencies, there will be a charge of a 2.5% currency conversion fee for that.
Etsy will convert your funds to your bank account's currency before the transfer, but note this currency conversion won't always be the market value.
Offsite Ads Fees to Sell on Etsy
Etsy does work to get more traffic to their marketplace. On Etsy, you can get traffic from the search results or from Etsy offsite advertising. 
You can opt into Offsite Ads, to get your products shown across Etsy's own marketing and advertising channels. Your products will appear in Etsy's Facebook, Google, and display ads without you running the ads.
As a result, Etsy will charge you for successful sales from traffic through their Offsite Ad. If your Etsy store is making less than $10,000 within the last year, 15% of the order total will be taken as payment for the Offsite Ad program. And when you pass the $10,000 threshold, your Offsite Ads fee is reduced to 12%. And there is a cap of $100 per item for the Offsite Ad fees. 
Etsy Shipping Costs to Sell on Etsy
This is an optional service where you can purchase shipping labels through Etsy. This service is available for countries that accept Etsy Payments or PayPal. Rates vary depending on the carrier, origin, destination, and size of each package. Furthermore, additional fees apply for signature confirmation and insurance.
Etsy Plus
This is a premium subscription service by Etsy. You can opt into their Etsy Plus subscription for $10 per month.
And with Etsy Plus, you will be granted 15 listing credits and a $5 credit for Etsy ads.
You will also get:
Customizable shop options
Discounts on custom domain names
The ability to email shoppers when an item is back in stock
How To Boost Sales for Your Etsy Store and Sell More Products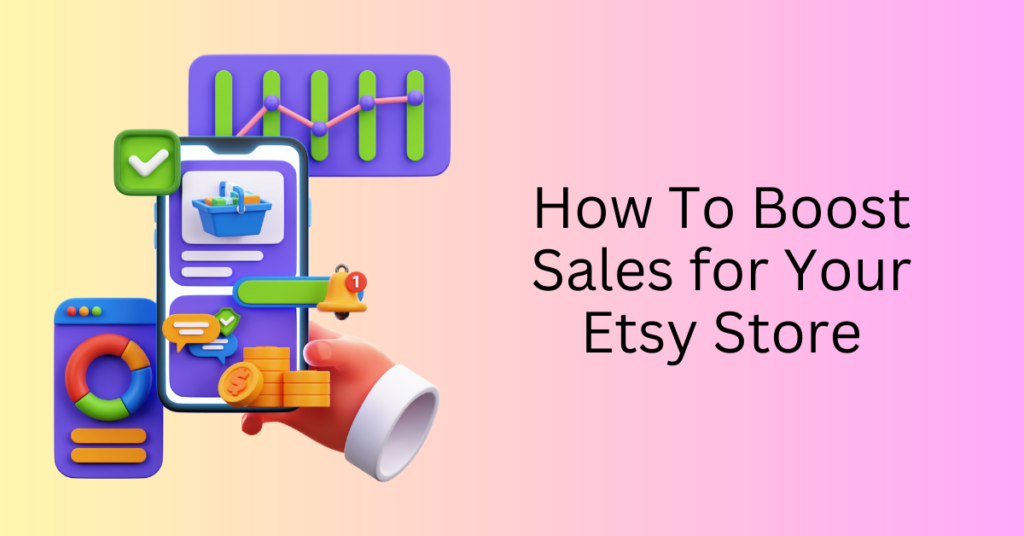 Starting your Etsy store is simple, but to get sales, there are some strategies that you need to implement for your store.
Build Your Own Brand
There are millions of sellers selling on the Etsy marketplace. You will need to do something to differentiate yourself from your competitors.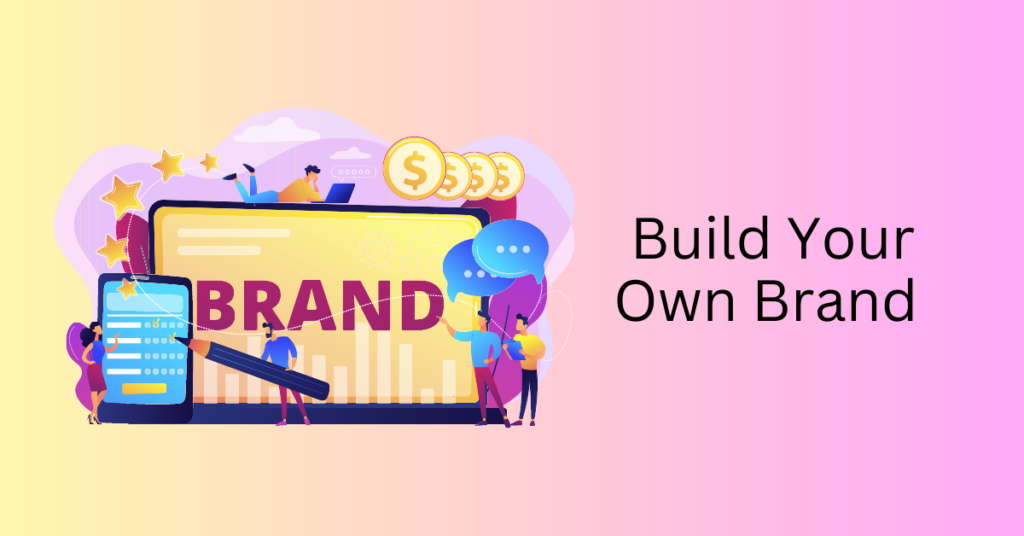 One of the ways to build differentiation is by building your own brand. With your own branding, it is possible to charge a premium for the product that you are selling by promising a certain quality.
Not only that, but it will be easier for your customers to introduce or share your brand with their friends and family. Word of mouth still works well in expanding your business reach. 
To start, make sure you have a memorable brand name, logo and brand colours that you standardize across all the marketing platforms that you are working on. With your own branding, your product is unique compared to a generic product that your competitors are selling.
Optimize your shop
There are two main ways to get traffic to your Etsy product listing.
You can either get traffic from your own marketing efforts like social media or paid ads or get organic traffic from Etsy search results.
To get ranked on Etsy search results, you will need to optimize your product listings based on Etsy's SEO algorithm. There are four main items that are important for your Etsy SEO.
Title and Description
Tags
Attributes
Reviews
You need to embed your keywords in your listings so that when people search the keyword on Etsy, your listing will appear on the first page of the search result. When your listings appear on the top of the search results for the highly searched keywords, your chances of getting sales will be increased as well. 
Read more on Etsy SEO secrets for your store
Promote your shop
Your store will not be visible if you just create and leave it there. You need to promote your store to get more eyeballs on your products.
There are over 7 million sellers on Etsy alone, and there are so many other eCommerce stores out there. If you don't promote your Etsy store, you will need to pray for people to see your product listings on the search results only. 
To promote your eCommerce store, you can:
Leverage social media: Post your products on different social media like TikTok, Instagram, and Facebook to promote your products to the right customers.
Collaborate with influencers: You can collaborate with influencers in your niche for them to post about your product. You may either strike a deal with them to post about your products at some cost or send them samples to review your product.
Etsy's marketing tools: Etsy provides Etsy ads for all your products. When you publish your listing, you can select whether to enable the Etsy ads for the product or not. By paying for Etsy ads, your listing will be shown at the top of the search results for the related keywords. 
Offer Competitive Price
When you are just starting out, you want to increase your brand awareness first instead of earning a lot of sales. You can lower your product sales margin to provide a competitive price to your customers. 
Depending on what you are selling, you can charge higher for handmade products that are unique. But you will need to justify the price. If you are charging $10 for it, make sure the perceived value is more than that.
Otherwise, if you are selling similar products to your competitors, you need to make sure you are giving the best offer. It might not be the lowest price, but the best offer. Meaning that they will get more than the price they purchase. 
Overall, it is easier to create an offer to charge a higher price rather than having to fight for a lower price. It will lower your margin, soon you will face the problem of losing the market. There are always people that can go lower in price. 
When you are pricing your product, you can round down the price by a cent. Instead of $20, you can price it at $19.99. Although there is only a 1-cent difference, it will give a psychology that your product is in the 1x range instead of the 2x range.
For your offer, you can have a bundle offer where you can offer a discount on the second item purchased, free shipping or vouchers for the next purchase. It is better that you offer a voucher for subsequent purchases rather than giving a discount directly. This will encourage return sales. 
Reviews and Feedback
Social proof is important for all eCommerce stores. It doesn't matter if you are building your own eCommerce store or selling on a marketplace like Etsy. People don't see and touch your products when buying online.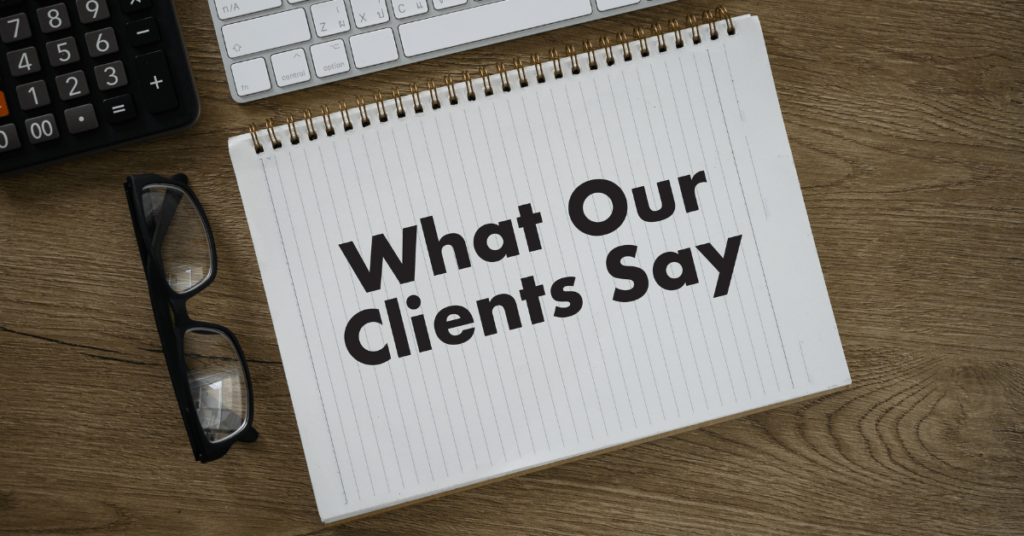 And in most cases, they don't trust you at all. Because for them, they will think that you are sharing the benefits of the products only because you want to sell them.
However, a review or feedback is seen as honest feedback from your existing and past customers. Hence, it is important to collect reviews and feedback to gain trust in your Etsy store. 
You can encourage your customers to share reviews and feedback after they receive the products or even incentivise them with a voucher if they leave feedback for you. However, never ever do it on the chat as Etsy will penalize you for incentivising your customers to leave reviews on your store.
Excellent Customer Service
Customers expect fast delivery and fast response for their products bought. When they get good customer service from you, it will be more likely that they will recommend you to their friends, family, and followers.
Here's what you should do to provide excellent customer service:
Update your customers regularly on the order processing and shipping status
Fast response to your customer's response on the chat
Add some personalized packaging or thank you note in the parcel
Provide a great refund and return policy to minimize the risk on your customers to buy from you.
Thank your customers for their reviews and resolve bad reviews professionally
Be proactive when communicating delivery delays
Final Thoughts – Sell on Etsy Today in Just 6 Steps
Etsy is just another option for you to sell your products online. And of course, there are some product types that Etsy is focusing on. You can start your Etsy store for free today and start selling. Or you can start your eCommerce store to sell your products.
The fee structure will be different for selling on a marketplace like Etsy and using Shopify. With Etsy, there is existing traffic on the marketplace that you can leverage to direct your store. And for Shopify, it will depend on your own marketing effort to bring in traffic and sales.
You can try both ways yourself. Shopify is offering $1/month for the first 3 months. You can access the full functions of Shopify during this period. So, go ahead and start building your store now.