Print-on-demand can be a good way to start your business online. You can do it without a huge investment in your inventory. Or if you want to test your new product design.
No matter, if you are an artist, designer or entrepreneur, print on demand, is a good way to sell your products with your design online. 
Print-on-demand business is commonly linked to t-shirts or clothes. However, you can also sell other home products like mugs, bottles, home printable art and so on. There are so many products that you can get from one supplier. 
If you are going through a traditional method, you will need to complete the design and buy an inventory before starting the business. You will either end up having not enough stock to fulfil or the stock not moving at all. 
Print-on-demand services offer an easier way to launch your business faster while lower down the risk of investing in an inventory. The production and fulfilment are all outsourced to the POD supplier. You only order it when someone buys from you. 
Today, we will be sharing how to start print-on-demand from scratch till launching your business.
What Is Print on Demand (POD), And How Does It Work?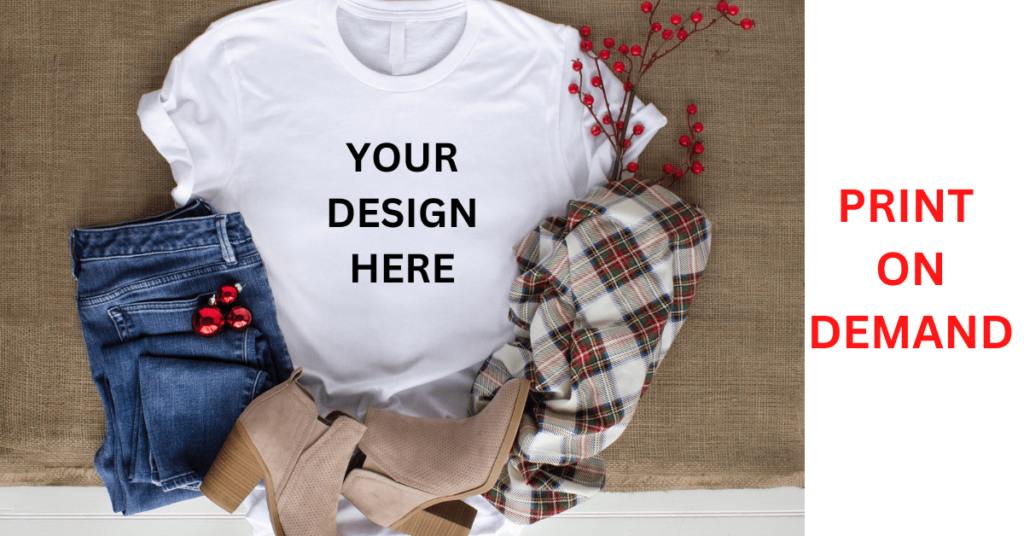 A print-on-demand business is where you work with a supplier to customize the products with your custom design. And then, sell them on your eCommerce store. Next, you only print products only when there is an actual order, rather than printing large quantities of products in advance and storing them in warehouses.
Sign up for Shopify Free Trial Now
The Advantages of Print-on-Demand Business
One of the biggest advantages of POD is that it eliminates the need for large upfront investments in inventory. With traditional manufacturing, businesses have to order large quantities of products. This in return requires a significant investment in materials, labour, and storage. This can be especially risky for small businesses or individuals who are just starting out. They may not have a lot of capital to start and is risky to invest everything in it. 
With POD, however, businesses only have to pay for the products that are actually sold. This reduces financial risk and makes it easier to scale up or down as needed.
Another advantage of POD is that it allows businesses and individuals to offer a wide range of products without having to invest in large quantities of each one. For example, a business that sells t-shirts may want to offer a variety of sizes, colours, and designs. However, it would be cost-prohibitive to order and store large quantities of each variation.
With POD, the business can offer a wide range of options without having to carry a lot of inventory. This makes it easier to respond to changing customer demand.
POD also makes it easier for individuals to sell their own designs and products. With traditional manufacturing, it can be difficult for small designers and artists to get their products made and sold.
This has helped to create a vibrant online market for custom products and has made it possible for many designers and artists to reach a wider audience.
Not only that, a POD supplier can leverage this business model to serve more business owners and lower product costs.
Among the benefits of POD, 
1. Test A Business Idea
POD is a good way to test a business idea without the need to risk your savings to buy an inventory. You can start it easily without much investment. Not only that, it can be a good side hustle that you can build without leaving your full-time job. 
2. Monetize Your Audience
If you have a large group of audience or want to monetize your audience, print-on-demand is a great option to do so. Instead of buying the inventory upfront, you just create the sales page and send it to your audiences. For those who are interested, they can order and fulfil from your supplier.
And you will continue to focus on creating content, nurturing them and growing your audience.
3. Create original products
Print-on-demand is similar to the dropshipping business model where you order the stock from your supplier after a sale is made. And they will be handling the fulfilment. However, it differs from dropshipping where others can access the same product that you are selling. Now you are selling a custom design that is only unique to your store.
This will lower the competition and price war for the product.
4. Testing Multiple Designs
Since you are only responsible to design and sell, and there is no production done upfront. You can have multiple different designs launched for your store and see which one is selling best.
5. Saving for Marketing Costs
As you are not investing much in the inventory with print-on-demand, you can leverage the fund for marketing. This means you can spend more on the ads to get more brand awareness and sales.
Sign up for Shopify Free Trial Now
The Pros and Cons of a Print-on-Demand Business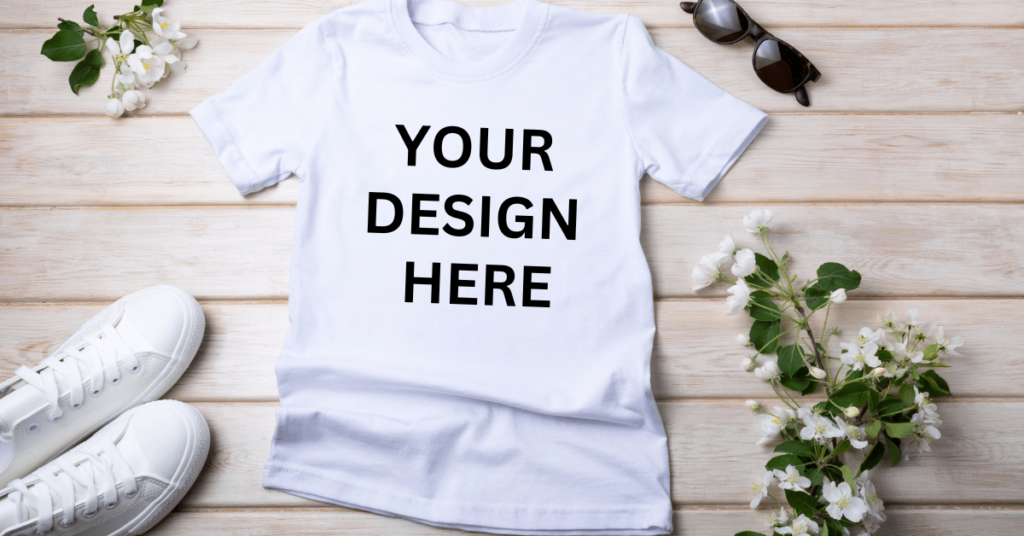 While print-on-demand seems like a good business model to start, there are some pros and cons that we need to share here before you dive in.
Pros of Print-on-Demand Business
Create products quickly. If you have a design, you can upload it to the POD supplier and ready for sale in minutes. If you don't have a design yet, many print-on-demand store owners are using Canva to create a design.
No more packing and shipping orders. Shipping and fulfilment are handled by your supplier. All you need to do is bring in the sale and send the order to your supplier. You will be just handling the marketing and customer service part.  
Low investment, lower risk. Since you're not holding any inventory, it is easy for you to create and test different products.
Cons of Print-on-Demand Business
Lower margins. Since you don't commit the order in a large quantity, you will be charged more. And since you are outsourcing most of the work to your supplier, there is only a thin margin for POD. Leaving nothing much for you to optimize.
Less control over shipping. As you are not shipping out the product, you cannot control the packaging and the shipping cost. Everything will be based on what's offered by your supplier and how they are packing it. For instance, your customers might want a custom gift card, but your supplier may not support that.
Limited stock quantity. You only sell based on your supplier's stock quantity. If they run out of the material, then you are out of stock as well. You are depending on your supplier's choice.
Less control over product quality. Since you are not touching or handling the product yourselves, the product quality will solely depend on your supplier. This means if there is a problem with their product quality, it will affect your customer experiences as well.
Choosing Your Print-on-demand Service Provider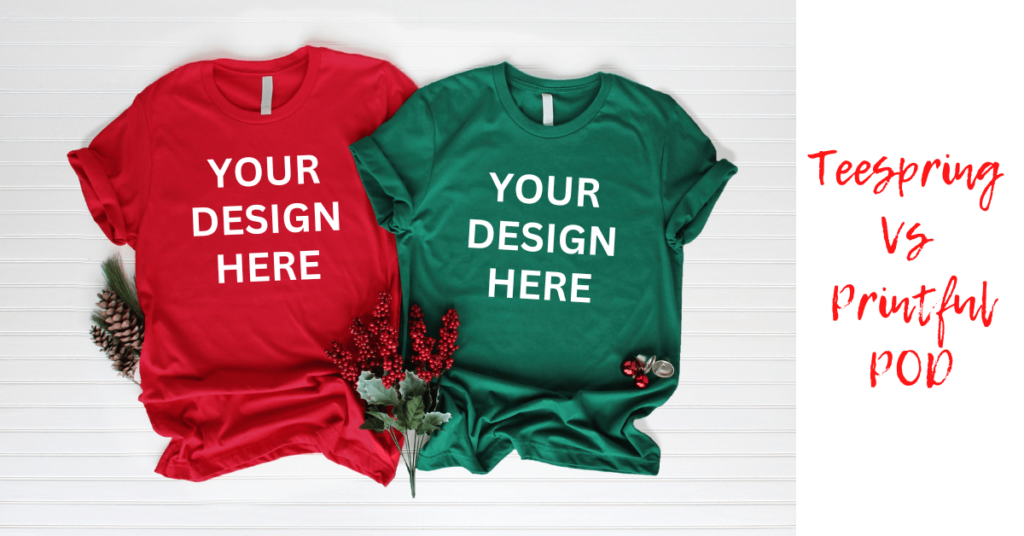 While many print-on-demand services might seem similar, you have to do some research and choose the best one based on the products that you want to sell.
It doesn't matter if you only sell clothes in the beginning. It will be best if they can offer other product categories so that when you need to expand your product line later, you can do it easily.
Not only that, but you will also need to check their product review and pricing. This is to ensure that they can always provide quality products to your customers. And you can have a good margin on the product. 
On the other hand, you might not want a very popular one as your processing time might be longer during peak season. And also, they might be having product shortages due to their popularity.
Finally, choosing a good product supplier is very important as you want to build a long-term relationship with them as your business grows.
Here are some popular print-on-demand sites that you can consider:
1. Printful
Printful is a popular choice among print-on-demand sites because of its wide selection of high-quality products and brands. It is easy to use and upload your product with the option for adding your own branding to the packaging box.
For apparel products, Printful offers a number of printing techniques you'll want to be aware of:
Direct to Garment prints directly onto clothing—especially good for simpler designs. You can only print on certain areas of the product as a result.
Cut and Sew is sometimes known as "all-over print." The article of clothing is cut, printed on, and then put back together for a seamless print across the entire piece. While the base costs may be higher, this lets you create a more premium product that could sell for more.
Embroidery is perhaps the most complex printing technique because the final product is actually a threaded design with a 3D effect. This is best for simple designs that involve only a handful of colours, and for products like hats.
When creating a product or using a different printing technique, you need to be aware of how it affects the price and also how you can show that to your customers to get paid a premium price for it.
Besides apparel, Printful also offers mugs, bedding, pillows, framed posters, beach towels, aprons, and more.
Read more about Printful vs. Teespring
2. Printify
Printify is another print-on-demand service that features the usual selection of t-shirts and hoodies. What's notable about Printify is it also offers an international vendor network that enables a number of products such as jewellery, clocks, shoes, and water bottles. In fact, there are over 200 products that you can print on and sell.
While Printify is free to use, there is a premium subscription option available that gives you 20% off for all products ordered with a monthly fee of $29. This is a very important option to subscribe to as the 20% discount is a great advantage for your product pricing or to improve your profit margins.
What you can do is start with the free option first, and get your product sold out. Then use the discounted price with the subscription to increase your profit margin later.
Sign up for Shopify Free Trial Now
How To Create a Design for Print on Demand Even If You Are Not A Designer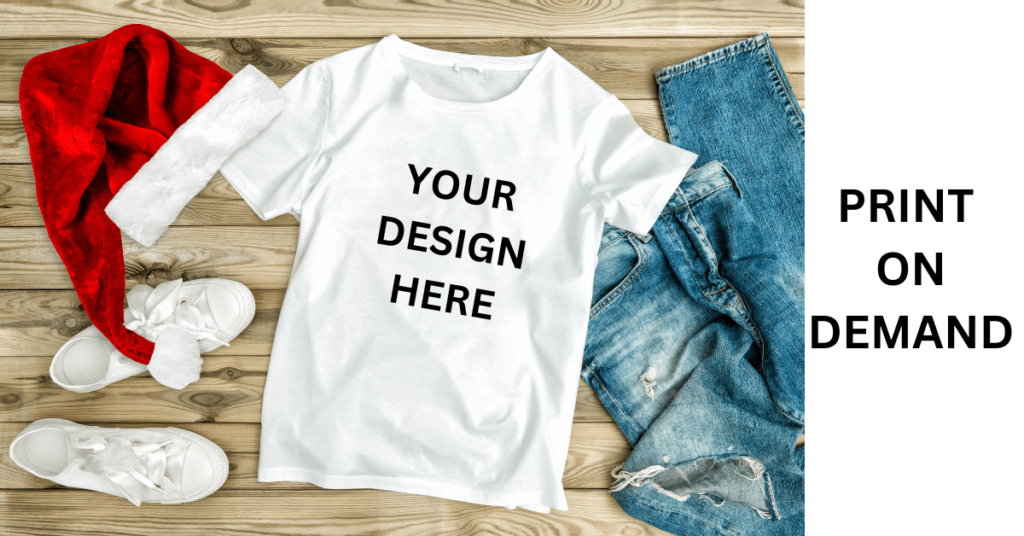 Design plays a crucial role in creating successful print-on-demand products. It doesn't matter how good or bad is your design, you only need one viral design for your business to succeed.
In fact, you don't need to be a designer to start a print-on-demand business. Many business owners don't know either but are making six to seven figures with print-on-demand business.
To produce your design, you can either
1. Create one with Canva
Canva is free with a subscription options design tool that allows you to create different designs. One of the popular design templates is the custom print design where you can get the design for t-shirts, stickers, mugs, hoodies, photo books and others. 
While there are many free templates for you to use, there are premium templates, designs and stock photos that you can use if you are subscribed to Canva Pro. It costs $12.99 per month or $119.99 per year. It is totally worth it if you are using it.
To create a print-on-demand design with Canva, you can follow these steps:
Go to Canva and create an account if you don't already have one.
Click on the "Create a design" button.
Select the type of design you want to create. For print-on-demand, you may want to choose a product such as a t-shirt or a mug.
Select a template or start from scratch. If you choose a template, you can customize it to fit your needs.
Add your design elements such as text, images, and shapes. You can use the toolbar on the left to access these tools.
When you are happy with your design, click on the "Download" button in the top menu and select the appropriate file format for the print-on-demand service you are using.
Upload the file to the print-on-demand service and follow their instructions for placing an order.
2. Hire a freelancer to design for you
If you are thinking that you will need to pay big money to create a design, not the case now. You can start with just $5 for a very nice design.
Here are some steps you can follow:
Determine your budget and the scope of work for the project. This will help you determine the type of freelancer you need and what you can expect to pay for their services.
Search for freelancers who specialize in print-on-demand design. You can use websites such as Upwork, Freelancer, and Fiverr to find qualified candidates.
Review the portfolios of several freelancers to get a sense of their style and expertise. Make sure to check their ratings and reviews from previous clients to ensure they are reliable and deliver high-quality work.
Contact the freelancers you are interested in hiring to discuss your project in more detail and get a quote for their services.
Review the quotes and negotiate the terms of the project with the freelancer, including the deadline, payment terms, and any additional revisions or changes you may need.
Once you have agreed upon the terms, create a contract or agreement outlining the details of the project. This will protect both you and the freelancer and help ensure that the project is completed to your satisfaction.
Provide the freelancer with all necessary materials and instructions to complete the project, and communicate with them regularly to ensure that the work is on track.
Once the project is complete, review the final deliverables and provide feedback to the freelancer. If you are satisfied with the work, pay the freelancer according to the agreed-upon terms.
Upload Your Design to The POD Provider
Once you have your design ready, you can upload the design to the POD provider of your choice. There is a very important thing that you need to be very careful about here. The quality of your printing depends on your design file quality. You need to make sure that it is a high resolution (at least 300 dpi) in order to ensure a high-quality print. 
You should always check with your POD provider and see what design size is the best for them to work with.
Also, do not forget, your design shall have a transparent background as the colour of your product will be the background colour.
How To Start Your Print-On-Demand Business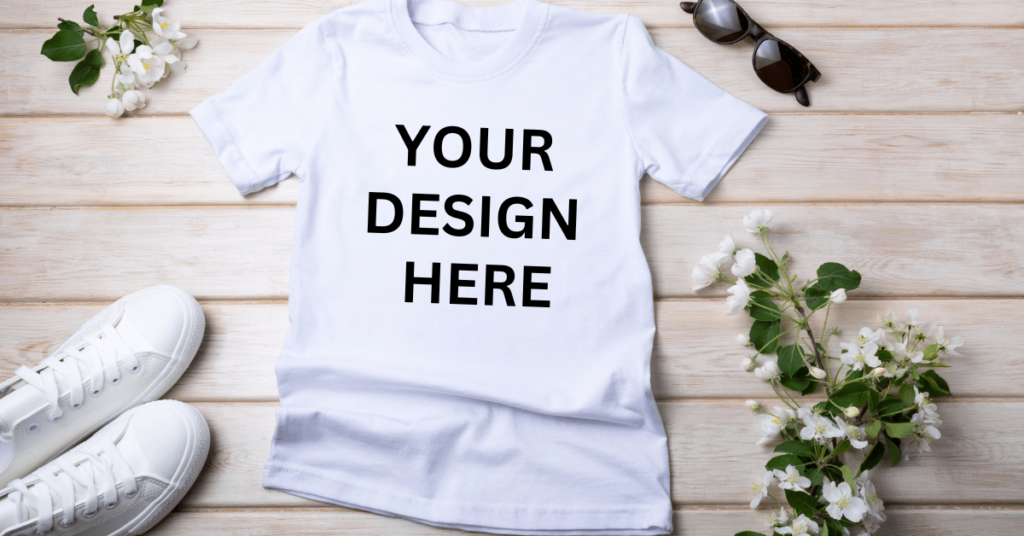 Starting a print-on-demand business is easy with the service provider handling most of your work. Here are some useful steps to start
1. Choose Your Niche and Target Market
The first step in starting any business is to identify your target market and choose a niche that is in demand. Consider what types of products and designs your target audience would be interested in, and how you can stand out from the competition.
2. Choose a print-on-demand company
There are many print-on-demand companies to choose from, each with its own unique features and pricing structures. Research different options and consider factors such as the types of products they offer, the quality of their products, their shipping rates and times, and their customer service. Some popular print-on-demand companies include Printful, Teespring, and Printify.
3. Create your designs
Once you have chosen your niche and print-on-demand company, it's time to start creating your designs. You can use graphic design software such as Adobe Illustrator or Canva to create professional-quality designs. Make sure to follow the guidelines and file requirements of your print-on-demand company to ensure that your designs will print correctly.
4. Set up your online store
To sell your products, you'll need to set up an online store. You can use an eCommerce platform such as Shopify or Etsy to create a professional-looking store with minimal technical know-how. You'll need to add your products, set your pricing, and connect your store to your print-on-demand company to enable automatic fulfilment.
5. Promote your products
Once your store is set up and your products are live, it's time to start promoting them. There are many ways to do this, including social media marketing, email marketing, content marketing, and paid advertising. Experiment with different tactics to see what works best for your business.
6. Monitor and optimize your business
As your business grows, it's important to keep an eye on your metrics and make adjustments as needed. Monitor your sales, customer feedback, and other metrics to identify areas for improvement, and continually optimize your designs, pricing, and marketing efforts to maximize your profits
Sign up for Shopify Free Trial Now
Tips for Print-On-Demand Business Success
1. Ordering Samples
Before sending out thousands of unqualified products to your customers, you should do a first-hand quality check. This is very important to make sure your physical product looks and feels as you intended. 
You can also take some photos and videos with it for your social media content to promote it. Instead of using a mockup photo that looks similar, you can add some personality to your product image.
2. Creative With Your Shipping
While the shipping company and shipping time are what you cannot control, you can have a disclaimer for your customers about the shipping time. This is to ensure they will know when to expect their products to arrive.
This is very important to avoid bad reviews or returns.
It will be good if you have a FAQ page to explain the shipping time.
One of the good ways to motivate your sales, you offer free shipping and absorb the cost into your product cost. People can spend thousands buying products but are not willing to pay a $4.99 shipping cost. 
This is not the problem of paying for shipping costs, but the mindset that after paying so much for your product, why are you still charging me for the shipping fee? 
3. Create your own online store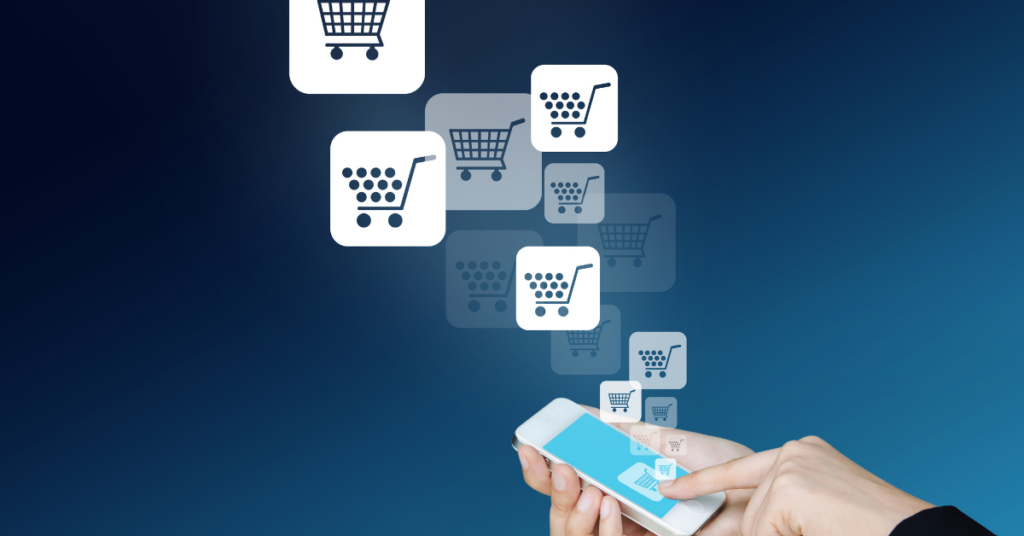 To start a POD business, you can either start by having your own eCommerce store or selling on a different marketplace.
You can start with a marketplace like Etsy, eBay, Amazon or other famous marketplaces. These platforms are good to start as they provide huge traffic. But at the same time, the competition is fierce. You need to rank for the keywords or pay ads in order to get shown in front of your potential customers.
This is why you should also have your own eCommerce store to stand out from others.
You can build your own eCommerce store on a platform like Shopify. With Shopify, you don't need huge start-up costs and technical knowledge to start with. And, you can integrate with the POD providers to automate the fulfilment process.
By owning your store, you can also skip the handling fees for the marketplace and save a few % of the margin.
Having your own store and brand is how you build your business in the long term. People will buy at Etsy, Amazon or eBay when they find a good deal. There is no stickiness for them to your brand. This is why, you should have your own eCommerce store, build an email list and nurture them to be your loyal customers.
And this is how you can grow and scale your business bigger.
Final Thoughts – How To Start Your Print-on-Demand Business
Print-on-demand business is a way for new entrepreneurs or for anyone who wants to test a new business idea with the lowest cost before they invest in it.
With the growth of print on demand business model in recent years, there are so many different products that you can make and sell in no time. And by leveraging the huge supplier list available, you can always divert the order to other suppliers if the one you are using is not available.