Blogging is a good online asset if you are building it right. Having a blog will help to create your brand awareness, build your reputation, drive traffic to your landing page and generate more sales. To start a blog is easy nowadays with the availability of the website builder.  
There are many ongoing debates on whether is a blog still working nowadays and does it is worth the effort to start and build a blog from scratch.
The answer is yes, for long-term content marketing and branding.
There is much competition out there due to the simplicity of starting a blog or website now. But if you are able to build a high-quality blog, it will be lucrative.
Let's join us today to see how you can also start a blog even if you have never done it before.
Step 1: Pick a Topic or Niche to Start a Blog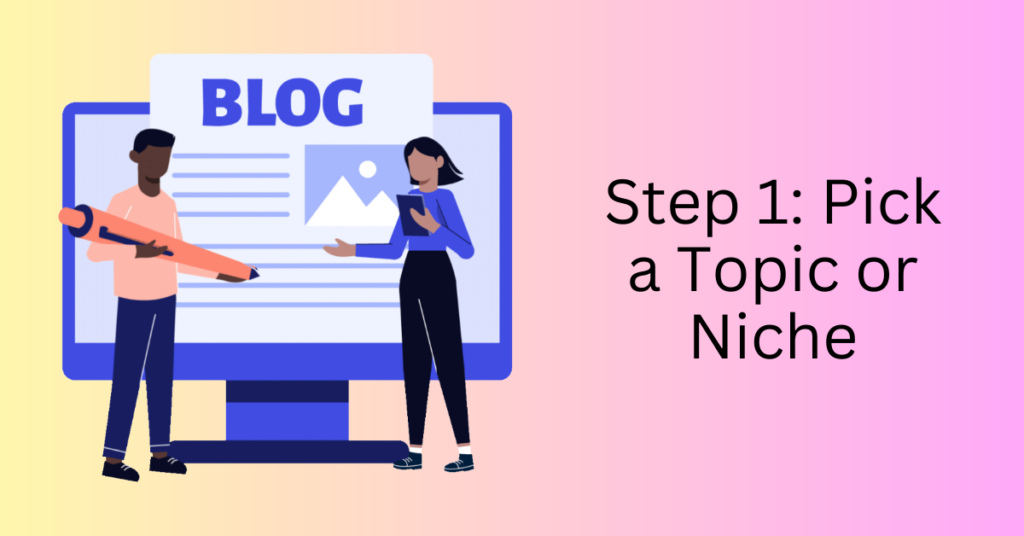 There is always the misconception to get rich quickly when you start a blog. This is not the case. In fact, there are lot of work you can expect before your blog become successful.
You need to pick a niche that resonates with you and are interested in. And at the same time, a niche with potential income aka people willing to buy. This is very important as you are going to spend many hours creating content for your blog until you can outsource the writing task for your writers. Not only that, you certainly don't want to work on something that no one is going to spend money on.
In general, there are a few main topics that you can start with.
Health, Wealth, Relationships
These are the main topics that most people are interested in and willing to spend money on. But you are not going to directly work on the health topic. It is too broad and has too much competition in it. You need to niche down so that there are lesser big sharks in the niche where you can dominate the niche and be the authority in the niche.
Again from the health niche, you can niche down to weight loss and further niche down to the keto diet or supplements for a specific group of audiences.
You can come out with a top 5 niche that you are interested to work on. And then, look for the market trend to see whether is it worth proceeding.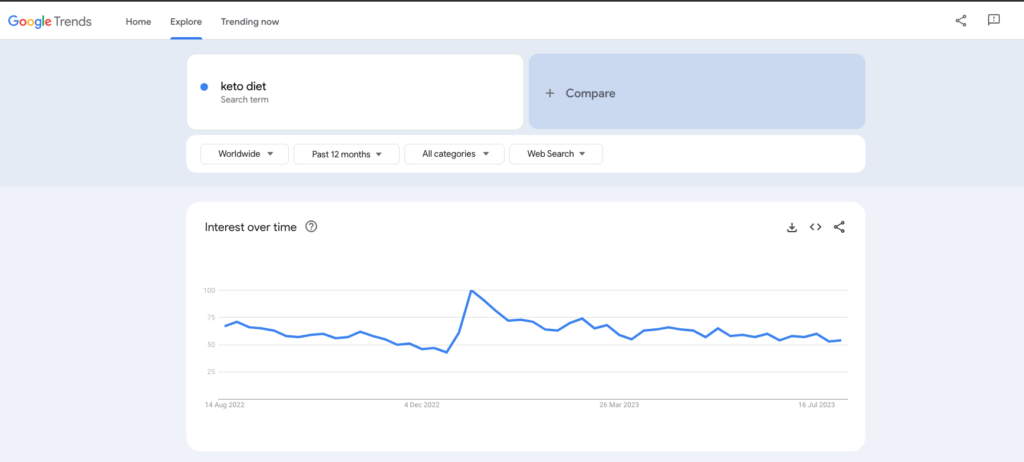 You can also use tools like Semrush, Ahrefs, etc to find the monthly searches of the niche. And then, look for the popularity and trends over time for the niche using Google Trends to see if it's a seasonal trend niche or an evergreen niche that will bring in sales consistently.
Never go for something that is decreasing as it's the sign that the niche may be dying.
Step 2: Find a Memorable Domain Name to Start a Blog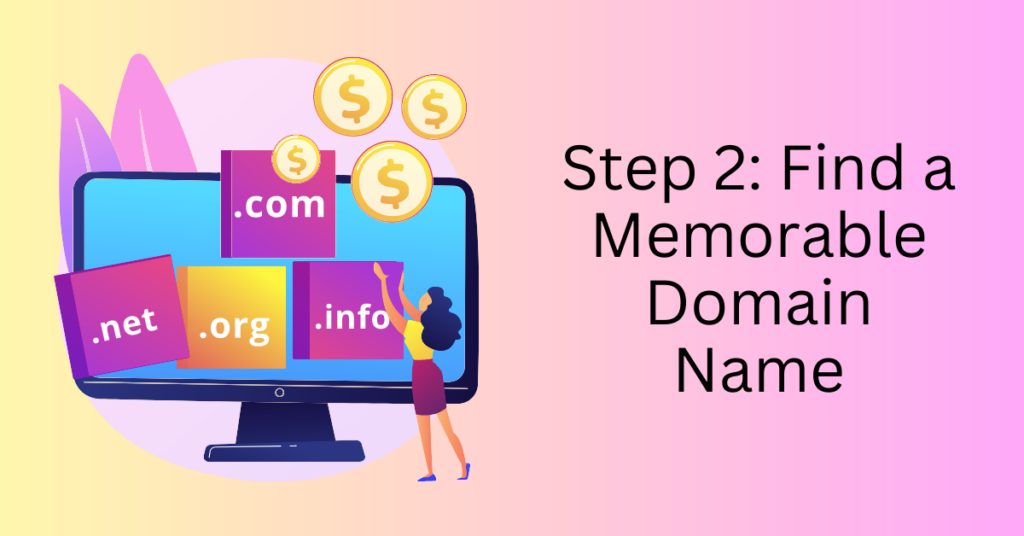 The next important thing would be your business name or brand name.
Your brand name is what people will remember about you. It needs to be something memorable. And since your brand name will most probably be your domain name as well, make sure it is relevant to your topic and easy to remember so that your audiences can share it with their friends easily.
Some criteria for a memorable domain include easy to type, spell and remember, and short. Don't try to use some alternative words in your domain name as people might have difficulties in getting it right when they try to enter your domain name.
Try to brainstorm a few possible brand names that you can use. Or you can use the business name generator to give you some ideas to start. Ultimately, the importance would be able to secure the name on different platforms that you are running. This includes the domain name, social media profile and other account availability. 
Get Your Own Domain Name
To do this, you can use the free tool namechk to check. Namechk provides one-click checking for all different platforms in a click. You can instantly know whether the domain name is available or not across all different platforms.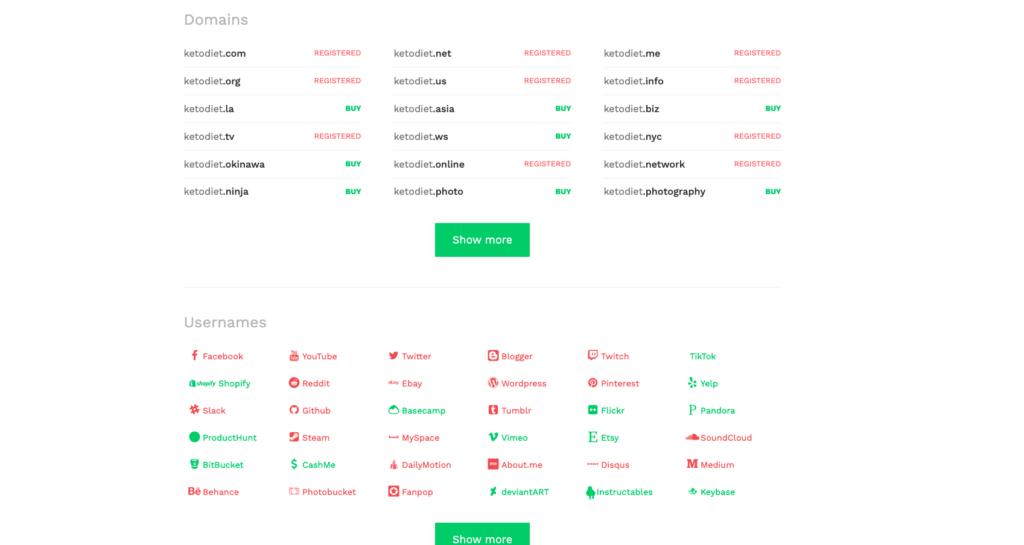 When you got the right domain name you are interested in, go directly to secure the domain name as it might be purchased by someone else. You can either head to a domain name registrar like Namecheap to get a domain name for a low price or get it together with your web hosting company. 
Some hosting company offers a free domain for the first year of subscription, but the renewal fee might be high in the second year. So, if possible securing a longer ownership for your domain via a third-party domain registrar would be a good choice as well. 
Get Started with Bluehost Web Hosting
Step 3: Pick Your WordPress Hosting Service to Start a Blog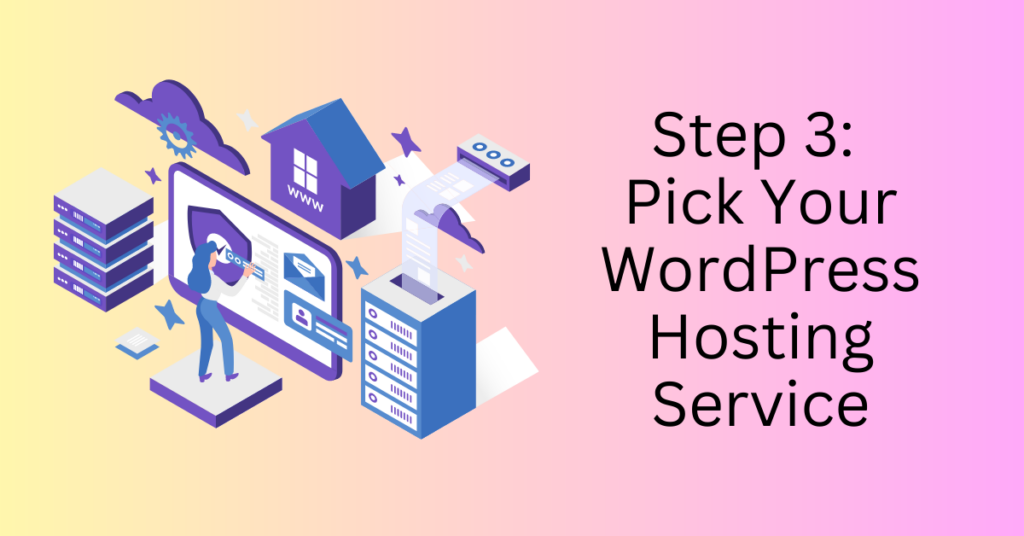 For this guide, we will be using WordPress to show you how to start your new blog. There are many different blogging platforms out there but when it comes to blogging, When you start a new blog, it's important to pick the right blogging platform. When it comes to blogging platforms, one of the most preferred options is WordPress.
WordPress is one of the most famous Content Management System (CMS) platforms. It's open-source software that you can use for free and provides a variety of customization for your website if you know coding. 
However, to start and create a WordPress website, you will need a web hosting service. A web hosting service is a place to store your website so your visitors can visit it. For some other all-in-one website builder solutions out there like GetResponse and Wix, they will host your website. But there are some limitations where you can't control the hosting and the location of the hosting. 
But when you choose your own hosting, you can have the right hosting based on your website requirement and some hosting provider even provides server at variable of locations. So you can host your website nearer to your customers. This is important because your website will load faster.
For this, we recommend using Bluehost web hosting service. Bluehost is one of the largest WordPress web hosting service providers that is also officially recommended by WordPress as the recommended hosting. You can check it on the WordPress website. 
And with the long-term hosting support for WordPress, Bluehost does provide a dedicated WordPress plan that is optimized for better WordPress website performance. Not only that, Bluehost has made it easy to install and deploy WordPress with the one-click installation feature. 
Get Started with Bluehost Web Hosting
Why Bluehost Web Hosting for WordPress
WordPress hosting is very affordable for everyone to start. You can start with shared hosting and upgrade to a VPS or dedicated hosting plan when your business grows. And most important, you will get an exclusive discount for Bluehost if you sign up now.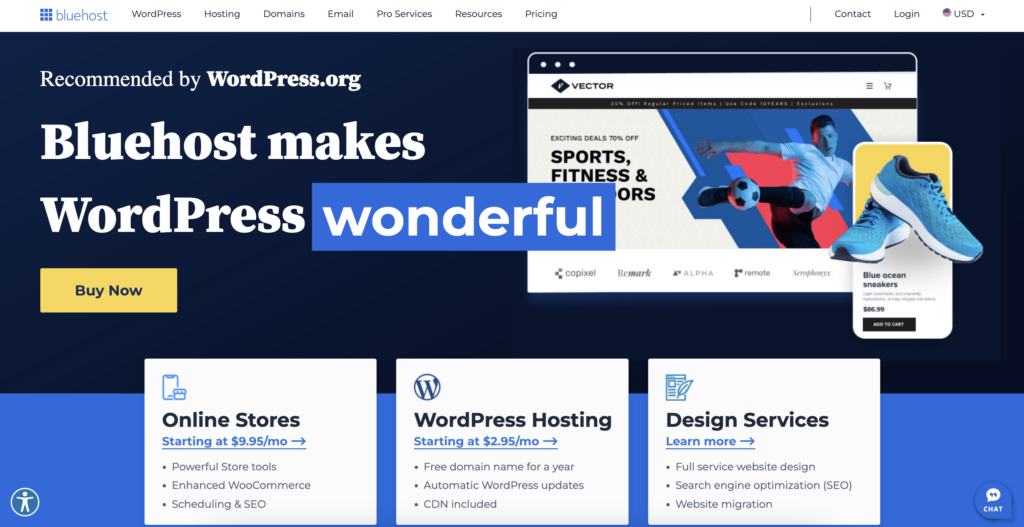 Bluehost provides over 100 free customized WordPress Themes for its customers. And with a Bluehost subscription, you will get free SSL certificates, a free domain name, free automated malware scan daily, CDN and many other features. 
It will cost you a lot and be troublesome if you will need to get all these features separately. But WordPress has bundled everything together in its plan, making it easy for you to start. 
How to Start Your WordPress Blog with Bluehost Web Hosting
To start your WordPress website, first, you need to set up your hosting service. Head to the Bluehost website, and choose WordPress hosting. 
Then, you will be directed to the pricing plans. There are different package plans available for your different hosting needs. There are four main plans available for WordPress hosting with Bluehost: 
Basic, Choice Plus, Online Store and Pro.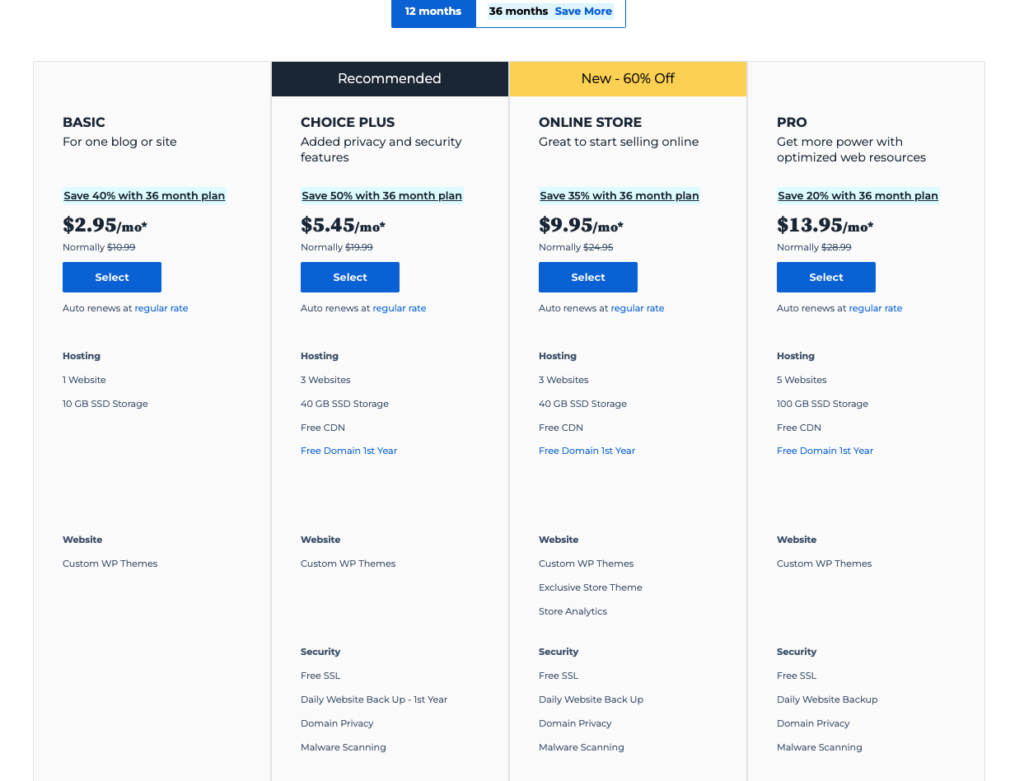 Since you are just starting out, you can choose the Basic or Choice Plus plan. Choice Plus is the more recommended plan as it supports up to 3 websites and features Free CDN, Free Domain 1st Year, Free SSL, Daily Website Back Up – 1st Year, Domain Privacy and Malware Scanning.
Next, select the plan you want and start your registration process. If you already purchase your domain name, you may key in here. Else you can also create a new domain with Bluehost. It's free anyway to provided you subscribe to the Choice Plus or more advanced.
After that, you need to fill in your payment methods and other information to complete the service subscription. 
Finally, after you are completed the registration process, you can now log into the Bluehost dashboard where you can proceed to install WordPress with the one-click install feature. 
Get Started with Bluehost Web Hosting
Step 4: Customize Your WordPress Blog
By now you should have accessed your WordPress dashboard where you can manage all your configurations there. 
Then, you will need to choose a theme to start with. For us, we are using the Astra theme. Astra theme provides different starter templates based on your business. As for our case, we will choose a blog template to start with.
After selecting your theme, it's time to customize your blog design based on your brand colour and the layout you want.
Step 5: Install Essential WordPress Plugins to Start a Blog
WordPress by default comes with only basic functions. And this is why WordPress remains one of the best and fastest website builders. The basic blogging function is available in WordPress by default, but there are also other features required for your website. 
A plugin is a small piece of tool that you install on your WordPress to add different specific features to your website. Plugins are easy to install and use, without any coding efforts required.
There are a few plugins that you will need to install on your WordPress blog. However, don't overdo it as carrying too many plugins will slow your website down.
Here are some useful plugins for your WordPress blog.
SEO plugin
Yoast SEO is one of the most powerful SEO plugins for WordPress sites. Search Engine Optimization or SEO is the strategy to optimize your blog and website to rank higher on the search engine result.
With a plugin like Yoast SEO, it will help to create your XML sitemap and provide recommendations to optimize your blog posts and pages based on the target keywords.
Caching Plugin
Website loading speed matters. Your visitors will leave if your website doesn't load within a few seconds. Other than limiting the elements and heavy load on your website, caching is another way you can do to increase the loading speed.
WP Rocket is a premium caching plugin that is used by over 1.7 million websites worldwide. It offers exceptional features to load your blog images faster.
There are a few other good caching plugins like W3 Total Cache or WP Super Cache that you can use to improve your page loading times.
Data Analytics Plugin
Data analysis is important to understand your website metrics and how to optimize your website to increase conversion rate and sales.
You can use plugins like Google Analytics, or Monster Insights to collect your website performance data like Impressions, Clicks, bounce rate, visitors' demographic and devices to access your website.
By understanding this information, you can further create better content and designs for your website.
Step 6: Create Engaging Content to Start a Blog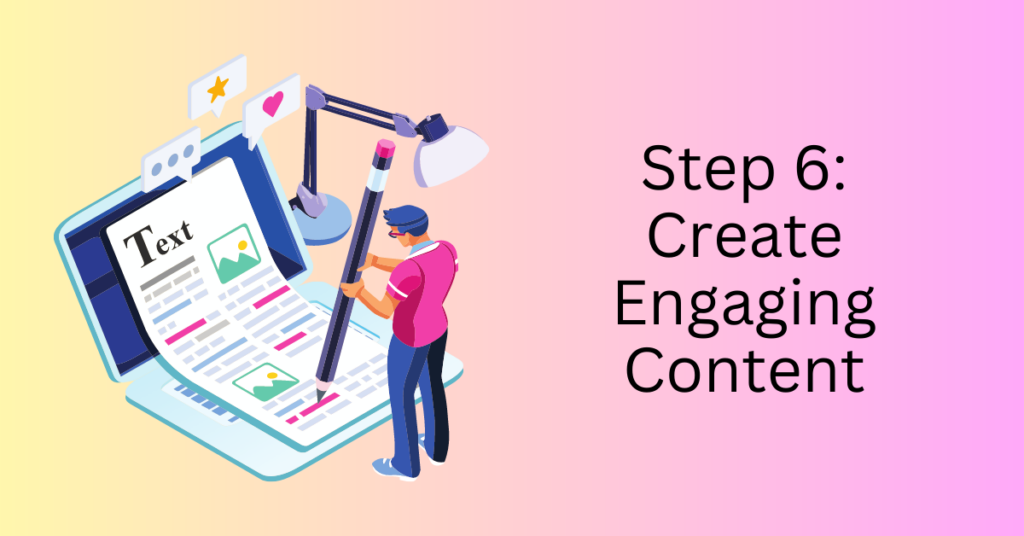 Now that you have your website designed and set up, it's time to create content for your blog. Content is king. Without any content, your blog will not fly.
And for content, we do mean high-quality content that is optimized for providing value for your audiences. At the same time, you will need consistent content creation so that people will stop by and look forward to your new content. 
Plan for Your Content
It can be hard to stay consistent and create new content. There will be some times when you went out of the idea of what to write. 
At this point in time, you can look for some new ideas by spying on your competitor's website and see what type of content they are producing. Learn the latest trend and build your own version of it. 
Or you can go to the AnswerThePublic website to see what others are asking on the internet. You can even go to the question website like Quora or forums to get some idea of what people are interested in.  
Create Compelling Headlines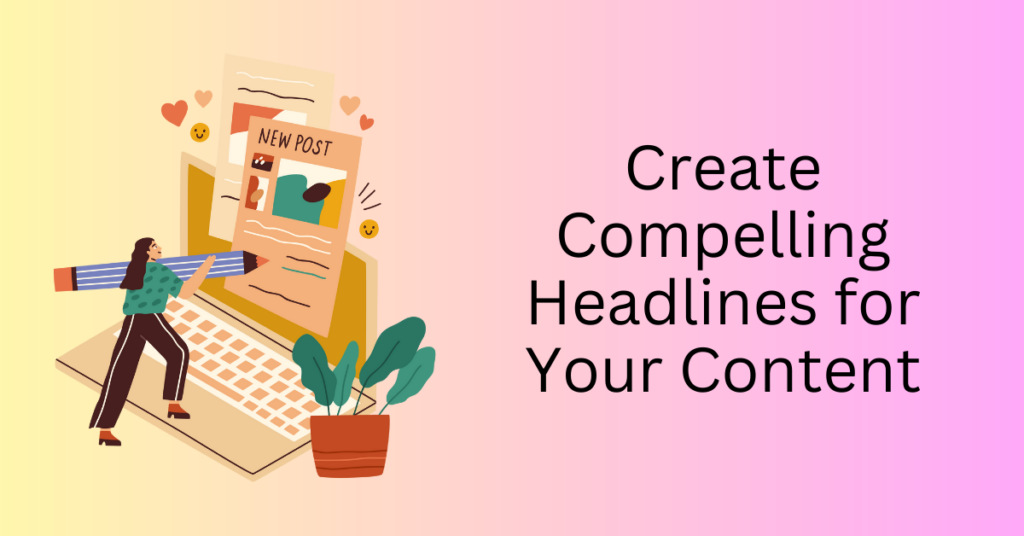 If you are not aware, your audiences will scan through your headlines. If your headline does not sound interesting to them, they will just skip and go to the next page. 
Therefore, you need to create a hook in your headline to hook them to continue reading your blog posts. It is not very hard to write a compelling headline. In fact, there is a set of headline formulas that you can follow to write a compelling headline. 
For example, you can create a headline with:
How to [Achieve a Desired Outcome]
[Large Number] of Ways to [Achieve an Outcome]
[Number] Proven [Actions/Ways] to [Achieve Desired Result]
[Number] Mistakes Most People Make When/With [Common Action]
How To [Desired Outcome] (Without [Unpleasant Action]
[Number] Steps To [Achieve Desired Outcome]
Try to create your headline using the formulas above and then split test to see which headline works best. You can create the same piece of content with different titles and see which title has more view rate. 
Then, keep the winning one.
Proofread Your Content
Your content shows your professionalism. No one likes to read a blog that is full of spelling, punctuation, and grammatical mistakes. You must practice to proofread your blog posts at least twice to see if there is any mistake.
You could use tools like Grammarly to automatically check for grammatical errors and spelling errors in your content. It's free to use with options to upgrade to the paid feature. 
Final Thoughts – Start a Blog from Scratch in 6 Easy Steps
Blogging is a great content marketing strategy for your business. Whether you are running an online or offline business, a blog remains an important tool to engage with your customers and build a reputation for your business. 
If you are running a local business, when people search for keywords like "best service in your town", your blog can come out at the top of the search result. And they will contact you to get your service. 
You can use blogs to build your brand, increase sales, and generate more traffic. With WordPress, you can start and grow your blog easily online. 
There is no excuse for not being able to start. Start your journey by following our step-by-step guide. Leave us a message if you face any problems when building your blog or if you have any questions. 
Our team will be more than willing to support you.