Seminars and webinars are very powerful ways to promote a product. The same goes to promote affiliate products. A seminar is a physical event where you do your sales presentation. However, a webinar is a virtual way to do it. The word webinar comes from the word web seminar. You can too Promote Affiliate Products With Webinars.
You can be doing a live webinar or a pre-recorded session of your previous seminar. Live seminars always work better because you can interact with your audiences. They will appreciate your time to be there with them compared to a recorded session.
As webinars are so effective in promoting a product or service, why don't use them to promote affiliate products?
With a webinar, you are providing value and building your stage by showing up in front of your potential customers. A webinar when designed properly can build trust and show your authority in your niche.
It's easy to hold a webinar now as you will not need to rent a place to host one. All you need would be a camera, microphone and the software to host your webinar. However, people still appreciate a webinar compared to other forms of sales letters. This is because a webinar is a session that they participate together. It's a two-way communication although they can just enter their message in the chat box.
By doing this, it is easier for you to promote your affiliate products, especially high-ticket affiliate products on a webinar.
Today, we will be sharing exactly how to promote affiliate products with webinars so that you can also benefit from them.
What is a Webinar?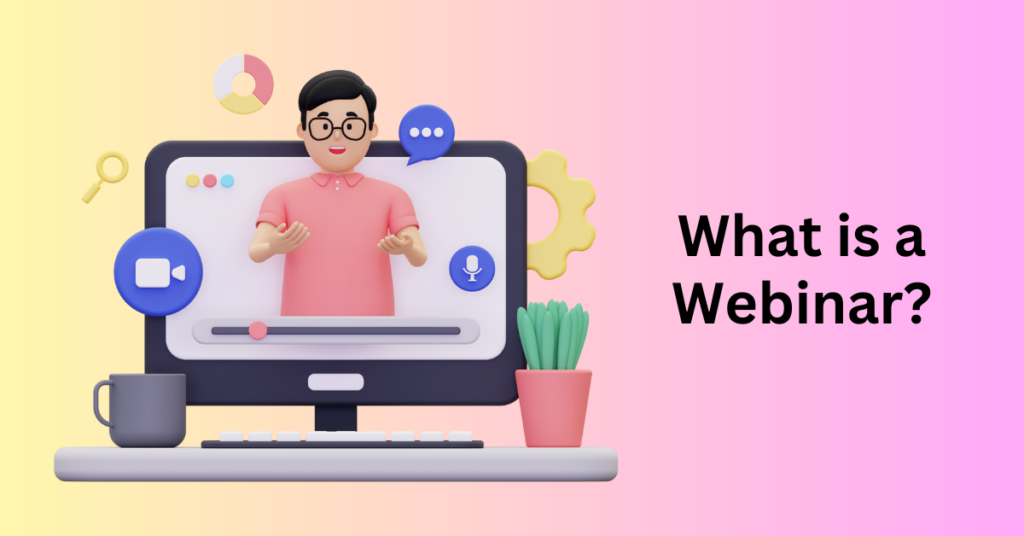 A webinar is a type of online seminar or presentation that is conducted over the internet. The term "webinar" is a combination of "web" and "seminar." It allows participants from different locations to attend and interact with the presenter or speakers in real time.
In a webinar, you will be presenting your sales letter in the form of presentation slides with some demo or guide on how to do it. And for the participants, they can listen to the presenter, ask questions, and engage in discussions through various communication channels, normally chat.
This is because there are so many participants in the webinar, if everyone is unmute and starts giving out ideas, it will be a mess. Hence, chat or text-based communication is a preferred way.
Webinars are often used for educational, informational, or promotional purposes. They can be used for delivering lectures, workshops, training sessions, product demonstrations, or hosting panel discussions with experts. Webinars offer the advantage of reaching a geographically diverse audience without the need for physical travel.
To participate in a webinar, attendees usually need to register in advance and receive a unique link to access the event. They can join the webinar using a computer, phone, or tablet with an internet connection and the apps or web browser.
When you are organizing a webinar, it can be a live webinar where you are presenting. Or it can be a recorded session where it's a playback of your recorded presentation or past events recording. 
Why Promote Affiliate Products Using Webinars?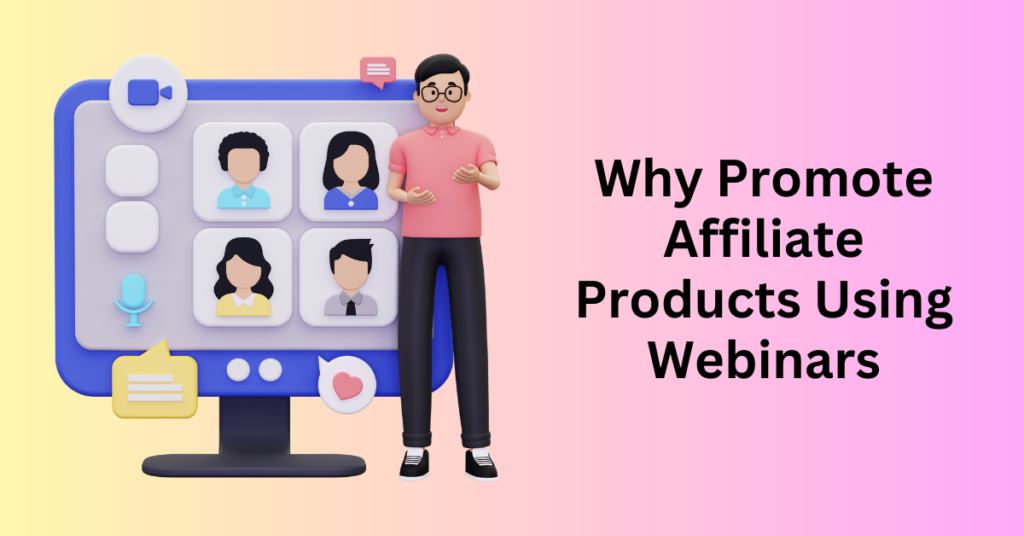 Webinars are powerful in reaching huge amount of audiences without getting them to leave their home to join the event. They can be anywhere and join the event with their smartphone. And for you, you can reach people that are in a different town or country too.
Webinars have allowed business owners to showcase and explain the benefits of their products in an interactive way. The same applied to your affiliate products. Compared to an ad or a piece of email to get someone to buy a high-ticket product, a webinar provides a different way to engage with your potential customers.
In your webinar, you can start with your backstory and explain the challenges that you are facing and how you find the solution aka the affiliate products you are promoting.
When they are participating in the webinar, they can resonate with you better and build an initial relationship with you. And for you, you need to also provide value to them so they will trust you and incline to your recommended product.
To sell your webinar tickets, you can leverage different marketing channels like social media and email marketing to promote your event. And after your event, you need to and must always follow up with the audiences that show up but have not bought it yet. 
How To Choose The Right Affiliate Products to Promote on Webinars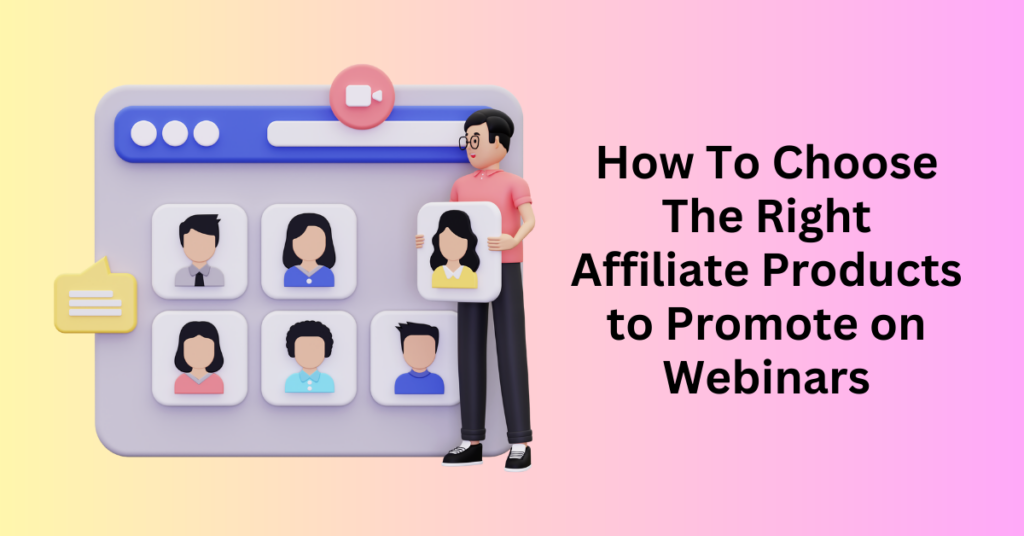 Before you start or prepare for your webinar, you need to know what you are promoting. This includes choosing the right products and the niche that you want to promote.
Pick Your Niche
To start, you need to decide your niche. If you have an existing following, then you can work on the niche. And if not, you need to first choose your niche. A niche is the main topic that you are working on for your business. For example, you can be working in the make money online niche where you promote the tools or courses to help your audiences to grow their business online and make money.
When you have a niche, you can then learn about your audiences in the niche. And then, look for a product that can address the problems that your audiences are facing and want to solve.
Next, when choosing your affiliate products, your first filter would be a product with a high conversion rate. This is to ensure that the chosen products have huge demand and that the affiliate sales page is good at converting customers.
Look for High Conversion Affiliate Product
As you are working in affiliate marketing, you have the advantage of choosing the best product to promote. This means you can look for a product that has a good reputation and sells well. For example, if you are promoting affiliate products from ClickBank, you can start by filtering the products with high gravity scores. High gravity score means there are more successful sales for the products. 
Another important metric that you need to consider when choosing an affiliate product is the commission rate offered. This is important as it is the potential income you will make from promoting the products. If you are promoting a physical product, the commission rate is typically lower as the product margin is limited. But if you are promoting a digital product, you can easily get over 50% commission for the product.
And when choosing the affiliate products to promote with webinars, you can always look for high-ticket products where you can get over $100 for every successful sale.
Creating an Offer Around The Affiliate Product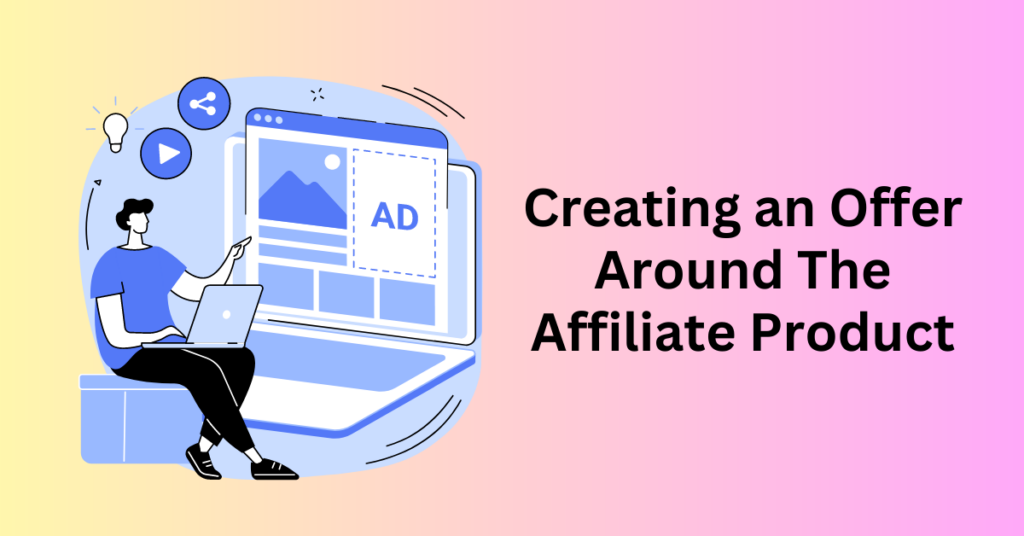 In affiliate marketing, you are competing with other affiliate marketers to promote the same products. In order to get people to buy from your affiliate links, you need to create a unique irresistible offer around the affiliate product.
To do this, you can add value to the affiliate product by including your unique bonuses when they buy from you. You can't control the product price as you don't control the checkout process. However, you can add value to the products. The value of your free items shall be 10x the value of the product value so people can't resist buying from you.
Preparing to Promote Affiliate Products With Webinars
To prepare for your webinar, you need to start planning your webinar script and how you want to host your webinar.
1. Choose Your Webinar Topic
When you prepare the webinar to promote your affiliate products, you need to start with a topic around your affiliate product. You need to select a topic that is relevant to your target customers and align with the product you are promoting.
When deciding your topic, learn about what your target customers are facing and what they want to solve. To do this, you can join different forums or social media groups and see what they are asking there. Make a list of the top 10 questions they are asking and then include the answer in your presentation.
Next, you can look for the affiliate product resource page and the sales page to see the problems faced by other affiliates. Then include them in your webinar script to engage your audience.
2. Create The Webinar Outline
Your planning for the webinar script is important for crafting a high-converting webinar. 
In your webinar script, you can separate your webinar into three parts:
The intro
The content
The stack
The Introduction
First, in the introduction, it's time to explain who you are, what you do and what you can offer to them. This is to build rapport so that they will trust and listen to you.
The Content
Second, build the hook to get your audiences looking forward to continuing to listen to what you can offer to them. Here you can use the epiphany bridge script to make them resonate with your story.
You start with the backstory, then explain how is your journey of transformation. During the journey, what are the challenges and obstacles you face and how you found the solution for them. This is where your affiliate product comes in as the solution.
Then, you can break down further the three false beliefs about the products.
The Stack
Finally, the stack is your irresistible offer. Here's where you explain what you offer together with the affiliate product and why they should buy from you.
In this part, you will explain your offer and list it down one by one with the value of each item in your bundle so that the perceived value of your offer will increase. And it will be easier for them to decide and buy from you.
And after you present them with your offer, tell them how they can complete the purchase to get the offer today. People will take action when there is fear. You can create fear by implementing the urgency and scarcity elements in your pitch. This is done by introducing limiting the time and quantity of the offer so they will fight to get it before it runs out.
3. Choose the Webinar Hosting Platform
Now that you have created the outline for your webinar, it's time to choose the platform to host your webinar. This is important as you want to have a platform that your audiences are familiar with and is able to support a huge amount of participants when your business grows.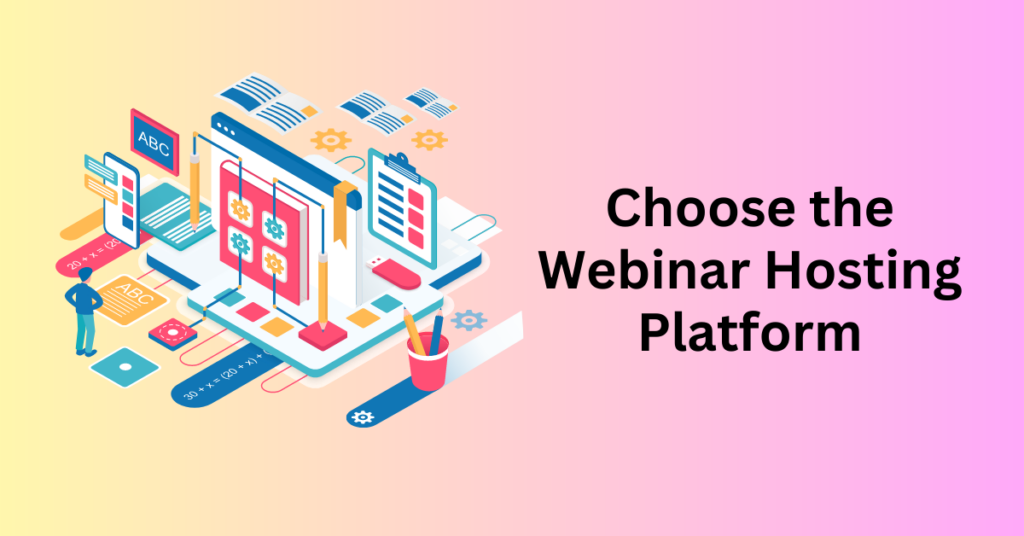 Some basic features including screen sharing, webinar recording and chat features are important so you can run your webinar smoothly. Besides, to ensure your participants can join the webinar easily and interact with you better, the platform shall be easy to use for both you and your participants.
And although you might be just starting out and have a small group of audiences at first, being able to scale big is crucial if you invest in the platform. As you won't need to invest in another one in the future.
Finally, the cost of the platform is also important. Some webinar platforms will offer free accounts with limited time and participants for the session. But it's good that you take the basic paid plan to ensure your webinar session will not end unexpectedly.
4. Sell Your Webinar Ticket
Now that you are ready to launch and host your webinar, it's time to sell your ticket and get people to join your webinar.
To do this, you can build a webinar funnel to sell your webinar ticket, follow up, and replay your webinar.
The Webinar Funnel
To promote your webinar, you first need to have a sales page to sell your tickets. And we call this the Perfect Webinar Funnel. This funnel is created by Russell Brunson, the co-founder of ClickFunnels that has built multiple successful webinars to sell their products.
A webinar funnel starts with a registration page where you sell your webinar ticket and get people to sign up for it. Then, after they signed up, they will be sent to a confirmation page for them to save the date to their calendar and if you have any free resources or material that they can access before the webinar, you can have the instruction to tell them how to claim that first.
The next step would be delivering the actual webinar. During the webinar, remember to record the webinar session so you can offer that as a free or paid replay session for your audiences. You can also use the replay as the next webinar session instead of running it live.
Apart from the funnel page, you should always have a follow-up funnel before and after the webinar session. For the pre-webinar follow-up, it can be separated into two parts. Part one would be the follow-up email to convert those who enter your registration page but didn't confirm their attendance. And another part would be sharing some insights into what to expect during the webinar. Just like the movie trailer to hook you to watch the entire webinar. 
And for the post-webinar follow-up, there are also two parts:
The follow-up email is for those who attended your webinar but did not purchase.
Email marketing to build relationships and nurture your customers.
Marketing Plan For Your Webinar
You need to bring in traffic to your webinar funnel to get people to sign up for it. To do this, you can use paid ads, social media, and email marketing to sell your tickets.
Since we are organizing the webinar to sell the affiliate products, we don't charge for the ticket. Instead, give them the ticket for free and promise that they will get tonnes of value from the session. And of course, deliver what you promised.
Final Thoughts – How To Promote Affiliate Products with Webinars
Webinars are one of the most important for affiliates to build and scale their affiliate marketing business to another level. You can promote high-ticket affiliate products and services better and on a larger scale.
Comparing to one to one communication, you can now reach a group of webinar participants at the same time. And you are joining the webinar live with them. This will make them feel that you are more trustable and will be more inclined to buy from you.
Nevertheless, there are a lot of people who will need a second or third attempt for them to make the decision. It's normal and we understand that. This is why, other than delivering the perfect webinar, your follow-up after the webinar is equally important to close more sales.