So you heard about affiliate marketing as one of the best business models to start and make money online. And you are thinking of creating an affiliate marketing website for your business. 
I would need to disclose this first. Affiliate marketing is not easy. And those good pictures that are painted online may not be the whole picture. If you are looking for get rich quick scheme with minimal work, you might be disappointed.
There is a lot of work behind the scene to build a successful affiliate marketing business.
Today, we are going to share the latest evergreen guide on how to create a website for affiliate marketing step by step.
What is Affiliate Marketing?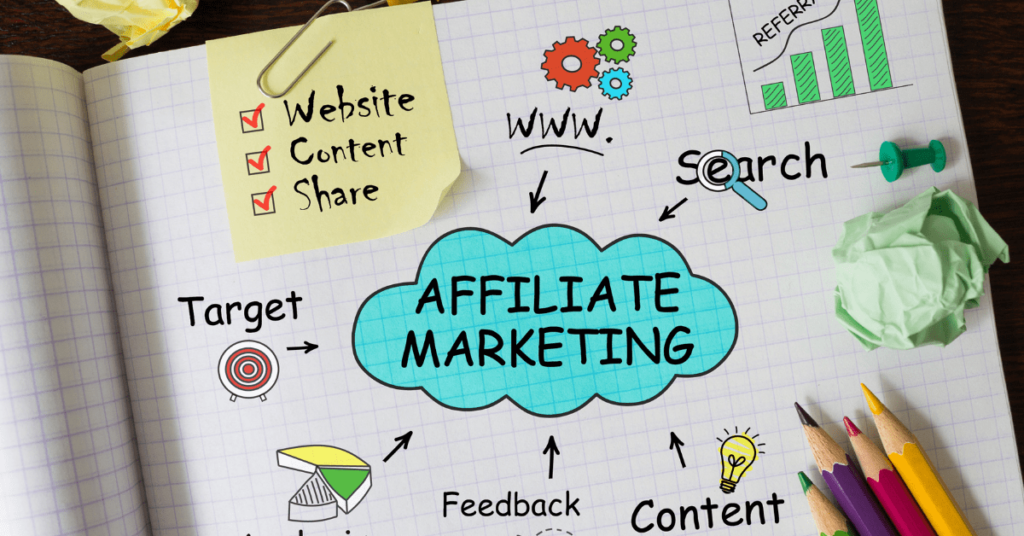 Affiliate marketing is a performance-based marketing strategy where an individual or company promotes another company's products or services. In return, he will get a commission for each successful referral sale or lead generation through his links.
Affiliate marketing is one of the best businesses for beginners to start as it is easy to start and the investment required is minimal.
As an affiliate, you need to join an affiliate program for the product that you want to promote, get the affiliate link and promote the product. Once someone clicks on your link and makes a purchase, the tracking algorithm will credit you for the sales. And finally, you get paid for the successful sales referral.
One of the main advantages of affiliate marketing is that it allows advertisers to reach a wider audience through the promotion of their products or services by affiliates. This leads to increased brand exposure and sales without the need for the advertiser to invest in direct advertising.
Similarly, affiliates can earn a steady income by promoting products they believe in. There is no need for them to create their own products or services. The commission can be a one-off payment or a recurring payment if it's a subscription-based product. As long as the customers continue subscribing to it, you will get paid commissions.
Different Types of Affiliate Marketing Structures
There are various commission structures used in affiliate marketing, including pay-per-sale, pay-per-lead, and pay-per-click.
In pay-per-sale, affiliates earn a commission for each sale made by a user who clicks on their tracking link. For pay-per-lead, affiliates earn a commission for each lead generated, such as a user filling out a form or signing up for a newsletter. 
In pay-per-click, affiliates earn a commission for each click on their tracking link, regardless of whether the user makes a purchase or not.
Affiliate marketing also requires effort and strategy from both the affiliate and the advertiser. For affiliates, it is important to choose products or services to promote that align with their niche and target audience. Affiliates should also regularly promote their affiliate links through various marketing channels and monitor their performance to optimize their efforts and earn the highest commission possible.
For advertisers, it is important to choose affiliate programs that align with their brand and target audience. Advertisers should also regularly monitor their affiliate program performance, offer competitive commission rates, and provide timely and accurate payments to their affiliates.
How Does Affiliate Marketing Work?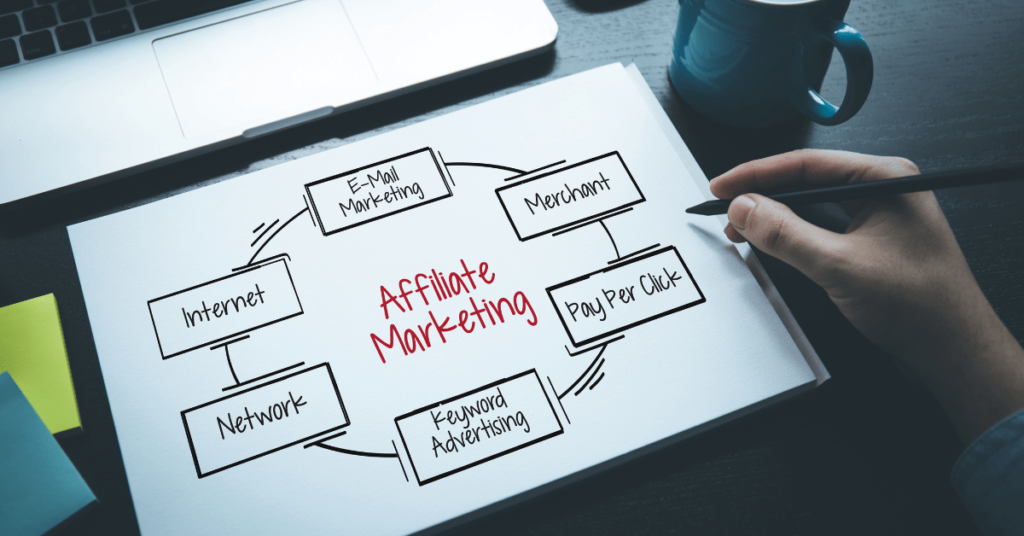 Affiliate marketing works by forming a partnership between a merchant and an affiliate. The merchant offers a commission for promoting their products or services. And the affiliate will be responsible to promote the products or services to their audiences.
When an affiliate joins an affiliate program/network, he will receive a unique link for each product that he wants to promote. This is important as each link will have a tracking algorithm embedded so that when someone clicked the link and make a purchase, he will be credited for the purchase.
Affiliate marketing is a business model that benefits both the merchant and the affiliates. As a merchant, you only pay commissions based on successful sales. This means no more wastage of your marketing budget.
And for an affiliate, you can access thousands of products to start selling almost instantly.
How Do You Get Paid in Affiliate marketing?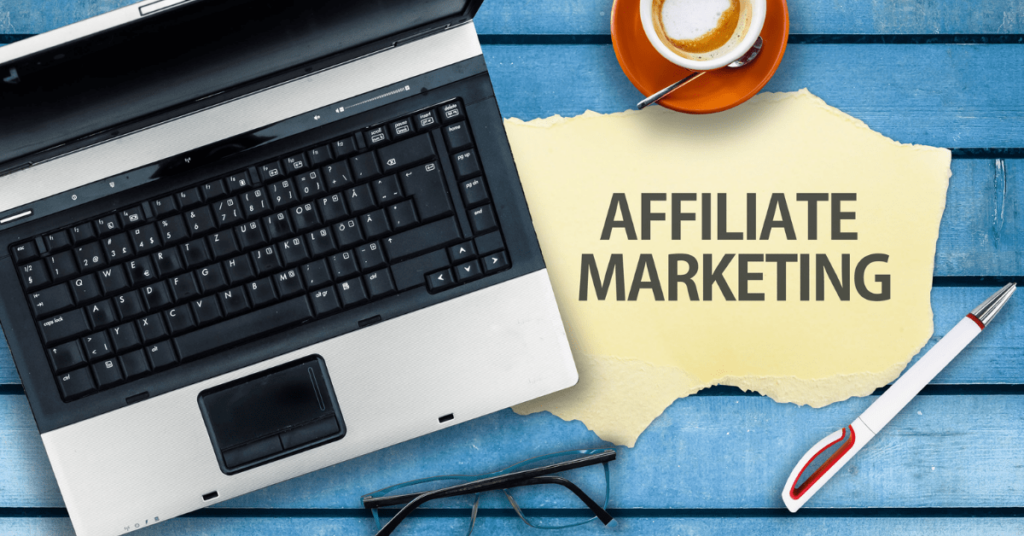 When you sign up for an affiliate program, you will receive an affiliate link, which normally looks weird. This is because each affiliate link needs to be unique to you to identify and credit the sales to you.
There is a cookie that comes with the link, where after someone clicked on your link, the cookie will store in their computer for a certain period of time. So that when they come back and complete the purchase, the sales commissions will still be able to credit to you.
The cookie period may vary depending on different affiliate programs. It can be up to 24 hours or even up to 3-6 months. For anyone that makes a purchase within that period after clicking on your link, the purchase will be credited to you as well.
For example, for the Amazon affiliate program, the cookie will last for 24 hours. And you are credited for everything the customer purchase in the next 24 hours even if they didn't purchase the original product.
As digital products normally have a higher margin compared to physical products, you normally will get between 20-50% commissions for a digital product. While for the physical product, the affiliate commissions are normally less than 10%.
Why Creating An Affiliate Marketing Website?
While there is not a must to create an affiliate marketing website for you to start in affiliate marketing. You should have one for your long-term strategy.
Many new affiliate marketers tend to sign up for the affiliate program, get the link and start spamming their links around on different platforms. This is something you don't want as most social media platforms will penalize you for doing that.
A better way shall be building a website for affiliate marketing, providing value for your audiences and converting them. This is a long-term strategy for you to build your portfolio, provide value and build audiences.
By posting valuable content consistently on your website you can be seen as an authority in your selected niche.
In addition to making you look professional, when you create an affiliate marketing website and publish content regularly, you get to drive targeted traffic from search engines to your website.
How to create an affiliate marketing website in 2023
We will be creating the affiliate marketing website with the WordPress CMS platform. And in the following section, we will share step-by-step how you can follow our guide to building yours today. 
Step 1: Pick a niche
The first step of starting an affiliate marketing business is to know which niche you want to work on. It should be something that you are interested in and passionate about, and there is money in the niche. 
If you are doing something that you don't like, most probably you can't continue doing that for long. Also, if you promote something that people are not going to buy, or have no money to buy your product or service, you are not going anywhere. 
Instead of wasting your time creating something that won't succeed, you should start it right from the start. 
Since picking a niche is so important, you can start by asking yourself a few questions:
What are you passionate about?
Is it a trending niche?
How often do people search for it? 
Can you create content regularly for your niche?
Is there a consistent demand for your niche?
What's the competition like for your niche?
Are there affiliate programs for your chosen niche?
By answering these questions, you should get an idea of what niche you want to start.
 Else, you can start from the 3 core markets of health, wealth, and relationships. 
Step 2: Find the right affiliate program
Once you've decided on a niche, it's time to identify the affiliate programs out there. This is where you step further into the nuances of affiliate marketing.
I always look at 3 things when choosing an affiliate product.
How is the product owner? Does the product owner commit to the affiliate program and provides resources for it? Not that I want their resources for launching my affiliate program, but to judge that the owner is serious and knows how to convert more customers in their sales process.
Low ticket products or lead magnet products to guide my new audience down the sales process. This is also one thing to lower the entry barrier for high-ticket products. Getting someone to directly purchase a $1000 product might not be that easy especially if they know you. But to go from a series of Yes, starting from $47, then $97, and then $497, and then $997 is easier when you give more value to them and build trust.
Recurring payment. This is the most important for passive income. And hence, I focus more on subscription-based products. A software platform is good to start. As you have a good tool, business owners will keep using that as long as it makes them money. And for you as an affiliate, when they pay, you get paid as well.
Step 3: Choose a domain name
If you don't know what is a domain name, www.yourdomainname.com is a domain name. The name that people enter in the search bar to browse your website.
You definitely want a custom domain name that can represent your company and what you are doing. At the same time, something that people can remember easily. This is for when people want to look for your website, they can find it instantly.
Not only that, it will increase the trustworthiness of your website as well. People will think that you are legit as you take the action to get a domain. As compared to some who use a subdomain from their web builder.
Having a custom domain name is important for your online branding as well. You can have the same brand name across different platforms to build standard branding.
You can start by checking the name availability for domains and different platforms using the free tool called Namechk.
Then when you found the right name, proceed to a registrar to purchase your domain. You can buy it from a third-party registrar or even from the web hosting service provider directly.
It will be good that you check on registrars like Namecheap or Godaddy and compare them with Bluehost because different registrars might offer different prices for the same domain name.
They might provide some discounts or offers together with their service.
For example, Bluehost does offer 1-year free domain with their web hosting subscription. But, you need to read the terms and the renewal fee as sometimes the renewal cost in the second year might spike.
Step 4: Select a web host and a website builder
Next, since you are building the affiliate marketing website on WordPress, you will need to get a hosting service. A place to store and host your website so your visitors can visit it from the internet.
There are many different web hosting service providers out there. And the top three recommended by WordPress are:
Different web hosting services might offer different packages of the server size and whether is it a shared or dedicated server.
Anyway, you just need shared hosting to start and scale it when your website grows. The more important are reliability and performance.
For this guide, we will be using Bluehost. Bluehost is one of the best web hosting services that we use and is easy for WordPress installation as there is a one-click deployment function for WordPress.
1. Choose a hosting plan
There are different web hosting plans offered by Bluehost, you can start with shared hosting, VPS hosting, dedicated hosting or even WordPress hosting.
To help you choose the plan, you can read our WordPress plan review or simply start with a shared or WordPress hosting plan. It starts at just $2.95 per month.
2. Picking a new domain name
With all the Bluehost plans, you will get a free domain name for the first year.
Once you have selected your hosting plan, select Create a New Domain to choose your free domain name.
If you already have your domain name registered with the third-party domain registrar, you can use it here. Else you can type in your chosen domain name and see if it's available.
To use your own domain name, you will need to configure the DNS to point your domain name to Bluehost's nameservers.
3. Enter Bluehost account information
Next, Bluehost will ask you to fill out some personal information to create your account. Or, you can sign in with Google.
4. Confirm hosting plan details
Now, it's time to make payment. Bluehost will list down all included in your list, with some add-ons. These add-ons are extra services that are charged separately. Hence, you need to be careful and select those required only.
For now, we would suggest unticking all. You can select the addons later when you need them.
Under Account Plan, you can also set the number of years you want to sign up Bluehost for. The minimum commitment is 12 months, but you can get a bigger discount if you commit up to three years in one shot.
5. Enter your payment details
The last step in the Bluehost sign-up process is to enter your payment details and complete the checkout.
Bluehost will now go ahead and set up your new hosting plan and domain name. You will then receive an email with payment confirmation as well as your new account information, including login and password details.
As a satisfaction guarantee, Bluehost provides a 30-day money-back guarantee. If you are unhappy with your plan or the hosting service within 30 days, you can always ask for a refund.
Step 5: Set up a theme and template for your affiliate website
A WordPress theme is an overall design for your website. It is the basis for a WordPress site.
To start, we will pick a theme that is lightweight, and fully customizable. And most important, templates are available for building the travel site fast.
For this, we will be using the Astra theme for the travel website.
To install it, go to Appearance > Themes and press Add New button.
You can find Astra by using the search box. Press the Install button and activate it when the option appears.
Next, you will need to install the starter template plugin for Astra. The start template plugin will give you access to all Astra templates and let you import the website design together with all related plugins into your website instantly.
We need to install the Starter Templates plugin to access the library.
Go to Plugins > Add New and look for the Starter Templates plugin by typing the name in the search box.
Install and activate the plugin when it appears on your screen.
You can open the template library from Appearance > Starter Templates.
Once there, select the page builder of your choice from the list that includes Spectra, Elementor and Beaver Builder.
You will find a huge variety of website templates to support your affiliate marketing business.
Step 6: Set up Plugins for Your Affiliate Website
Once you're done installing the theme, we recommend installing a few plugins to enhance the functionality of your WordPress website.
We recommend the following plugins to help improve your website performance and security:
SEO plugins: Boost traffic by optimizing your website for search engines. Use plugins, such as Yoast SEO, RankMath, and AIOSEO
Caching plugins: Want to optimize the speed of your website? Use caching plugins, such as WP Rocket, W3 Total Cache, and WP-Optimize
Other than those common plugins, there are some specific plugins to manage your affiliate links.
As an affiliate marketer, you will have different affiliate links for the product that you promote. And you will embed different links on different pages or posts on your website. 
Affiliate Link Management Plugin
To manage the link effectively, you can use a plugin to manage it all in a place.
For instance, a typical affiliate link will look like this:
When people look at the link, it's long and complicated. They might be more reluctant to click. This is why you want to mask it with your own subdomain.
So it will look like www.yourdomain.com/go/affiliateproduct
Another important advantage is mapping your affiliate link to a custom link is when your merchant updates the affiliate link structure or changes the affiliate network.
If you would need to search for all pages and change the link one by one, it will be a nightmare.
Hence, it is very important to mask it to your own link and if anything changes on the affiliate link, you just need to change it in the plugin and it will redirect to the right place.
The plugin that we are using is called ThirstyAffiliates. There are other links like Pretty links and so on. All these are similar, just get the one that you feel is suitable for your business.
Step 7: Create Content for Your Affiliate Marketing Website
Now, after you have your website fully set up, it's time to add some content to it. This means writing blog posts to provide value to your audiences and persuade them to purchase from your affiliate link.
Blogging is one of the ways affiliate marketers use to produce content for affiliate products. You can write about the chosen niche, product tutorial, guide, review and so on to keep your audiences engaged.
1. Product reviews
Product review is a very effective content marketing for affiliate marketing. As an affiliate marketer, you can promote the affiliate product to your audiences.
When people are making a buying decision, they will normally look for reviews. Third-party reviews can be a good source of information about how the product works instead of reading the sales brochure.
In your product review, you can highlight on the features, benefits, and how to use the product. This is especially important if you are sharing some information that they don't know but will definitely need it.
2. Product comparisons
Another way of doing reviews is to compare your affiliate product with its top competitors. Product comparisons are the best way to provide information to your audiences by comparing the pros and cons between two products.
Those who are looking for a comparison post are at the final decision stage. They already decided that they want to buy one of the products or solutions, just that they don't know which to buy. And your job now is to persuade them to complete the buying decision.
One of the mistakes some affiliate marketers do was to write a biased comparison post on the product that they promote. This is what you should avoid because by writing a fair and well-crafted product comparison, people will be able to trust you better.
3. Listing articles
For this, you can embed your affiliate link in the listing articles where you will be listing the top 10 tips for XXX or the 10 best XXX to solve a problem.
And in your article, you will embed the affiliate product as the solution that you provide to them.
For example, you can be sharing 10 steps to create a WordPress Website and in the post, you can include affiliate links for web hosting, domain, themes and plugins.
4. 'How-to' manuals
Another way to provide value to your audiences is to create how-to manuals. A how-to post will be teaching your audiences how to do something. It can be a step-by-step guide to do something or a complete tutorial to use a product.
Step 8: Build An Email List
We always stress how important is email marketing for online business. In fact, it is one of the highest ROI marketing techniques.
Many business owners don't focus on this, but this is absolutely what you want to do as you can see the compounding effect in long term.
You might not see the effect in the first few hundred of subscribers, but if you are getting thousands or even hundreds of thousands of subscribers in your email list. 1% of conversion does make a huge difference in your revenue.
Not only that, but by nurturing your email list, you can create a loyal customer base where you can promote your products to them anytime. You can get access to them without paying for ads.
This is why you should focus on building an email list.
One of the best ways to build an email list is to offer free lead magnets in exchange to their contact details.
To manage your email list, you can use an Autoresponder to manage the list and the email marketing automation.
Step 9: Social Media Marketing for Affiliate Marketing
Social media is a good place that your target customers to hang out. And in most cases, the groups and forums already group all your target customers. What you need to do is to tap into the audiences, engage with them and direct them to your websites.
You can start by picking one social media start, and slowly expand to other platforms when you mastered it.
Step 10: Website SEO for Affiliate Marketing
Search Engine Optimization (SEO) is crucial for successful affiliate marketing, as it helps improve the visibility of your website on search engines like Google, Bing, and Yahoo. Here are some tips for optimizing your website for affiliate marketing:
Keyword Research: Research keywords related to the products you are promoting and use them in your website's content, meta tags, and URLs.
Content Quality: Create high-quality, relevant content that provides value to your audience and includes your target keywords.
On-Page Optimization: Ensure your website's structure, URLs, and images are optimized for search engines, including the use of proper headings, meta tags, and alt tags.
Link Building: Acquiring high-quality backlinks from reputable websites can improve your website's search engine ranking.
Mobile Optimization: Make sure your website is mobile-friendly, as more people are using mobile devices to search the web.
User Experience: Improve your website's user experience by having clear and easy-to-use navigation, fast page load times, and a visually appealing design.
By implementing these SEO techniques, you can increase your website's visibility and attract more organic traffic, which can lead to increased affiliate sales.
Final Thoughts
Affiliate marketing can be a very lucrative and profitable business model to make money online. With the low investment, almost everyone can start and build a profitable business with it.
However, most people do not succeed in it. This is because most think that affiliate marketing is a get-rich-quick scheme and less work is required to get success.
This might be true for 10 years ago when the internet just get famous. But for now, there is much competition out there and people are more cautious when buying products, there is much marketing and work required.
If you would like to start an affiliate marketing website, we hope that this guide helps. If you have any queries or problems, do leave us a message, and our team will contact you and support you.