When we talked about the WordPress site, definitely we heard about Bluehost. Bluehost has become the largest brand name when it comes to WordPress hosting. And, they are an official 'WordPress' recommended hosting provider. You can check on the WordPress website or the image below. Only 3 hosting companies are recommended and Bluehost is at the top of it.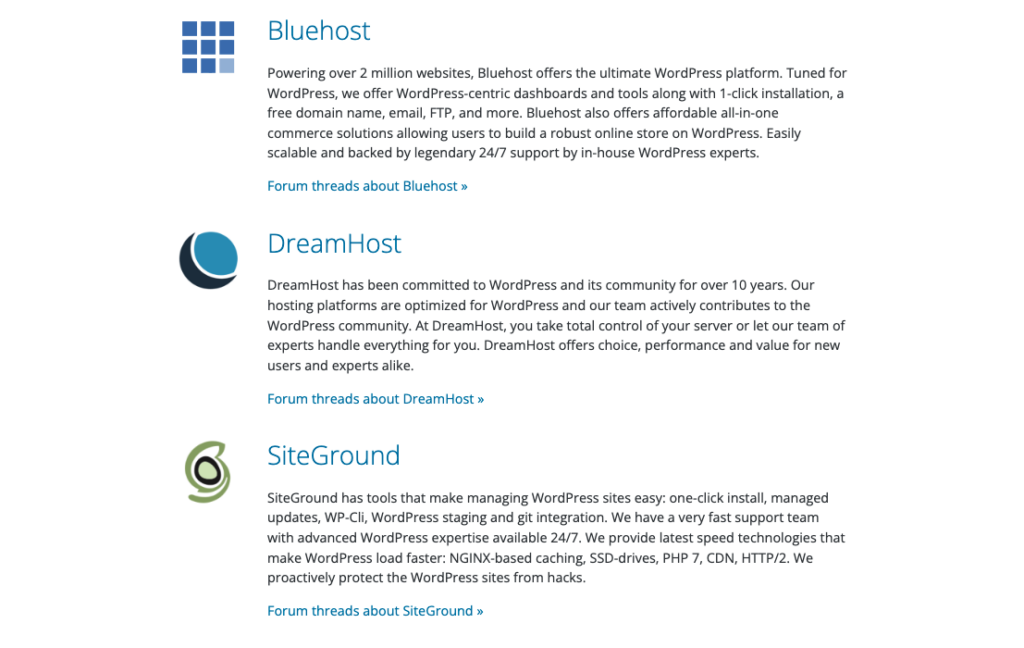 With Bluehost, you never have to worry about your website being slow even when there is a lot of traffic. Their expert support is always there 24/7 to help when you need it. They are rated #1 in web hosting for small businesses with over 2 million websites hosted. On top of that, they are offering our users an exclusive 63% discount, a Free Domain, Free SSL, and a free Site Builder with templates.
Disclaimer: This review contains my Bluehost affiliate link which may provide a small commission to me at no cost to you. However, they are the number one tool I wholeheartedly recommend to anyone looking to start and monetize a blog or website. You can read my affiliate disclosure in my privacy policy in the footer.
About Bluehost
Bluehost is part of a massive corporation, Endurance International Group (EiG), which owns various hosting providers and has a colossal market share. They had a very strong background in web hosting and are one of the best in the market.
Bluehost is ideal for beginners that are starting a website for the first or second time. Say you're a blogger or affiliate marketer who is getting started in your niche, Bluehost enables you to get an easy start without sweating all the technical details.
Along with their customer support features and easy-to-navigate cPanel, Bluehost ensures your learning curve is as small as possible and gets your site publicly available to the world with plenty of uptime.
What Does BlueHost Offer
Along with the hosting business, Bluehost does offer a few other services that are required for website building. For instance, you can get a domain name, Optimized WordPress Hosting, Shared Hosting, VPS, or even dedicated servers on Bluehost.
Domain names:
Bluehost does offer 1-year free domain names for every signup. So you don't need to get it separately at the other place. But, Bluehost is definitely not the cheapest when you are renewing it in the future. To brainstorm about your domain name and its availability across multiple platforms, you can use namechk. By this, you can instantly know the availability across different platforms and social media.
WordPress hosting:
In most cases, if you are just starting out a WordPress site. This will be your best choice. Bluehost has a WordPress-focused hosting service. It's optimized for WordPress sites and comes with several perks like a staging area.
Unless you are managing a really large project or you need a very good dedicated service, a shared hosting plan is the one you ought to consider. Think of this as sharing a flat; you'll share a server (flat), but you'll have your own hosting space (room) – cheaper but noisier. Unless you are running some critical services or sensitive services, shared hosting is good to go.
VPS:
Compared to shared hosting, A Virtual Private Server is something better. It lies in between a shared hosting and a dedicated one. You'll share a server with other clients, but there's a (virtual) wall between your projects and theirs. This type of hosting is recommended for those needing special server configurations (e.g. using a particular programming language).
Dedicated servers:
Adequate for those websites that generate tons of traffic and/or need a top-performing server. You can think of this as having your own house; with no neighbours or roommates to bother you.
BlueHost Plan & Pricing Comparison
There are 4 plans in Shared hosting which you can choose depending on your application requirement. For a small website or blog, a basic one will do to start. But if you are having multiple sites, you should opt for the plus or choice plus plan where you get more server power and SSD storage. Not only that, you will be getting additional Free Office 365 for 30 days. And if you are going for the pro option, you will be getting some addons like domain privacy, automated backup, and dedicated IP for free.
Shared hosting will probably be the best plan for your needs to start. In time, as your resource and feature needs grow you can upgrade your web hosting package. Shared hosting is also the cheapest hosting option you'll be able to find and will provide your site with all of the resources required for it to grow.
WordPress Hosting
While the plans for WordPress Hosting are similar to Shared Hosting. I will show you what Shared Hosting vs. WordPress Hosting is. For shared hosting, it is more general where you can have a website that you need to host. It is a general use for web hosting that of course includes hosting a WordPress site. Similarly, WordPress Hosting does the same thing, but with highly customized for all integration that WordPress Site needs.
The main benefit of signing up for a Shared WordPress hosting plan over a standard shared hosting plan is the server setup. The shared WordPress hosting plans are specifically geared up to hosting just WordPress sites, making them better optimized and providing you with faster load times.
VPS Hosting (Virtual Private Server)
VPS hosting is like a dedicated server, but it's much cheaper. The reason being you are not actually getting the full dedicated server. Rather, you are actually renting part of a server. It relies upon virtualization technology to create a virtual dedicated server across multiple shared servers. So, it will have a better experience compared to shared hosting.
Basically, you're still going to be sharing a physical server with other users, but these users will never overlap, or affect your server resources. The virtual server spec that you are renting, is the one that is reserved for you. By this, you can have the ability to scale your server resources rapidly, since you're not limited to the constraints of a physical server.
The plan you choose mostly depends on your site storage needs and the level of bandwidth you require. If your traffic volume continues to grow, you can upgrade the spec accordingly without much interference with your service.
If you've recently outgrown your shared hosting plan, then VPS hosting is definitely worth checking out. It's not that much more expensive and you'll be getting a lot more power, flexibility, and scalability.
Dedicated Server Hosting
Dedicated server hosting is the most straightforward. You tell BlueHost the server spec you need and they will rent you the entire physical dedicated server. This is the most expensive form of hosting as you are not sharing anything with others. That is why the cost is also much higher compared to other shared hosting plans. You are paying for the entire cost of the server and for the maintenance & operation. No one is going to share the hosting cost with you like shared hosting.
However, this does give you advantages like total server customization, incredible performance, along a massive amount of storage. Dedicated servers also provide you with better levels of security as well. The difference in the plan is mainly due to the server spec: CPU, RAM and Storage difference, network bandwidth, and the number of dedicated IP addresses.
As you can see from the plans above dedicated servers provide you with a ton of storage, bandwidth, and RAM, all in a very high-performing server environment. Dedicated servers are commonly used by big companies with high requirements for site volume and security.
Summary of Plan Comparison
If you are just starting out a blog or website, you can go with Shared hosting or WordPress hosting.
If your website is building and you are expecting a high volume of traffic, then you can go for VPS hosting.
As your business grows bigger and you have a lot of sensitive information where security and reliability are your highest priority, then dedicated hosting is all you need.
You can sign up for BlueHost hosting and get our exclusive discount for signing up under my link. Not only that but since you are signing up from my link, I will provide help during your website creation. Just drop us a message when you face any issues and our team will reply to that.
Pros & Cons of Bluehost
Pros
Very fast server speed:
Well, Bluehost isn't the fastest host on the market. But, its loading speed is very sufficient for most websites. Of course, the speed also varies depending on the type of hosting you end up going with. For shared hosting, it will be the slowest hosting package with slower load times, but still, their speeds are competitive. While upgrading to other plans like VPS or a dedicated one will deliver even faster loading times, as you have greater server resources dedicated to your site.
Impressive Server Uptime:
Website uptime is incredibly important as it represents your online business hours. You certainly don't want people unable to visit your website. The industry-standard uptime for hosting companies is around 99%, which might seem great. In most cases, it will take 15 minutes or less to resolve, unless it's an extremely rare circumstance. So far, we have no issue with this for our sites hosted on it. And for other plans like cloud hosting, VPS, and dedicated servers to be nearly 100%.
24/7 customer support:
Good customer support is extremely important when your business relies on web hosting. Being able to get connected to customer support will let you have peace of mind for your business. Although they might take some time to resolve your problem, depends on the complexity. There is someone you can consult when you need. Not every company is having 24/7 customer support, especially at such a low entry-level price. Most will only provide that with a VPS or dedicated customer. Bluehost's customer support is there for you as you sign up, and anytime when you need extra support.
One year of a free domain:
This is what I love about Bluehost most. The one-year free domain. This is possibly one of Bluehost's most appealing features. Everyone likes free gifts, right? This does also eliminate the extra step of buying the domain name from a third-party domain seller and integrating with Bluehost. Everything is there when you signup for the hosting service. You will not need to invest extra money at your site's beginning.
Free SSL certificate:
An SSL certificate, otherwise known as a Secure Sockets Layer certificate, makes sure to authenticate the identity of your website and encrypts important site information. This is essentially one of the most important parts of any website. Without an SSL certificate, your site will be labelled as insecure and will affect your SEO ranking as well. Thankfully, Bluehost provides SSL certification for free so you don't need to have extra complicated steps to try and error to set it up.
Quick site setup:
With Bluehost, you can easily get your site up and running in no time with their intuitive and guided step-by-step setup. You can install WordPress in no time with the one-click-deployment function for WordPress. And if you happen to run into any trouble, you can tap into their chat support feature in real time. 
Read more on the step-by-step website building guide
Beginner-friendly:
Bluehost is ideal for anyone starting out or wanting to create something fast. Especially if you are creating and maintaining a website for the first time. This is because it is so simple and fast to deploy a website from scratch without any technical knowledge. You don't need advanced web management knowledge or coding when you set up your site through it. To sweeten the deal, they've partnered with WordPress and ensured that installing WordPress is a seamless part of the process. You literally can have a fully functional site within minutes.
Cons
Renewal Fees Increases:
As many businesses do, WordPress does provide a very low startup cost with great discounts to get you on board for the first few years. But then, after the period ends, do expect some fees increment on renewal. This is usual for most businesses, so just make sure that you know and expect this during renewal.
Charges for site migrations:
Admittedly, every business will try to keep you on their platforms as long as possible. Bluehost isn't necessarily your best bet When it comes to migration. If you want to help to migrate your site, Bluehost charges at least $149 to migrate your site to or from another platform.
Not the best "Unlimited" Service:
If you're wanting to scale an already high-traffic site and need hosting to meet those specific needs, an entry-level Bluehost plan isn't going to cut it. Unless you are getting a dedicated service, there is no unlimited guarantee for shared service. However, you can always upgrade the service to their more expensive managed WordPress tiers as your business grows.
Why Bluehost Hosting for Affiliate Marketers or Bloggers
I had summarized all the benefits and the hosting plan BlueHost provides above. For this part, I will focus on web hosting for affiliate marketers and bloggers. If you are starting out and want to build a review site or blog, I would share to go directly with shared hosting. You can enjoy the one-click deployment functions where you can have the website deployed almost instantly with just a few simple clicks.
You can test your idea out fast and get things live in just a few minutes of time.
Read more on the step-by-step website-building guide