If you building your business online, you will need visibility and reach more customers. Social media is a good place for you to reach more potential customers in no time. And having a social media marketing strategy will help to ensure your success.
Online businesses are leveraging the power of social media to build and scale their business online. Social media can bring in both organic and paid traffic. Not only that but with the advanced tracking, targeting and retargeting algorithm, you can now reach the right customers easily.
However, to make it works, you need to have a social media marketing strategy in order to get a good result from your effort. With a clear social media marketing strategy, you can then create your social media content based on your customers' interests and then, know when is the right time to post your content to reach more audiences.
Today, we will be sharing how to create a successful social media marketing strategy for you to build and scale your business online.
Click here to start selling online now with Shopify
What is a Social Media Marketing Strategy?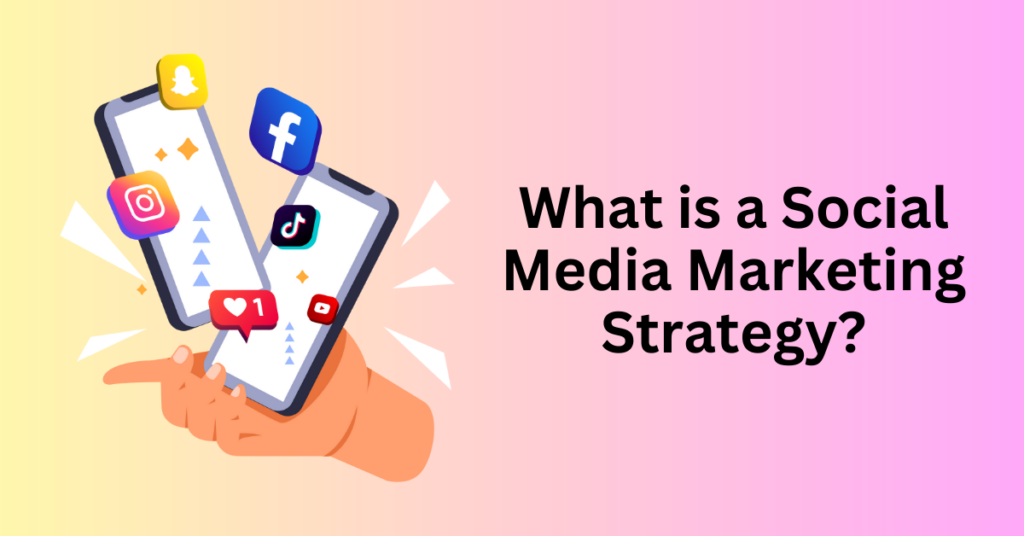 A social media marketing strategy is a comprehensive plan that outlines how to utilize social media platforms to achieve marketing and business goals. It involves creating and implementing various tactics and techniques to connect with the target audience, increase brand awareness, drive traffic, generate leads, and ultimately improve conversions and sales.
Different social media platforms will have their own algorithm and guidelines that you will need to follow to get the best result. The content format, content size, format, description and how the platform will show your content to its users are also different.
Below are some key components that you need to take into consideration when creating your social media marketing strategy.
Defining Goals and Objectives for Social Media Marketing Strategy
When creating any marketing campaign, it is of the utmost importance to determine the goals that you want to achieve through the campaigns. Your goals might be to increase website traffic, boost brand engagement, create awareness, grow the number of followers, lead generation or drive sales.
No matter what is your goal, having defined goals and objectives is the key to your marketing campaign's success.
Target Audience Identification for Social Media Marketing Strategy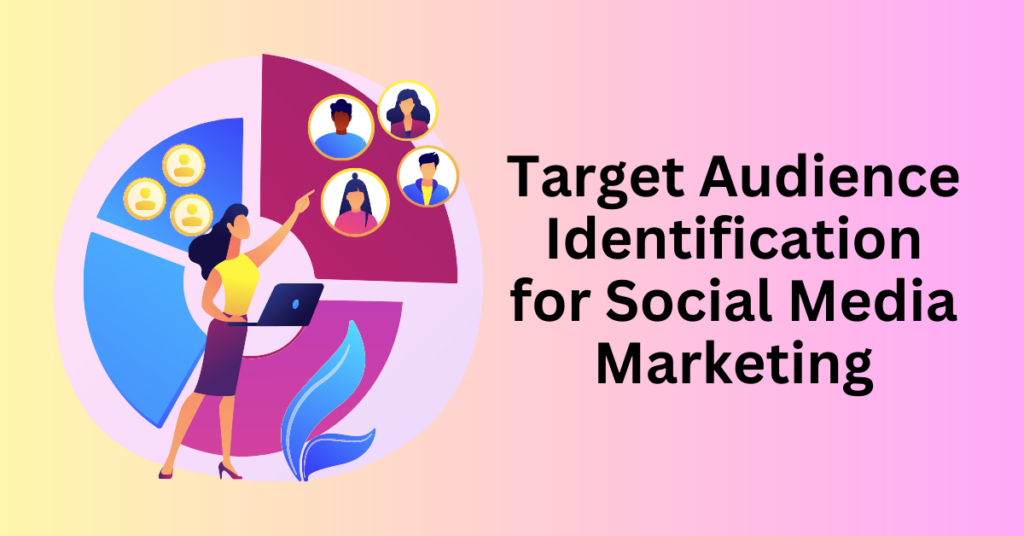 Before you start, you need to know who is your audience, the one that you want to serve and who would need your products or services. The more you understand your target audience, the better you can create content that resonates with them.
Decide on the Platforms to Start for Social Media Marketing Strategy
Different platforms will have different requirements. It is important for you to pick the right platform before starting. This is because you want to be able to create your content once and repurpose it on other platforms.
Not only that, you need to know which platforms your target audiences are. And then, focus on creating your marketing campaign on that platform. There is no use if you try to work in a place where your customers are not there.
Competitor Analysis for Social Media Marketing Strategy
When you are starting out, you will not know what the target audience in the niche wants or what works best. You can try it out yourselves to see what's working. But that will cost you money and time.
So, why not look at what your competitors are doing on social media. Look at how they structure their posts, what time they post and what type of posts they create. Then, learn from their successes and failures and create a better copy for your social media marketing campaign.
Content Strategy for Social Media Marketing Strategy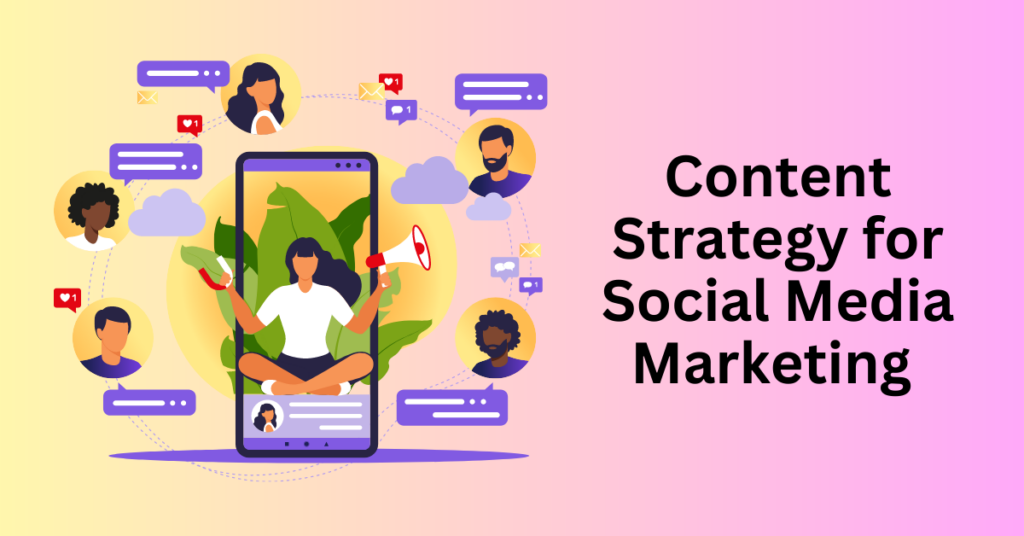 When developing your content, you need to have different content based on your goals and branding. Look at which has a higher clickthrough rate and conversion rate. Then, recreate something similar to increase your engagement.
Another important thing in the content strategy is the content calendar. You need to know how the platform algorithm works in pushing your content to its users. By posting at the right time, you can get access to more people with lesser effort.
Measuring and Analyzing Results for Social Media Marketing Strategy
With any marketing campaign online, you can track the data. This is what you can't do with an offline marketing strategy. Hence, you need to leverage the power of digital marketing to study the data and analyze it.
Then, with the data analyzed, you can optimize your marketing campaign to increase performance. 
Click here to start selling online now with Shopify
How to Create a Social Media Marketing Strategy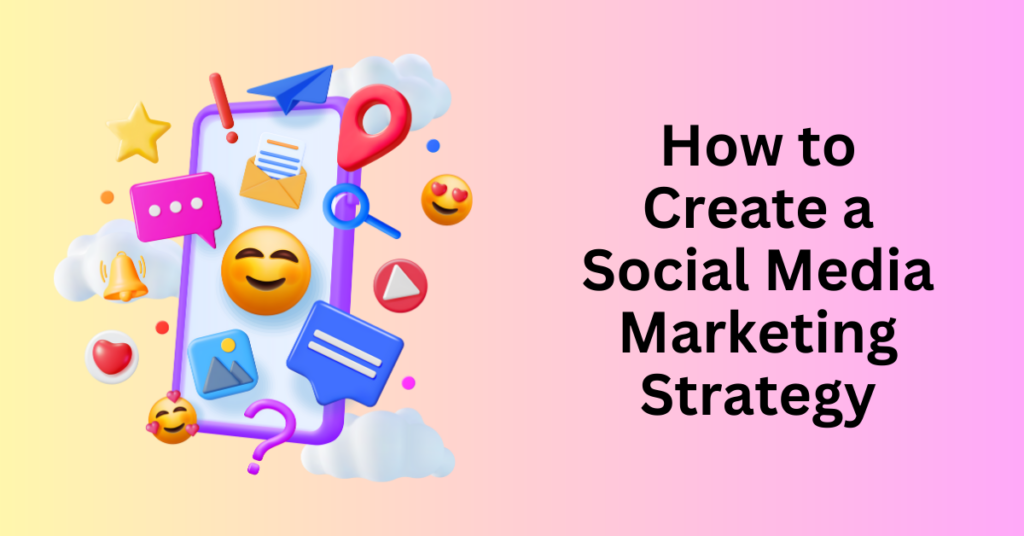 That's the basis of how to create a social media marketing strategy. Now, it's time to understand more about how to create one for your business.
1. Define your goals
Before everything starts, you need to know what is your goal for the marketing campaign. Depending on your business, and the stages you are in, you will be creating a different campaign.
For example, you can create a marketing campaign to:
Increase brand awareness,
Drive traffic to your website
Lead generation
Grow your audience
Increase engagement
Getting more sales
When you are running a business, there are different steps in the sales funnel where your customers are. They might not be ready to buy from you when they just heard about you. It takes time to create awareness and nurture them so they can trust and buy from you.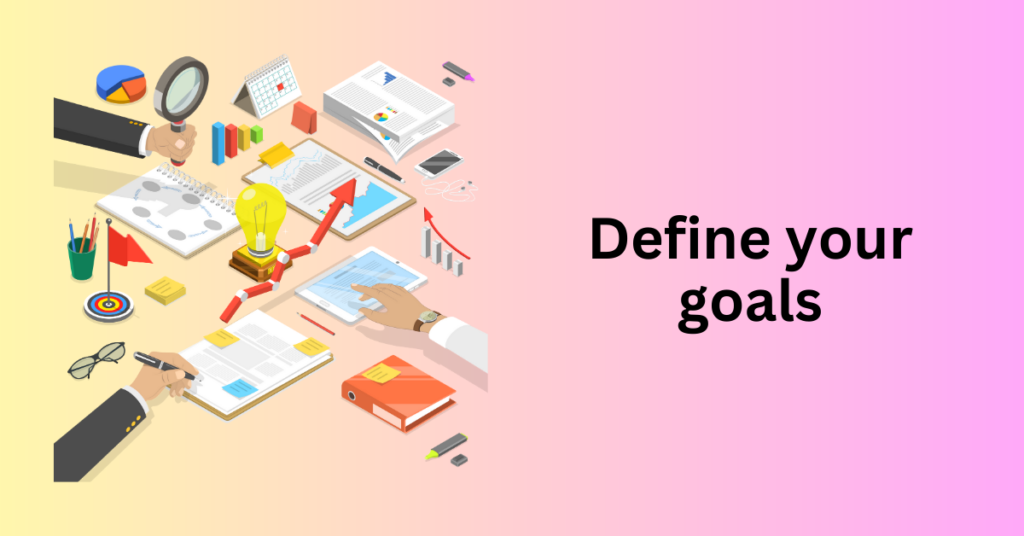 This is why, you need to create different marketing campaigns for audiences at different stages of the sales funnel.
There are four steps in the sales funnel, AIDA (Awareness, Interest, Desire Action). People in different stages will need different messages so that they can eventually decide to buy. When you send the message to people at the wrong stage, they will not buy and it will definitely hurt your conversion. 
2. Define Your Target Audience
In every business, you need to know who is your customers and who has your money. This is useful because when you are creating your products and promoting them, you need to promote them to people that need them.
This is why we will create a dream customer avatar that defines the customer as a real person. When defining your dream customers, you will need to know everything about the customers. This includes their interest, hobby, daily lifestyle and other information that you can get. 
Only by knowing them well, you can build rich content that resonates with them. To know about your audiences, you can run surveys or interviews with your existing customers or potential customers to know more about them. With the live data, you can craft compelling content copy that they can resonate with.
Not only that, when you are creating a paid campaign, you can use the data to create your target audience. Among the important info are their demographics, interests, and buying behaviour.
3. Research Your Competitors
Before you start creating your campaign, you can look for what your competitors are doing. This includes which social media platform they are running their marketing campaign and what content that they produce.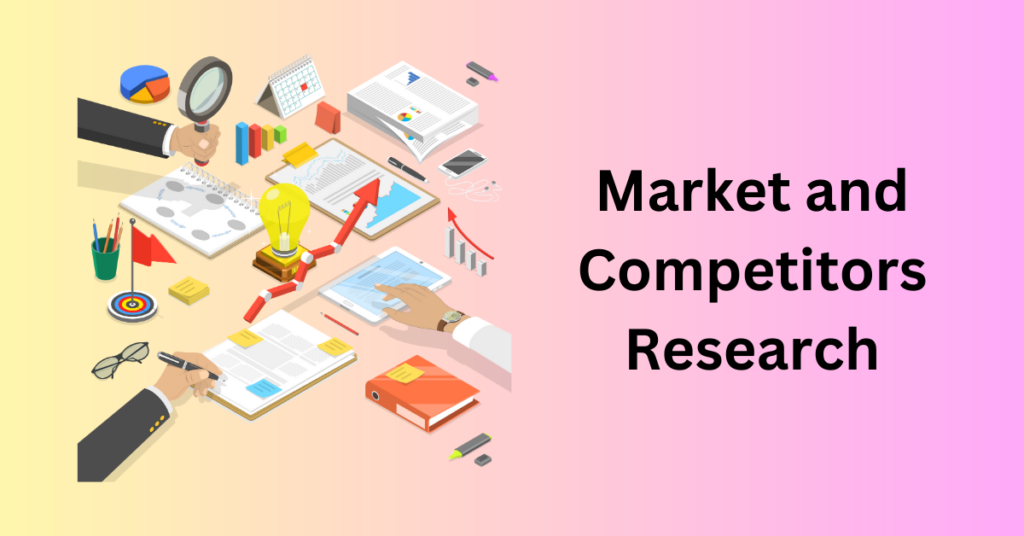 Running an audit on your existing social media content strategy will help you see what works and what doesn't. It will give you a better idea of what's working. You can run research on the top 10 competitors and see what they are doing.
Then, create a swipe file on their contents and learn from their contents. Don't copy exactly what they do, but learn and create your own content.
4. Choose the Platform to Start
Based on your target audience and competitors' research, you should know which social media platforms that you should start with. Look for the top one or two platforms to start. Work hard to dominate the platforms before expanding to other platforms. 
Unless you are an expert in the platforms, else you will need some time to develop your reputation and dominate the platforms. And if you are still unsure of what platform to go for, try Facebook and Instagram. There are two platforms that are easier to find your potential customers. 
5. Develop a Content Strategy
When you are posting on social media, you can't always post about your products only. Instead, you need to have a mixture of value-added content and promotional post so that your audience will not feel that your profile is too salesy.
People on social media like to be entertained instead of getting promoted to sell something. And also, you need to prove yourself by providing value to them first before selling. This will make it easier to sell to them as they already know you.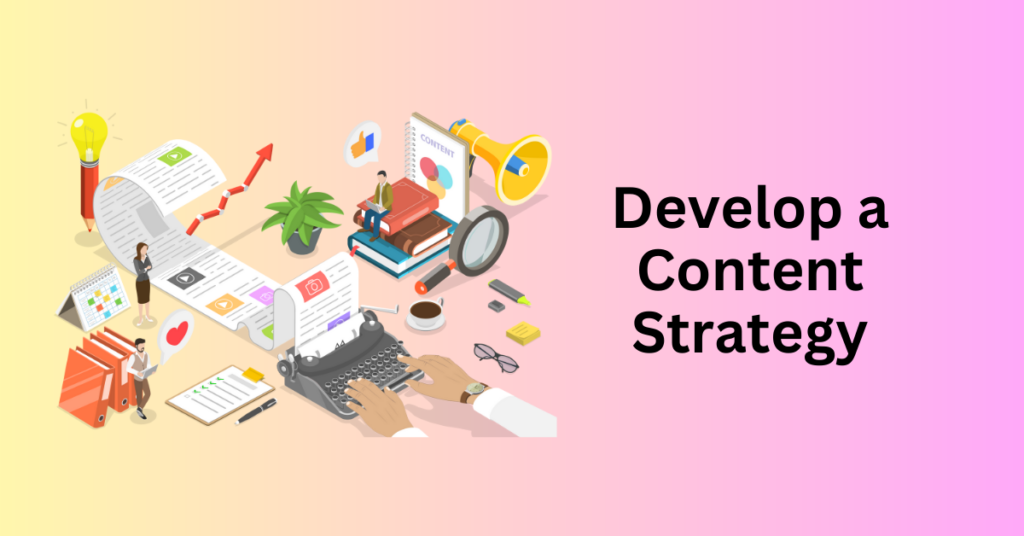 And if possible, create contents that can be repurposed to other platforms. It takes time to create a piece of content. You need to start from the idea, design and create the content. Sometimes people can run out of ideas for the content. Hence, you should always think of how to repurpose your content to other platforms.
For example, your YouTube video can be cut into several small pieces of content for Facebook, Instagram and TikTok. You can save your content creation time by doing this. 
Next, will be your content calendar. You don't know whether your audiences are waiting for your content. But just let's assume they do. You need to have a clear schedule for when you want to publish your content. And it needs to be consistent so that the platforms will recognize you as a valuable contributor. Then, show your content to more audiences.
The best content posting time differs for every platform. You need to look for the content schedule calendar for the platforms that you are working on. And at the same time, understand your own data. Look at each posting and see the posting on which time has higher engagements.
6. Engage With Your Audience 
Social media is a place to socialise. You need to communicate with your audiences instead of a single-direction communication where they like, comment and share your content only.
Instead, your audience needs attention as well. They want to feel important for their comment. By replying to their comment, you can so to them you care about them and at the same time encourage interactions among your community.
And if you are working on YouTube, the platform itself will take into consideration the content creator that replies to a comment within 30 mins of the content being published. 
So, create engaging content and engage with your audiences to build a reputation and trust among them.
7. Influencer Marketing
If you would like to buy your way in, you can look for influencers in your niche. Influencers have been collecting fans in a certain niche. If you can get the right influencer that works for you, you can tap into their followers instantly.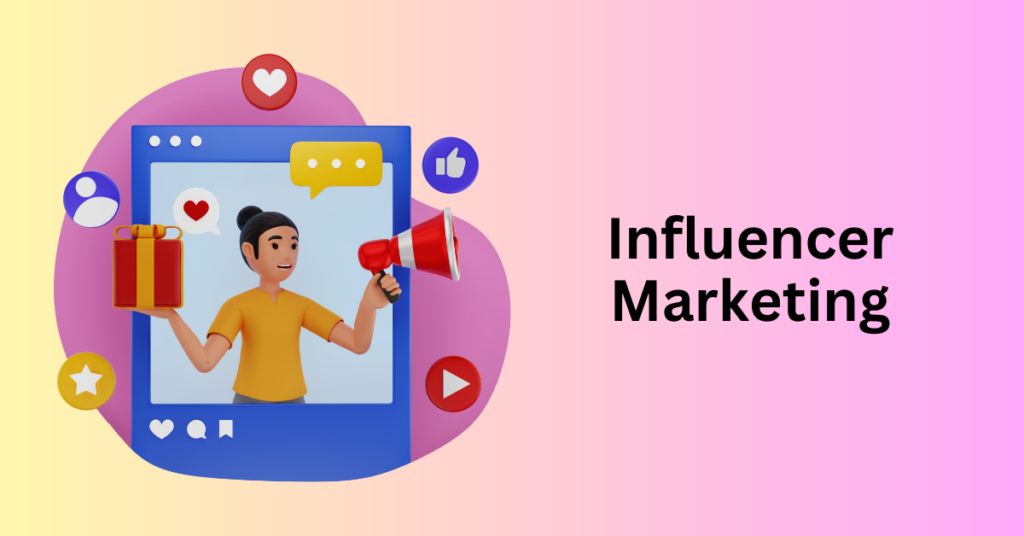 When you are looking for influencer marketing, you can either send them product samples for them to create reviews or product explanatory content for your product. Or some influencers will charge for a fixed price for posting your content for a fixed time. It can be $100 for a 24-hour post, or even more, depending on the popularity of the influencer. 
You don't need to reach out to huge influencers with millions of followers to promote your product. But instead, when you get an influencer with high-quality fans, a smaller influencer can do the work too. And of course, with a lower cost when you work with micro-influencers.
It all depends on your relationship with the influencers, you might also strike a better deal if you work with them for the long term.
8. Analyze and Optimize your Strategy
After you launch your social media marketing campaign, you need to monitor the performance for your content and optimize your strategy to reach more people and increase your conversion rate.
When you are analyzing your performance data, you need to look for:
Reach: How many people see your posts?
Engagement: How many people like, comment, or share your posts?
Click-through rates: How many people click on your social media post's link to your website or product pages?
Conversions: How many people buy something after seeing a social media post?
All these are important parameters that you need to understand and reduce the amount of content that is not working well. And at the same time, study what's working and create more similar content. 
Click here to start selling online now with Shopify
Final Thoughts – How To Create a Social Media Marketing Strategy That Works
Developing a social media marketing strategy is definitely important to get success in social media marketing. If you fail to plan, you plan to fail. and this is why, it is important that you have a clear plan for you to follow when running your social media marketing campaign too.
Pick a platform and focus on mastering it. Then scale to other platforms.