When you are building an online presence, a website is a good way to demonstrate your business and products. And if you are looking on building your own website, you will most probably hear about WordPress. WordPress is the most popular content management system (CMS). And WordPress Hosting is the hosting plan designed for WordPress.
WordPress is an open-source CMS platform where you can create different websites on it. You can have your company website, portfolio website, eCommerce website, landing page, or sales page.
However, as WordPress works as an open-source platform, you will need to handle the web hosting yourself. If you are wondering, web hosting is a place where you store your website content. Your visitors will access it to view your website.
Today, we will be sharing the difference between a few WordPress hosting options. We will also share which is more suitable for your business and website.
What is WordPress hosting?
WordPress hosting refers to specialized web hosting services that are tailored to the specific needs and requirements of WordPress websites. As one of the most widely used content management systems (CMS), WordPress powers millions of websites. It ranges from personal blogs to large e-commerce stores and corporate websites.
WordPress hosting aims to optimize the performance, security, and management of these websites by offering features and resources that are well-suited for the WordPress platform.
With WordPress hosting, you will be getting specialized tools for one-click installation and deployment for WordPress, automatic updates. You might also get custom WordPress themes as part of the bundle for your WordPress hosting.
However, it is not a must for you to get WordPress hosting to run a WordPress website. You can still run it on other hosting plans, it will work too.
Sign up for Bluehost WordPress Hosting – Exclusive Discount Available
Why Use WordPress Hosting?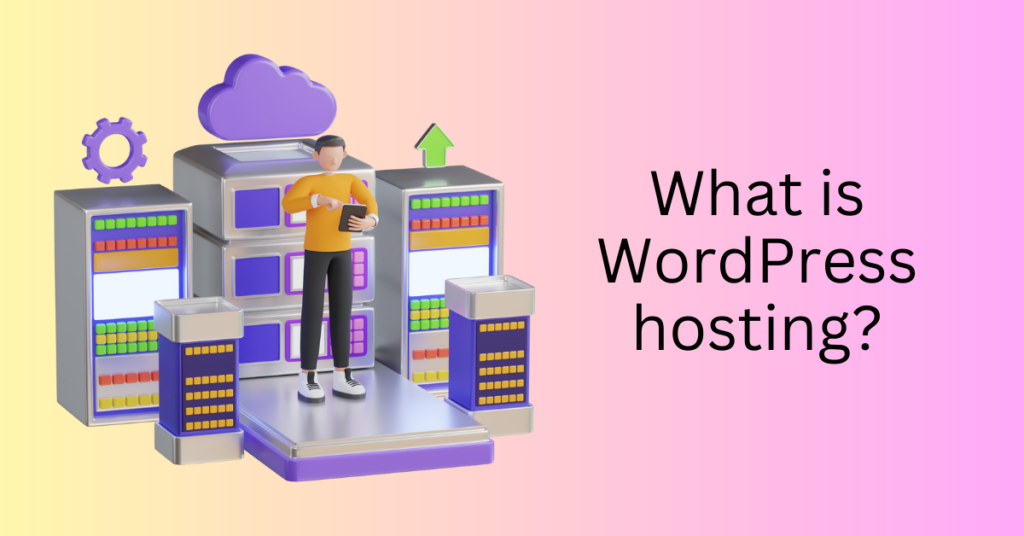 One of the key advantages of WordPress hosting is its focus on performance optimization. Hosting providers offering WordPress-specific plans often configure their servers to work seamlessly with the WordPress software, ensuring faster loading times and smoother user experiences.
These optimizations might include server-side caching, Content Delivery Network (CDN) integration, and efficient database management, all of which contribute to improved website speed and responsiveness. Additionally, automatic updates for both the WordPress core software and plugins are commonly part of WordPress hosting packages.
This feature ensures that websites stay up-to-date with the latest security patches and feature enhancements, reducing the risk of vulnerabilities and ensuring that the site remains compatible with the latest technologies.
Not only that, most WordPress hosting plan comes with one-click deployment for WordPress. Making it ideal for beginners to start and work on their website. Besides, some WordPress hosting providers also provide custom themes for their customers.
Another crucial aspect of WordPress hosting is security. With the popularity of WordPress, it has become a target for malicious attacks and hacking attempts.
WordPress hosting providers implement robust security measures such as firewalls, malware scanning, and intrusion detection systems to safeguard websites from potential threats. Regular security updates and proactive monitoring help prevent unauthorized access and data breaches.
Moreover, WordPress hosting often comes with customer support from experts who are experts in the nuances of the WordPress platform. This level of support can be invaluable for resolving technical issues, troubleshooting, and getting the most out of the WordPress ecosystem.
Whether you're a beginner or an experienced developer, WordPress hosting offers a range of benefits that contribute to a smoother, safer, and more efficient experience in managing and maintaining your WordPress website.
Sign up for Bluehost WordPress Hosting – Exclusive Discount Available
WordPress Hosting vs. Web Hosting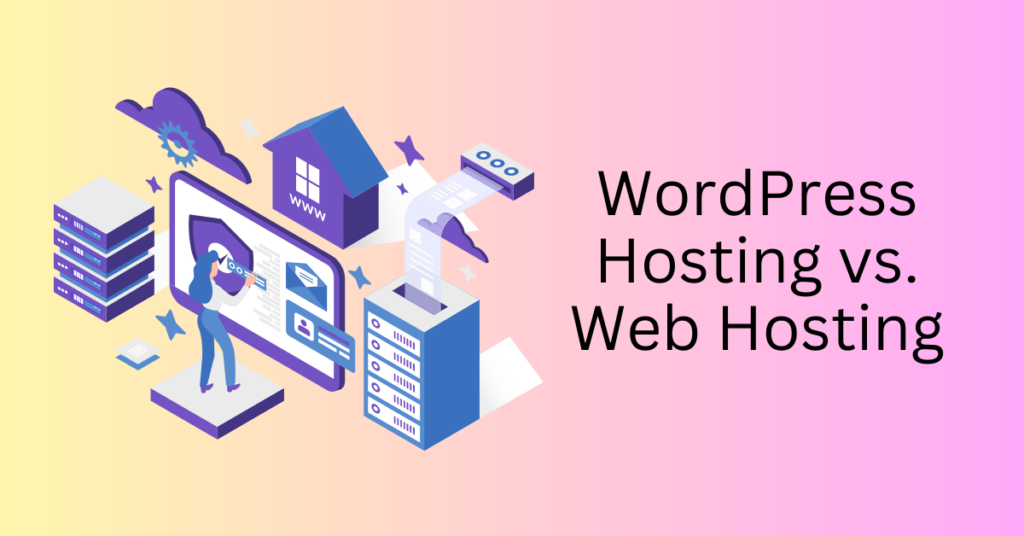 WordPress hosting and web hosting are two distinct types of hosting services, each tailored to different needs and preferences. Web hosting is a broader category that encompasses various types of hosting solutions for different types of websites, applications, and platforms. It includes options such as shared hosting, virtual private servers (VPS), dedicated servers, cloud hosting, and more.
Web hosting is suitable for a wide range of websites, including static HTML sites, custom web applications, and even WordPress websites. However, it might lack some of the specialized optimizations and features that come with WordPress-specific hosting.
On the other hand, WordPress hosting is a specialized type of hosting explicitly designed to cater to the requirements of WordPress-powered websites. It offers a range of features to enhance the performance, security, and management of WordPress sites.
WordPress hosting often includes server configurations optimized for the WordPress platform, caching mechanisms to improve loading times, automated updates for the WordPress core and plugins, and enhanced security measures to protect against hacking attempts and malware.
It may also come with specialized support from experts who are familiar with the intricacies of WordPress. This level of support can be particularly helpful for resolving technical issues specific to the WordPress environment.
While WordPress hosting is an excellent choice for those who exclusively use WordPress, web hosting offers more flexibility for hosting various types of websites and applications, making it a suitable option for a broader range of users with different needs.
Sign up for Bluehost WordPress Hosting – Exclusive Discount Available
How To Choose a WordPress Hosting Provider
When you are choosing a WordPress hosting service provider, there are a few criteria you need to look into their service offering to make better decisions.
There are a few factors that you need to take note of when choosing the service provider.
Web Hosting Service Performance
The hosting service performance will affect your user experience. And your website loading speed will affect your SEO ranking as well. The server configuration and plan type will affect your website performance.
For example, when you are using shared hosting, there will be limited resources shared between you and all the other websites on the same server. If your website doesn't have a huge amount of traffic or a heavy app to run, you can definitely run it on shared hosting.
However, when your website grows, you would want to have a virtual private server or dedicated server for your website to ensure user experience and performance.
Another important factor would be your website uptime. When you are running an online business, you will expect your business to run 24/7. Having website downtime means your site is unreachable by your potential customers. And when your website is unreachable, it will leave a bad impression on your customers.
Hence, it is very important to ensure your web hosting service provide is providing at least a 99% uptime guarantee so that your website will always be running.
Finally, if you would further improve your website performance, you can include new features like content delivery network (CDN) and caching.
Website and Hosting Scalability
When you are building and managing your website, one of the hassles would be migrating your website to another website builder platform or hosting service.
You should by all means look for the most affordable web hosting service out there when you are starting out. You don't need to invest so much in your web hosting. Instead, you should focus on spending your budget on marketing to grow your business.
However, since you are building a WordPress website, the website scalability is unlimited. And the same should go for your web hosting service.
Therefore, when selecting a web hosting service provider, make sure they can cater for different web hosting size requirements. You won't want your website to crash when the traffic surge.
If possible, get a web hosting service providers that are able to provide different options like shared hosting, VPS hosting and dedicated hosting so you can upscale your servers when your traffic grows.
Web Hosting Security
Cybersecurity is a huge risk for online businesses. The same goes for your website. You are handling customers' data and transaction information.
You need to make sure your admin access to the server and website is not compromised. And also, the data processed is secured. For your WordPress website, you need to ensure your web hosting is robust and protects you against different cyber-attacks.
These will include malware protection, Web Application Firewall, SSH access and SSL certificates for your website.
Web Hosting Monthly Subscription Price
There are different charging mechanisms for the web hosting service. Some may seem cheap in the first year, but when you renew the contract it will get expensive.
Hence, it is crucial to compare the plans and pricing strategy for each platform to ensure that you won't face the price hike issue in the long run. Be careful with those who offer add-ons. Some may offer low to free add-ons for the first year and charge you high fees during the renewal.
If you can secure a good deal, sign for as longer term as possible. The price will only increase in the future and upon your contract expires. By signing the contract, you can secure the price during the contract period.
However, you need to be aware that the company is reliable and will be in business throughout the contract period.
Customer support
Customer support is important when you store your data at other's premises. You are storing your website on their servers. Hence, you will need their support when you face any issues.
For example, if your website is not accessible, you will need to reach out to your web hosting service provider immediately to get support to resolve the issue. Or if your hosting server crashed, you would need their support to troubleshoot and get it back online.
This is why, whenever possible, you should look for a hosting provider that provides 24/7 customer support for you and not some chatbot service where you need to lodge a ticket and wait for the support. Not getting your website back online will cause you losses especially if you are running an ads campaign on your page.
Sign up for Bluehost WordPress Hosting – Exclusive Discount Available
Different WordPress Hosting Services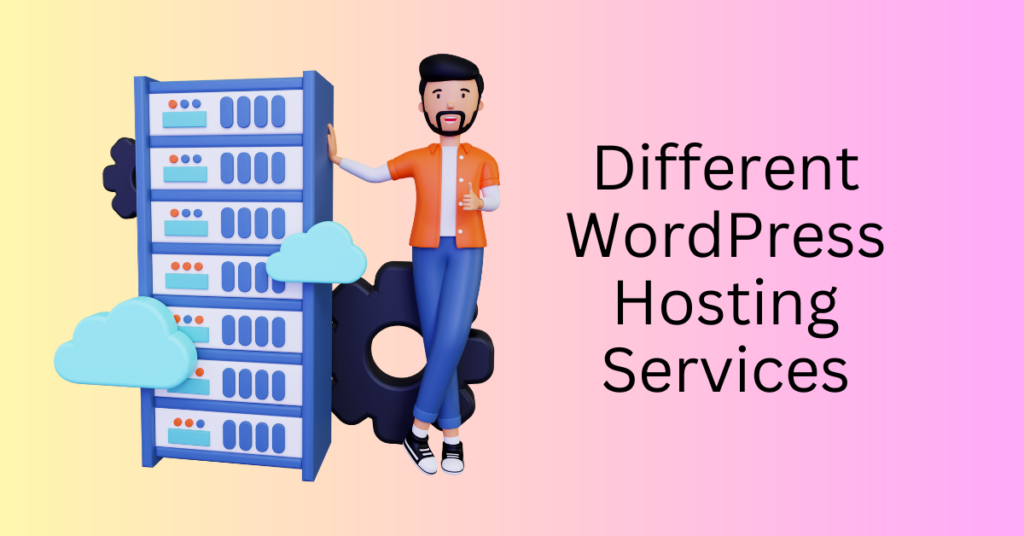 There are different common plans available for hosting your WordPress website. And you need to understand each hosting plan to understand which is the most suitable for you.
All these hosting plans are good. There are strengths and weaknesses for each of them. But the importance is to select the right hosting plan for you so that you will get the best suitable for your website.
Shared hosting is the cheapest option for your WordPress web hosting. It is suitable for new or smaller websites with a small amount of traffic. The plan usually costs less than $5 per month for the basic plan.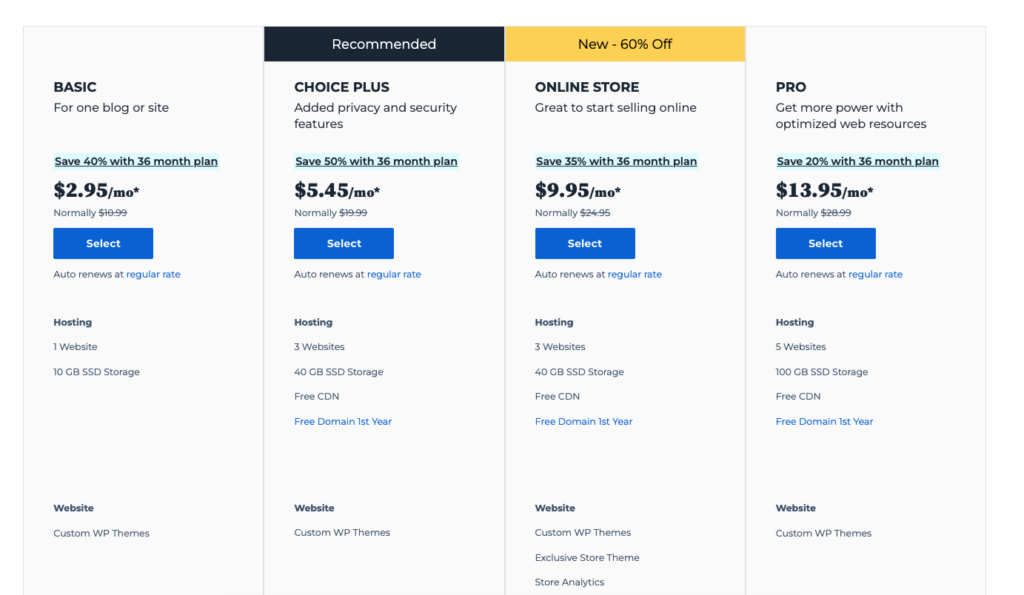 For shared hosting, the web hosting service provider will partition a single server into different portions and each user will get to rent a small portion. This means you are sharing the server resources with other website owners.
And since you are sharing the resources, you are sharing the cost with other users on the same server. This makes it low-cost when using a shared hosting service.
And since it's a shared resource, your website performance will be affected if another's website on the same server is taking too much of the resources. Due to the nature of the sharing, every website will be partitioned with fixed resources.
There is no flexibility for you to customize based on your needs.
The shared hosting is good for you when you are just starting out. You may not need so many of the resources in the beginning. However, when your website grows and has more traffic, you will then upgrade to a better hosting plan.
Always look at your website performance to decide whether should you upgrade to other options.
Virtual Private Server (VPS) WordPress Hosting
The next option would be Virtual Private Server (VPS) hosting. This is similar to shared hosting. However, instead of sharing the resource of a single server, a virtual private server splits the server into multiple virtual servers.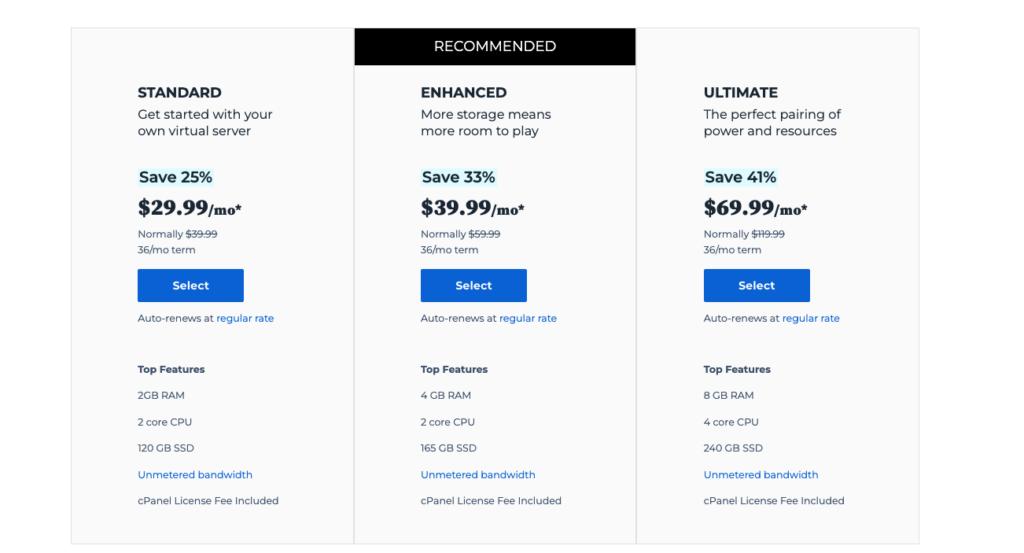 Each virtual server is independent of each other and the resources for each virtual is dedicated. This means if you are using a virtual private server, all the resources allocated will be dedicated to you. You are not going to share the resources like the bandwidth, RAM and CPU with other users.
Having a virtual server will have better performance and security as you don't share the server with others. And since the virtual server is dedicated to you, some web hosting providers like Bluehost will provide full root access to the server configuration settings.
This will give you more control of the virtual server and manage it all based on your requirements. Although virtual private server hosting gives you more control and better resources for your website, you are still sharing the server with others.
Dedicated WordPress Hosting
The ultimate hosting plan would be having a dedicated hosting plan. A dedicated hosting plan means you are getting the entire server dedicated for you only. There is no sharing or virtual server sharing with other websites.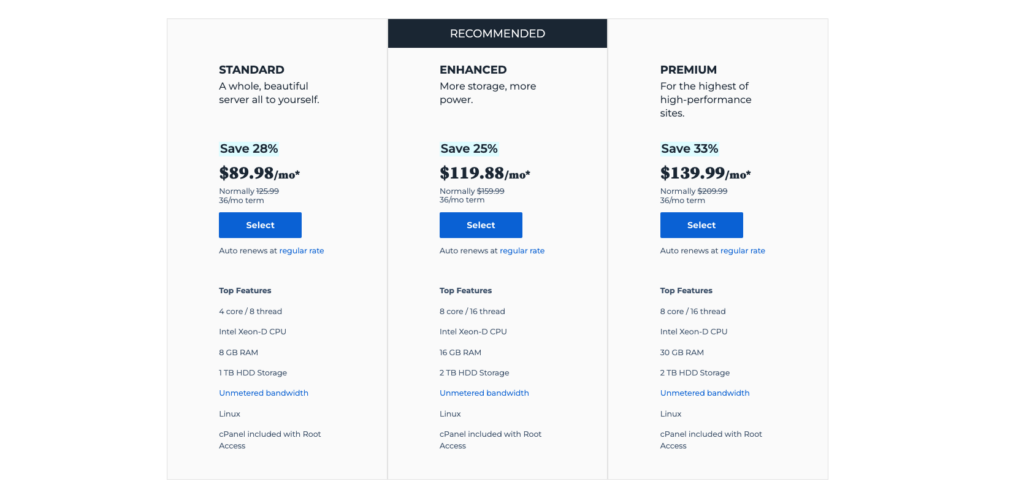 As you own the entire website, you'll have root access to the server and won't have to share hardware, like disk space, memory or CPU, with other users.
A dedicated hosting plan is normally for a website that requires guaranteed performance, security and uptime as any issues will cause losses in revenue and customer satisfaction. It can be also for mission-critical websites like when you are hosting a virtual live event or flash sales, you can't risk having your server crash during the event.
Since it's a dedicated server for you, you are going to bear the cost for the entire server. This makes it the most expensive hosting plan among the three. It will easily cost from $100/month or more depending on the web hosting provider and plan you choose.
Therefore, it depends on your website revenue and business criticalness to decide whether you need dedicated hosting.
And due to the fact that not everyone will know how to manage a server, some dedicated hosting plans will provide the options for managed service for your server.
Sign up for Bluehost WordPress Hosting – Exclusive Discount Available
Final thoughts: The Ultimate Guide on What is WordPress Hosting
WordPress hosting is an excellent option if you want to build a WordPress website. These hostings are optimized to provide better performance for your WordPress website.
Choosing the right hosting plan is important so you don't need to migrate your website too soon. There is no saying which is better. Just which is more suitable for you?
Depending on your budget, website type, level of control, security and performance, you can choose the best hosting type for your business.
No matter which hosting plan you choose, it is very important that you get a good hosting company. The hosting type is important, but the most important is the service provided by your hosting company.
Don't get something that is cheap but there is no reputation or trustworthiness. Get something that is trustable and used by website owners worldwide.
Sign up for Bluehost WordPress Hosting – Exclusive Discount Available