SEO is important to get more organic traffic to your website. Getting your website rank on the search engine means new search traffic coming in when someone searches on the keywords that you ranked for free. However, it is always neglected by new website owners. Let's see some WordPress SEO Tips that you can implement for your website today.
If they understand the benefit of WordPress SEO and the amount of free traffic they will be getting after ranking for the right keywords, they will definitely focus on it.
Although WordPress works very hard in technical coding for better SEO, there is a lot you need to do in order to improve your on-page SEO as well.
Today, we will be sharing specifically how to improve your WordPress SEO Tips to get more organic traffic.
What is SEO?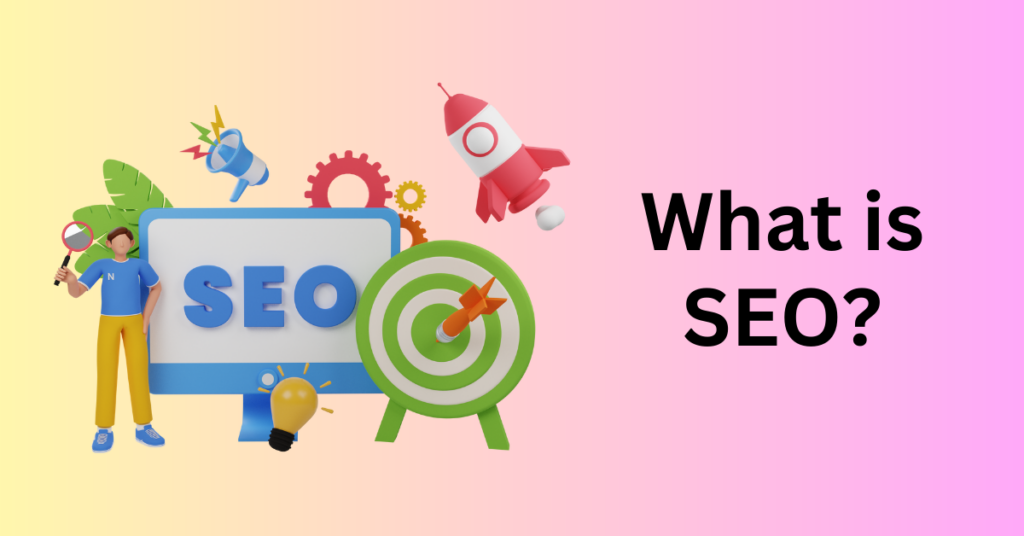 SEO stands for Search Engine Optimization. It's the strategy that you implement on your website to rank higher on the search engines. The logic behind SEO is to follow the algorithms or rules set by Google or other search engines to rank higher on their search result.
There is no cheat over here. And Google SEO ranking algorithm is complex. There is no room for you to trick it to rank. Your content needs to be good and user-friendly in order to rank.
Google will act as a user to analyse your content to make sure it is beneficial to its users. It needs to take care of its user experience as well.
Why SEO is Important – WordPress SEO Tips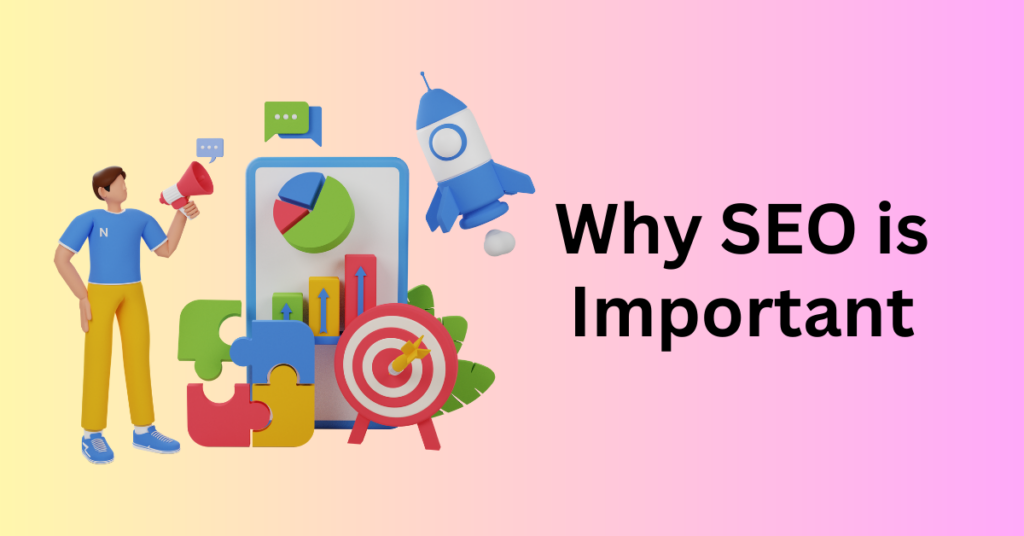 Search engines are often the biggest source of traffic for websites.
You can run targeted paid ads to get people to your landing page or sales funnel, but you are not going to run long-term ads on your homepage. The ROI will be very low and not making sense for small businesses to do that. Unless you have a huge marketing fund to spend on brand awareness, that's another story.
By ranking your website on the top of the search engine result page, you will get free publicity when someone searches for that keyword. Your website will be on the top and they can click to visit your website.
When there is an algorithm in place to rank websites on the search engine, there will be a hint on how to follow its pattern and rank on it.
First of all, if your content is not optimized to the right keywords, the search engine will not know which keyword to rank for. Not only that, if it is hard to read, Google will not recommend your content to its users.
By not giving the best for its users, it will get low customer satisfaction as well. Hence, Google will find the right piece of content for their users.
Basics of WordPress SEO – WordPress SEO Tips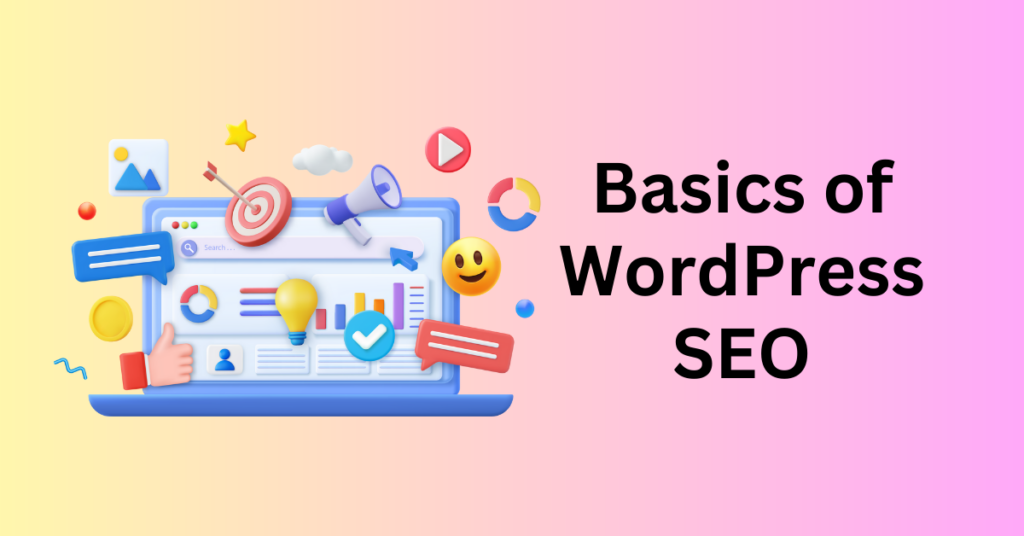 Today, we are going to focus on the on-page SEO for WordPress. It will include tips on how to optimize your website to rank higher and get more traffic.
Don't overthink. You don't need to be a technical expert to implement the WordPress SEO Tips. WordPress has made it easy for everyone to implement on-page SEO.
And if you are wondering if that's so easy why not every ranking on the first page, that's where the off-page SEO comes in. You can optimize your content to try to rank high, but you can't cheat on your site authority, backlink and referral.
Check Your Site's Visibility Settings – WordPress SEO Tips
First of all, in order to rank on the search engine, you need to first be shown to the search engine. There is a built-in function for WordPress to hide your website from the search engine.
This function is useful when you are still building your website, it will avoid people from seeing your website under construction. But in some cases, the website owners forgot to turn it back on when their website is ready.
Hence, go to your admin dashboard for your WordPress site. It should be something like this https://yourdomain.com/wp-admin.

Then, on your left sidebar, click on the Settings -> Reading options. Scroll down to find the "Search engine Visibility" part. Make sure that the box next to 'Discourage search engines from indexing this site' is unchecked. And finally,
"Save Changes" to save the new setting.
Using SEO-Friendly URL Structures in WordPress
SEO-friendly URL means the URL structure itself will show what's in it for the link they are visiting. Both your visitors and the search engine can understand the URL and what to expect from it.
Some examples of SEO-friendly URLs are:
https://www.bennietay.com/how-to-install-wordpress/
https://www.bennietay.com/common-wordpress-errors-and-how-to-fix-them/
These URLs are readable and easy to understand. By reading the URL, you can roughly guess what's on the page.
https://www.bennietay.com/?p=10467
http://bennietay.com/archives/123
However, for a non-SEO URL, it will look like
The numbers at the end of the URLs do not carry any meaning and you can't guess the content with the numbers. The same goes for the search engine algorithm.
When the algorithm doesn't understand your content, it can ignore your website as they have other better options with the URL it can understand. Using SEO friendly permalink structure will improve your chances of getting better positions in search results.
To do this, you can visit the Settings -> Permalinks page from your left sidebar.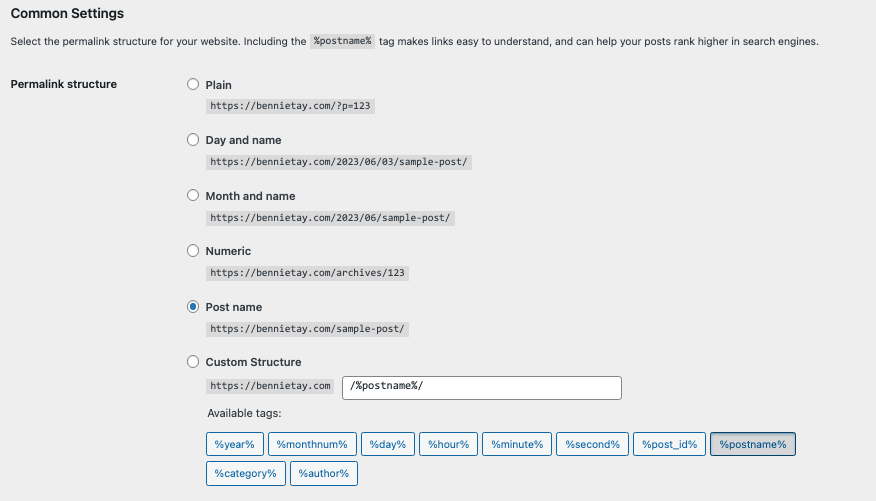 Here, there are a few different URL Structures that you can choose for your WordPress website. Select the URL structure that you want and click on the 'Save Changes' button to save your new settings.
Please be very careful when you want to update your permalinks or URL structure. If your website is running for some time, changing your URL structure might affect your existing SEO ranking. Not only that, if you shared your URLs at different places, changing the URL structure will make that not workable.
If you want to read more about different URL structures, you can check our guide on what is SEO-friendly URL structure in WordPress.
WWW vs non-WWW – WordPress SEO Tips
Many people will get confused about the WWW and non-WWW website. If you think they are the same, they are not.
If you are just starting out, you need to choose whether you want to focus on the www(https://www.example.com) or non-www(https://example.com) in your URL.
This is because although it looks similar, search engines will treat them as two different websites. You can set redirect for all WWW to non-WWW or all non-WWW to WWW, but make sure you only choose one.
If you are using both, you will end up both not optimized to rank and your resources will separate into two.
To do this, you can change your WordPress Address and Site Address in the Settings -> General page.

There is no difference in using either WWW or non-WWW in your URL.
If you are still worried or want more information, you can check out our post on www vs non-www – which is better for WordPress SEO.
Use the WordPress SEO plugin – WordPress SEO Tips
WordPress SEO plugin is a tool to guide you on the best WordPress SEO Tips to help you rank on the search engine. There are thousands of related SEO plugins on WordPress, some good and some not so good.
However, if you want to improve your WordPress SEO, you definitely need to use a plugin to optimize your website.
How To Choose The WordPress SEO Plugin
When it comes to WordPress SEO plugins, I only recommend two. The All in One SEO (AIOSEO) and Yoast SEO.

Both are good WordPress SEO plugins that will guide you for your on-page SEO, schema markup, social media integration, etc. With the plugins installed, you will just need to follow its guidelines to optimize your content for SEO.
For every page in your WordPress website, when you scroll down the page, you will see the page SEO analysis. Here, you can set the focus keyphrase, site title, and meta description for your webpage.
Then, you will see the SEO analysis, Readability analysis, Schema and social media preview for the page. Follow the recommendations and optimize each element until all become green.
Then you are good to go.
Create XML Sitemap For Your WordPress SEO Tips
An XML Sitemap is a specially formatted file that lists every single page on your website. We may not know what it is about or how to read a sitemap. However, it is important because it is how the search engine crawler indexes and finds all the content on your website.
Adding an XML sitemap does not help to increase your search rankings directly. However, it can help the search engines to find and index your pages quickly.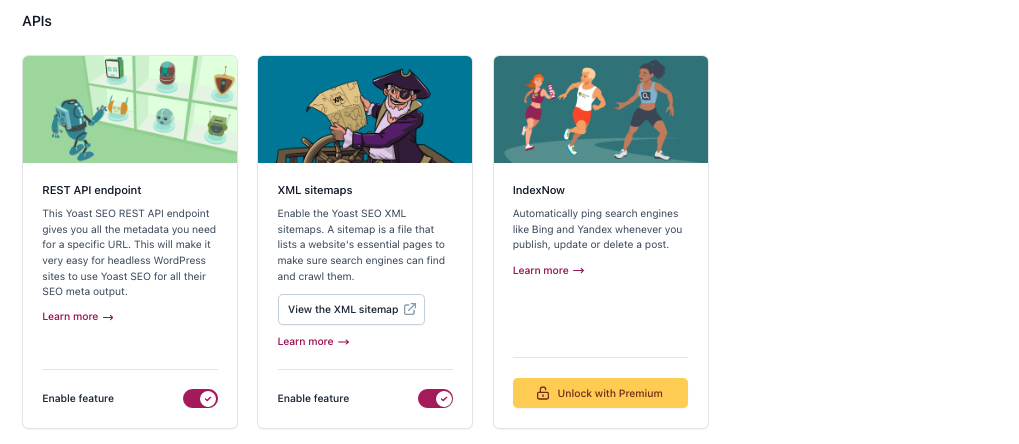 Creating an XML sitemap for your website is simple with the WordPress SEO plugins, you just the XML sitemap configuration in the plugin setting and it will create it for you automatically.
And if you are wondering how the sitemap looks, you can go to https://www.yourdomainname.com/sitemap.xml to access the sitemap.
This URL is important as you will need to submit your XML sitemap to Google and other search engines for them to index your website.
Submit Your WordPress Website to Google Search Console
Google Search Console is a free tool by Google for website owners to check how their website is performing and how its content is seen by the search engine.
In Google Search Console, you will get the data for your search impressions, keyword rankings, clicks and the clickthrough rate for your website. You can know exactly which keywords are doing well and which are not here.
With this information, you can focus on those ranking between 11-20 and optimize them further to get to the first page of the search result.
In addition, if there is any issue for your website like the mobile usability, crawler access issue, duplicate content, or video content cannot be played, it will show you the error with recommendations on how to resolve it.
Once you have added your website to Google Search Console, click on the Sitemap from the left sidebar and paste the sitemap URL from the previous section.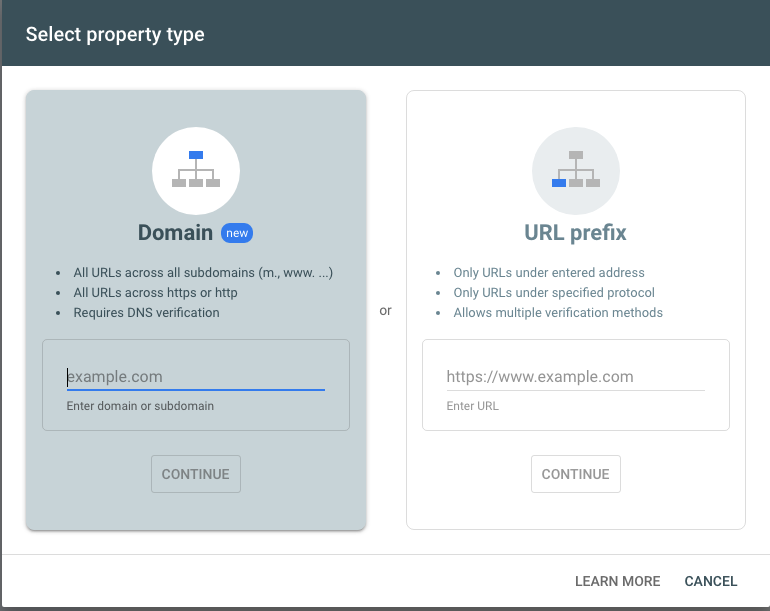 Then, click on the submit button to save it. Google Search Console will now start working on checking your sitemap and using it to improve your website's crawling. It will take some time for the search engine crawlers to index your website depending on the content size for your website.
There is no need to view your Search Console daily or weekly as the data changes might not be obvious for a short period. Instead, you can do it bi-weekly to see if any issues with your website and what is your next step for your website based on the data collected.
Your sitemap submission does not stop here. This is only for Google, you can also submit your sitemap URL to other search engines like Bing, Yahoo, DuckDuckGo, and others. There is no harm to get an index in more places.
SEO Optimization for Your Blog Posts – WordPress SEO Tips
I've briefly covered this in the previous section, but we will look more in-depth here. Most new website owners focus on content creation and leave everything to the WordPress SEO plugin.
This is not right as SEO is not a build-and-forget process. Instead, you need to update and optimize your content regularly to stay relevant and keep up with your competitors.
When you are ranked for the top positions, there are others who will fight for that position as well. They will try to outrank you. And you need to keep up with it if you want to maintain the rank.
Most SEO plugins will provide guides for you to optimise your blog posts or web pages. In your post or page editor, you will see the SEO plugin recommendations when you scroll down the screen. You can add SEO titles, meta descriptions and focus keywords to every blog post and page. You can also preview how your link will be shown on Google when someone searches the keyword you ranked for.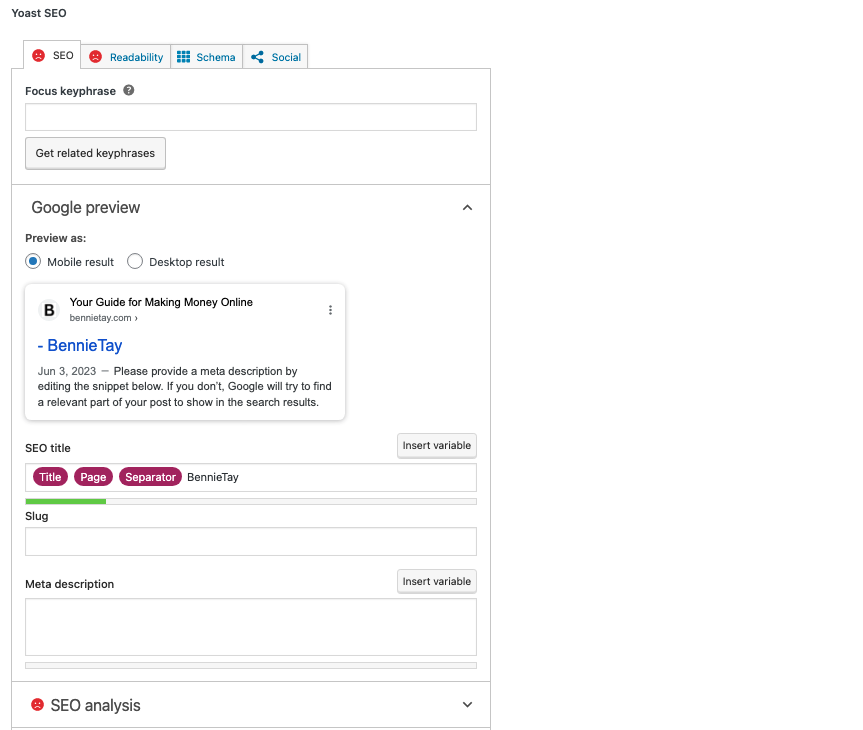 In Google search results, your title and meta description will be shown and people will decide whether to click on your link based on it. That's why you need to add some hook in your title and description to attract them to click and read more on your website.
Besides, you should also check on the SEO analysis and the readability of your content to make sure it fits into the SEO algorithm rules.
Keyword Research for Your Website
Keyword research is something many beginners missed. Many people will start creating content for their niche and product. However, they fail to realise the importance of SEO is not only the content quality, but also the target keywords that you want to focus and rank for.
Without the right keyword research, you might end up either ranking for the wrong keywords that no one is searching for, or fighting on highly competitive keywords that you have no chance to rank.
It is like shooting an arrow in the dark. And you are trying luck to get the right keyword. But you don't need to do that. Getting the right keyword is easier than you think. There is process and tools that can help you to do that.
Keyword research is a research technique used by content creators and SEO experts to determine which keywords they should focus on. For example, when you are planning your content, you should focus on a keyword that is easy to rank for (less competition), high traffic ( many people are searching for it), and people who are ready to buy (easy to close sales).
There are a ton of keyword research tools like Google Keyword Planner, Ahrefs, SEMRush, etc. All offer excellent features to discover that you can rank and also insight into what your competitors are ranking for.
You can read more on our Keyword Research guide here for your WordPress website.
Categorize and tag your Content in WordPress
WordPress allows you to sort your blog posts into categories and tags. This is important to help your website visitors to look for what they want easily. Besides, it also helps the search engine understand your website structure and content well.
One of the elements that the search engine ranking algorithm looks at is the user experience. When it is easy for your users to look for the information they need, Google will flag your website as user friendly and this will help in the search engine ranking.
Many people focus on the content but fail to understand the importance to categorize it. In general, the search engine will treat your website like a book and each blog post will be a chapter in the book. People can access other topics in the same category easily with the right categorization.
Internal Linking
Internal linking means having the link embedded for other URLs in your website. This can help to get your users to stay on your website longer by linking them to different pages.
There is only a limited of words or content length in every blog post. There is impossible to explain everything in detail in one blog post. Hence, you can further elaborate on each topic in separate posts and then, link them together.
When your internal link is done well, your users will spend more time on your website and also your site authority might increase with the linking.
NoFollow External Backlinks for WordPress SEO
An external backlink is more important compared to an internal link. The internal link will help to get people to stay on your site and provide more information. However, an external link is how you build your site authority.
And this is the key differentiation in the ranking. You can do your best to follow the SEO strategy to optimize your content to rank better. But getting external backlinks is different.
You need to build your authority or collaborate with other website owners to get the backlink. If you are getting the backlink for websites that has high domain score, this will add to your ranking as well.
And this is the key to getting your website ranks high. In the end, the more backlink from high domain score websites you get, the higher you will rank.
A normal external link looks like this in HTML:
<a href="http://example.com">Example Website</a>
An external link with the nofollow attribute looks like this:
<a href="http://example.com" rel="nofollow">Example Website</a>
Speed and Security – WordPress SEO Tips
This is the last part and also the most important for user experience. User experience is one important part of the SEO algorithm because Google cares a lot about providing a good user experience for its users.
Not only that but no matter how good is your content optimized based on the SEO strategy above, if your content cannot be displayed properly or has security issues, people will leave your website.
That's why this is also an important part of WordPress SEO.
Optimize Your Site's Speed and Performance
We need to admit that most people have short attention span now. This is related to the user behaviour on social media where they scan through the content only.
And since you are working on WordPress, one key element would be the web hosting service. You need to ensure your web hosting service provider is reliable and fast. If your web hosting service always having issues that cause your website inaccessible, this will definitely hurt your user experience and SEO ranking.
Not only that but if you are using a shared hosting service as you are just starting out, make sure your service provider does not oversell the resources. Server congestion will affect your website loading time as well.
And finally, your web hosting server location. If you are serving locally only, you should get a hosting service that is nearer to your customers so they will not experience high latency and delay to reach your website.
Why is this Important?
If you think that people will stay there a few seconds to wait for your website to load, think again.
They won't.
People are impatient. If your website does not load almost instantly, they will say bye and move to other content.
To improve your website speed, you must have a fast WordPress hosting provider like SiteGround or Bluehost.
Image Optimization for WordPress SEO
Images will make your website looks more attractive and more engaging than a text-only website. However, don't overload your website with images and you need to optimise your images when uploading to your WordPress website.
Images add loads to your website. Loads will slow down your website loading time. You need to make sure that the images you use are optimized for format and size.
You can use the image optimizer plugin for WordPress to optimize all the images uploaded to your WordPress website.
Besides, when you add images to your WordPress, there is one less obvious setting you need to do. Your file name. Although it seems irrelevant, it does affect your WordPress SEO. From the file name to the descriptive title and alt tags, all these will help the search engines to understand more about your image.
And in case, you don't realise, these will help users with visual impairment to understand your contents as their screen readers can read the alt text to them.
Use SSL/HTTPS for Your WordPress Website
SSL stands for Secure Sockets Layer, a security protocol that creates an encrypted link between a web server and a web browser. In layman's terms, you will see the HTTPS instead of HTTP in the website URL. The S represents the secured connection.
If your website doesn't have an SSL certificate installed, most browsers will label it as dangerous. It will give notice to the users on whether they accept the risk to visit your website or not. Not only that but there will be also a padlock sign next to the URL showing that your website is secured.
This makes your website more trustworthy, and it is required for every online store that processes sensitive information and payments.
If you are using one of the top WordPress hosting service providers, they do offer free SSL certification with the web hosting service. Else you can also get the free one with Really Simple SSL.
You need to install and activate the Really Simple SSL plugin on your WordPress website. And then, it will check to see if your SSL certificate is enabled. Next, it will turn on HTTP to HTTPS redirect and change your website settings to SSL/HTTPs.
Final Thoughts – Ultimate WordPress SEO Tips for Beginners
Implementing the SEO strategy is important for every website in order to rank organically on the search engines. You can start implementing different SEO strategies shared to optimize your website to rank higher on the search engine result page.
There is no shortcut to optimizing your website for SEO friendly. It is a continuous process for you to rank and stay on top of the search result.