Starting a T-shirt business online can be easy nowadays. Anyone can start a t-shirt business within days, and with minimum investment.
T-shirt is not only casual wear, but a reflection of our personalities, interests, and identities.
The T-shirt has been one of the most sold clothes and has been a popular choice for entrepreneurs and artists to create their own branding. Not only that, the global market for the custom t-shirt printing industry is expected to increase to $10 billion by 2025.
By building your own brand for a specific niche target, you can create the t-shirt design you want based on your target customer.
Today, we will go through step by step how to start a t-shirt business online that brings in extra side income monthly.
How To Start A T-Shirt Business From Scratch
Starting a business is not easy. However, with the available print-on-demand service, you will be able to source quality suppliers worldwide in no time. Also, it is simple to prototype your design now.
Follow our steps and see how you can build your t-shirt online business in just days.
1. Choose a niche for your t-shirt online business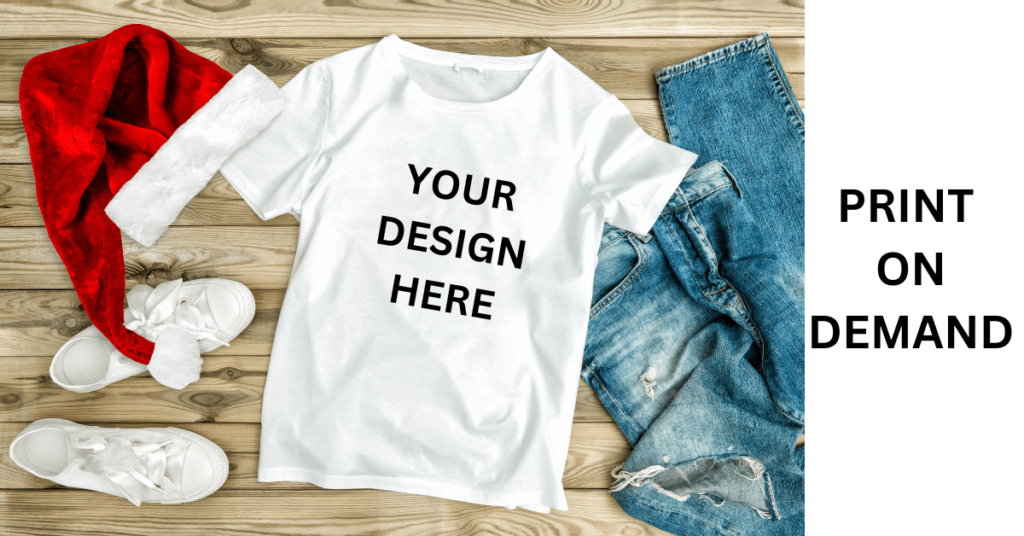 You are starting out a new business, you can't be selling everything out there. You will end up like another fashion brand without any personality. This is why you should choose a niche to start your t-shirt business online. By doing this, you will be able to build your reputation among people in the niche and dominate in the niche.
It is important that you choose a niche that you know and is trending rather than something that you are not interested in and don't know.
Generally, categories like a quoted tee or slogan tee are a good start. But you need to further niche down for the category in the quote. It can be motivational quotes, coffee quotes, quotes for dog lovers, quotes for teachers or beer quotes.
By adding personality to the quote, you can target a particular group of niche customers.
To identify and research your niche, you can use some tools like Google Trends, and Facebook Audience Insights tool or you can have a look at the popular hobbies list and find the popular hobby that you are interested in.
Once you found your sub-niche, it's time to create your business plan and look for the preferred partner to launch your business.
2. Source for Quality Supplier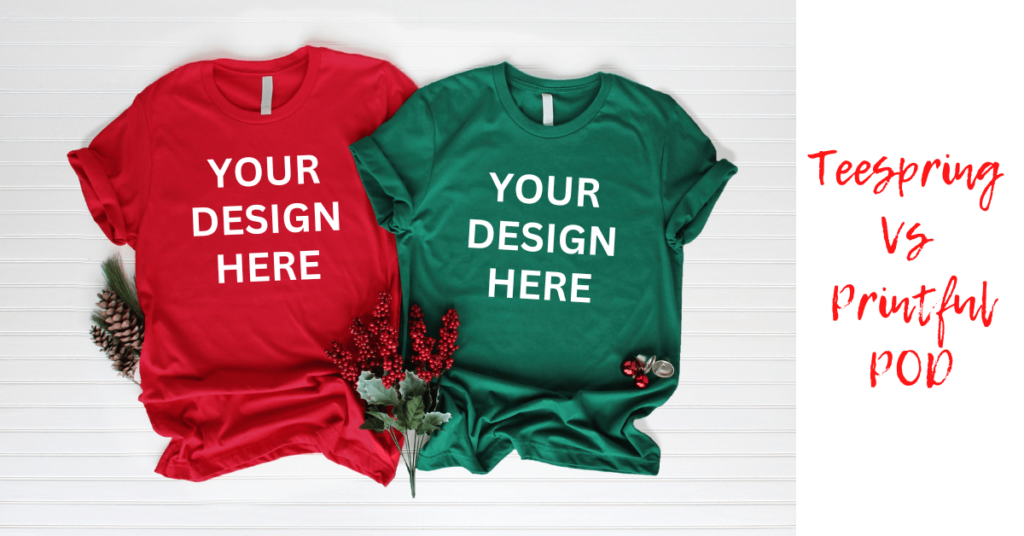 While the t-shirt looks similar, there are different printing methods to add the design to it. Different materials and printing methods will definitely affect the cost and quality of it.
You might think of sacrificing a bit of quality for a higher profit margin. But you need to really consider how the quality will be accepted by your customers.
This is because when you are selling something online, refunds and returns are one of the big headaches if your product is not accepted by your customers. What's more, if you are selling low-quality products, your business will most probably be killed by the bad reviews that you got.
People don't have the chance to touch and feel your product before buying. Their buying decision is merely based on your product photo and the reviews. This is why you need to ensure product quality to avoid a high return rate and low customer satisfaction rates.
If you are looking for a print-on-demand online t-shirt business model, you may look for suppliers like Printful, Printify or Teespring to start with.
A print-on-demand (POD) business is where you work with a supplier to customize the products with your custom design. And then, sell them on your eCommerce store. Next, you only print products only when there is an actual order, rather than printing large quantities of products in advance and storing them in warehouses.
Make sure when you are designing your t-shirt, it will comply with the supplier's requirement.
Read more on how to start a print-on-demand business.
3. Create Your Own T-Shirt Designs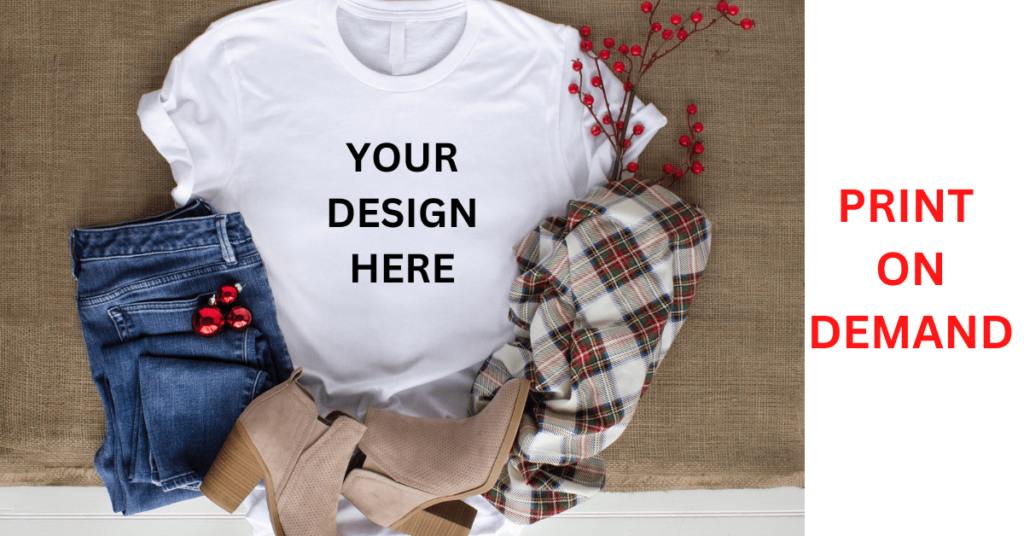 Now it's time for creating your custom design for your t-shirt. It doesn't matter if you are a designer or artist or someone that doesn't know how to design at all.
We got you covered.
Finding The Design Inspiration
When you first start out, you can get some inspiration from sites like Redbubble, Etsy or other marketplaces to see what people are selling. And what is selling best and what is not selling.
Try searching on related terms on the marketplace and get some idea of what people are selling now and what is trending now.
You can use that as a starting point for you to design your own t-shirt. Or you can give it to your designer as a sample for them to design for you.
1. Create one with Canva
Canva is free with subscription options design tool that allows you to create different designs. One of the popular design templates is the custom print design where you can get the design for t-shirts, stickers, mugs, hoodies, photo books and others.
While there are many free templates for you to use, there are premium templates, designs and stock photos that you can use if you are subscribed to Canva Pro. It costs $12.99 per month or $119.99 per year. It is totally worth it if you are using it.
To create a print-on-demand design with Canva, you can follow these steps:
Go to Canva and create an account if you don't already have one.
Click on the "Create a design" button.
Select the type of design you want to create. For print-on-demand, you may want to choose a product such as a t-shirt or a mug.
Select a template or start from scratch. If you choose a template, you can customize it to fit your needs.
Add your design elements such as text, images, and shapes. You can use the toolbar on the left to access these tools.
When you are happy with your design, click on the "Download" button in the top menu and select the appropriate file format for the print-on-demand service you are using.
Upload the file to the print-on-demand service and follow their instructions for placing an order.
Sign up for Canva here
2. Hire a freelancer to design for you
If you are thinking that you will need to pay big money to create a design, not the case now. You can start with just $5 for a very nice design.
Here are some steps you can follow:
Determine your budget and the scope of work for the project. This will help you determine the type of freelancer you need and what you can expect to pay for their services.
Search for freelancers who specialize in print-on-demand design. You can use websites such as Upwork, Freelancer, and Fiverr to find qualified candidates.
Review the portfolios of several freelancers to get a sense of their style and expertise. Make sure to check their ratings and reviews from previous clients to ensure they are reliable and deliver high-quality work.
Contact the freelancers you are interested in hiring to discuss your project in more detail and get a quote for their services.
Review the quotes and negotiate the terms of the project with the freelancer, including the deadline, payment terms, and any additional revisions or changes you may need.
Once you have agreed upon the terms, create a contract or agreement outlining the details of the project. This will protect both you and the freelancer and help ensure that the project is completed to your satisfaction.
Provide the freelancer with all necessary materials and instructions to complete the project, and communicate with them regularly to ensure that the work is on track.
Once the project is complete, review the final deliverables and provide feedback to the freelancer. If you are satisfied with the work, pay the freelancer according to the agreed-upon terms.
3. Buying T-shirt Designs
If you would like to start by buying a design directly, without the need to wait for the designer to complete your work. And not knowing how the final product will look, you can buy the design that you like.
However, there is a possibility where the design that someone might be buying the same design as you. And you end up selling the same design that people already selling.
4. Create Mockup for Your T-Shirts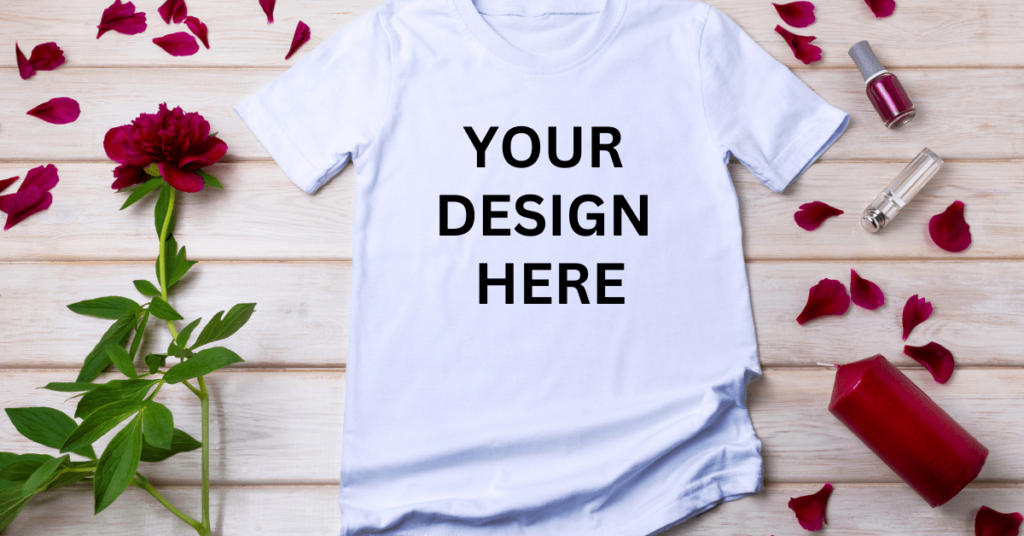 Now that you have your design ready, you can start to create a mockup to show how it feels and looks on a real shirt. Unless you have a sample ready and are able to take a product photo with it, you are going to use a mockup to generate some product photos to show your customers how the final design will look.
If you are using a POD supplier like Printful or Printify, they offer a free mockup generator when you upload your design to it. However, it will look the same for most of your photos.
This is why you can use other mockup generator tools to create your custom mockup photo.
If you are an advanced user, then you can use Adobe Photoshop to create your t-shirt mockup with Photoshop templates and your own design.
Or else, you can use tools like Canva or Smartmockups to create your mockup easily online.
5. Design Validation For Your T-shirt Online Business
When you are starting out, you don't want to invest in a huge inventory before knowing whether it sells well. This is why you can validate the market first when you start selling the t-shirts online.
You can do that by:
Getting Feedback on Social Media
You can post your designs on your Facebook profile, related groups, Instagram, Pinterest or other social networks. Then let your audiences to feedback on whether they like the design or not. You can start by doing a pre-launch and running a poll to see which design they love.
Or, you can use a print-on-demand service to start and fulfil your product fast.
Leverage on Print On Demand
Print-on-demand is a good way to validate different designs fast. With eCommerce platforms and marketplaces like Shopify and Etsy, you can then create a fully functional online store in no time and without technical knowledge.
You can have the design uploaded to the POD provider and integrate it with your eCommerce store and start selling it.
Post on Reddit
Reddit is one of the best places to get feedback on your designs. You can share your design on Reddit and ask your potential customers in your niche to give feedback and thoughts on your design.
6. Set up your Online Store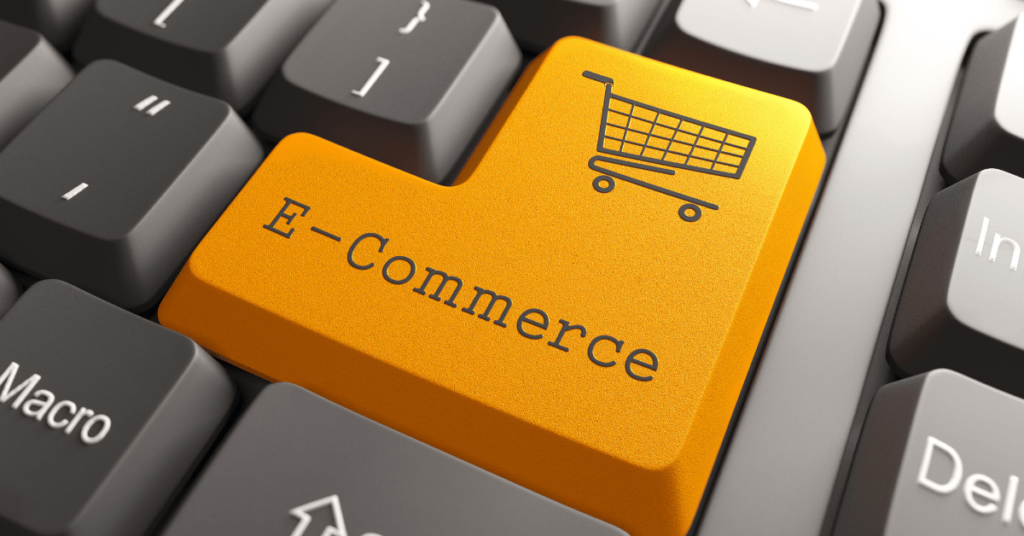 Finally, you have your design and the fulfilment process all in place. It's time to create your online store and sell your product.
You can start with a marketplace like Etsy, eBay, Amazon or other famous marketplaces. These platforms are good to start as they provide huge traffic. But at the same time, the competition is fierce. You need to rank for the keywords or pay ads in order to get shown in front of your potential customers.
This is why you should also have your own eCommerce store to stand out from others.
You can build your own eCommerce store on a platform like Shopify. With Shopify, you don't need huge start-up costs and technical knowledge to start with. And, you can integrate with the POD providers to automate the fulfilment process.
By owning your store, you can also skip the handling fees for the marketplace and save a few % of the margin.
Having your own store and brand is how you build your business in the long term. People will buy at Etsy, Amazon or eBay when they find a good deal. There is no stickiness for them to your brand. This is why, you should have your own eCommerce store, build an email list and nurture them to be your loyal customers.
Once your store is set up, you'll be ready to start selling t-shirts online.
Final Thoughts – Starting A Successful T-shirt Business Online
It's never been so easy to start an online t-shirt business. Almost anyone can start a t-shirt business online in a matter of days. Furthermore, you don't need to buy a huge inventory and invest tonnes of money to start.
You need only your design, POD supplier, eCommerce store or marketplace to sell your design, and marketing to show your design to your target customers.
Building and launching a new t-shirt brand on Shopify is relatively inexpensive and quick. If you already have designs you want to sell, you can be up and running in just a few hours.
You can integrate your Shopify store with the POD supplier with the Shopify App and get it automated easily.
Sign up for Canva here