Leads are the fuel for every business. Without new leads, your business will not be able to sustain or grow. There is a limit to how much your existing customer will spend on your business. And you will need to get more new leads that turn into paying customers. This is why, a Lead Generation Funnel is important for every business. 
When we measure the value of a customer, we look at the lifetime value (LTV) for the customer. LTV means how much on average a customer will spend on your business. It can be on a single purchase, recurring purchase or subscription service. Knowing the LTV will help you to decide how much you can spend in your lead generation funnel to acquire a new lead.
Today, we will be sharing what is a lead generation funnel and how to create one yourself from scratch without any experience.
What is A Lead?
A lead is a potential customer or prospect who has shown interest in a product or service, often requiring follow-up from sales or marketing teams.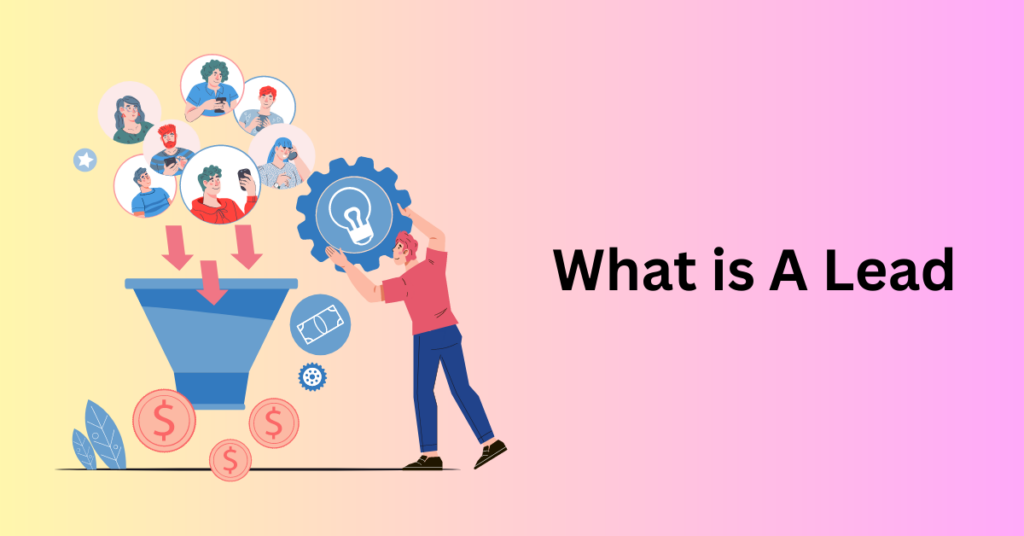 There are many ways that you can acquire a lead. It can be through an event, advertisement, word of mouth and others. However, the lead acquisition process is almost the same. Someone shows interest in your product and gave you their contact details for you to follow up with them.
And for the online lead generation process, will normally start with an ad or social media post where you lead your potential customers to your landing page where you are going to pitch them to provide you with their contact details. Usually, it will be their email address on contact numbers.
Contact details are confidential information and people nowadays are reluctant to provide that due to scam issues. You will need to give them a reason to provide that for you.
And we call this the lead magnet.
A lead magnet is a valuable and free offer or incentive provided by businesses to potential customers in exchange for their contact information or engagement.
You can provide them with a report, guide, training course, ebook, cheatsheet or any other items that are valuable for them in exchange for their contact details.
What is Lead Quality?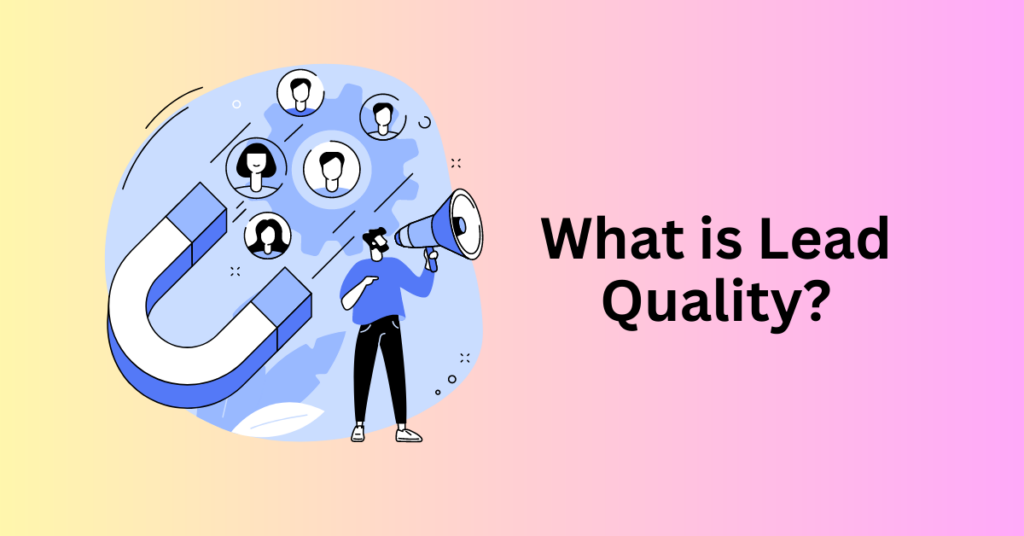 It is important also to note that not all leads are the same. They are high and low-quality leads, and we call this lead quality.
Lead quality refers to the level of desirability and potential of a lead in terms of its likelihood to convert into a paying customer or achieve the desired action or goal for a business.
High-quality leads typically exhibit characteristics such as genuine interest, relevant demographics, and a higher probability of conversion, while low-quality leads may lack engagement or relevance to the business's offerings.
Assessing lead quality helps businesses focus their efforts on the most promising prospects and improve overall conversion rates and marketing effectiveness.
When we are implementing the lead generation process, we can separate the leads into three main categories.
1. TOFU Lead (Top of the Funnel Lead):
A TOFU lead is someone who showed interest in what you offered in your marketing campaign. It can be a sign-up from your free lead magnet offer. These groups of people are at the top of the sales funnel where there are aware of your business is somewhat not ready to buy from you.
You will need to make some effort to engage and nurture them in order for them to become your customers.
2. MOFU Lead (Mid of the Funnel Lead)
A MOFU lead has some initial engagement with your brand or business already. It can be through your regular newsletter, social media engagement or other content.
They know who you are and what you are offering. But they are still unsure what you can offer for them. People in this stage are more open to buying but they will need more information on how to choose the best product.
3. BOFU (Bottom of the Funnel Lead)
A BOFU lead is ready to make the purchase. All you need to do is to get your sales team to present your best offer and close the deal. When your potential reaches the BOFU stage, they already know your product or service and trust that you can solve their problems.
They are in the buying mode and you need to give a kick for him to make the decision and buy from you.
Knowing your leads and the stage they are in, you can create a better campaign for them.
What are Lead Generation Funnels?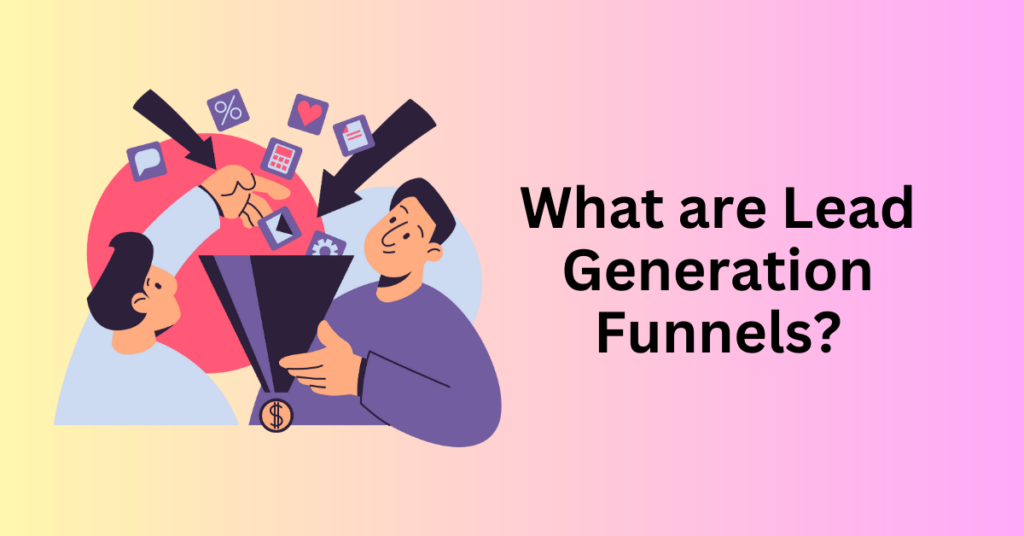 A lead funnel or lead generation funnel is a sales process of converting a visitor to a lead. A typical lead funnel will start with a traffic source, whether social media, organic or paid ads, or email marketing. Then the prospects are taken to a squeeze page where you will sell your free offer.
A squeeze page is called so because you are trying to squeeze all the different information you can from your visitors. And then, the free offer is used to bribe your visitors to give you their contact details. And since contact details are private and confidential, you will need to give them something they want so badly they give you their contact details.
Your lead magnet needs to be something that has high perceived value and is actionable where they will get results from implementing whatever is in your lead magnet. A good example would be the cheat sheet or step-by-step guide where you teach them how to achieve something.
On your landing page or squeeze page, you must have a contact form to get them to input their contact details and CTA buttons to remind them to complete the registration form. 
And finally, after they submit their contact details, you can direct them to a thank you page where you will express your gratitude for them signing up to your contact list. Then, explain also how they can claim the lead magnet.
Next, after you complete the Lead Generation Funnel, there is one more step. The onboarding email sequence where you will build your stage and present your first offer at the end of the five days email series. 
How To Use Lead Generation Funnel in Different Businesses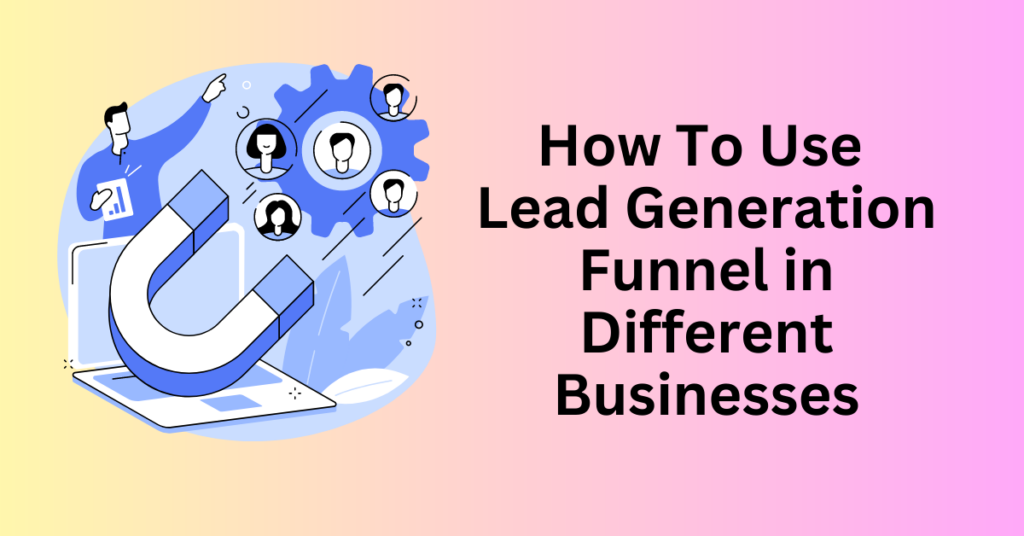 Lead generation is useful for all businesses, let's see how it can work for your business.
Local business
If you are a local pharmacy that wants to acquire more leads and customers, you can give an ebook on a healthy diet or recipes for a healthy meal.
You can create a landing page with a registration form for them to key in their contact details to claim the ebook. Then, you can drive traffic to your landing page by targeting local users that are interested in this topic.
Once they visited your landing page and complete the signup, you can send them a welcome email along with some newsletter or free vouchers for them to buy from you.
And since you already have their contact details, you can now nurture them by sending them follow-up emails and the latest promotions so they can visit and buy from you if they need it. 
Build your lead funnel using this template »
Ecommerce business
For an eCommerce business, your customers will rarely buy from you when they first visit your store. People will need to get up to 7 touches before they decide to buy from you.
Depending on what you sell on your eCommerce store, you can provide some insider guides or cheats that people will want to know about your niche. You can give them the guide in exchange for their contact details.
Or more straightforwardly, you can offer them a first-time voucher that they can use on the first purchase.
To do this, you can either build a landing page with your signup form or have a pop-up that will appear within 5 seconds of their visit or when they wanted to exit your page.
Then, drive traffic to your landing page. You can start with Facebook ads or TikTok ads to target your dream customer that is interested in your products.
After they sign up for your mailing list, all you need to do is to nurture them and build relationships with them so they will purchase from you. 
Build your lead funnel using this template »
Coaching business
For a coaching business, it is a high-ticket product where you can charge them a one-off payment or recurring payment for coaching. For the lead generation process, your lead magnet can be a two hours webinar where you will provide tonnes of value during the webinar.
You don't need to rush to reveal what you are going to sell during the lead generation process. The goal here is to get their contact and "sell" them the ticket for the webinar.
From the time when they sign up for the webinar, you can start sending them emails to nurture them and build your reputation before the webinar start. This is so that they will be excited to join the webinar.
The attendance rate for a free webinar is usually low as they don't pay for it. They won't pay attention as it's free. Hence, you will need to motivate them to attend.
At the end of the webinar, you need to always follow up with those who join but did not purchase at the end of the webinar. Follow up with them and try to close the deal.
Build your lead funnel using this template »
How to Build a Lead Generation Funnel Using GetReponse in 6 Simple Steps
Now that you already know the importance of a Lead Generation Funnel, let's see how you can start and build your lead funnel even if you have never done it before. 
Thanks to funnel builder software like GetReponse and ClickFunnels, you can now build your lead funnel easily. 
In this guide, we will be showing how to build a Lead Generation Funnel using GetResponse
Step 1. Accessing the GetResponse Conversion Funnels Function
If you don't have a GetResponse account, you can register one with 30 days free trial now.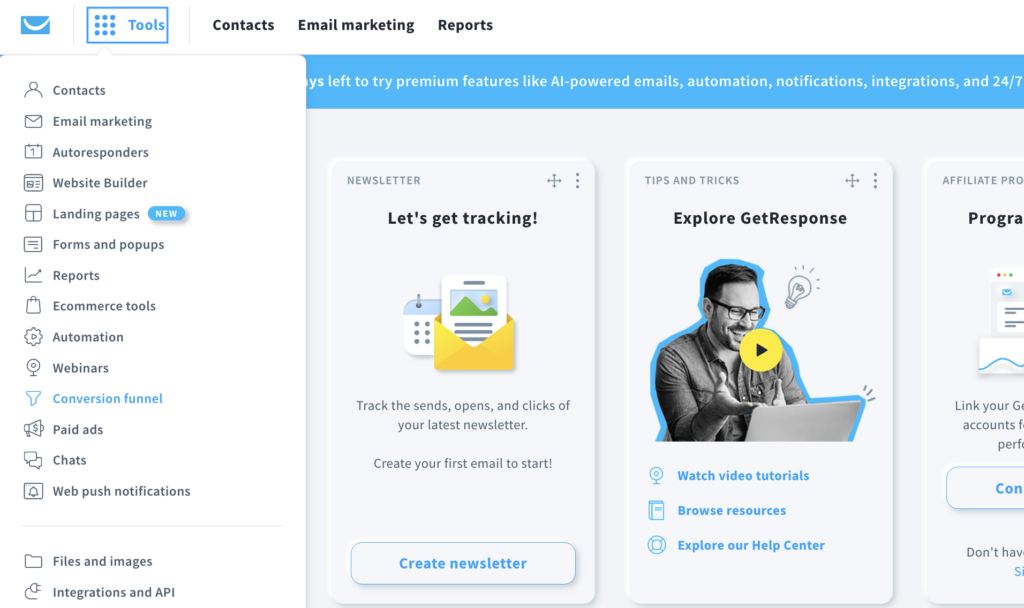 Then, access the funnel creator and click on the menu icon in the top navigation bar. Next, select the GetResponse Conversion Funnel.
Step 2. Choose the Funnel Type
As we are building a lead funnel, we will choose the middle option to Build a list and then, the lead magnet funnel. And put in the name of your funnel. This will be the name for the email list generated from this funnel.

All the new leads you collected from this funnel will be added to this list automatically.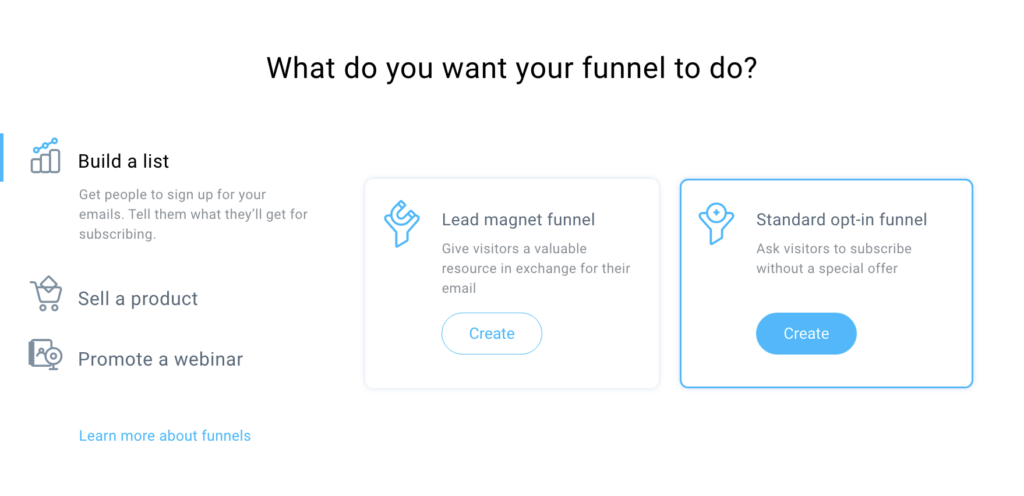 Step 3. Create the squeeze page
Once you have filled in the name of the funnel, you will see the funnel wizard where all the info on your lead funnel will be available here.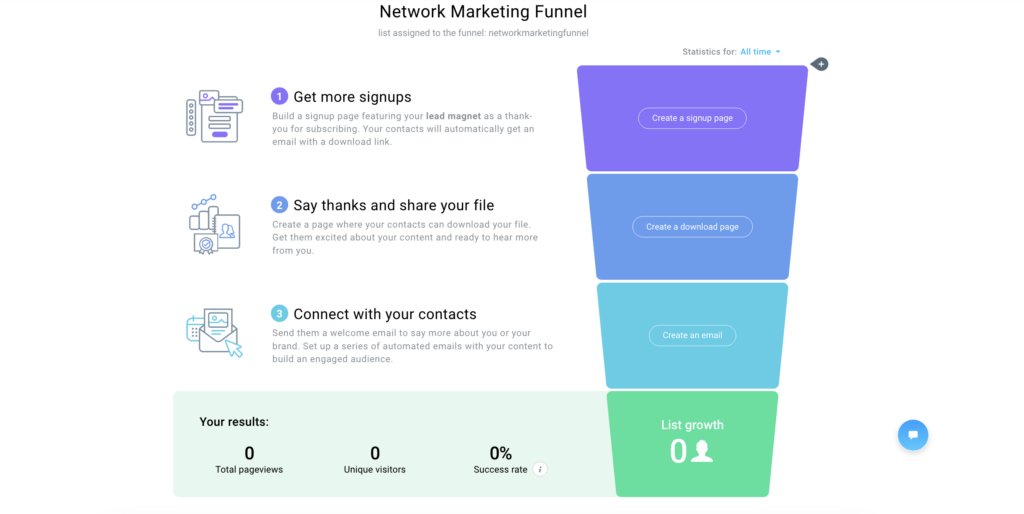 To build a lead funnel, you can click on the "Create a signup page" button to start creating your signup page.
And to create your onboarding or welcome email, you can create your email here too.
Step 4. Select the Right Template To Start
Now you can pick a landing page template or build a page from scratch. Most funnel builders including GetResponse offers a different pre-built template for you to start building your lead funnel.
These templates are being created and tested by professional funnel builders. I would highly suggest that you start with a template instead of a blank template.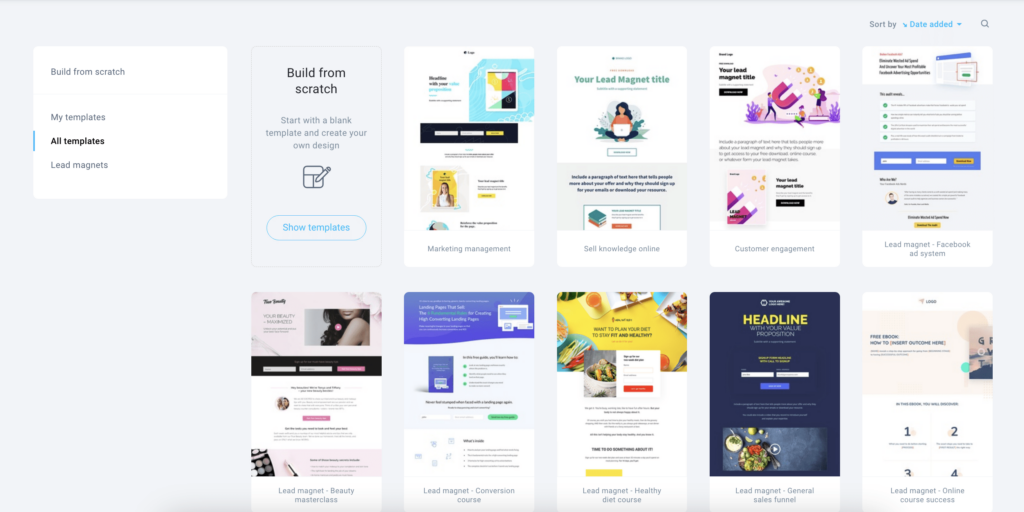 When you got the template that is suitable for your branding and content, then you can start to edit it. Our visitors might come in from different devices (Smartphones, tablets, Desktops). Your squeeze page needs to be able to adapt and fit into different screen sizes.
After your squeeze page, the next page you need would be a Thank You Page. Your thank you page can be as simple as a short video to thank them for signing up and tell them where to claim the lead magnet. And at the same time, you can also explain to them what they can expect from the onboarding email sequence in the upcoming days.
Step 5. Create Your Onboarding Email Sequence
On the second part of the funnel wizard, there is a button to "Create an email".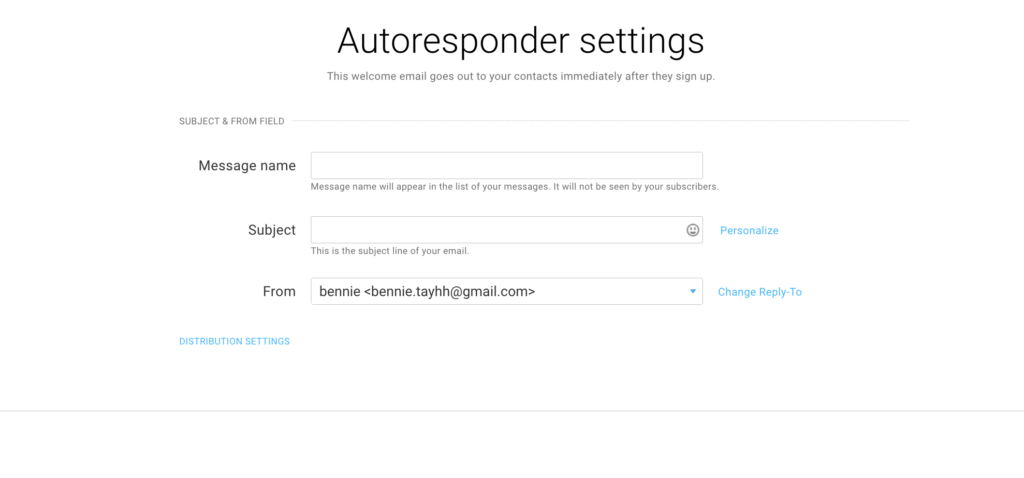 In this button, you will be directed to the autoresponder function. Here you can create your welcome email content and the subject line of your email. You can create the email from scratch or use the email templates to start.
Step 6. Promote Your Squeeze Page
Now that you have your lead funnel and email automation setup, it's time to send traffic to your lead funnel.
If you have budget, you can always start with paid ads. The beauty of paid ads is that when you start paying, you will get traffic to your ad. And if set up properly, you can get a huge amount of traffic instantly.
But if you don't, you will need to figure out how to post your link everywhere possible. It can be your social media profile, blog or other place that is possible.
Final Thoughts – How to Create A Lead Generation Funnel that Works
If you follow every step above, by now you should already know or created your first lead funnel. However, this is just the starting point. The actual work is just started for your lead generation.
After you start sending traffic to your squeeze page, you will need to start looking at the data for your lead funnel and optimize it to increase the conversion rate.
There are many different points on your lead funnel that you can optimize to increase your conversion rate. When your lead funnel fails, it can be your lead magnet is not attractive enough, your sales copy is not compelling or your funnel design is bad.
With GetResponse Conversion Funnel, you can create your lead funnel easily all on the same page. Not only that, with the data available, you can analyze your data easily.
Let's get the work started and sign up for a free account today. Leave a message to let us know. Our team will work together with you to support your first lead funnel creation.