Sales funnel is essential if you want to leverage the internet to boost and grow your business. Many people have a misconception that a sales funnel is only useful if you are selling products online. But that's not the truth. You can too leverage the power of the sales funnels for your real estate lead generation.
The fact is, a sales funnel is useful for all types of businesses. If your business requires new leads coming in, then you will need the sales funnels. Which is a must for all businesses to survive and grow.
Real Estate Lead Generation
When you are in the real estate business, there are three very important things. First, you will need to be known your target customers. Someone they will look for when they want to buy something. If you are not known, you have no business.
Then, you will need to generate new leads for your business. Generating new leads for your business is like drinking water. You need to do that consistently, daily to fill your body with new blood and sustain your life. The same goes for your business. You have to find motivated sellers and high-quality buyers before your list drains off.
This is where most real estate beginners are having problems. They joined a real estate agency and are given a phone list to get them to call everyone on the list promoting the available listing or asking for an available listing.
The result?
Pretty bad, the same listings had been used for years and the potential customers may not be potential anymore.
And this is why you got to generate new leads and close the deals and transactions.
And today, we will introduce how to use sales funnel to drive traffic (step one) and generate leads (step two) so that you can turn those leads into paying customers (step three).
Let's get started!
What is a sales funnel (for real estate)?
To start, you need to know what a sales funnel is.
You probably heard about a website before, but maybe not a sales funnel. Or you know the sales funnel, but it's only the offline sales process to funnel your customers through the awareness, interest, desire and action stages.
Most real estate companies will have websites to spread brand awareness, drive traffic, and even generate leads.
A website used to be good as a digital brochure for your business and share what your business doing. And it is still very useful to explain your business.
But, it is not efficient to generate leads and closing deals.
If you don't understand it now, don't worry. We will explain one by one, why we said so.
Think about a real estate business website, what will you notice?
Why not a website?
Like a typical website, it will have a homepage with a navigation bar on top, an about us page, a contact us page and lots of different pages. 
It's good to showcase your business, but the user experience may not be good. The problem with traditional websites is like a shop without a salesperson. You let the prospect walk in, browse through your products, and then leave your store without buying anything.
And this unguided journey will make you lose a lot of money.
Imagine this, you are walking into a shop, and someone greeted you and show you carefully each step, which product is their bestseller, why you should buy that product and where to checkout.
Of course a guided experience. It's good for both the business owner and the visitors. For the business owner, you can increase your closing rate by creating this virtual salesperson on your sales funnel. And for customers, it will be a more targeted browsing.
In short:
Traditional website vs sales funnel. Which Should you use?
A website is like putting a brick wall between you and your target customers. People get confused about the thousands of things you have on your website, normally not sales-closing driven.
A sales funnel, on the other hand, is a series of pages that are carefully designed to guide potential sellers and high-quality buyers to do what you want them to do. And in your real estate business, it's providing you with their contact information.
That's it, nothing else. You seldom close a high-ticket product on the internet. Hence, focus on getting the leads, and follow up with them to close the deals somewhere else.
A sales funnel consists of several pages that, step by step, guide each visitor to conversion.
If a website is like giving someone your business card, then a sales funnel is like having your best salesperson walk hand-in-hand with each of your website's visitors as they make a decision. 
And there are different sales funnels for different things.
There are sales funnels for hosting live events, generating leads, and, of course, making sales.
As it applies to real estate, the main application will be generating high-quality leads. Because if you can do that, then you already know how to sell your services.
How To Build Your High-Converting Real Estate Lead Generation Funnel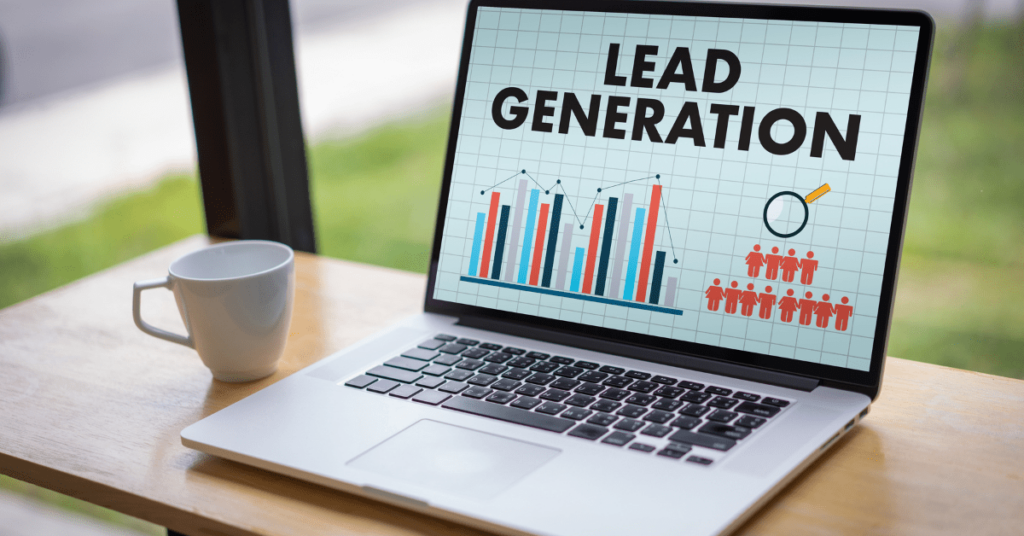 So now you already understand what is a sales funnel, and how it can apply to your real estate business.
Now, how to do it and get it running by today. But, "I am not technically savvy nor built a website before. How do I start?"
Don't worry, we got you covered. In fact, in just three simple steps, you can have your sales funnel up and running even by today.
1. Understand Your Target Customer & Your Marketing Goal
No matter what business you are in, you need to know who is your target customer and how you can serve them better. This can be done by solving some problems faced by the target customers or filling the gap by helping them to make their life easier.
So, let's start with this.
Who is your target market?
You might answer that question by saying "People who want to buy or sell a home in [YOUR CITY]."
That's great, but not detailed enough. Remember this, the real estate business is a very competitive market. To win the game, you need to be more details than your competitors. This can be done by taking one step forward and niching down.
You can try this:
"Helping first-time homebuyers to get the perfect deals and avoid troubles."
"Property selection for low budget investor"
"Migration expert that helps people to migrate to your city"
"Auction specialist"
You can be the expert in either one of these niches so that when people need this, they can look for you.
Time to do some work and craft out the avatar of your dream customer. Fill in the avatar template below and try to get as detailed as possible
The more you know about your target market, the easier it's going to be to sell to them. Knowing their age and gender is not enough. You need to know why they are selling their house or buying a bigger house. The more you understand the target market, the easier it will be for you to talk to them, generate leads and close deals.
2. Plan and Create Your Real Estate Lead Generation Sales Funnel
Once you know who you're targeting and why your offer is appealing to those people, it's time to plan and create your sales funnel.
Remember to start this with planning. When you fail to plan, you plan to fail.
It can be tempting to start right away to build your sales funnel. But trust me, the process will be slower if you don't know what you are doing before starting. You need to think of what's next and what to put at which location when you are building.
I would rather start by drawing out the sales funnel, how many funnel steps, what element I want to include, which lead magnet to provide and of course, the sales copy.
The Squeeze Page Funnel
For real estate leads generation, we recommend using the squeeze page funnel. A squeeze page funnel is a two steps funnel in the first page you present your offer to get their contact details and the second page will be the thank you page. And on top of the sales funnel, you are having an email sequence to follow up with them automatically.
As there are so many online scams happening, people are more cautious nowadays in providing their contact details. Unless you are providing them with a very good reason, they are not going to give you their contact details. Here is why you want to offer them something irresistible for free in exchange for their contact details.
Here's what the customer journey will look like
The prospects visit your sales funnel and arrive on a simple page with a headline, sales copy to explain the irresistible offer and a CTA button. Nothing else. And when they click on the CTA button, the contact form will be shown for them to key in their contact details to claim the free offer. 
They submit the form and are sent to the thank you page where you show them what they can expect from your newsletter and how to claim the free lead magnet.
As you can see, designing and building this funnel is easy. You don't need a very nice design to start. But what's more important is to craft your irresistible offer for the landing page. What does your target want most and has the highest perceived value?
It can be a…
Free list on how to maintain your house so it can be sold for a higher price
Tips on how to get a good ROI investment property.
Free checklist for property handover
Advice for buying your first house
Or it could be as simple as offering free valuation for the house.
And if you want to grow your cash buyers list, you can try this offer.
Join our exclusive buyer list where we will share all the insider news and listing information before it's shared with the public. 
All of these Squeeze Page Funnel variations work well. It just depends on who you want to target and what you want to offer them. And you can build all of this with ClickFunnels… for free.
Build Your First Squeeze Page Funnel For FREE!
3. Drive Traffic & Study the Data
Now, time to drive some traffic to your lead-gen sales funnel and see how is the conversion rate.
For this, you have two main traffic options. Paid and Organic Traffic
We will start with the paid traffic first. Paid traffic simply means buying ads to show the potential customer about your offering and send them to your sales funnel. A good start will be Facebook Ads and Google Ads. Paid traffic is good because you get traffic almost instantly once your turn on the campaign and start paying.
Another one is for organic traffic, you need more time to get it to work. You can invest some time into SEO for your website or building up your reputation with social media content.
As for running Google ads, you can just target search phrases like "Sell my house fast for cash in [YOUR CITY]", "Find real estate agent in [YOUR CITY]", or whatever else your target market is already typing into Google. (Free keyword research tool Ubersuggest).
Do some keyword research and see which keywords have a low price but high demand.
Those two strategies should get your sales funnel off the ground.
Split-test Your Real Estate Lead Generation Sales Funnel
And, once you send traffic to your sales funnel, your work actually starts here. You can read the data and see which page is not converting well. Then, you can optimize and run a split test on the page to find the winning copy.
And to run a split test, it really as easy as duplicating the original, changing the element and running it. After 3 or 7 days, you can relook into the data to find the winning copy.
In short, for a real estate squeeze funnel, you should have :
Eye Catching Headline
Your headline is the first thing that people see on your sales funnel. It needs to be appealing and eye-catching so they will continue to read on.
Your Offer
This is where you want to write an irresistible offer. This is the only chance you get them to sign up for your email list. Hence, you want to craft an irresistible offer for them to say yes immediately without much decision required. So, You may try different offers and combinations to see which works better.
Form Fields
In practice, more fields in a contact form will usually result in higher-quality leads but a lower conversion rate. And fewer fields will result in more leads, but of lower average quality. That\'s why, we recommend having 2-3 fields only, collecting First name, email address and phone number so you can have more ways to contact them.
ClickFunnels and Your Real Estate Lead Generation
For a real estate agent, you can use ClickFunnels to generate leads for your business 24/7. What's better than waking up with leads flowing into your list?
Sales funnels are an extremely powerful digital marketing tool that your competitors probably aren't using.
Hence, you should take advantage of it and win the competition. To help you get started, you may click the link below and give it a try yourself.
Oh, forgot to tell you, it's free to try and use for 14 days. And after that, you may decide whether to continue or not. It may seem expensive for the monthly subscription cost. But compared to the values it brings. It is totally worth it.