Many affiliate marketers or course sellers have painted a nice picture for affiliate marketing. And due to the ease to start an affiliate marketing business, it has gained popularity for individuals and businesses to earn passive income online by promoting affiliate links. Let's explore different ways to promote your affiliate links.
As an affiliate marketer, your main task would be promoting others' products or services through your own method. You will be sending traffic to your unique affiliate links where there is a tracking code embedded. This is so that any successful sales will be credited to you. And you will earn a commission for it.
This is an oversimplified explanation of what is affiliate marketing. Joining a great affiliate marketing program is just the start. The strategy to promote and bring traffic is a crucial part to make healthy and sustainable income through affiliate marketing.
Today, we will be sharing about 8 different ways to promote affiliate links.
1. Promote Affiliate Links in Blog Posts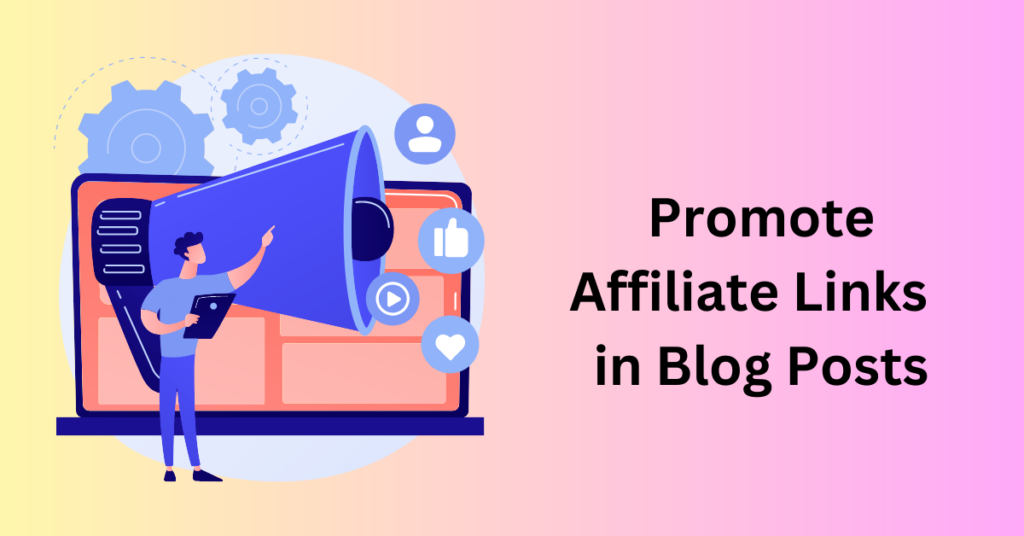 One of the most effective ways to promote your affiliate links is to add them to your blog posts. If you have a blog that you already have a large group of followers or audiences, it's definitely a good way to promote your affiliate link on your blog.
When people come to a blog, they are looking for information and solution for a problem they are facing. Your blog can't be full of sales copy trying to sell them products only. Instead, you should also focus on producing relevant and high-quality content. When you show your values, people will appreciate, trust and follow you.
One of the best-selling strategies for promoting affiliate links on blogs is what we call invisible sales. People don't like to be sold. You want to embed the affiliate link so they can discover themselves and decide to buy it instead of you keep pushing for the sales. Your visitors will leave if they feel uncomfortable.
Hence, you should have different blog posts to promote your affiliate links. For example, you can have:
1. Product reviews to explain the product you are promoting
2. Product comparison posts to compare rival products to help your audience to pick the right product.
3. Tutorial guide to show how to use the products
4. Product recommendation to share the products that you use and like
When writing about the product in your blog, you should always be honest about the product. Don't say something just to promote the product. It is hard to gain trust if you lose it. There are plenty of products available out there to promote, don't waste your effort promoting something bad that will ruin your reputation. Building your authority in the market and dominating the niche is the way to win.
2. Email Marketing to Promote Affiliate Links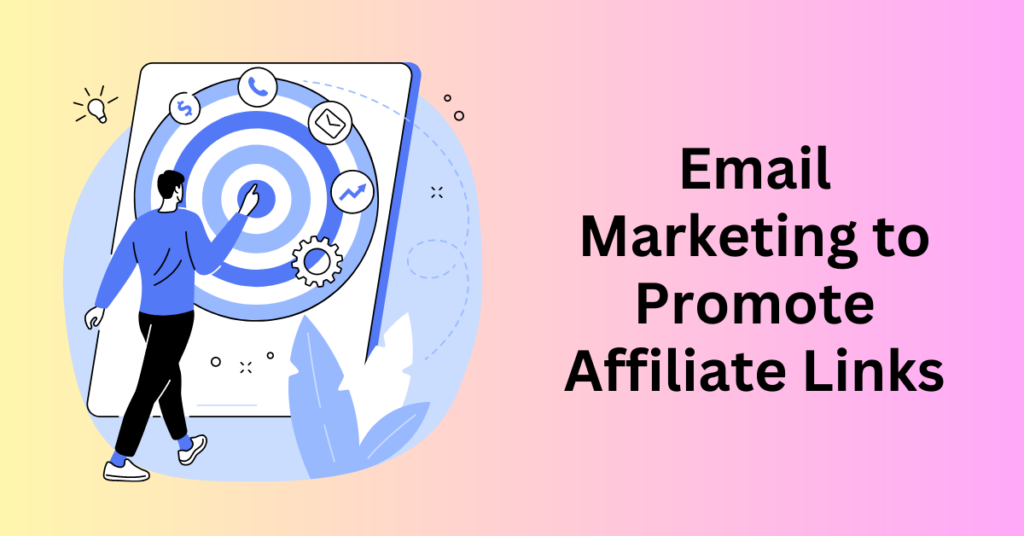 Email marketing is one of the highest ROI marketing strategies. It is useful when you want to promote your affiliate links too. You can embed your affiliate links in your email sequences or newsletters and send them out to your list.
To start email marketing for affiliate marketing, you need to first have an email list for you to send the email out. To build your email list for affiliate marketing, you can build a squeeze page funnel for lead generation. In the squeeze page funnel, you will offer a free lead magnet such as a cheatsheet, guide, eBook, webinar, or online course in exchange for their emails or other contact details.
And once they subscribe to your email list, you can start sending your onboarding email sequence and other newsletters to nurture them and sell them more products.
Your emails should focus on values and relationship building and not promoting your affiliate links only.
Onboarding Email Series
For example, your onboarding email sequence can be a five days email sequence where you explain why they are here and what they can expect from your upcoming emails. This is so that they are aware of what they sign up for. Also, for you to share your values and establish a relationship with them before you eventually promote your affiliate links in the day 5 or final email of the sequence.
You can see how we build the stage in the first 4 days before promoting the products at the end of the sequence.
Other than that, you can also create different series of emails to promote different products to people in different states. Not everyone will be ready to buy from your link. You need to identify them and send the right message to convert them.
In your emails, you can be sharing knowledge on a topic and the tools that you use will be the affiliate products that you are promoting.
You can also write promotional emails to promote certain special discounts or promotions for the products that you are promoting once it's made available.
No matter how you decide to email your customers to promote your affiliate links, always remember to not oversell. Provide values and build relationships first before you sell. People can get annoyed easily when they get too many emails asking them to buy a product. And once they unsubscribe from your list, they are gone.
3. Use Paid Advertising for Affiliate Marketing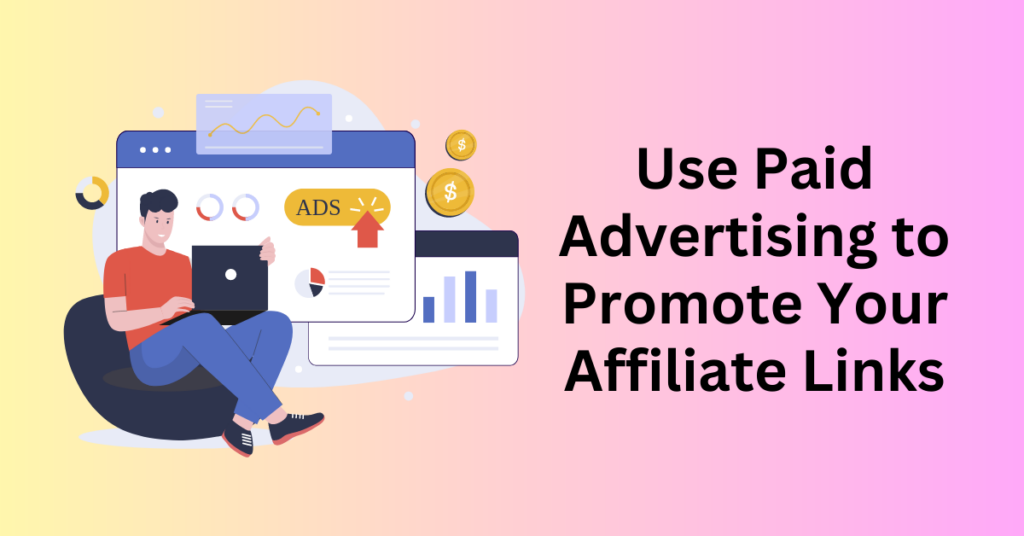 Paid ad is one of the very effective ways to promote affiliate links. With paid ads, you are getting traffic almost instantly once you turn on your ads and start paying them.
With the targeting system for paid ads, you can target a specific group of audiences that are likely to buy the products you are targeting. However, with the increase in the ad cost, your ad spend can be very high but get very minimal sales if you don't have the right process in place.
When you run paid ads, don't run directly to the affiliate link. Most ads platform don't allow affiliate links anyway. This is because when you send traffic direct to the affiliate link, you are not getting any control over the sales process. You will not know who has landed on the sales page and who is buying or not.
This is why instead, you should build a bridge page and drive your traffic to the bridge page. Then on your bridge page, offer them some lead magnets to collect their contact details, usually emails before sending them to the affiliate link.
By doing this, you can build your email list where you can follow up and persuade them to buy from you if they didn't on the first visit.
When running paid ads, always include your tracking pixels on your bridge page or website so you can retarget them if they did not make the purchase. Retargeting is where you follow them anywhere they go after they visit your links once.
4. Promote Your Affiliate Links on YouTube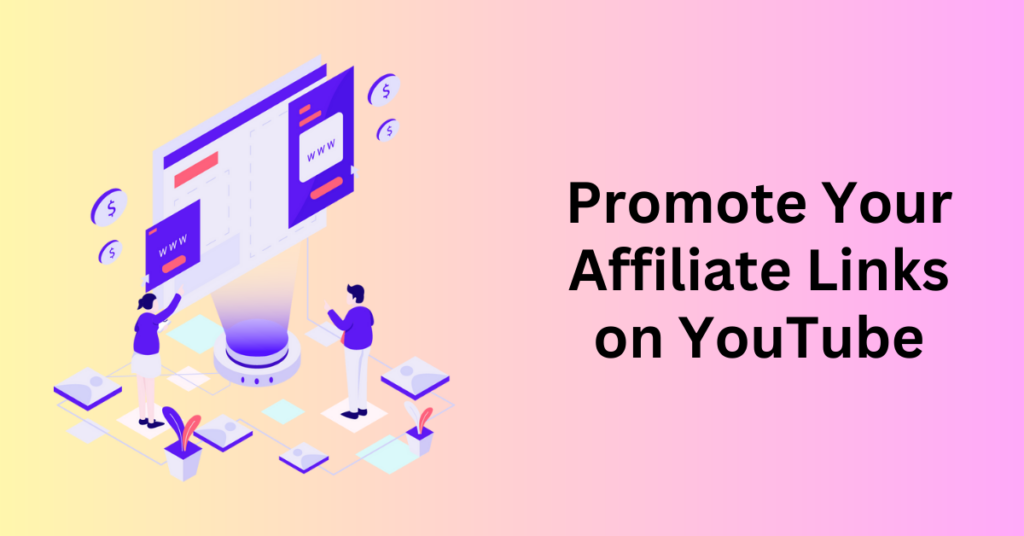 YouTube is one of the largest video platforms where people search for information. It's a search engine with video results. And over these few years, people are shifting to watching more videos.
Hence, creating video content to promote your affiliate links is definitely worth it. When promoting your affiliate links through video, you can embed your affiliate links in the video description. Then, as you go through the video, you can tell your viewers to click on the link in the description to get more information or buy the product. And when they click on your link to buy, they will get exclusive discounts or bonuses from you.
Or you can have a review video for the product or a tutorial video on a topic. For example, you can teach people about email marketing and how to launch their email marketing campaign. During the tutorial, you will use certain tools to build the campaign. And the tool you use will be the one you are promoting. When you explain during the tutorial, you can pause and get them to sign up for the free trial to follow your steps.
When you embed the link in your video description, you may use a link shortener so it will look nice in the description. Affiliate links are usually long and complex.
And you need to always comply with the affiliate marketing rules where you need to be transparent that it contains affiliate links. You need to include a disclaimer that you receive a commission for their purchase through your link. Not only that, you need to ensure that your recommendation is honest so they will buy from your link.
5. Promote Affiliate Links on A Webinar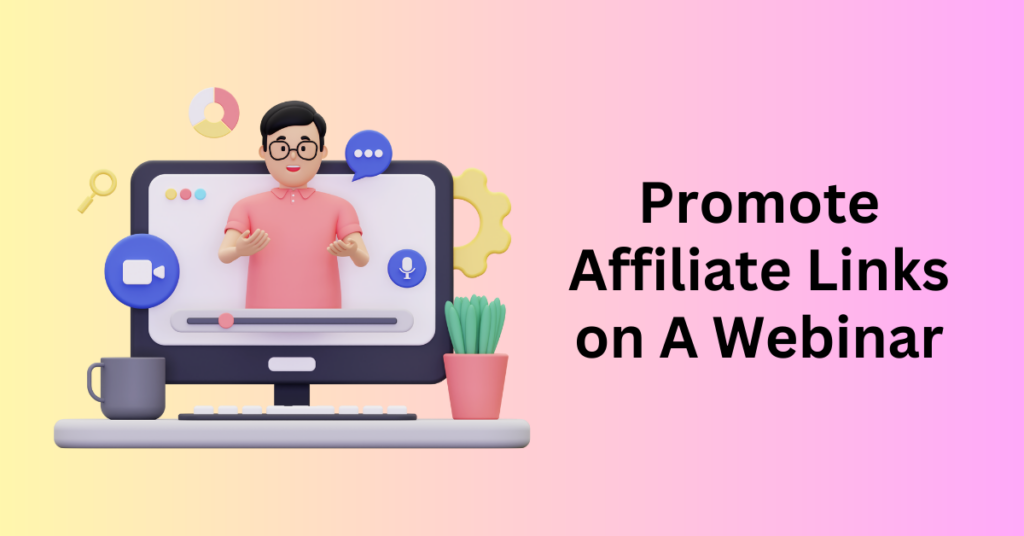 Webinars are powerful tools for affiliate marketing because they provide a direct and engaging way to reach your target audience. A webinar is a two-way communication between you and your potential customers.
Webinars work because you are providing value to your customers in your webinar before selling them anything. Your webinar can be on a topic that your potential customers are looking to solve. Then, in your webinar presentation, tell a story that they can resonate with.
You can have a backstory where you are in the same shoes they are having now. Then you went on to look for a solution for it. You've been through all the struggles along the journey and at last, you found the solution to it.
And then, you share your transformation and achievement. People see your transformations and want to follow your steps. Now, it's time to shine the light on the solution you have for them.
Looking at you, they are now desperate to get the products or services you are promoting because they want that transformation as well. Then, you get your team to include the affiliate links in the chat section or as part of your presentation to get them to click on the link and complete the purchase.
For the webinar, you can always record it for future replay so you don't need to do a new webinar all time.
6. Social Media Affiliate Links Promotion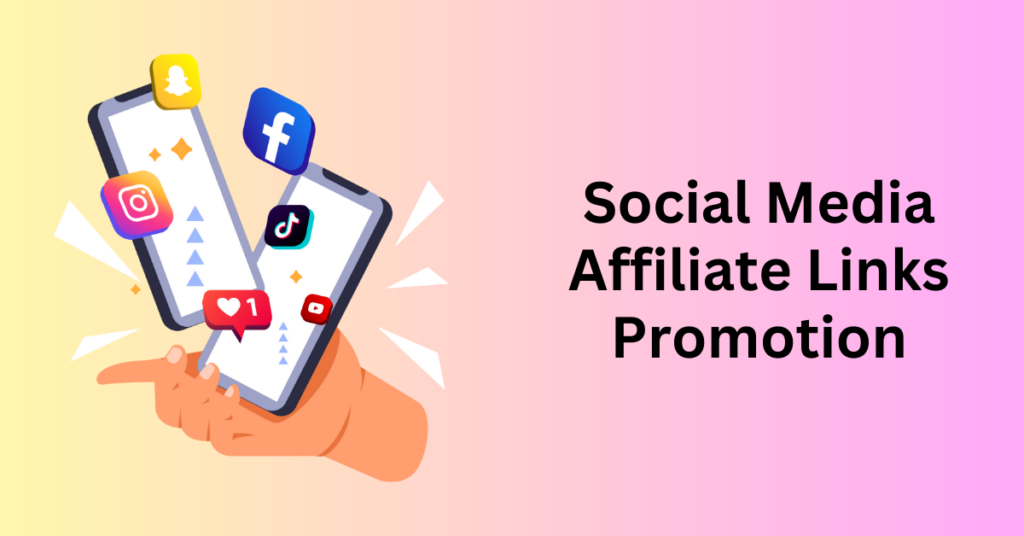 Social media is where people hang out. You can reach different people on social media. And through groups, you can reach your potential customers easily there. However, the group owner may not favour for you to sell on their groups directly.
So, don't join a group and directly promote your products. Instead, you should first prove your value and ask for permission before promoting something.
You can embed your affiliate links in your own social media posts or bio but not directly in a group post. They might ban or remove you from doing that.
To do it right, you can join the group and try answering other's questions in the group so that people are aware of you and recognize you. Then, share content and posts in the group. Group owners are hungry for good social posts.
After you contribute to the group, you can slowly ask for permission from the group admin to promote your products. Or you can add your target group members as your friends and privately message them to promote your products.
Take some time to research which platform your customers hang out the most. Then, work on dominating the platform to promote your links. Always remember to build and maintain your authority. It's hard to build your reputation once it's broken.
7. Promote Your Affiliate Links on Forums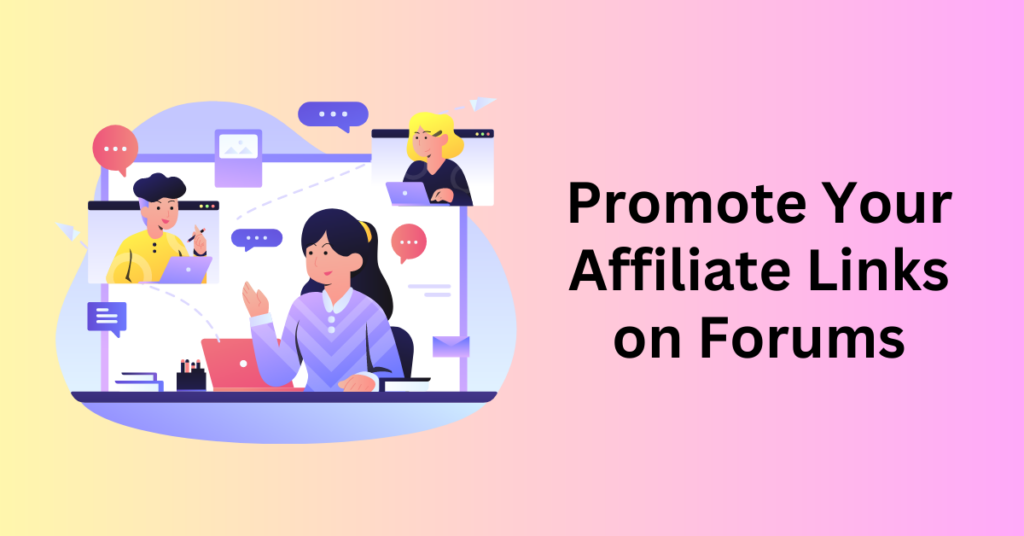 Forums are another good place to build your authority and promote your affiliate links. People in the forums are discussing a certain topic or looking for an answer. You can definitely join the discussion and share your response there.
Not only that, those big forums like Quora are well-known sites that also rank high in search engine results. This means your answers in the platform might appear in the search results too when Quora appears on the search result.
This will be additional organic traffic that you will get by contributing to the platform.
As always, when you are working on others' platforms you will need to be very careful and comply with their terms and conditions. make sure you read through their guidelines and whether do they allow affiliate links before you do it.
If affiliate links are not allowed on the platform, then you can still leverage them to build your reputation and send them to your landing page. Provide value first before your sell.
8. Promote With an Online Course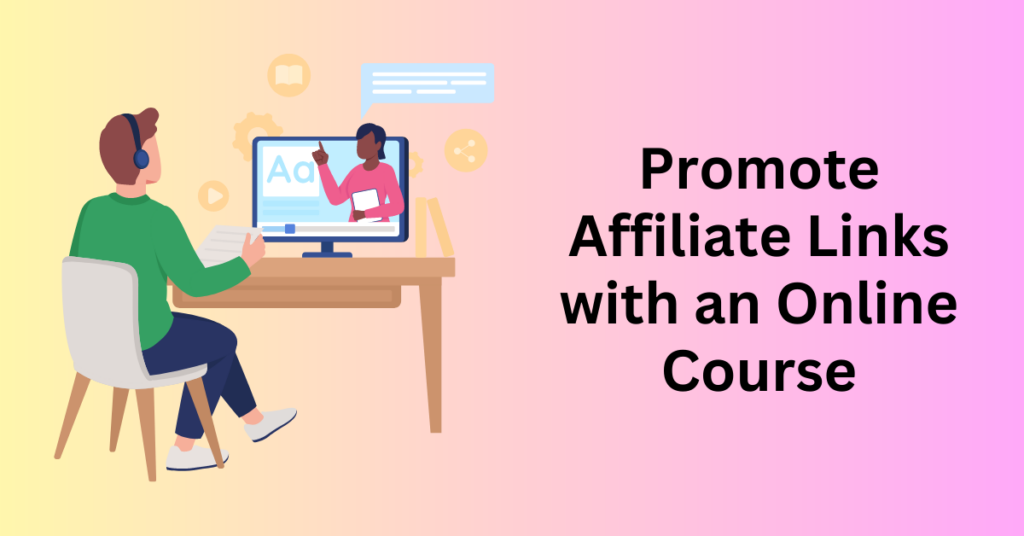 An online course is another great way to promote your affiliate links. Online courses typically will have a higher perceived value than other content. People are selling online courses for hundreds of dollars.
Hence, promoting affiliate links through an online course is a good way to get additional revenue from it. You can offer the online course for free and earn from the affiliate commissions.
In every online course, there will be some tools or services that you can include in it. For the tools and services, you can include relevant affiliate links to promote them. And to follow along the course, it will be more likely for them to buy from your link.
And as usual, you should be transparent to your students and include a disclaimer that those links are affiliate links. You will get paid commissions for the purchase.
Final Thoughts – 8 Ways To Promote Your Affiliate Links
Affiliate marketing is a good business model to start online. You don't need to design and develop your own products. All your need is to focus on marketing the products or services and get commissions for successful sales.
In this guide, we shared 8 different ways to promote your affiliate links effectively. Pick one or two ways to start working on to promote your affiliate links. Once you get success in it, you can then expand to other marketing strategies.
Affiliate marketing is all about building reputations and relationships with your followers to build your business sustainably.