One of the best high-margin businesses that you can do is training or coaching. Coaching is not something new, but it had gained so much popularity with the ability of the online platforms that make online webinars and remote coaching available. But How To Start an Online Coaching Business?
As inflation rises and job security is no longer secure, many people opt to learn different skills to start a side hustle or business to save their lives.
And of course, the coaching business is a huge market where you earn while helping people to build up their skills.
And the best thing here, you don't need to be good in everything to start coaching. All you need to do is to be one step ahead of your students and be able to answer their questions.
Not only that, creating a course, getting clients and growing the business had been easier with the availability of different tools.
Today, we will be sharing with you how to start an online coaching business from scratch.
Who is an Online Coach?
An online coach is someone that is teaching online. You are not physically standing in a class or a room to teach your class.
Instead, you can have a virtual setup with green screen background and lots of screens to view all your participant's reactions live.
This means you don't need to rent a place to fit everyone. You and your students can both participate in the class remotely.
It's an excellent option for people looking for more flexibility. And if you are both not in the same town, they can still join your online class in their town.
Not only that, if you are selling a pre-recorded course instead of a live coaching session, they can start learning when they are available. There is no need to interrupt their daily routine for joining your class.
For example, there might be people working different shifts or in a different region that is joining your class. You can't have one time that fits everyone. Hence, you want to have both live sessions and playback sessions so that more people can join your class.
And of course, both are charged differently. For a live event, it might be a one-time charge for the ticket. And for those who want to join your online course, it can be a one-time or monthly subscription model.
This will be like a commitment for them to study as they already paying for it. You don't need to charge hundreds for the monthly subscription. You can start with $7 per person per month.
People will not think too much to commit to a $7 subscription. So just get them in and sells in volume. Your effort to create the course is only once. The other course will be the platform to host it.
What is an Online Coaching Business
There are many different services that you can provide in a coaching business. It can be group coaching or private coaching. And you may specialize in a specific topic and master it.
4 Different Types of Coaching
Here's a quick look at some of the different types of coaching.
Private Coaching
This is a one-on-one coaching session between you and your student. During a private coaching session, you are focusing on him alone and your time is dedicated to him only.
You can set a plan together with your student, and guide him through the learning process. This includes checking his work to see if he's doing it right.
Group Coaching
Group coaching can be a huge group where you have classroom teaching. Or a mastermind, where you only accept a small number of students in your private coaching mastermind.
This particular type of private coaching involves a group of clients. Together, you can participate in group coaching sessions where you share your attention with the whole class.
Life Coaching
Life coaching is all about learning how to live a better life. It's not about a specific skill or niche but is for transforming you to have a better life.
The topic can be very broad, but there is only one goal. To find your calling and improve your life.
Business coaching
Business coaching focuses on helping clients reach their career or business goals. For example, it can be something like starting a 6-figure business or even scaling a business from six to seven figures business.
8 Things You Need to Start an Online Coaching Business
Running an online coaching business can be a rewarding experience if you enjoy teaching. Even if you don't, it's a good way to share the skills and experience that you gain with others. By teaching others about the same topic, you are practising it as well. Not only that, you can get different ideas for the same topic from your students.
While it is rewarding, it is not easy to start. Else, everyone will be an online coach successful. And this will leave the market with lots of qualified and unqualified coaches that focus on making money but not delivering value.
If you are worried, coaching is also a skill that is trainable and learnable. Hosting a class is not that hard anyway. You might not be performing in the first few classes, and that's totally fine.
We have seen many successful coaches now starting from zero and not performing in their first few classes. Some even only have 2-3 participants when starting out, and not having thousands of participants in their class.
The money is in the business. And only those who are able to overcome the challenges are able to get access to it. Doing the right thing will get you rewarded with a good side income that supplements your primary income.
That being said, running an online coaching business comes with its fair share of challenges that you need to be prepared for.
Here are eight simple things you can do to set yourself up for success.
Step 1: Select a Niche – How to Start an Online Coaching Business
This is the first step you want to take when starting an online business. The same goes for your online coaching business.
It's hard to show your value if you don't niche down. If you are teaching a general topic, what is your strength in competing with other coaches out there? And what makes them want to pay you for taking your course?
The money is in the niche. A niche course can cost 10x higher than a general course. This is because you are giving them real value in the course. Something they can't be learning elsewhere.
So, start to look for a problem or challenge that your target audience is facing and see how you can provide to overcome the challenge.
If you are unsure, your competitors are your best friend here. You can always spy on their offers and see what's in demand and how you can charge for your class.
Else, you can use online tools like Google Trends or Google Keyword Planner to see what people searching for now.
Step 2: Identify Your USP – How to Start an Online Coaching Business
Your unique selling proposition (USP) is the one thing that makes your business stand out from the competition. It's a specific benefit that you offer that's either better than competitors or unique to you.
This is very important for all businesses to identify the "WHY". Why your customers buy from you. And Why should they pay you this price?
Your USP should be something simple to understand and something that your target market wants and couldn't get it elsewhere. The only option is to get it from you. Or you are the best in the market.
This could be something that relates to solving a specific problem they are facing. Or something that will make their life better.
Step 3: Create your Coaching Program – How to Start an Online Coaching Business
Once you know which market or topic you want to focus on, you can start by planning the framework for your coaching program.
Now, you don't need to have the entire program ready before selling it. You only need to have a framework at this moment where you can share with your target customer what they are getting and why they are getting it.
This is important because you don't want to create the entire course and end up it's not selling well. With your framework, you can start to launch and pre-sell the course. And then, fulfil the course later when they bought it.
This is exactly what many top coaches do. They understand the market by selling the course, before actually creating one.
Step 4: Determine the pricing for your course – How to Start an Online Coaching Business
This can be challenging to price your course.
And it goes back to your value ladder sales funnel. What is your online coaching business selling? And other than the course itself, are you selling other high-ticket coaching or mastermind group? Or is your course a lead magnet to provide value to your target market?
All these will affect your pricing.
For example, you can offer a free 3 days of training in order to sell your $997 course.
Or you can create a course and sell it for $497 or $997 directly.
It all depends on your strategy. You want to find the right balance between attracting new clients and charging enough money to cover your expenses while making a profit.
Ultimately, you can also offer a payment plan for example, a $497 course can be paid in 3 payments with $170 per month. Offering a pricing plan here is to help them to lower their one-time commitment when buying your course. So, don't make money out of the payment plan. You can charge them slightly higher so they will consider a one-time payment, but not penalize them for taking the payment plan.
Research your competitors in the same niche to see how they are doing it. And model their strategy.
Step 5: Build a Website
You need to have a sales page or landing page to sell your online coaching business. It is important to test it out before launching because you don't want to direct the paid traffic to a landing page that is not working.
This is why, after creating your website, you should test it out. Click on different links and buttons on the page and make sure it works as it should. Also, you want to ensure that it is mobile-responsive. Try it on different devices: desktop, tablet and mobile devices.
You want it to be able to scale based on different screen sizes.
Not only that, it will be great if people can search for your landing page on the search engine or other major search engines. This is a good source of free organic traffic. Make sure your on-page SEO is set up properly for it to rank higher in Google.
Your website should be built on a platform that is easy to navigate and use. This is so that your customers can access your online courses easily and is able to use them.
This will help you scale your business and attract new clients.
Read more on how to build an online course website with WordPress. 
Step 6: Create a Sales Page – How to Start an Online Coaching Business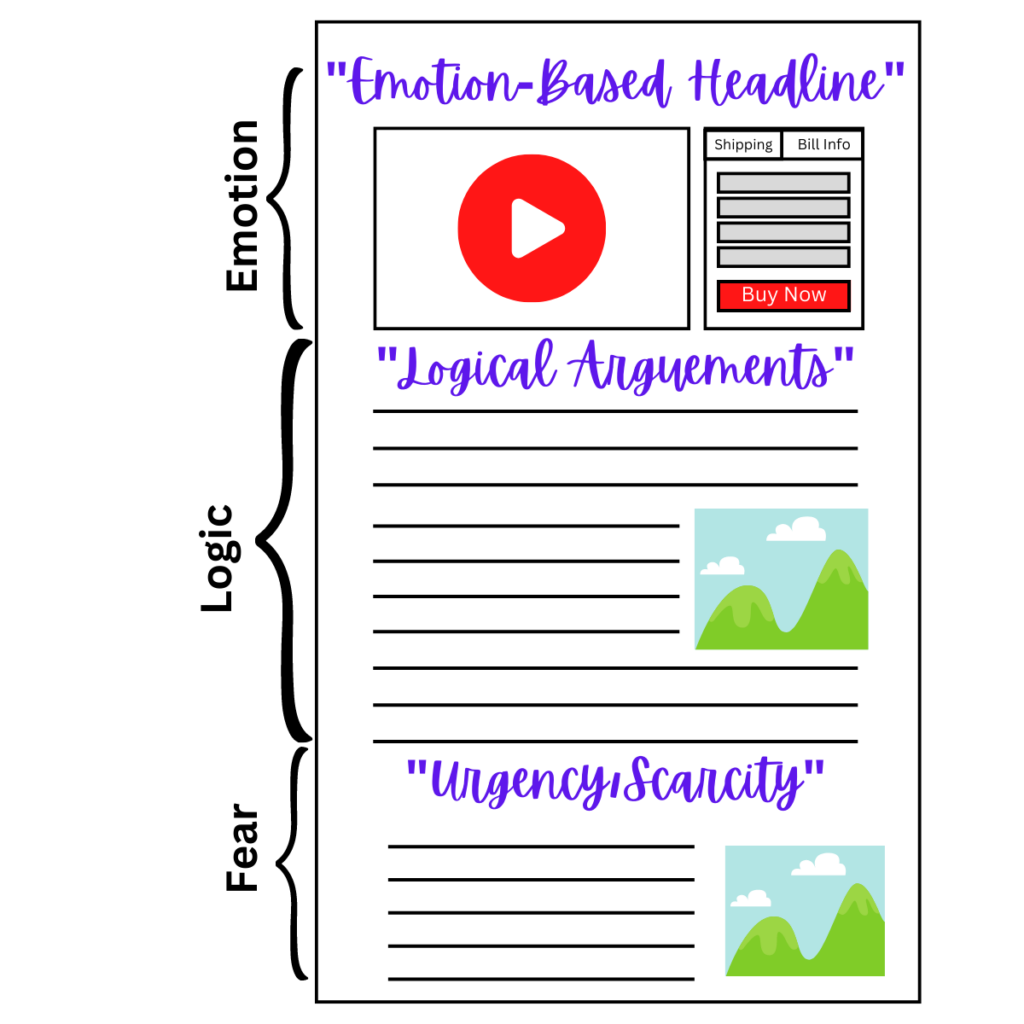 A sales page is designed specifically to promote your coaching program. To do this, you can either build your online course website on WordPress or the sales pages on ClickFunnels.
ClickFunnels has proven to work well selling online courses. There are many business owners including Russell Brunson, the co-founder of ClickFunnels that had make 7 figures selling courses on ClickFunnels.
Designing your sales page is an art. You want to craft the masterpiece to convert more clients. To do this, first of all, a sales page shall be clean and simple. It should only consist of useful elements only.
Anything that will distract your potential customer should be removed from the sales page.
A thoughtfully crafted sales page helps engage more users and convert them into prospects and then into customers. A distraction-free sales page ensures that you get your user's attention and increase the chances of boosting conversions.
Read more on How To Create A High Converting Squeeze Page
Step 7: Create Social Media Accounts – How to Start an Online Coaching Business
Having a social presence is one of the fast ways to build up your reputation and authority. You can create social media accounts on major platforms like Facebook, LinkedIn, Twitter, and Instagram. Basically, anywhere your target customers are, you want to be there.
Being active on social media will allow you to build your follower by helping them to get their trust. In return, when they want to invest in a course, they will be more likely to buy from you.
Social media is all about consistency. You want to create engaging content on social media and post it on a regular schedule. Interact with your target customers and convert them.
Step 8: Promoting Your Online Coaching Business
Once you have your website and sales page ready, it's time to promote your online coaching business to get people to your sales page and close them.
There are many types of marketing that you can do for this. You can do content marketing by writing engaging blog content and ranking on the search engine for popular keywords. Or it can be promoting your online coaching business on social media. Or paying for ads to send traffic to your sales page.
There are many ways that you can do to promote your business but remember this. If you are starting paid ads too early, without knowing whether your sales page or the course work, you are burning your money.
Especially if you have a limited budget. However, if you have a huge budget to burn, a paid ad is a good way to get test data fast.
One of the ways to get people on board your coaching business is to run a free trial. Give them 1 week or 2 weeks of the free trial. And during the trial period, it is important for you to send emails to follow up with them on the course content and teach them how to use your course effectively.
People need guidance. Hold their hands throughout the free trial period. Else, from our experience, most people that sign up for a free trial end up only visiting once and never coming back.
How to Plan and Create Your Online Coaching Program
Creating an online coaching program is a great process for building a passive income online. With the program ready and selling, you can then focus on marketing and get more people on board.
All you need to do is to update the content once in a while to make sure the information is the latest and most relevant.
Starting from scratch can be hard, this is why we will walk you through the steps from planning to creating your own online coaching program in detail.
1. Define your target market
Identifying your target market is one of the most important steps in creating an online coaching program. It is important to understand who your ideal clients are. The group of people that you want to serve. Only by understanding their needs and what are the pain points that you can help them overcome you can create a course around that.
For example, if you are a fitness coach, your target market may be individuals looking to lose weight or improve their health. You may also target specific age groups, such as seniors or new parents, or individuals with specific health conditions, such as diabetes or heart disease.
2. Identify your niche and area of expertise
Once you have defined your target market, you need to determine what specific area of coaching you will be focusing on. This is known as your niche. This should be something that you are interested in or are good at. This is because you are going to run the business for years and grow yourself as an expert in the niche.
It needs to be something that you are passionate about. Something that you can talk about the whole day. Because there might be one day where you are having a three days seminar on the topic. If you are not passionate about it, how are you going to talk for three days?
And finally, your students will be able to feel whether are you passionate about the topic that you are teaching.
For example, if you are a fitness coach, your niche may be weight loss or strength training. By focusing on a specific niche, you can create a program that is tailored to the specific needs of individuals looking to lose weight or build muscle, and you will be able to position yourself as an expert in that area.
3. Create a program outline
Next, you will need to create the outline for your coaching program. For example, if you are developing a 12 weeks course, then you need to set up the goal for each week. And then, include the detail of the plan for each day to achieve the goal.
Ideally, you want to have a checklist or measurement for the daily and weekly progress so your students will know whether they are on the right track or not.
You can record the course in the form of videos, and then add on with some worksheet or checklist for them to follow the course.
4. Develop your program content
Once you have your program outline ready, it's time to prepare the content. First, you will need to prepare the scripts and contents that you want to teach in each lesson. And then, record it.
If required, do some editing on the video and then upload it to your chosen platform.
5. Deliver and monitor the program
Finally, it is time to deliver your program and begin working with your clients. It is important to get feedback from your students and see which part of the course needs to be further optimized.
You can also read the data on the open rate and the video viewing rate to see which lesson has a higher rating and which is having the lowest view. Then, focus on optimising it.
Final Thoughts – Start Your Online Coaching Business Now
Starting an online coaching business can be simple by following the steps above. However, creating a successful course and getting enough clients to join the course is hard.
There is a lot of work required to constantly test and optimise your course to get the best version for your clients. You don't optimize to the best version before launching, but launch it, get feedback and optimize.
You will never know which is the best without the market data. Your instinct is not enough.
The good news is that, with the right strategies, you can start an online coaching business from home and become super successful at it. Get ready and start to work. You will enjoy the fruit later.