If you are looking to start a clothing brand or store, now is the best time. Creating a clothing store online is very easy with the popularity of ecommerce. And there are lots of opportunities to start a clothing store online with a low initial investment.
Today, we are going to share how to start a clothing store online with the print-on-demand business model. Print-on-demand is a business model where you don't keep any inventory for the product that you sell. Instead, you only focus on product design, marketing and customer support. Product creation, packaging and shipping will all be handled by the print-on-demand service provider.
And the benefit of this business model is your risk and investment are small. First of all, you don't need to buy the inventory in bulk, your print-on-demand service provider will keep all the plain products and only print your design on the product when they received your order.
And of course, you will only submit the order after someone purchased it.
Then, you can test different designs fast. With print-on-demand, you can create hundreds of designs and market them at your online store without creating any product. By doing this, there is a very low cost for you to create different designs and test them out to see which has the highest popularity. Then, you can focus your marketing budget on the top-selling product.
How to Start A Clothing Store Online in 7 Steps
If you decided to start your own clothing store online, follow the steps in this post and you should have your online store ready to launch.
Let's start
1. Choose your niche for Your Clothing Store Online
A niche for a print-on-demand (POD) clothing business refers to a specific market segment or category of clothing that the business caters to. It could be a particular style, design, theme, or trend that the business focuses on.
For a POD clothing business, you might specialize in designing and printing t-shirts with funny or inspirational quotes, or it might specialize in designing and printing custom workout gear for fitness enthusiasts.
By focusing on a niche, a POD clothing business can differentiate itself from competitors, create a loyal customer base, and tailor its products to the needs and preferences of a specific audience.
In fact, this is one of the most important things that every business owner needs to do. It is hard for you to create too many products and sell everything well. You should have a specific topic, theme, and marketing message for the specific group of people that you want to serve. All your business stores' designs, colours and best sellers shall design be focused to convert them best.
To pick the niche for your POD clothing business, you can
Research market trends
First, you start by researching current market trends to see what is popular and what customers are looking for. Look at what is currently trending in fashion, as well as in niche markets such as sustainability, vintage, and streetwear. You can spy on free tools like Google Trends or on the marketplace like Etsy to see what are the best selling product that people is looking for and buying.
Identify your passions
Your niche should be something that you are passionate about. You are going to create different product designs and work on becoming the best in the niche. How can you continuously work on the niche if you are not passionate about it?
To start, you can think about your own interests and passions, and see if there is a market that intersects with them. For example, if you are passionate about fitness, you could create a line of athletic wear.
Consider Your Dream Customer
Consider who your target customer is and what their needs and preferences are. These are the people that you want to sell them to. And make them keep buying from you. This is why you should create a dream customer avatar. The customer avatar should consist of all the detailed information about your dream customers. The more details you have about them, the better you can create the product that they want to buy.
To create your dream customer avatar, you want to ask a few questions:
Who are they?
What is their interest?
What do they read?
What do they watch on TV?
Which social media channels do they most frequently interact with?
What is their daily schedule (when do they work, when do they relax?)
How do they spend their free time?
The more you know about them, the better you can serve them.
Competition Analysis
One of the best ways to know what to do is to look at what your competitors are doing. Learn from what they are doing it right, and what's wrong. And then, model them. You won't copy, but the model and learn from what they are doing.
You can learn from their product design style, what products they are selling.
2. Pick Products For Your Online Clothing Store
Now, after knowing what niche you want to sell, it's time to think about what you want to sell in your online clothing store. You want to decide about this before starting your design because you want your design to be based on the size of the products that you are selling. Not only that, you want to know whether the product is profitable and with a huge margin.
While the apparel market is big, you should focus on one or two types of products first and then expand to other categories slowly. You want to create your first 10 products and make sure everything is perfect when you publish them. A good product title, descriptions and images are more important than having too many products.
When you are starting out, you might have limited time and staff to manage too many products. This is why you should always niche out and expand slowly.
Many new business owners fail to understand this and start with too many different products when they are starting out. This is because when you are starting out with print-on-demand, there are so many different products that you can create and publish to your online store instantly. Many will get attracted to the variety of product choices and creates some low-quality product.
Instead, you should understand what you are selling.
Choose The Product Quality & Type
There are many different products on the print-on-demand product list. Some might look similar but with different unit prices. And this is because of the difference in their fabric type and the printing method.
The three most common types of fabrics are usually cotton, polyester, and fabric blends. Each one has different properties, so it's important to find out the durability, care, and printing suitability, as well as the feel and wear of the fabric.
Next would be the printing type, with direct-to-garment (DTG) printing, the more cotton a garment has, the better. DTG printing uses water-based inks that stick to cotton better than compared to other materials. Make sure to also pay attention to the thickness of the fabric—if the garment is made from thick cotton (e.g., sweatshirts or hoodies), the fabric can absorb the ink and result in a more faded look.
3. Create The Design of Your Product for Your Clothing Store Online
Now, let's start to get working. Creating the design that sells. Now you might be thinking if I don't know how to design or have never done it before, what should I do?
Now, there are a few ways that most business owners do this. If you can afford one, you can hire a fashion designer to do it for you. But this might not be possible if you are just starting out.
This is why you can either outsource the work for a very low cost to a service provider on Fiverr or Upwork. Or you can start doing it yourself with a ready-made template.
Create Your Own Design
To start making your own design, you can use a tool called Canva. Canva is used by many clothing owners to make different designs. This includes a design for your clothing store.
In Canva, there are many pre-built templates that you can start with and use to design your product. It is also very easy to use and anyone can start and customize their design almost instantly.
However, there are 2 things that you need to take care of when creating your design. One would be the size of your design, you can get the design from your POD suppliers. You want to make sure the size is correct to avoid having design quality issue which is affecting your print quality.
Next would be the background of your design. As possible, you need to make sure that your design background is transparent. This is because when you want to print it on different colour products, a transparent design will avoid the colour mismatch during printing.
Use Stock Images and Font
Another very simple way to create a clothing design is to use a stock image or text-only design. You can find stock images on websites such as Pexels, Unsplash, and a variety of fonts on sites like Fontspace, and 1001 Fonts.
When you are doing this, make sure that the image and font that you are using are free of copyright or that you are authorized to use the design and sell it. Else, you might get into copyright infringement legal issues.
Then, the same thing you need to resize it to ensure that your design is having good quality on your product.
4. Create Your Online Clothing Store Branding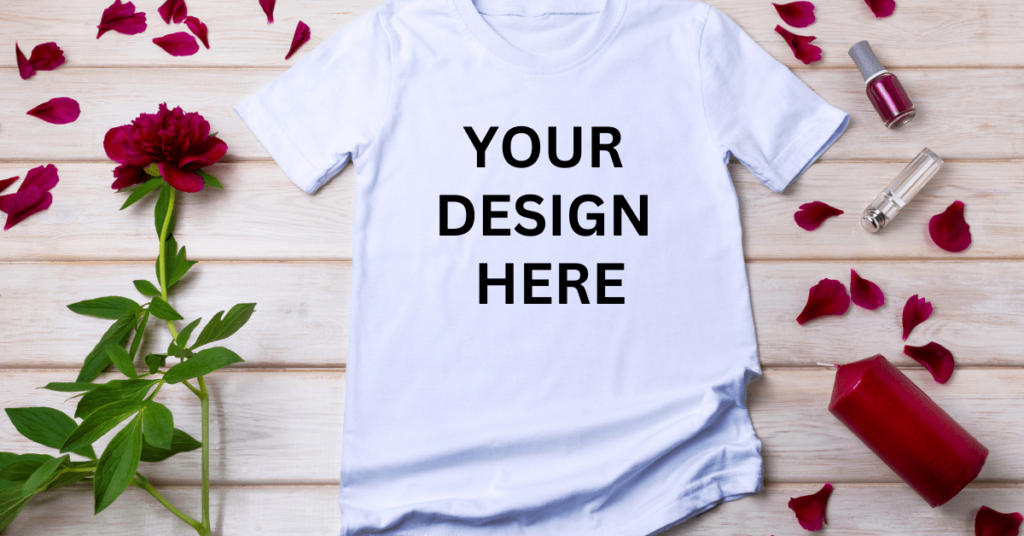 Now, to create your online store for clothing, you need to determine your store name. And ideally, this store name or brand name should be standardised across all the platforms you use. This includes your brand name, logo, domain name, and profile name on all your social media platform.
Branding is the image of your store to your customers. It's the impression that pops into their minds when they hear the name of your business. And also how they remember you.
This is very important as good branding will increase your brand awareness and increase your sales.
Choose Your Clothing Store Name
Your store name is the first thing your potential customers know about you. And also the name that they will refer to when they talk about your store. This is why, it needs to be simple, easy to remember and pronounce.
You can do some research on the brand name. Avoid something too generic like "XXX clothing store", but instead you can try something like "XXX apparel". This will make your brand name easier to memorize and at the same time enable you to expand to other products in the future.
You can have some inspiration for your brand name through some online research. And when you got the name, you can try to search for it with the tool called namechk to make sure the name is available across different platforms.
Not to forget, your domain name should reflect your brand name as well.
Create a Logo for Your Online Clothing Store
When designing a logo, you should always use the KISS principle. Keep it simple, stupid. A fancy and complicated logo sometime does not work as well as a simple one.
And if you look at those famous brands worldwide, normally they will have one or two theme colours for their business. This is the same for their logo. When you have a theme colour, this is the colour that associates with your brand.
Write a compelling About us page
An about us page may not be important for your sales funnel, where you want to get them to take immediate action and make a purchase. But it is a very important element for your online store.
An about us page is to explain your business, your team and what you do. It is an opportunity to connect with customers by selling your story, your vision, your mission, and what makes you, you. After all, people make purchase decisions based on emotions—so use the opportunity to create those positive emotions.
5. Choose your Ecommerce Platform for Your Online Clothing Store
To start your online clothing store, you need to consider how you want to sell it or where you want to sell it. You can either build your own online clothing store with an eCommerce platform like WooCommerce and Shopify or sell it on a marketplace like Etsy or Amazon.
An eCommerce platform is a website that you build to sell your products. A marketplace, on the other hand, is a place where different sellers can publish their products on it and sell them. And the marketplace might take some percentage of commissions for all the products sold.
Here are a few things to consider when choosing your selling method.
Customizability: Shopify allows you to create a fully customizable online store with your own branding, design, and functionality. Etsy, on the other hand, provides a more limited set of customization options.
Fees: Shopify charges a monthly fee for using its platform, plus transaction fees for each sale. Etsy charges a smaller listing fee and takes a percentage of each sale, but does not charge a monthly fee.
Target audience: Etsy is a popular platform for handmade and vintage clothing, as well as unique and one-of-a-kind items. Shopify is more suited for larger, established businesses that need more control over their online presence.
Marketing and SEO: Shopify has more built-in marketing and SEO tools, allowing you to reach a larger audience. However, Etsy has a built-in community and marketplace, which can help your products get discovered by potential buyers.
Overall, if you want more control over your online store and need more advanced features, an eCommerce platform is the better option. If you're selling handmade or vintage clothing and want to take advantage of Marketplace's built-in community, then the Marketplace may be the better choice.
Read more on POD supplier comparison: Printful vs Printify
6. Set up Your Clothing Store Online
If you are using a marketplace, then you can skip this part as you don't need to build your own online store. Everything is pre-built by the marketplace. This includes the storefront, payment gateway, and standard policies. However, you will need to manage your product upload and configuration.
If you are using an eCommerce store, below are some elements that you need to focus on.
Read more on How to Build A Print on Demand WordPress Website
Buy a domain name
A domain name is a unique name for a website on the internet. It acts as the address that people type into their web browser to access a website. For example, the domain name for Google's website is "google.com". When a user types "google.com" into their web browser, the browser connects to the server hosting the website and retrieves the website files, which are then displayed in the browser.
As a rule of thumb, pick a domain name that's the same as your store name. You want potential shoppers to connect your business to your website and easily find you online.
Once you've decided on your domain name, head to Namecheap, or GoDaddy to get it registered.
Get a Web Hosting Service or Sign Up For an Ecommerce Platform
There are two different solutions available when it comes to an ecommerce platform. You can use a hosting solution like Shopify to build your online store. The benefit of it would be everything is hosted and managed by the platform, and you just need to set up and manage your site.
Another way would be a self-hosting solution like a WordPress WooCommerce store. For this, you will need to get your own web hosting service like Bluehost, domain name, payment processor and so. There is more flexibility when you use WordPress WooCommerce solution as it provides full customization capability.
Either way that you choose, both have their advantages and disadvantages.
Choose a Payment Processor
A payment processor or gateway is important as you want to collect payment from your customers. A payment processor is a software that handles the payment between the customer, the customer's bank, the consumer's card and their bank.
There are a few popular payment gateways that are used by most business owners online like PayPal and Stripe. Ideally, you want to get a payment processor that is secure and reliable. And they need to be able to accept different payments. Not only credit and debit cards but also worldwide payment for different currencies and mobile e-Wallet.
Write Shipping and Return Policies
Shipping and return policies are important to get your customers informed about what they can expect. And at the same time, giving them some guarantee for what they purchase.
For example, if you are shipping worldwide, your shipping time might be longer like one or two weeks. This is normal especially if you are shipping from the US to Asia. Due to the order processing time, production time, shipping time, and also customs clearance, it might have some delay in terms of delivery.
This is why you need shipping and return policies to inform them about what they can expect. This can avoid also if there is any discrepancy in the future when they complain that the shipping is too slow.
Not only that, but in most cases, you don't want to accept returns for POD clothing stores as this will increase your cost for return shipping and if the product is returned, you are not going to sell it anymore.
Order Your Sample
As you are going to run your online clothing store with the print-on-demand method, you should always order your sample. By doing this, you can know how your potential customers will feel when they receive their orders.
At the same time, you can use that sample to take some marketing photos and videos to be posted on different social media platforms. Not only that, you can have a quick check on the product quality to make sure your customers are going to get good quality products.
7. Promote Your Online Clothing Store
This is the final step and also the step that you need to do continuously to bring customers into your online clothing store.
Social media platforms are a great way to connect with your target audience and build brand awareness. To build a strong social media presence, you can create profiles on popular platforms such as Facebook, Instagram, Twitter, and Pinterest. Once you have set up your profiles, you need to post engaging content regularly to interact with your customers.
You should start with one platform and master it first before moving to another social media platform. This is to avoid that you waste too much time on different platforms, and you will end up messing up everything. Or you can learn how to repurpose your content so you can create one piece of content and use it for different platforms. However, you need to understand that different platforms have their requirements regarding content format and size. Make sure you comply with that.
Use Influencer Marketing
Influencer marketing is a powerful way to promote your brand and reach new audiences. You should look for influencers in your niche with significant following and high engagement rates. Reach out to them and offer them a free product or a commission in exchange for promoting your products to their followers.
When choosing an influencer, make sure they have a similar target audience to your brand, and that their content aligns with your brand values.
Run targeted ads
Running targeted ads is an effective way to drive traffic to your website and increase sales. You can use platforms such as Google Ads and Facebook Ads to run targeted ads that reach your ideal customer.
When setting up your ad campaign, be sure to choose specific keywords and target demographics to ensure that your ads are seen by people who are most likely to be interested in your products.
Create a referral program:
A referral program is a great way to encourage your existing customers to refer their friends and family to your online store. Offer a discount or a free product to customers who refer new customers to your store.
To make it easy for customers to refer their friends, create a unique referral code or link that they can share on social media or through email.
Offer promotions and discounts
Offering promotions and discounts is a great way to attract new customers and encourage repeat business. You can offer free shipping, a discount on a customer's first purchase, or a buy-one-get-one-free promotion to entice customers to shop with you.
It's important to make sure that your promotions and discounts are well-publicized, so customers know about them.
Optimize your website for search engines:
Search engine optimization (SEO) is the process of optimizing your website to rank higher in search engine results pages. To optimize your website for search engines, use keywords that describe your products and optimize your website's content and structure to make it easy for search engines to understand what your website is about.
Make sure your website is mobile-friendly, has fast page load times, and includes high-quality images and videos of your products.
Final thoughts – Build Your Successful Clothing Store Online Today
By now, you should have understood what it takes for building a successful clothing store online. With the print-on-demand business model, starting a clothing store online is not hard. Even if you don't have any experience or just starting out.
However, building a successful clothing store online will take huge effort and dedication. You just need to start and work on it.
Read more on How to Build A Print on Demand WordPress Website