Have you heard about email marketing as one of the highest ROI marketing strategies for businesses online? Are you wondering how to launch a successful affiliate email marketing campaign as a beginner?
No matter if you already have an email list or you are just starting out from scratch, there is a huge chance for you to get sales through email marketing. We have seen lots of marketers using email as their money-printing machine. They can make money by just sending out emails to their list.
Sounds good?
Today we will be sharing how to start with email marketing and build your list step by step.
What is Email Marketing?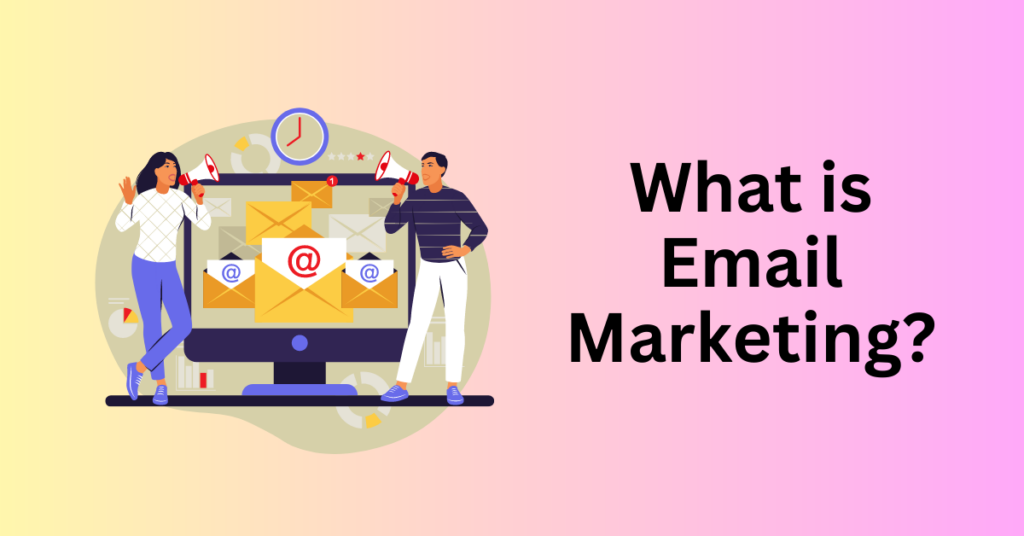 Email marketing is a marketing strategy to send newsletters or promotional messages via emails to a group of individuals. The process starts with a lead generation process. This is where you get people to subscribe to your list before you can send emails to them.
Email marketing is a form of direct marketing where after they sign up for your email list you can send them emails. And you can set it to send different messages to people that respond to your email campaigns differently.
When you are starting out with a few emails to send, you may use your email inbox. But as your email list and business grow, you will need to use an autoresponder to manage your email campaign. An autoresponder is a piece of software or tool that lets you manage your email list, create emails, create email campaigns, and do data analytics.
An email includes various elements such as well-designed email templates, compelling subject lines, relevant content, call-to-action buttons, and personalized messages. Based on how they respond to your emails, you can create an automated workflow that will send out different emails automatically.
Effective email marketing strategies focus on delivering value to subscribers, building trust, and maintaining a positive relationship with the audience. By providing useful and relevant content, businesses can engage recipients and encourage them to take desired actions, such as making a purchase, subscribing to a service, or visiting a website.
Why Do You Need an Affiliate Email Marketing Campaign?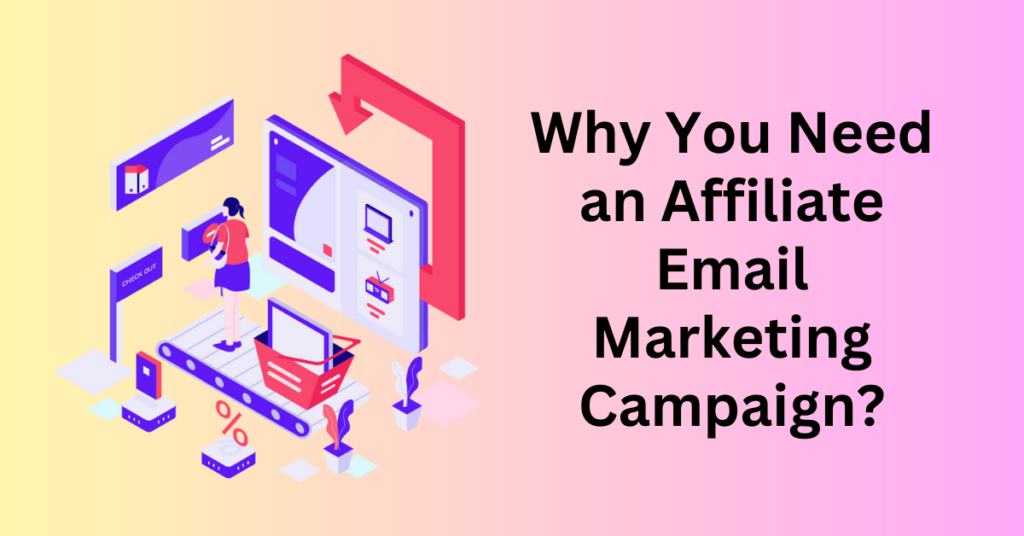 Email marketing is good at providing value and building relationships with your followers. This is important for affiliate marketing as you are fighting against other affiliate marketers out there.
You will need to provide some reasons for them to buy from you.
1) Email is insanely profitable.
With an average ROI of 1:36, every single dollar spent can get you $36 back. There is no other marketing channel that performs that well. You don't spend money to send an email out to your list.
All you need will be to pay for the lead acquisition cost and the autoresponder tool to manage and send out your emails. Once they are on your email list, now you need to provide value and build relationships with them.
If you keep them on your list and nurture them well, they will be your best recurring customers. that when you have any new promotion or launches, you can send to them directly without any additional customer acquisition cost.
2) Your list is your asset
Your email list is your most valuable asset. Once you've built an email list, you own the list. This is very important as you can now save the list on an Excel list and you can save it on a different storage disk. Either your laptop, USB drive, cloud storage and so on. You want to secure it so that you won't lose it.
If you are building your followers on other platforms like Facebook or YouTube, you are relying on the platform. If they decide to ban your account or stop business, then your follower list is gone. And you will need to appeal or open a new account to build it back. However, if you want to change from one email autoresponder to another, all you need to do is to upload your list to the new tool.
That's all.
You own the list, and as long as you have the list with you and they are there, you can still contact your list and convert them. Treat your list as your friends but not the ATM machine. Your goal here is to make money, but not spamming the list with different offers. More importantly, you need to nurture the list so you can send them new offers in the future.
3) Email is sustainable.
We are sending and receiving lots of emails every day. And people are used to receiving newsletters and updates via email. Although many people are communicating on messaging apps like WhatsApp, emails are there to stay.
If you look around in your email inbox, you will find that different businesses are sending out email newsletters for their products. They might not be selling or promoting their products, but just providing value and building relationships with you.
The same goes for your business, if you can develop a good relationship with your subscribers, emails can be your good source of revenue. And in some cases, even recurring revenue for subscription products.
How To Launch A Successful Affiliate Email Marketing Campaign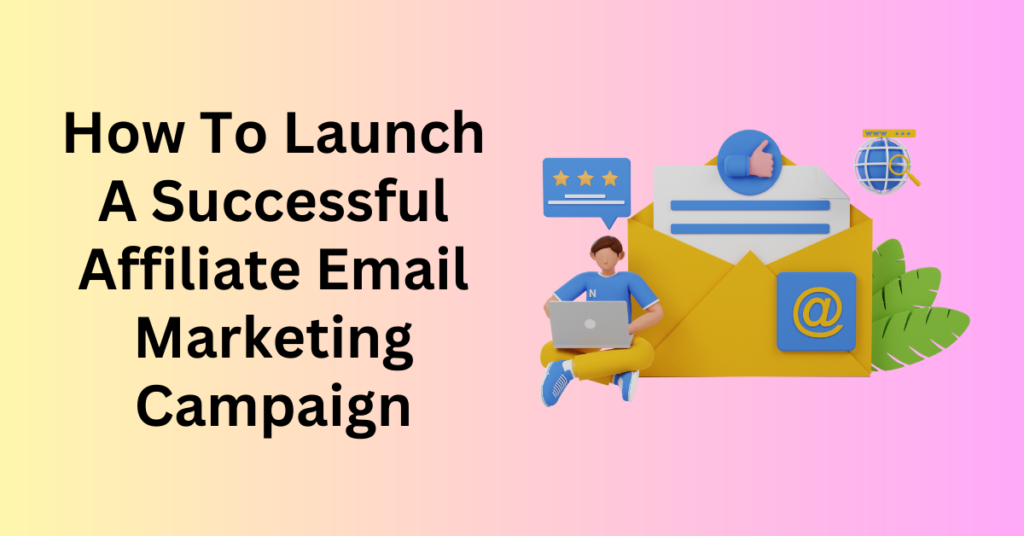 Now it's time to go and start working. We will summarize the important steps for launching your successful affiliate email marketing campaigns in four steps below. Make sure you follow the steps to build your campaign.
Before we start, I will assume that you already have your niche and affiliate offer selected. And we will start directly with how to create a successful affiliate email marketing campaign.
Step 1: How to Choose the Best Email Autoresponder for Affiliate Marketing
To start your affiliate email marketing campaign, you need to pick your email autoresponder tool to manage your campaign. With the popularity of email marketing, there is a lot of different solution providers out there providing similar service.
But which one should you choose?
When we are choosing an autoresponder tool, there are a few criteria that we are looking for. Among the feature that you want to be aware of it, the ease of use for the platform, the plan and pricing, and the features provided.
For example, how is the automation workflow created? Does the autoresponder allows drag and drop workflow building or you will need to build and connect each step manually?
Or how flexible is the plan offered? Can you start with 1,000 contacts and expand the plan when your list grows? All these will affect your monthly subscription cost. And for some platform that offers a free plan, what do they offer and is that sufficient for you?
As a beginner in affiliate email marketing, there are lots of things that you need to learn. This includes building your list, writing better emails, optimising your email marketing campaigns, creating your workflows and analyzing your data. Hence, you want to have an autoresponder that is easy to use and you can focus on optimizing your email campaign.
Example of Email Autoresponder
Here are some popular email autoresponders that you can try:
You can sign up for the free trial to see which platform is more suitable for your business. If you want to start directly without wasting your time, I will definitely recommend going for GetResponse.
GetResponse has been evolving well from an email autoresponder to an all-in-one marketing solution tool. Not only you can use it to create an email marketing campaign flow with the drag-and-drop automation workflow builder, but you can also build a conversion funnel and host webinars from it directly.
You can start with the 30-day free trial with GetResponse. And if you would like to continue with the basic function, you can continue with the free account or get the Email Marketing plan for $19 per month.
Step 2: How to Build an Email List for Affiliate Marketing
Assuming that you are starting from scratch, we will share how you can build an email list for your affiliate marketing business. And we will be using a squeeze page or funnel for this.
Squeeze Page Funnel for Lead Generation
A squeeze funnel will consist of two pages. Page 1 will be the squeeze page and page 2 will be the thank you page. We call it a squeeze page because the goal will be to squeeze all their contact information on that page. And after they give you their contact information, you thank them on the next page and tell them what to expect from your email.
And when you want to ask for the contact information of your target customers, you need to give them a reason for that. Contact information is something private and they will be sceptical to just give it out like that.
This is why we will create an irresistible front-end offer that they will just accept and give you their contact information. And although we call them an offer, it's actually a low price point or even a free offer where you give them values for free in exchange for their contact details. Hence, your squeeze page is also your sales page for your free offer. And the freebie that we give them is called a lead magnet.
There are many different types of lead magnets ranging from a cheatsheet, reports, and guides, to online courses and a webinar. Depending on the price of your backend offer, if you are selling low or mid-priced products, you can use a cheatsheet or reports. And if you are selling a high-ticket item, you will want to give them online courses or webinars to provide more value to them to get them to buy your high-ticket item.
So, take some time to craft your irresistible offer.
Landing Page Building For Your Lead Generation
We will start building the landing page or squeeze page. You don't need a full website for this. You just need a sales funnel or landing page builder like ClickFunnels for this. Or you can even build it directly in GetResponse and manage your list there altogether.
In your landing page, you can create a simple one with only a headline, subheadline, video explaining the offer and an opt-in form. Or you can add on other long-form sales letters and testimonials to further persuade them to claim your free offer and opt into your list.
Then, connect the landing page to your email list so a new sign-up will get added to the list and you can start sending out the onboarding email sequence automatically.
And when you have the landing page built, now it's time to direct some traffic to your page. You can start with any traffic source that you have, or just buying for paid ads to send traffic to your landing page fast. You want to do this because the faster you get feedback from the public, you can optimize your offer and landing page to perfect it and increase the conversion rate.
Drive traffic to your page.
No one will find your page if you don't drive traffic to it. There are too many websites online and you need to show your landing page to your target customers in order for them to see it. You can use any traffic that you are familiar with to drive traffic. It can be free traffic or organic traffic. It all depends on your skill and experience.
Here are some popular traffic sources that you can check out.
YouTube
YouTube, owned by Google is not only one of the biggest Video platforms, it's also a search engine. You can create your video and publish it on YouTube. And in your video, you can mention the product or offer that you are promoting.
Then, leave the link to your landing page in your description and call for your audiences to click on it and sign up to claim the freebies.
This is effective as you already provide value to them in your video and the offer you are promoting is part of the solutions that you present. They will be more willing to look for the link and click to know more about it.
You can have organic traffic from YouTube searches or recommendations or you can pay for YouTube to show your ads to more people.
Blog
A blog is a good content marketing strategy for your landing page. If you already have a huge audience for your blog, you can continue producing content about the affiliate offers and use an opt-in form or pop-up box to get your audiences to sign up for your email list.
Those who signed up to your email list will get regular newsletters or promotional emails about the affiliate offer that you promote. And the key to getting more audiences from your blog is to provide value and excellent content that people want to read.
Social Media
Social media is a way for you to reach a larger audience fast. However, most social media platforms are not focusing on organic reach for new social media posts. Instead, they are the advertising platform company.
This means you will get very minimum organic reach for your social media post unless you can build a large following. You can join other's groups, and provide value to the group members, build relationships with them and the group admin. When you build your reputation, you can then start to send messages to them and send them the link to convert them.
Paid Ads
Paid ads are the best way to get instant traffic to your landing page. Once you set up your ads right and start paying for them, you will get traffic to your landing page.
Sounds easy right?
While it is easy to launch paid ads for your landing page, getting profitable may not be that easy. You can get people to your landing page, but if they don't convert you won't get any profit too.
So, it is very important that before scaling your paid ads, make sure that your landing page and offer are good.
Here are some best-paid ad channels for driving traffic:
YouTube Ads
Facebook ads
Google Ads
Native Ads
Step 3 : How to Write an Email for Affiliate Marketing Campaign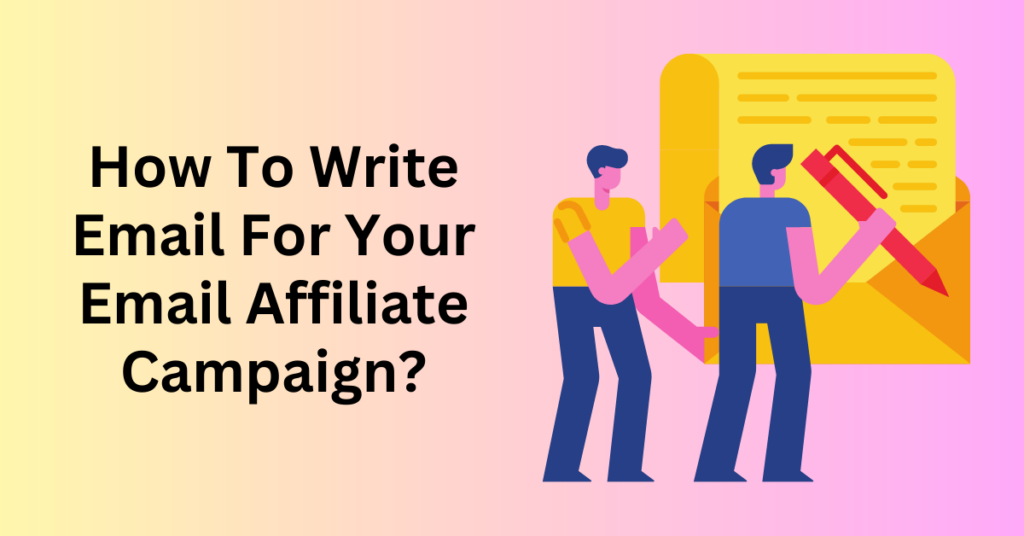 By now, you should have your lead generation campaign set up for people to sign up for your email list. We are now at the heart of the email affiliate marketing campaign.
To create different email sequences for your audiences.
When people just sign up to your email list, you don't send them your product offer directly. They are not ready to buy from you yet. Instead, they will feel like you just want to sell them products or services. They will have a bad impression on you and might just leave your list.
You need to spend time building relationships with them and nurturing them so they will buy from you again and again.
Onboarding email sequence
When someone first signs up to your email list, you want to send them the onboarding email. The onboarding email sequence normally will run for 5 days which you build your rapport before sending them to the affiliate offer at the end of it.
In your first email, you are going to thank them for joining your list. And then remind them to claim for the free offer that they sign up for. And next, tell them what they are going to expect from your email and tell them that you are going to send them a five days email sequence.
In the five days email sequence, you are going to send them the soap opera email sequence like:
Day 1: Set The Stage — This is where you introduce yourself, build a bit of rapport, and tell people what they can expect in your upcoming emails. You also want to build some anticipation.
Day 2: High Drama → Backstory → Wall — This is where you capture them with a high-drama moment, tell them a bit of backstory, and then reveal the wall you came up against.
On Day 3: Epiphany → The One Thing — This is where you reveal your big epiphany, how you came to the realization that changed everything.
Day 4: Hidden Benefits — This is where you're going to talk about the benefits of your product that your target market probably isn't even thinking about… the hidden benefits.
Day 5: Urgency CTA — This is where you'll create urgency or scarcity to push your most stubborn readers over the edge.
With this 5 days email sequence, you are going to build a relationship and tell them a story that they can relate to before sending them the offer on the fifth day.
Seinfeld Email Sequence
After you have completed the onboarding email sequence, what's next?
Your email to them should not stop there and you only send out emails when you have things to sell. People are not stupid, they won't be buying from you or even not opening your email at all.
In fact, you can send out regular emails daily or once every two days to stay in front of your email audiences. Your target here should be converting everyone in your email list from a lead to a paying customer and finally, a recurring customer that either subscribes to your subscription service or will continue to buy from you again and again.
So it's worth your time to keep emailing people no matter they bought from you before or not. And of course, different people from different funnel stages will need different message and offer for them.
If you are worrying about writing too many emails daily, you can do it easily by telling a story and making an offer that relates to the story. You don't need to write something too technical or informative. In fact, you should focus on the fun part of your email and share something that happens in your daily life. It can be your own story or a story that you heard.
The important thing is to stay in contact with your list, build authority and sell to them. Make this a habit, and spend 10-15 minutes crafting out the email.
Step 4 : Email Automation and Segmentation
After you wrote the email, you need to send it out and create the process to send it out automatically. You can't be sitting there and decide which email to send and when to send them.
This is one very important feature of an autoresponder.
Automation Workflows
This is how the workflow works. You have your landing page set up with the opt-in form for people to sign up for your list. Someone visits your landing page and signs up to join your list. Then, their info will flow to your autoresponder automatically.
What's next?
You will be logging in to your email account and sending out the email to them once a day and checking for each subscriber's status and sending out the email.
No way.
That's not productive and time-consuming. Instead, you can set up an email automation workflow that will send out emails automatically when someone triggers an action.
For example, we are setting up the automation for the 5-day onboarding email sequence. This is how the automation workflow will look like.
Add a new subscriber to the email list.
Set the triggering point to send out the email when a new email is added to the list.
Wait for one day before sending the next email.
Continue the process until the fifth email is sent.
That's the basic automation workflow for an email sequence. However, you can add other decision elements in the workflow to get your email marketing campaign more targeted.
You can have a different email sent based on whether they open your email or click on the CTA button on your email. Not only that but based on their action, you can label them to a different group where you can send different messages to each group. We called this segmentation.
Besides, instead of running your emails daily, you can batch writing your entire week's emails at once, and schedule for each to send out at the same time daily.
Why Email List Segmentation is Important
You can't be sending the same message to everyone. It doesn't work that way. There are audiences that are ready to buy everything from you and there are people who don't really know who you are and are not going to buy anything from you no matter how good is your offer.
And you need to address these audiences separately.
How you can do this through email segmentation in your automation workflow and tagging your audiences based on their activity on your emails.
If someone never opens your email or never clicks on any link on your email, they are in stage 1, the awareness stage. You need to work harder to nurture them to get them into stage 2, the interest stage.
People at this stage start to know you but do not yet trust you. You need to provide value to them and educate them about your solution to their problems.
And then, when they are problem aware and start to trust you, it's time to show your product offer and close them.
By knowing people by their interest stage, you can send emails that resonate with them more and in return, you will be able to build relationships with them faster. Finally, convert them to be your loyal customer.
Final Thoughts – Launching a Successful Affiliate Email Marketing Campaign
If you are reading each step from the top till here, you should know how email marketing works and what you need to do to build your email list and launch your successful email marketing campaign.
You might feel depressed when starting out and have a low email opt-in rate. However, don't give up and run an A/B split test on your ads, landing page, offer and email. Optimize each part of your campaign so that it can work well.
Once you are able to get the success formula, it's like getting your money-printing machine built. And you will see the difference when you have thousands or even more people on your list.
So, what should you do now?
1. Pick an affiliate product to promote
2. Select the email autoresponder
3. Build your landing page or squeeze page funnel for lead generation
4. Run your paid or free marketing strategy to build your email list
5. Craft your onboarding email sequence and newsletter
6. Create an automation workflow to send the emails out automatically.
The step looks simple, but the process isn't. It will take practice, testing and experience to write better and high-converting emails.
That's why, I encourage you to check out the Copywriting Secrets book to learn about the skill of writing better emails to persuade your potential customers to buy.