The landing page had been something very useful to get leads and close sales. Compared to a website, it is mostly used with a specific target. Either to collect leads, close sales, or webinar sign up. 
Setting up a website is useful to show your business and product catalogues to your potential buyers, but might not be the best in closing the deals. Not only that, regular maintenance and updates are required for the website to work well and be up to date.
Hence, the landing page had grown to be a simple page to sell products, generate leads, and promote an event. Landing pages give you the full capability and flexibility to launch your campaign in a matter of moments.
It is easy to create a landing page with platforms like ClickFunnels and GetResponse. There are tonnes of templates for you to start with. But, we don't just want to create a simple landing page. We want a high-converting landing page.
In this article, I'll show you how you can create a highly-converting landing page in just nine simple steps. This guide is suitable for beginners and those who want to learn how to create a better landing page.
1. Specify a goal for your Landing Page
As mentioned in the beginning, having a specific goal is the most important for the landing page. You need to first specify what goal your page will serve before starting.
Most people tried to skip this step and directly go into the page design. This is not good as you might end up mixing up a few things on one page. The landing page creation is designed to only do one thing on a page.
You might want to create a sales funnel that consists of multiple goals, but on one page, make sure there is only 1 goal. You want to guide your audience to do what you want them to.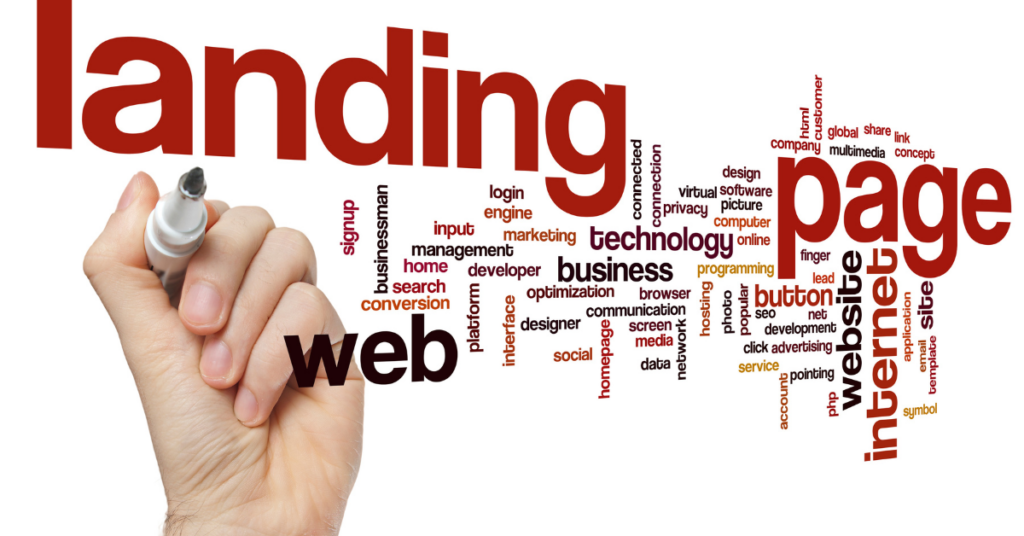 While landing pages can serve multiple purposes, marketers typically use them to achieve one of these three goals:
To collect leads and subscribe to the mailing list
To promote a product or service
To promote a webinar or Livestream
Once you know the goal you want to achieve, you can then go through the available templates in each platform to find the right template that suits your goal and business.
2. Research your market and competitors
The best way to get success fast is to model those with already success. They had shown you how to create success and you just need to follow. Human tends to invent something to make lives easier. But we don't reinvent something that had been proven to work. We want fast results. Not the hassle of reinventing from scratch.
After you've specified what goal your landing page will serve, it's time to do some research on your market and competitors.
In your research, you can create a collection of the best landing page, best headline, best content, and even the best colour tone that works for your target audience. 
Keep an eye out for the language your target audience uses and the questions they're asking when talking about your topic. This will help you craft more compelling copy. In your copy, you would want to include what your customer is asking and what's their fears and objections so you can address them in your copy before they even ask.
When looking up your competitors, learn what words they use and what information is given to increase their conversions. This is something that is proven to work for your audience if it resonates with theirs. Also, check out the sections on their landing page, and what elements they include there. Do they have customer reviews, customer photos from social media, trusted logos, or a countdown timer increasing the sense of urgency?
All these will determine whether your landing page will succeed or not.
3. Research what appeals to you visually
Now it's time to find a sample landing page that'll match your audience and help you achieve your goals.
Since you have the collections of good landing pages in your collections in step 2, you can now start to plan for your page.
Now, with the pre-built templates available on most platforms, it is a very good starting point for you. Based on your theme and field of industry, you can select from the templates available.
And, the next step is the most critical. Since most platforms don't support direct export and migration to another platform, you would like to choose the one that works well for you.
4. Choose your Landing Page Builder
There are so many ways to create a landing page, but a landing page builder is created to ease our life and create a landing page fast.
If you are familiar with coding and are able to design one with HTML/CSS, great. You can do a lot with your skills. But in actuality, most of us don't even know what is HTML/CSS.
And even if you know, I don't suggest wasting your time coding it from scratch. The born of the landing page builder is to ease our life by creating a landing page with just drag and drop. You can now easily create your next landing page within an hour and publish it.
This is what we want in business. For every idea or marketing campaign that we have in mind, we want to create it fast and drive traffic to it. So we can know, how the market reacts to the page. And, we can optimize it to increase the conversion rate.
A good landing page builder will help you create a landing page hassle-free and in no time at all. When you are choosing a landing page builder, you should look out for these :
Prebuilt templates
Design and styling options
Drag and drop page builder
Free hosting and SSL
Mobile Optimization
A/B testing
Performance metrics data
SEO Optimization features
Complete integrations with other tools like analytics, marketing, payment gateway
Here are 2 landing page builder tools that I personally used. One for landing page and email marketing campaign management and one for landing page and sales funnel creation. Both have their own advantages and disadvantages.
TRY GETRESPONSE 30 DAYS FOR FREE
5. Choose your domain name
It's time to pick a domain name – the URL – for your landing page. A domain name is the name of your landing page where people key in their browser to view your page.
Although many landing page builders offer free sub-domain for landing page building. But it is very important to note that a domain name is one of the most critical things in the online world.
A domain name is your branding. It tells the visitors you are serious about the business and are trustworthy. Image this, you want your domain name to sound like www.yourname.com or www.yourname-xxxx.com. As a consumer, which sounds more legit? 
Of course, the first one. It will let your landing page seem to be more trustworthy and they will more likely to sign up or make a purchase from you. Especially for new visitors that do not know you before this.
So, how you can get your own domain name?
If you already have a website with your own URL (for example, www.yourdomain.com), you can publish your landing page under a subfolder under your main domain (e.g. yourdomain.com/landing-page) or a subdomain (e.g. leadgen.yourdomain.com/landing-page).
If you don't have a website or don't want your landing page to be associated with your main page, you'll need to buy a new domain name for your page.
Check The Domain Name Availability
First, you can go to a page like namechk.com to brainstorm and check whether a domain name is available. Ultimately, it shall be available not only as a domain name but also as a page name across different social media so your branding is uniform. 
Then, you can go to pages like namecheap.com or godaddy.com to buy a domain name. For this, after you get the domain name, you will need to manually integrate it with the landing page builder you choose.
Another way will be directly buying the domain name from your landing page builder. For this, you can skip the step of integrating the domain name with the landing page builder.
But, the cost might be higher as the landing page builder is not a professional domain name seller.
6. Creating the landing page and customizing the content
It's time to get the work started and build your high-converting landing page. Now, go to the landing page section and create a new landing page.
Then, select the landing page template that you want to use and start customizing it. Thanks to most of the builders out there using the drag-and-drop features, building a landing page had never been so easy.
For every element that you want, you just add to the page, and then drag and drop it to the location you want. You can directly visualize the effect of the design and amend it immediately if it doesn't feel right.
Basic Elements for Landing Page
A basic landing page should consist of these few elements :
Eye-catching Heading and subheading
Video or image explaining the expected deliverables
Sales copy to persuade and close the deal
Signup form or checkout form
Call to action (CTA) button
Additional elements to enrich your landing page :
Social proof including customer reviews and testimonials
Trust symbols such as featured on, guaranteed 100% satisfaction, secured checkout
Countdown timers or popups that increase the sense of urgency
Satisfaction guaranteed – we don't want people to ask for a refund, instead we want to make sure people will have peace of mind when they are buying. Taking away an objection.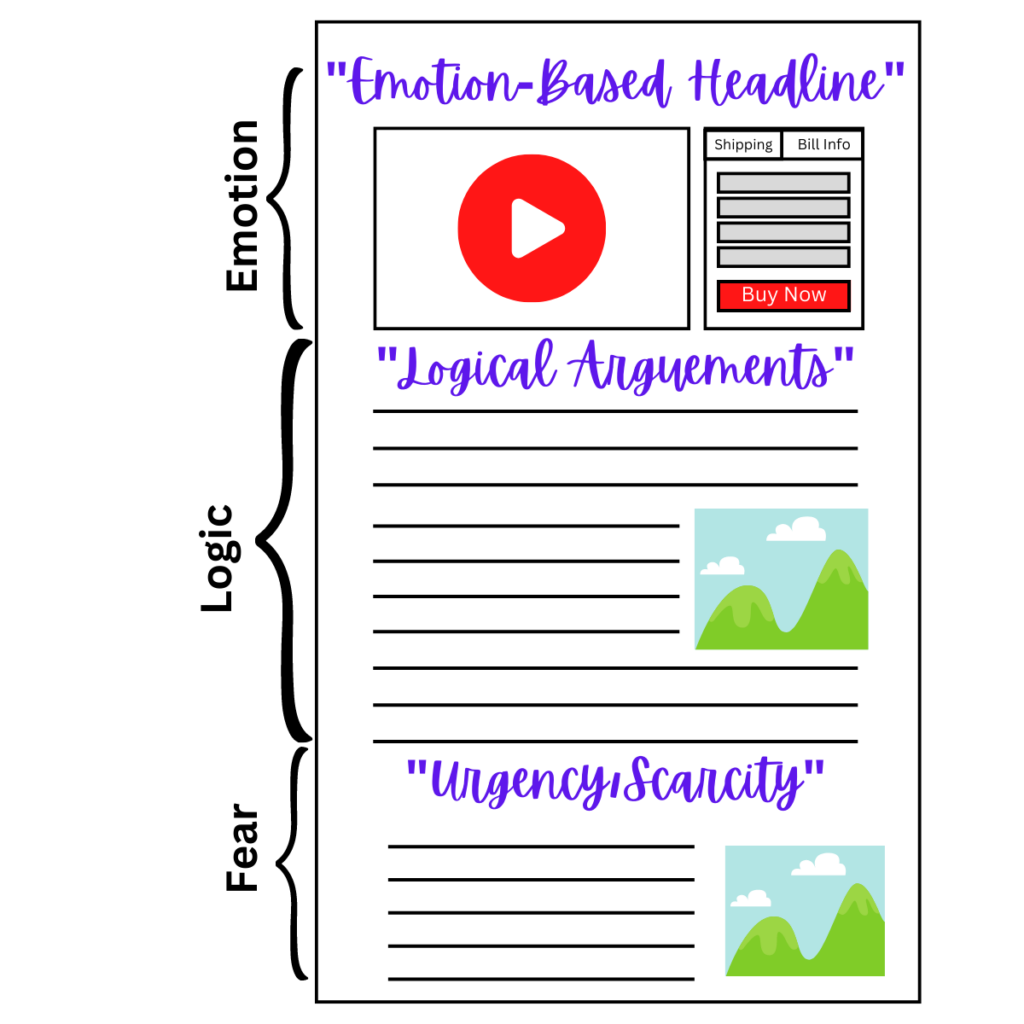 In addition, you should add your page title, meta description for SEO ranking, and social sharing images that'll appear when your landing page gets shared on social media.
There are many elements that you can include on your landing page. But don't worry KISS principle. Keep it Simple Stupid. In general, you will need to make sure all the basic element is on your page. And then, adding those additional elements as required.
Keep it Simple, Stupid
Keep the page clean and easy to read. Then input your content into it. Make sure your message is clearly passed on to your visitors. My best advice is that you only customize your landing page content and don't change the layout too much. 
Why?
The template is designed by specialists or is proven to be able to convert best. Your changes might interfere with the original design. You can always create a copy from the original copy and change the layout and split test to see which works the best though.
Online marketing is mostly based on data instead of feeling. What you feel good, about might not be the same as the market response. Hence, always split test the design and copy to find the winning one.
Try ClickFunnels for 14 days for free
7. Connecting your other tools
Now that you're done designing your landing page, it's time to connect it with your other marketing tools.
A standalone landing page is not useful. You need to have other features in place to make the complete marketing campaign. Then, you want to capture their contact details for the email marketing campaign. Next, you need a payment gateway to receive payment. Finally, you also need an analytic tool to analyze your data.
You'll want to make sure the following tools are integrated:
Google Analytics – to track your visitor\'s acquisition and behaviour more accurately.
Tracking pixels – to be able to retarget your visitors in future ads easily for those who visited by not converting.
Email marketing tool – To be able to manage your opt-in users effectively and send them the follow-up email automatically to build relationships and convert them.
8. Preview and Publish The Landing Page
You're almost there! Before you publish your first landing page, do a last round of checks to make sure everything looks, feels and works fine.
You won't want to make the same mistake as us. Spending money on ads and directing the traffic to a broken link or not working page.
Here is my personal checklist before publishing any campaign.
View the page on different devices. Desktop, mobile phone, tablet.
Check on all the buttons and links. Make sure all working and directed to the right location.
Contact us details are correct.
An opt-in form is working as designed. All the details to be filled up are captured and synced with my email marketing tool
SEO compliance – The page title, and meta description are filled out
The welcome email sequence is working. Once someone subscribes to the list, the 5-day welcome email sequence is triggered to send out the email.
The next page or thank you page is properly set up. If it's a lead magnet page, make sure the subscriber knows where to claim the item. And/or the thank you page contains the link to the requested content.
Once you've gone over this list, you can now publish your landing page confidently and wait for the data for further optimization. It is very important to always know your analytics data and what to optimize to get a better conversion rate.
Final Thoughts – How To Create a Landing Page
Now you had learn all you need to create a high-converting landing page, it\'s your turn to select the builder you prefer and start building it. Below is the free trial link for both ClickFunnels and GetResponse. After getting your free trial account, contact us to get exclusive free templates and guides for high-converting landing page creation.
Try ClickFunnels for 14 days for free