You have just started your new business. You want to build your online presence and get in touch with more potential customers. So, you decided to start your own business website for your business to introduce your business and the products or services that you offer.
You have all the social media accounts created across different platforms. But what about your online store where people can visit and interact with you?
Here's where you will need a website.
As a new business owner, you understand the importance of a website for your business. However, with the limited budget and time, you are not going to hire a professional web developer for this.
Instead, you can build your own website even if you have never done this before or have no technical knowledge.
Today, we will be sharing step-by-step how to build your own website from scratch.
What Type of Website is For Small Businesses?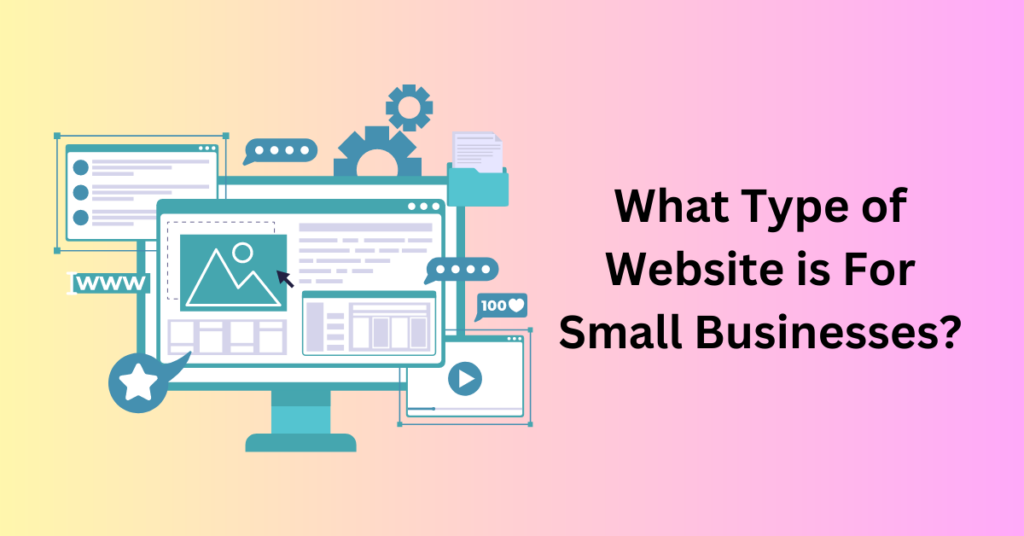 There is no one type of website that suits every business. Depending on your business goals, target market, products and budget, you will need different types of websites.
For example, if you are building an affiliate marketing business, your website could be a blog or review site, or even a simple sales funnel to bridge your potential customers to the affiliate link.
If you are running a small business, you could need a portfolio website to showcase your business or an eCommerce store to sell your products.
Here are some examples of the website type that you can choose to build.
1. Business Blog
A business blog is a website that focuses on publishing different articles in the form of blogs around your niche and products. You can also share different insights about the industry to build your reputation and provide value to your potential customers.
2. Portfolio Website
This type of website is suitable if you are a service provider like a web designer or photographer where you will need to demonstrate your work in a gallery.
You can show your past works on the portfolio website in order to gain the trust of your potential customers to subscribe to your service.
3. eCommerce Site
An eCommerce site enables you to sell products. An eCommerce site will have the features to manage your product catalogues, inventory management, shipping and order fulfilment.
Your potential customers can browse through your product sales page, add to cart and complete the purchase from your eCommerce store.
4. Landing Page
A landing page is a one-page website or a series of pages website where each page will have its own goal. A landing page can be used for lead generation, product sales, ticket selling and others.
It often starts with a traffic generation strategy like an ad, that directs the visitors to the landing page to do certain actions.
Preparation Before Building Your Business Website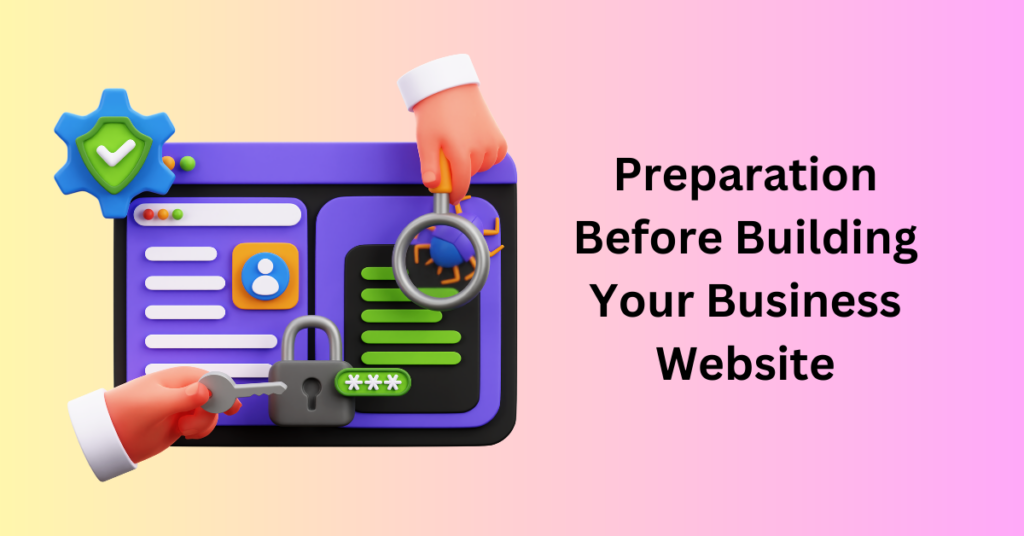 Before you start working on building your business website, there is some preparation work that you need to complete first.
This is important as a base to decide and know which type of website you want to build.
1. Define Your Target Audience
For every business, you need to know who is your target customers. These are the group of people that you want to serve in your business. We call this your target audience.
By defining and understanding your target audience, you can serve them better. This includes your product design or selection process, marketing campaign, and your language for your website.
To define your target audience, you should create a customer avatar for your target audience. When you are defining your target audience, you need to include as much detail as possible. This includes info about their interest, hobby, lifestyle, and daily activity.
The better you define them, the better you can craft your sales and marketing message for them. For example, if you are building an affiliate marketing business, your website will be based on promoting the affiliate products, reviewing and comparing between products to help your audience to make the right choice.
2. Conduct Competitor Research
The best way to look for what to do when you are just starting out is to look at your competitors. They are successful in your industry or niche.
By studying about their website, and what they do can give you good inspiration on the best practice or what you should do when you are building your business website.
For every industry and niche, there is a pattern of what the group of target customers resonates with. Instead of testing one by one to find the pattern, you should learn from your competitors to reduce the number of tests required.
3. Decide The Budget For Website Building
Knowing how much budget you can spend on your website is important as this will decide which website builder platform you choose for your website and other plugins or addons for additional features for your website.
If you have a huge budget, you can of course opts for hiring a professional to do it. But with a limited budget, you can still build your website all on your own.
Essential Pages For A Small Business Website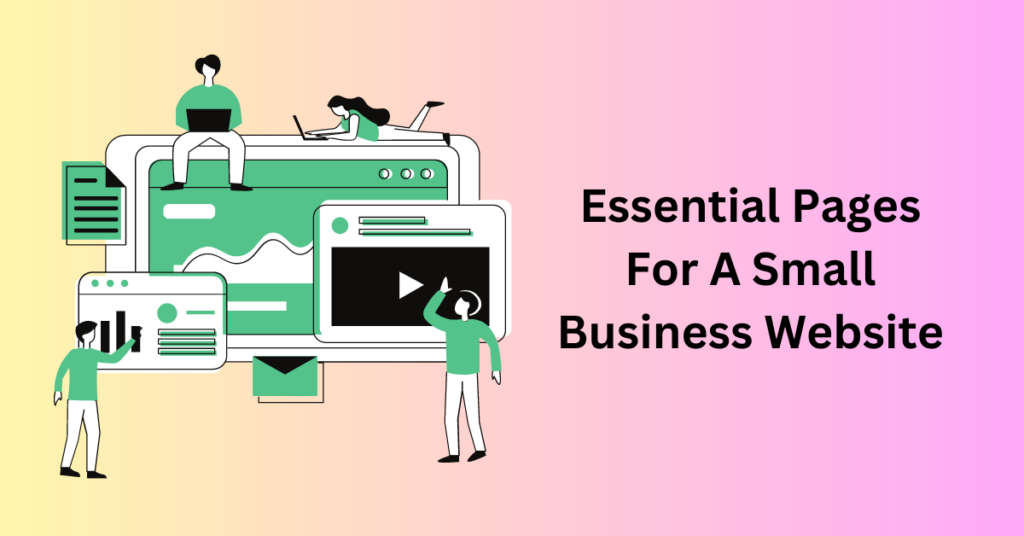 When building a website, there are some pages that you must have in order to present your information effectively. And there are some pages that you can skip. This is because having too many unnecessary pages will distract your website visitors from taking the action you want to.
1. Homepage
A homepage is the front page of your website. When someone clicks on the link to your website, the homepage is usually where they will see it. Your homepage is like the cover of your website where people will get the basic information about your website and what to expect from your website.
On your homepage, you should include your logo and website name, headlines and subheadlines, navigation bar, social proof and call to action.
2. About page
On the About page, your potential customers will learn about your business background and what you are offering. Most importantly, a backstory that they can relate to.
A backstory is very important for your business. This is because if your backstory can resonate with your potential customers, it will be easier for them to decide to buy from you.
3. Contact page
It will be frustrating if your customer cannot reach you when they need to. A Contact page allows your existing and new customers to reach you.
You can include your business address and contact number here if you are working on a physical business. Else a contact form or a chatbot will do as long as they can leave their message to reach out to you. And most importantly, you can collect their emails for future communications or email marketing campaigns.
There is no harm to provide more contact methods on your contact page, including your social media. The more touchpoint you have, the easier you can send out your marketing copy to them later.
4. Product page
This might not be the mandatory page for all businesses. This is especially true if you are not selling your products on your business website. But if you are running an online store, you definitely want a dedicated product page for each of your products.
In each product, you will have the elements to persuade them to buy your products. This will include elements like product images, descriptions, features, variations, add-to-cart or checkout buttons, customer testimonials or product specs.
The key here is to persuade people to complete the purchase. You want to simplify your checkout process so it will be easier for them to buy from you.
5. Blog page
A blog is a very important part of your website where you can produce content for your customers and community. While it is not a must for your website, it is useful in the long run when you have a huge library of blog posts.
Blog posts are important to provide value to your customers when you are sharing about the niche, products and other related topics to your business or industry.
When optimized, it can be ranked organically on the search engine for the related keywords. When people searched for the keywords and your blog post appears on top of the search result, you will get free traffic from it.
How to Build a Small Business Website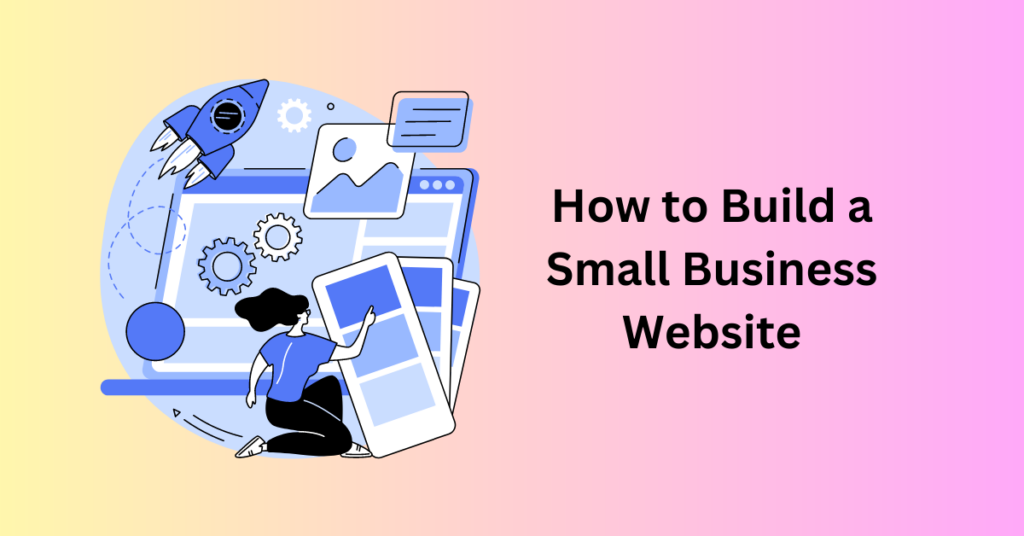 When you have all the preparation done and identified which pages you need for your website, it's time to start building your website. For this guide, we will be using the WordPress CMS platform to build your small business website.
Choosing A Hosting Plan and Custom Domain Name for Your Business Website
In order to build your business website on WordPress, you will need to get a web hosting service and a domain name for your website.
The web hosting service is the server to host your website and stores your website files and data. Your visitors will be able to visit your website by accessing the web hosting server.
A domain name is the web address that customers key into their web browser to access your website. For example, it's something like https://www.example.com/
How To Choose Your Web Hosting Service
Since the web hosting service is where you store your website, the quality of your web hosting service is very important for your website performance.
If your web hosting company is not reliable or has performance issues, it will affect your website loading speed and performance too.
Hence, you should have a web hosting service that is optimized for the WordPress website and offers one-click installation for WordPress to ensure simple and smooth deployment for your WordPress website.
Next, when you are hosting your website on other's servers, you need to ensure the service provider is able to provide excellent customer support. Since you are not a professional or technical person, having good customer support to solve your problem when you are facing an issue is important. You should get a web hosting service provider that you can contact 24/7 via phone, live chat, or email.
Finally, you should also consider other value-added services like security, DDoS protection, and SSL certificates are important features to have.
How To Choose Your Custom Domain Name
When you want to decide on your domain name, you need to choose one that is relatable to your business nature and business name. Since the domain name is what people will type in to access your website, you need to make sure to keep it short, and simple, and avoid any unnecessary hyphens or numbers.
This is to ensure your domain name looks professional and easy to remember for your customers.
If you have not chosen your web hosting service provider yet, you can try using Bluehost. Bluehost is one of the top web hosting service providers recommended by WordPress and is highly optimized for WordPress websites.
With Bluehost, you will get discounted web hosting service if you subscribe now by clicking the link below. Not only that, Bluehost offers a free domain name and SSL certificate for a year with a new shared hosting plan. And since you are getting the service here, I will guide you on your journey to build your business website.
Learn about Bluehost WordPress Hosting Plan
Install WordPress on Your Hosting Server
To deploy your WordPress website, first, you need to choose your hosting plan on Bluehost and subscribe to the service. You can choose from shared hosting, dedicated hosting or VPS hosting options.
However, I would suggest that you start with shared hosting as you are just starting out. You would not need dedicated hosting at this moment unless you have a huge amount of traffic to handle or run complicated tools or plugins for your website.
Else, you can start with the shared hosting and upgrade later when your business grows. One of the key factors is the price gap for the subscription fee is huge and you definitely don't want to spend all your budget on that when starting out.
To install your WordPress website, you can go to Bluehost and subscribe to their hosting plan. Then follow the guide to complete the service subscription.
Next, click on the one-click installation to deploy your WordPress website.
Once the installation is completed, you can now log in to your WordPress admin dashboard.
Your website is now live and running. However, it is the default empty website without any content or custom design. You need to now customize your website to match the branding and design you want.
Install a WordPress Theme
A theme for a WordPress site is used to add a custom design to your website. There are different theme templates for different types of websites where it will create the required page and install basic relevant plugins for the website.
There are different free and paid themes available for WordPress that you can select to match your website requirements.
In your WordPress admin dashboard, go to the sidebar and Themes ->Add Themes.
For me, I am using the Astra theme. Astra theme provides different starter templates for you to choose from based on your business. For example, if you are running a blog, business portfolio, photographer service, eCommerce site, or agency, you can get all the starter templates with Astra.
Install WordPress Plugins
WordPress plugins are add-ons that enhance the functionality of your website. The basic WordPress website will only consist of basic features. This is because WordPress is optimized for fast loading. When you load too many features inside, it might not be required for every website.
Hence, WordPress plugins are used to introduce new features to WordPress. For example, not every website will need an eCommerce feature. If you would need the eCommerce feature for your WordPress website, you will need to install a plugin like WooCommerce to enable the function.
There are thousands of free and paid plugins for WordPress that you can install based on your needs. Here are some plugins that you need for your WordPress website :
SEO plugins like Yoast SEO or All in ONE SEO help you optimise your website to rank higher on the search engine.
Email marketing plugins like GetReponse or Mailchimp will help to integrate your email list to the autoresponder to send out your email marketing campaign automatically
Analytics plugins like Monsterinsights or Google Sitekit to read your data and analyze it to optimize your website performance.
Affiliate link management plugins like ThirstyAffiliates beautify your affiliate marketing links and add your personalization to them.
Create Your Pages Content
Now that you have your theme and plugins all installed and ready to use, it's time to create content for your website.
WordPress separates into two types of pages. Posts and Pages.
Posts are used for your blog post management. All your blog posts can be managed here. But for pages, it's a static web page like your homepage, contact us, about us, and other pages.
In the editor, you can customize the page design and add content to the website.
SEO Optimization for Your Website
SEO is important for your WordPress website to get your website ranked on search engine result pages. In order to rank high on the search engine, you need to optimize your website and pages to get it ranked higher on the search engine results pages (SERPs).
If you already installed the SEO plugins, you can use that as a baseline to create XML sitemap for your website and a reference guide for an on-page SEO optimization guide.
Other SEO strategies like keyword research, backlinks, image alt, page title, and meta description are all important for SEO as well. Not to forget, customer experience and website loading speed will affect your SEO as well.
Security For Your Website
Cybersecurity is always a headache for online businesses. You need to ensure your website is safe and that you are not locked out from entering the admin page.
And if you are processing customer data and payments, you will need to ensure that your website is configured with an SSL certificate for secured access to your website.
Ensure your website employs security features that protect it from online threats. As mentioned above, you can use WordFence or another plugin to secure your website from attempted hacks, spam and malicious attacks.
You can also use an SSL certificate to secure access to your website. If you're using Bluehost's hosting services, you'll enjoy a free SSL certificate for your first year.
Test Your Website Workability
Before you do anything, you need to ensure your website works. This includes launching the site to see how fast it loads, for every button and link to see whether it works as designed and direct to the right link
The most important, if you are running an eCommerce site, would be testing the checkout process and the payment gateway process. You certainly don't want your customers to fail to complete purchases.
Launch Your Business Website
Once you are done and satisfied with your website, just launch it. Don't be a perfectionist to wait for the perfect website to launch. You never know how your potential customers will react to your website design.
However, it is important that you review your website data at least once a week when starting out to see what you can optimize to increase your engagement and conversion rate.
Next, you should also focus on the marketing of your business where you can share your website through social media or other marketing methods to bring in traffic.
Final thoughts: Building a small business website using WordPress
It is very simple to build and launch your WordPress website nowadays. Web hosting service providers have made it easy to install and deploy WordPress to support new business owners to build and launch their websites without any developer or web designer.
You don't even need technical knowledge to start. With this step-by-step guide and other guides in our blog, you can definitely build and market your website effectively.
So, don't think and start building your business website today. Again, if you bought the web hosting subscription from our link below, we will provide free consultation for web building and error support.