A landing page is very important to generate leads and sales. A landing page is designed to guide the visitors to take a very specific action such as completing the registration or making a purchase. Hence, it is very important to improve your landing page performance to increase your conversion rate.
In your landing page, you need to first specify the goal of your page before designing it. This is important as you want to limit the choices your potential customers have. They will only need to make a simple decision on your landing page where you will be offering them an irresistible offer.
Today, we will be sharing 5 ways to improve your landing page performance. But first…
What is a Landing Page?
In simple terms, a landing page is a web page that is specifically designed to convert visitors into leads or customers. Unlike other pages on your website, which may have multiple goals (such as providing information or encouraging visitors to explore further), a landing page focuses on getting visitors to take a single action, such as filling out a form or making a purchase.
A landing page will normally consist of only the required elements on the page to minimize distractions. First of all, you need to have a clear call-to-action (CTA) that encourages visitors to take a specific action. Next, you should remove any navigation links, images and other distractions that will distract your customers to navigate away from your landing page or leave your page without taking the action you want them to.
Finally, to make sure your landing page is converting well, you should always run A/B testing to optimize the elements in your landing page to improve your landing page conversion rate. The A/B testing will include testing different headlines, CTAs, images, or other elements to see what works best for your audience.
How To Improve Your Landing Page Performance
Knowing the importance of landing pages in scaling your business, it's time to know how to improve its performance.
1. Improve Your Landing Page Loading Speed
Page loading speed is the most important thing for your landing page. It's the key factor to determine whether someone will enter your landing page and see your page content or not.
People nowadays have a short attention span. The slower your landing page, the more likely they will end up leaving your landing page without having the chance to see your page content. And this is why, the page loading speed will directly affect your conversion rate.
Web Hosting
The web hosting server is where your store your landing page. For your visitors to visit your landing page, they will need to access the web hosting server to see your page. This is why, you will need a good web hosting server to increase your page loading speed.
In general, there are three common types of web hosting:
Shared hosting is the most basic and affordable form of web hosting. With shared hosting, your website is hosted on a server along with several other websites. This means that resources such as CPU, RAM, and bandwidth are shared between all the sites on the server.
VPS stands for Virtual Private Server. With VPS hosting, a physical server is divided into multiple virtual servers, each of which operates independently with its own operating system, disk space, and bandwidth. This means that you get more control and resources compared to shared hosting.
Dedicated hosting is the most powerful and expensive form of hosting. With dedicated hosting, you get an entire physical server that is dedicated to hosting your website. This means that you have complete control over the server environment and can customize it to your specific needs.
The choice of hosting largely depends on the needs of your website. Shared hosting is a good choice for new websites with low traffic, while VPS hosting is a good upgrade for sites that have outgrown shared hosting. Dedicated hosting is the most powerful option for high-traffic websites or mission-critical applications, but it comes with a higher cost and requires technical expertise.
Exclusive discount for web hosting service
Landing Page Builder Platform
With the popularity of digital marketing, there are many different landing page builder tools out there that allow you to build your landing pages easily. It can be running as a self-hosted solution like WordPress, or an all-in-one solution like ClickFunnels, Wix, GetResponse and others.
All of these are similar in the landing page building feature. They allow drag-and-drop landing page building with the pre-built elements to be added to your landing page easily.
However, not all landing page builders are the same. The page loading speed may vary depending on the coding and the tool's weight.
I prefer and use ClickFunnels when building my landing page. Differing from other landing page builders, ClickFunnels focuses on the landing page and sales funnel building and has been working very hard to optimize the loading speed.
Landing Page Design
When designing your landing page or any webpage, you should keep it as simple as possible. The complicated animated effects may seem nice at first look, however, they will slow down your landing page.
In general, the more elements you have on your landing page, it will take a longer time for it to load. And for loading speed, every second counts. This is why, only includes things that are needed on your landing page.
Not to forget, fast loading speed will help in your SEO ranking as well.
2.  Use a Proven Landing Page Template
If possible, don't build your landing page from scratch if you are new. Many elements in the landing page are hard to notice but will affect the landing page conversion rate.
Unless you have gone through relentless A/B testing for different landing pages, it is very hard to notice what works and what's not in your landing page design.
When you are using a landing page template, those templates were designed based on the formula of high converting landing page. This means without huge modifications or just adding your content, it will work.
And to support the new landing page builder and stay competitive, most landing page builders will have a huge template library full of landing page templates that are already being tested and optimized for the best conversion.
The design not only looks good but also converts well. Just one thing, don't start with a template and modify it until it doesn't look like the original template at all.
Don't go and reinvent the wheel. Leverage the effort of the landing page template and implement it in yours.
3. Improve Your Landing Page Copy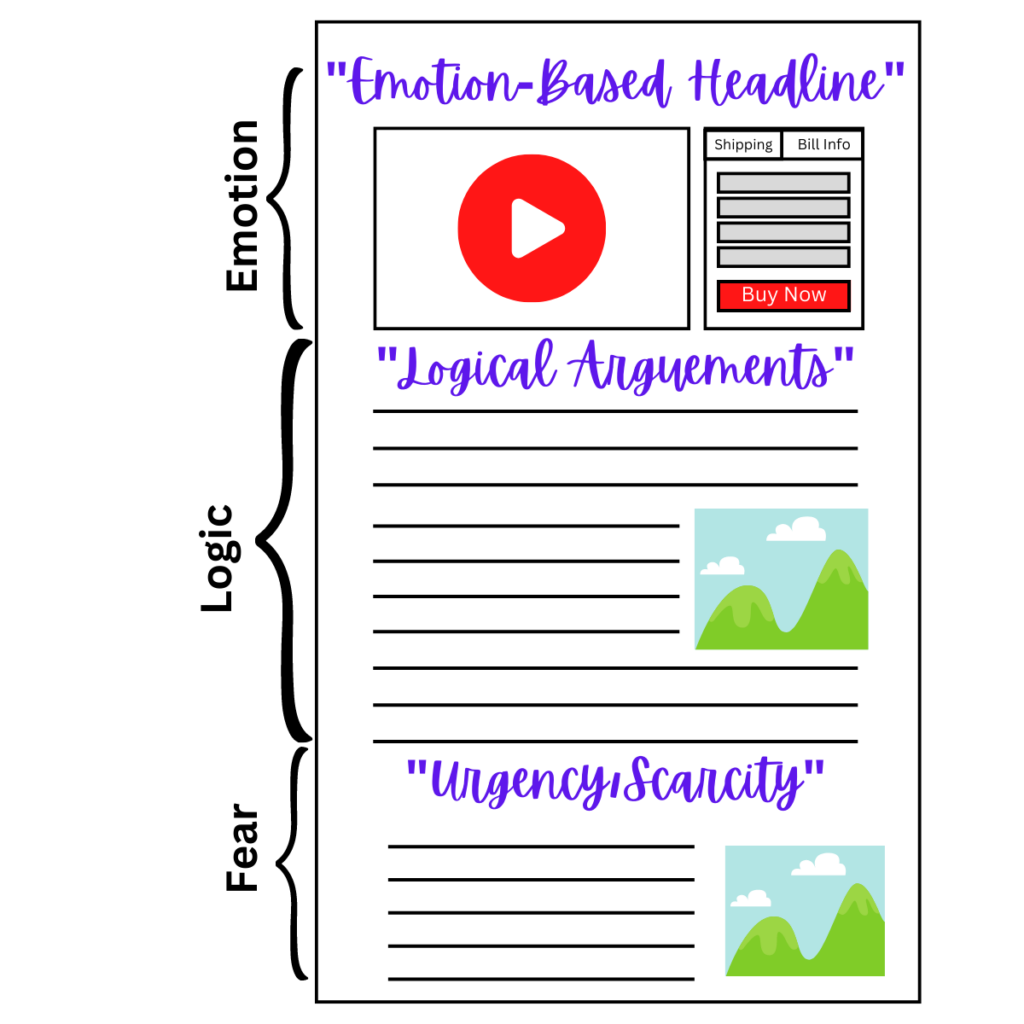 Now for the content of your landing page. This includes your headline, body content, and call to action for your landing page. These are the words on your landing page that you use to get people to take action.
Hence, it is important that you improve your sales copy. And the skill of writing good copy is copywriting.
The Headline
First of all, the headline is the most important element on your landing page. This is because it is the first impression and the attention grabber for your potential customer.
If your headline is good, people will continue reading the rest of your landing page. And if not, people will just leave your page for good.
For a good landing page headline, it should emphasize why they should take action to complete registration or purchase. You can sell your irresistible offer in your headline by hooking them up.
This is why, in your headline, you should reveal some information about your offer. And hook on their curiosity to continue reading about the offer. However, you should not give too many details in your headline.
In your headline, you can tell them the benefit of getting your offer and how they can achieve what they want without going through the painful process. But you don't reveal the details about the solution that you are selling.
The details will come in your sales copy where you persuade them to complete the purchase.
The Body Content
Depending on the type of landing page you are building, the body content is different.
For example, if you are using a squeeze page for lead generation, normally the body content will be short and simple. You don't want too many things to confuse and distract them. Instead, you want to keep it simple and focus on squeezing every piece of information you want from them. This is why we call it the squeeze page.
Another type of landing page will be the long-form landing page where you can have different sections and elements in your landing page to persuade them to complete the purchase. A long-form landing page will have three main sections, the benefits, testimonials and the final offer.
Regardless of the length of the body content, you should emphasize the main benefits and hidden benefits of your solutions and offers. Don't focus on the spec and features, which will only be used to justify the buying decision after they decided to buy. 
Call to Action
Finally, the call to action. You should always have big and eye-catching Call-To-Action buttons or links on your landing page. This is important as you want to persuade and remind them to take the action you want them to take.
If you are having a long-form landing page, you can have multiple CTA buttons along your copy so people can click on it when they want. And for your call to action, avoid using generic phrases like "Download now", "Subscribe now" or "Register now". Instead, you should have a more specific phrase like "Register for the Free webinar now" or "Claim the free cheatsheet now"
Social Proof
Social proof or testimonials are the most useful thing to convince sales. Instead of listening to you, the business owner, they will be happy to listen to third-party comments.
These third-party comments can be feedback from your past buyers or your brand authority. If your brand is featured in some top publications or search engines, that will be good social proof to increase your credibility and trustworthiness.
4. Craft Your Irresistible Offer
The key to getting people to buy from you is your offer. Your offer needs to be so good that no one can say no to your offer.
If you are crafting an offer for lead generation, it can be a free offer that you offer a free lead magnet in exchange for their contact details.
And if you are crafting an offer to sell your products or services, the value of your offer should be at least 10x the price paid. It may not necessarily be the real value of the product or service. Instead, it's the perceived value of the bundles that you provide.
Make sure you test out your offer to make sure it is good for your potential customers. Then, go all out once you got the irresistible offer. And to increase your sales, you should always offer an upsell to sell more products and increase your ACV, average cart value.
5. A/B Split Test Your Landing Page
A/B testing, also known as split testing, is the process to optimize your landing page to increase the conversion rate of the landing page.
When you are running the A/B split test, you should only test one element on your page at once. And run traffic to both variants until you found the winning copy. And then, repeat for another element on your landing page.
To run a split test,
First, create two variants of the same page: variant A and variant B. In both variants, you should only have one difference between them.
Then, split the traffic into two and send 50% of the traffic to variant A and another 50% to variant B.
Run traffic and test until you find a clear winning variant.
Repeat the process for other elements in your landing page until your landing page is fully optimized.
Always review your data and analyze it until you found the winning copy. One of the common mistakes many beginners do is to end the split test too soon.
So, be patient and run the test throughout. 
Final Thoughts – Improve Your Landing Page Performance
A landing page is very efficient for business owners to build, grow and scale their business online. However, due to the complexity of the landing page, most beginners fail to realize and understand the key to optimizing their landing page for a better conversion rate.
Take action and build your first landing page today. If you would like to start with ClickFunnels, you can claim the 30 days free trial and start building your landing page today.