When you are starting a business, you will need to have something to sell. It can be either a product or a service. And in terms of products, you can either be selling physical or digital products. Today, we will be sharing the comparison of physical vs digital products, and which products are better for Ecommerce sellers.
Compared to physical products, many people are selling digital products online nowadays. This is because digital products are easy to reproduce and deliver online without much additional cost. And not only that, there is no shipping required to fulfil the order.
However, is digital really better than physical products?
What is Physical Products vs Digital Products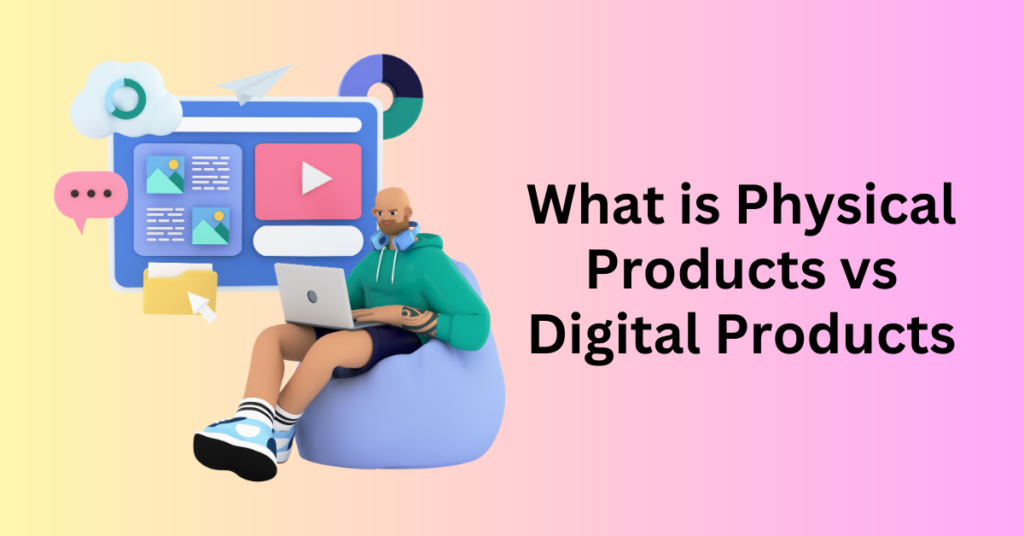 A physical product is a tangible item that can be seen, touched, and usually held in the hand. It is a type of merchandise that is manufactured, produced, and distributed to consumers.
Physical products can range from everyday objects like clothing, electronics, furniture, and appliances to more complex items like machinery, vehicles, and industrial equipment.
Digital products, on the other hand, are intangible goods or services that are created, distributed, and consumed in an electronic or digital format. Unlike physical products, they do not have a physical presence and cannot be seen or touched. Instead, they exist as data and are accessed and utilized through various electronic devices such as computers, smartphones, tablets, and other digital platforms.
When your customers purchase it from you, they can access the products through the internet without any physical delivery.
Some digital products include:
Software: Applications, programs, and software tools that perform specific tasks or provide services, such as productivity software, games, graphic design tools, and video editing programs.
Digital Media: Ebooks, digital music, movies, videos, and online courses that can be downloaded or streamed over the internet.
Online Subscriptions: Services that provide access to digital content or features for a recurring fee, such as streaming platforms, cloud storage services, and software subscriptions.
Web-based Services: Online services that operate through a web browser, such as email clients, social media platforms, and web-based productivity tools.
Digital Art: Artwork created and distributed in digital formats, including digital illustrations, graphics, and 3D models.
Online Template: Digital templates for designs such as planners, wedding invitation cards, and social media content templates.
When you are choosing what to sell between physical and digital products, you need to first understand the pros and cons of each other.
Physical vs Digital Products: Pros of Selling Physical Products for Ecommerce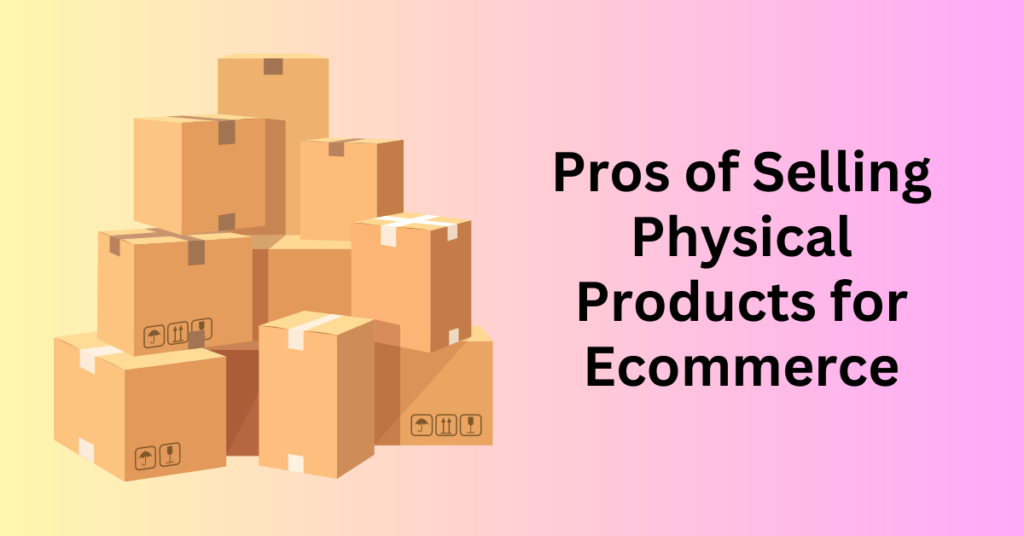 There are many advantages to selling physical products with Ecommerce.
1. Easy to Demo Your Physical vs Digital Products
When you are selling a physical product, you can show how to use the products through product images and videos. You can show how it works and how it looks when your customers are using it.
Although they can't be touching the products online, they can visualize how they can use them. This is why, the quality of your product image and video is very important to get success.
2. Higher price
People are still willing to pay for the physical products. Compared to digital products, people will appreciate the physical products more as they can touch and see the products.
Hence, it is easier to justify the high price of your product. With the right branding and value you provide for the product, it will be easier for them to accept a higher price point.
3. Less Support Required
For physical products, you can control the number of support or complaint cases if you are providing a good product. Support issues will arise when your customers don't understand what they are expecting. And hence, when they receive the products, they will start questioning the product and request support and something returns or refunds.
When you are providing good products as promised on your sales page, there will be less support required. On the other hand, for digital products, your customers will need more explanation and even a free trial to assess your products before they can decide. Not only that, there are more training and support required to educate your customer about your products.
When starting a business, your friends and family can be your first few customers to support your business.
It is easier for you to get your physical products to show them how it works and explain what you are doing. They can see and touch it, and most importantly decide to buy from you to support you.
This is not possible for a digital product because they might not need the product you are selling as it is too specific. Or, they will need more explanations from you to understand what's in the products for them.
Physical vs Digital Products: Cons of Selling Physical Products for Ecommerce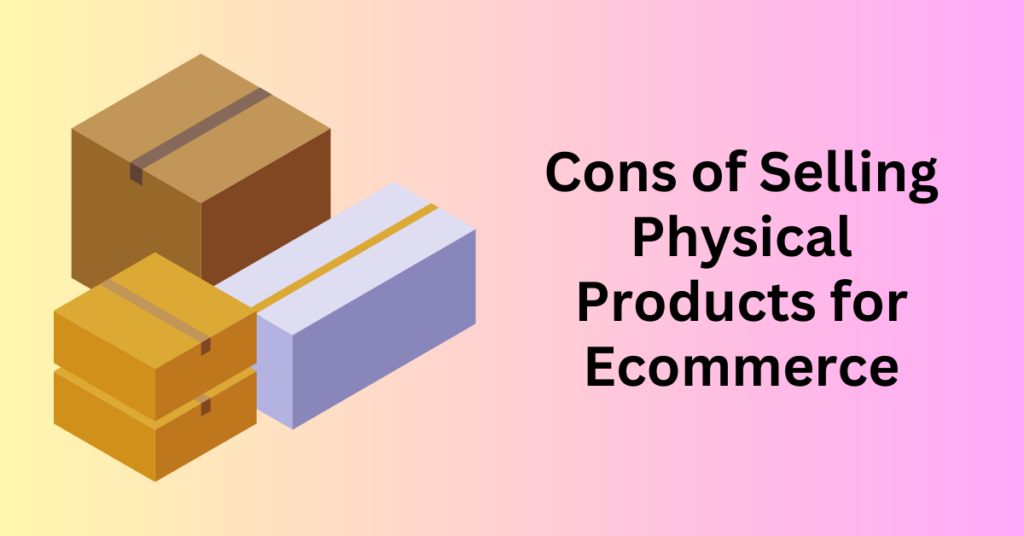 1. Huge Investment for the Goods
When starting a business selling physical products, you will need to invest in some product testing costs or inventory costs to stock up the product. This is a risk for you because you have yet to test whether the products will sell or not. And yet, you need to start ordering it.
If the product does not sell well, you will end up with a huge inventory of stocks piling.
2. Inventory Management
Shipping and handling will be a huge workload when selling physical products. You can outsource to a third party to handle this for you, or you will need to hire someone.
No matter what it is, warehouse and inventory management will take up your effort and money. Not only that, there will be a risk of theft or other major disasters that hits your warehouse, causing another loss.
3. High Shipping Cost & Time
Depending on your logistic partner, there will be a shipping charge incurred for handling physical products. When someone orders the product from you, you will need to handle the packaging and handling to get the products shipped.
Then, you will need to make sure that the product is sent to your customer in the shortest time possible to avoid them from complaining. People expect to get their products as soon as possible after they make the order.
If there is any delay or loss of the product, you will need to handle customer complaints and talk to the logistic company to get your parcels back or get compensated for it.
4. Overhead Cost
When you need to handle the inventory and fulfilment service, this means you need to hire someone for it. This is to ensure that you can guarantee the order processing time.
Which in return, is another cost for your products. When you are competing in a highly competitive niche, every single penny is important.
5. Difficulty to Scale
Scaling up an eCommerce store selling physical products means you will need to onboard more suppliers or increase the production for your current supplier.
This is a huge hassle to control the product quality when you grow. You will need to have a supplier management and quality assurance team to handle your supplier and product quality.
Not only that, you will need to have a new product line and collections to keep your business fresh. And this is not the case if you are selling digital products.
Physical vs Digital Products: Pros of Selling Digital Products for Ecommerce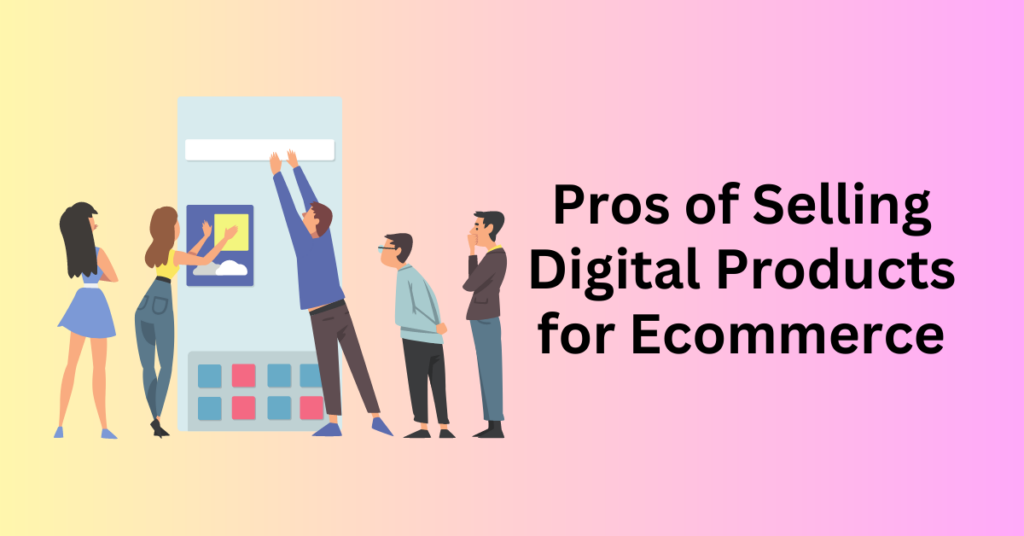 Selling digital products is totally different compared to physical products. There are a few advantages compared to selling physical products.
1. Low Startup & Overhead Costs
When you are selling digital products, you don't need to buy inventory or handle physical product fulfilment. All you need is to create your products and store them somewhere. When someone purchases from you, you can then fulfil the order directly online, without any physical shipment to your customers.
And to reproduce your product, you will only need a minimal cost for storage or membership management tools only. There is no material cost for this.
2. High-Profit Margins
Since there are lower costs and there is little to no cost of reproduction, the cost of selling every single piece of product is very low.
This is why, you can have high margins for digital products. This is very important as you can spend more of your budget on marketing to get more customers.
The more you can spend on customer acquisition, the faster you can win in business.
3. No Inventory Management
With digital products, you don't need to worry about stock. There is no production lead time or shipping time to get the product to your warehouse. All you need is to design your automatic fulfilment system. When they complete the purchase, you can send them to the fulfilment link for them to access or download the products. Or, you can fulfil the order through email.
This also means, there is no limit to product quantity for your products. You literally have unlimited products.
4. Lower Entry Barriers
When you want to create and sell digital products, it is easier than entering the physical product market. All you need is to use your laptop to get the product ready and market it.
There is no need to order samples, test your product quality and handle the products. You can create different products fast and get them out to test which one sells best.
For example, you can use your smartphone and laptop to plan and record your online courses within a day or two. And then, upload the course to your online course hosting platform and then start selling it.
You can either build your own sales page to sell the products or leverage the online marketplace like Clickbank to sell your products. Clickbank is an affiliate marketing marketplace where it will connect you with affiliates in their platform. They will promote your products to get paid commissions. Make sure that your products are good and your commission rate is good in order to get more affiliates to promote your products.
5. Return & Refund Management
To manage refund and return for digital products is simple, you just need to block their access to the products and make sure they sign the commitment to not reproduce your products.
Other than that, since there are no physical products produced and shipped, there is no cost incurred for the return and refund.
This is a good money-back guarantee strategy for your product to get people to purchase it risk-free.
Physical vs Digital Products: Cons of Selling Digital Products for Ecommerce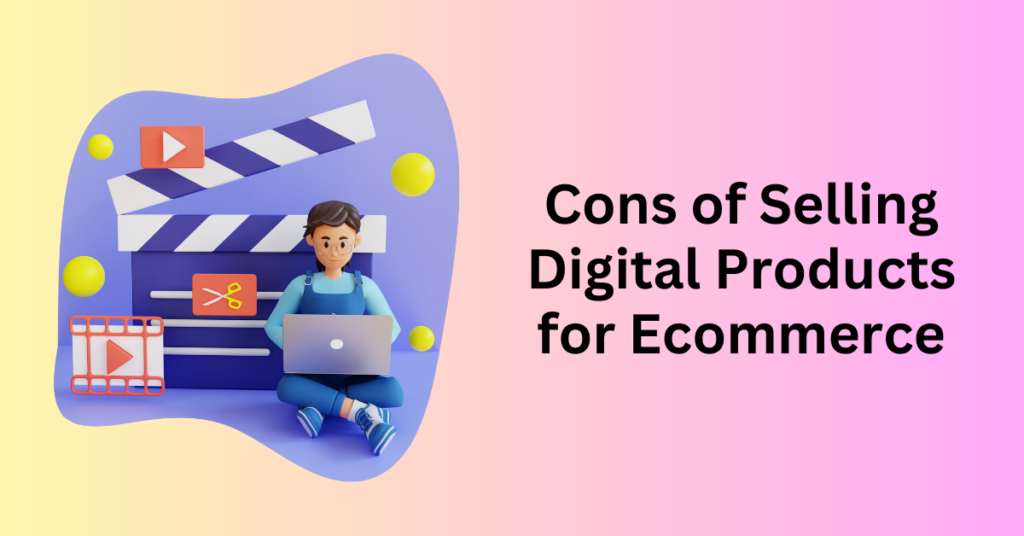 1. Piracy issue
When you are selling digital products, there is no way for you to fight piracy. Anyone that accesses your products can repackage and resell your products.
And you can't be fighting them because it will be too much of a hassle and cost to fight piracy. Instead, you should focus your energy to get more high-quality products and increase sales.
There is a product lifecycle anyway, and you will need to come out with better versions in order to get more new customers. Not only that, you need to update your products to stay relevant to the latest market trend as well.
2. Low Barrier to Enter
This is both pros and cons. Pros for easy for you to start. But the cons as too many people can start selling digital products easily.
This will create lots of competition in the market. Anyone can have an idea of starting a digital product business and get that launched almost instantly. The best thing, they can even start by building the sales page and selling the product first while creating the product.
The product creation will take only a few days. And since digital products have a very minimal cost to reproduce, they can even offer their front-end products for free. And the key here will lie in why should they pay for your products.
3. Constant Product Development
The product lifecycle for a digital product is short. You can develop a product and just be able to sell it for like few months before someone comes out with other similar products.
And for the fast-changing market, your product development never ends. There is no perfect product. Only better products are based on your customer's feedback.
Final Thoughts: Physical vs Digital Products: Which Is Better For Ecommerce
So, after understanding the full comparison of Physical vs Digital Products, it's time to decide on which product you want to sell on your eCommerce store.
Physical products will have a high perceived value but a lower margin. Digital products, on the other hand, will have lower overheard and higher margins.
Both are good if you work hard on it.
However, if you don't have existing businesses with suppliers and products ready, you can always start with digital products. It is lower risk and easier to start a business selling digital business. You don't need to keep an inventory or worry about product quality issues.
And ultimately, you can combine both physical and digital products in your sales funnel to maximize your profit. You can be selling physical products, and offer digital products as your bundle offer too.
There is no single business model that is the best. It all lies in what is your niche and how you want to start your business.