Starting a fashion brand does not need to be hard. Maybe you had the idea in mind, but never implement it due to the complexity. But what if I tell you, that you can start your own fashion brand online today with no money down for inventory? And most important, it's not hard to start. You can leverage print-on-demand platforms like Teespring.
When you think of selling shirts from a traditional business standpoint, you may picture someone setting up a shop or booth selling customized shirts on the spot for cash. You need to first come out with a design, get a local shirt printing company and get your inventory.
But this is not true anymore. There are many resources you can leverage online. And today, the business model we are talking about is called print-on-demand. And the platform we are using today is called Teespring.
I will show you how you can start from scratch, designing your product until starting to sell it online today.

What is Teespring?
An e-commerce platform that allows people to create and sell custom apparel. They handle everything from printing to shipping and customer service.
Since most people are shopping online these days, launching a t-shirt business through Teespring makes sense due to the convenience the platform provides.
If you're looking to create a simplified and user-friendly shopping experience for anyone looking to buy custom t-shirts, Teespring is one of the best sites to use for this.
How To Start Your Fashion Business in 4 steps
Decide what product to sell
Design Your product
Prepare your listing and description
Sell on your own platform
Step 1: Decide what to sell
Other than apparel, Teespring also offers other products that you can sell. It can be some accessories, home items, or even digital products.
In each category, there are a lot of products under different variants that you can sell as well. For example, if you are looking to sell unisex or Men's T-Shirts, there are so many options for you to choose from. It depends on the product quality and size you want for your target audience.
One thing good about Teespring is it offers a big variety of sizes from XS to 5XL. So you can have more selections available for your customers.
So in your first step, you must select the one product that you want to focus on and sell. Don't choose tonnes of products at the start and promote all. It does not work that way. Get your best product and sell it. You may have 2-3 varieties of products to test the winning product. But do limit it so you don't overthink this part.
Always remember this, one product is enough for you to scale to 7-figure.
Step 2: Design Your Product
Now you might be thinking, I am not a fashion designer or I had not done something like this. How can I design my own product?
The fact is, you don't. And even if you want to design it yourself, it's not that difficult. I will show you both ways.
For the first one, you can outsource the design work at just a small cost. With just $5, you can hire a professional designer on Fiverr to design your T-shirt for you. And trust me, their designs are actually pretty good. Just make sure you get the right guy for the work.
The second way would be to design on your own. For this, we will be using a tool called Canva.
In Canva, there are thousands of paid and free templates for you to start designing your shirt.
When designing it, be very careful about 2 things. The picture size and quality. You will need good quality in order to print the design nicely on the shirt.
You don't need a complicated design to start. You can make a quote-based shirt.
Just copy a quote that you like, and select the font and design. Just like the photo below, design and find the right audience that can sync with the message.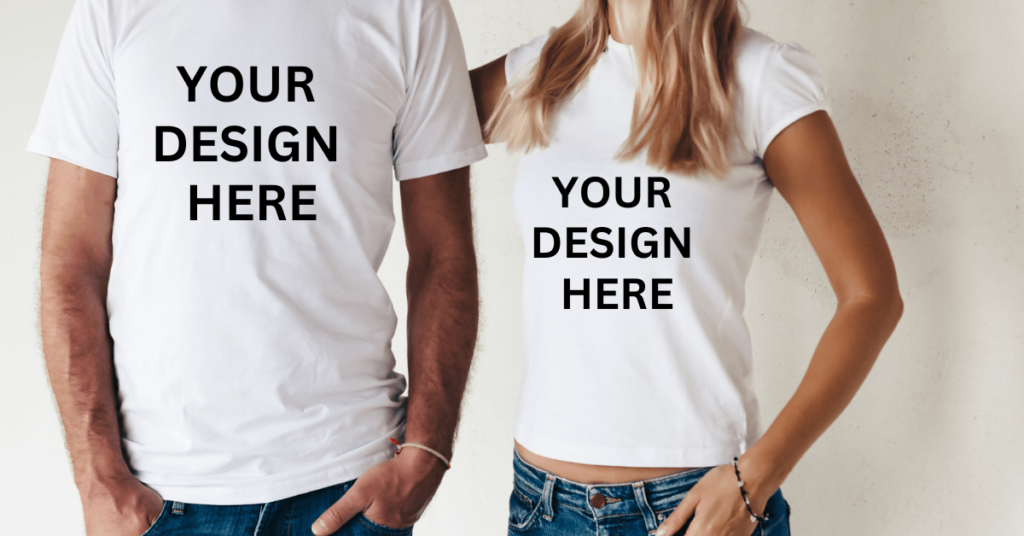 Step 3: Prepare your listing and description
Now when your design is ready, it's time to sell. Your listing title and description are important if you want to leverage the Teespring platform to sell your item.
There are so many designs on Teespring, that you have to make them eye-catching so people will buy from you.
Step 4: Sell on your own platform
There are several ways you can do it. For instance, you may list your product on Etsy or sell it on social media platforms like Instagram or Tiktok. These platforms are perfect for the shirt as it is a visual platform.
But for me, I will do another step to create a tripwire sales funnel with ClickFunnels.
A Tripwire is a low-ticket front-end product that is so irresistible people have to purchase it. It's something that doesn't really need much thought before making the purchase decision. It can be a free+shipping product or some sort of offer that the perceived value of the item the buyer is getting is higher than the money they pay.
After they put in their credit card, you can then upsell them your more expensive products through Order Form Bumps and One Click Upsells or Downsales. You can have multiple upsell in our funnel selling a complementary product but be careful and don't over-upsell.
The Tripwire Funnel is designed with 2 step order form on the first page, so you collect their contact details first, and then only enter the credit card information for payment. Why do we want to have 2 steps? Well, even if they end up doesn't complete the purchase for whatever reason, we already have the contact details so that we can follow up with them via email or messenger. We can also retarget them if we have Facebook Pixel installed.
Followed by Upsells and Downsells, we can increase the Average Cart Value by offering a complimentary product. Typically, the goal of this funnel is to break even on ad-spend, then ascend paying customers to higher-ticket offers on the Thank You Page.
Final Thoughts – How To Start a Fashion Brand In 2 Hours With Teespring
The process of creating a fashion brand is simple and in fact, in less than 2 hours you can get your design and store up and running.
The hard part will be having the community and customer base that will decide and make a purchase. For this, you can either create a social media post, partner with influencers or simply buy ads for your sales page. I leave this to the end of the post because getting traffic is the easiest as long as you are able to get the key message right.