Email marketing had been adopted by many businesses as one of the communication channels with their customers. Being able to build an email list will enable you to collect all potential buyers. Not only that, this is the group of people that you can get in touch with at any time when you want to.
But, if you're fairly new to this scene, it's crucial to grasp the basics, like what is email marketing, what are the benefits of email marketing, how to do email marketing effectively, and how to set up your first email campaign.
What is email marketing?
Email marketing is a form of marketing where one uses emails to build relationships and sell products/services to an audience.
An email marketing campaign can be an email series that you sent to your audience to educate them about your upcoming product launch offers. And at the same time, emails can be sent to build relationships with your audience.
This is how we nurture our leads and convert them from cold traffic to hot traffic. Cold traffic is traffic that you don't own, and hot traffic is the traffic that you own and control. To learn more about different traffic, you may read the Traffic Secrets book.
You want to do this as it is easier to close the deal if you build a relationship with them as people will buy from someone they trust.
Despite the fact that people are getting too many emails daily. Email marketing had been proven to be a powerful marketing tool. Till now, it continues to generate an impressive return on investment for thousands of marketers around the world making it one of the most effective digital channels.
What are the key benefits of email marketing?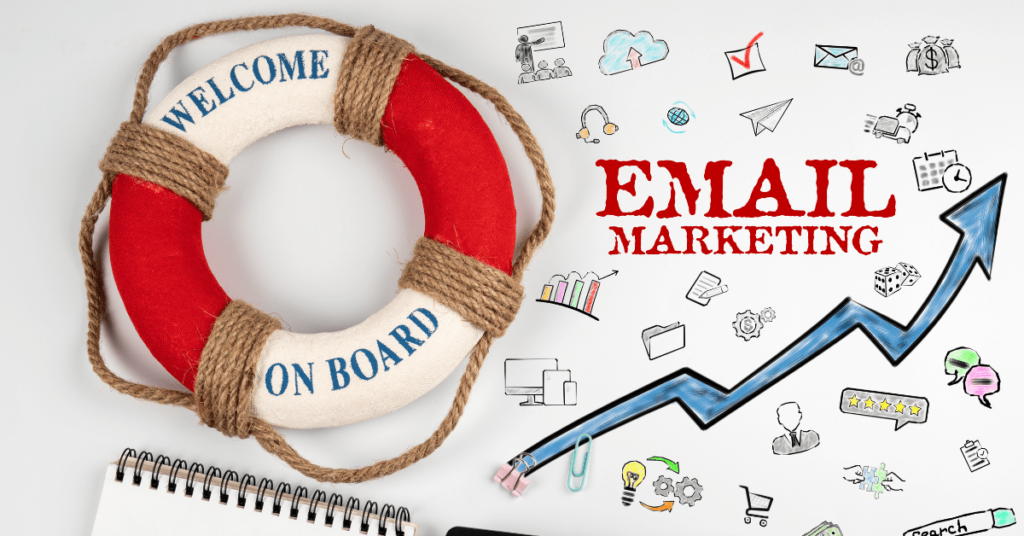 Before you decide to start working on email marketing, it's worth knowing about the advantages.
1. Low starting cost
Email marketing can be considered on the lower end in terms of cost compared to other marketing campaigns. All you need is an email list, autoresponder/email marketing software, and a strategy to run.
Autoresponder is not something new and there are many different autoresponder providers out there. But what you need to do is to select the best one for your campaign. 
For example, the GetResponse Free plan doesn't cost you a dime for up to 5,00 contacts with unlimited sends and provides key features like email marketing, website builder, web forms, and landing pages.
Of course, there are some limitations on the free account, but it is enough for you to get started. And the basic paid plan is also very affordable.
As with most marketing tools, there are both basic, medium, and high-end plans offered. What you need to do is to choose the platform and plan based on your needs.
2. Easy to start
With email marketing, anyone can start a marketing campaign easily with the tools out there.
Planning your marketing strategy can be easy if you can visualize it with a logical diagram. You can drag and drop each element in your email marketing process and re-arrange it easily when you want to optimize the process.
The only thing you need to do is to craft the email properly to get the highest conversion rate. For this, you can try the epiphany bridge script or the daily Seinfeld Email method.
3. Traffic You Can Control
Email marketing is different where the email list you own is the traffic that you own. Differing from other marketing strategies, email marketing is the list of people that you collected over a period of time.
The group of people that already know you and gave you their contact details. And, you can access the list anytime you want.
But one thing you need to be very clear about. Treat your list like your friend. Not a prospect. Everyone likes to buy, but they don't like to be sold.
4. Precise targeting
One of the key benefits of email marketing is precise targetting.
Unlike with other marketing channels, when you send an email marketing campaign you're targeting people who you already filter into your email list.
They got there through one of your contact forms to reach your list. Either it is on your blog post, attended a webinar you organized, downloaded an ebook you were promoting or got a lead magnet offer you had.
By doing this, they have already shown interest in what you promote.
In addition, if you're using an email marketing platform like GetResponse, you get access to a variety of data that you can use to send even more targeted campaigns. This is what detailed data for each platform mean.
Through data analysis, you can have different campaigns for different groups of prospects in different stages of the sales funnel. And with a deep analysis, you can target specific email accounts that clicked on your call to action or visited your website but didn't end up converting.
5. Ready-made template
Most platforms offer ready-made templates and hence, you will not need to create your own campaign from scratch.
It is always easier to start from somewhere rather than start from scratch. And to increase the competitiveness of the tool, most platforms will provide the best-tested template.
However, you can also design your own email templates, signup forms, and marketing automation workflows with intuitive drag-and-drop editors that are available in the email marketing service.
And this is what I like most, where I can see and modify the email sequence and intervals with just drag and drop.
6. The preferred marketing medium
Most people prefer to be contacted and receive offers from companies through email rather than other channels.
Why? Email, you can choose whether open or not. And when you are free to read. Rather than calls or ads where it might appear during the wrong time.
And if they no longer want to receive the content, they can unsubscribe in just a couple of clicks.
7. You can reach anyone, anywhere
Emails can be opened anywhere, on the go, or in your house/office. Anyone can just open an email in their subway to work, walk on the street, or rest at home.
This has given them the flexibility to open when they want. And for you,
8. Easy to measure results
When we launch a campaign, we need to achieve a certain target. A campaign without any target is nothing.
With email marketing, you can have all the figures ready for you to analyze which campaign is working well and which is not.
At the same time, you can split-test the email, subject line, or call to action button to see which brought you the best results.
You can control the performance of individual emails in your email marketing tool's statistics panel and then track user behaviour on your website. You can set goals for individual email campaigns, track conversions, and measure the ROI.
9. Automation Email Marketing Process
Once you have optimized your email marketing flow, you typically need not do anything as long as it converts.
You can easily create an automated email marketing campaign by using a drag-and-drop editor by adding the logic conditions and actions to it.
Once someone is subscribed to your email list, or after a few days or after matching certain conditions, it will automatically trigger the next actions.
Choosing The Best Email Marketing Tool
Before we go into the exact process of setting up a successful email marketing campaign let's spend a few moments talking about the autoresponder platform.
But first, is it a must to have an autoresponder when starting out?
Well, not really.
In theory, you can send out emails from any email platform like your Gmail or corporate mailbox without even engaging an autoresponder.
However, this is inefficient and creates much hassle to manage the list all on your own and send out the email at the exact time. Most of the time end up sending emails without knowing whether they work. Or, even worse, getting blocked as it is categorized as a spam email.
The good news is that now, there are so many email marketing/autoresponder platforms out there that offer not only email marketing campaigns but also other digital marketing tools for you to host all your digital marketing needs in one place.
Now, let me introduce you to the email marketing platform that I use, and why you can consider using that as well.
Like other similar tools, GetResponse started as a pure email marketing service and evolved into an all-in-one marketing solution.
Not only does it pack all the essential tools you'll need to create and send marketing emails, but it also will help you grow your email list, segment your audience, create a landing page, detailed data analysis for your campaigns, and run automated campaigns.
In addition, it'll also let you build a landing page or website for your business, talk to your audience via live chats, organize webinars, send transactional emails, launch web push notifications, or even reach your contacts via SMS.
How to Build and Grow Your Email List Fast
Email list building is one of the main tasks to grow your business and scale to another level.
You want to attract a large and engaged audience to be able to directly communicate with them via email. Here we rather getting quality leads than get any lead that may not be buying from us at all.
Build your email list, there are plenty of ways and here today, I will show you a few most adopted ones.
Strategy 1: Lead Funnel
A lead funnel is a 2 step funnel where you will have an opt-in form on the first page for the visitors to sign up for your initial offer. And on the second page provide them with the method on how to claim the offer.
A lead funnel shall be simple and straightforward. Provide them with an irresistible offer, tell them what to do, and claim the offer. And then, follow up with them via email to build relationships and convert them later.
On your landing page, there are different places you can embed your opt-in forms.
The most popular types of forms include:
Embedded/Inline web forms
Popups and lightboxes
Exit intent forms
Scroll forms
Fixed bars
Welcome mats
Click forms
You should have the form all over the page, but remember to limit the number as you don't want to annoy your visitor. When designing your landing page and lead magnet, keep in mind to always split test and get the best combinations.
One thing to remember is just to ask for basic information like Name and Email address. Or the most, getting their contact number. The more information you ask for, the harder for them to fill it all.
Our target is to make it as simple as possible to obtain their contact details. That's all. Other action shall be done in the next step.
Strategy 2: Lead magnets
Using a lead magnet is like bribing them to give you their contact details. That's why you will need to provide a good reason for your target audience to convince them to sign up for your email list.
It has to be an irresistible offer where people can get instant value from your offer. It can be a free or low-ticket item.
Why charge a low ticket?
Compared to claiming a free lead magnet, those who are willing to pay to get the item is more likely to have the money and will buy from you again. Provided your lead magnet is able to provide real values to them.
But what is a lead magnet?
A lead magnet is an incentive that you offer in return for your prospect's contact details. The most common one will be their name and email address, while some go the extra mile by asking for the prospect. Most commonly, lead magnets come in a form of a cheatsheet, a step-by-step guide, or even a free training course. 
I don't suggest providing an ebook though. The key here is to give something that they can benefit from and apply instantly. No one likes to read a hundred pages of ebooks.
As always, test out the different lead magnets and see which type has the best conversion. This may vary depending on which market or niche you are in.
What's the average email marketing ROI?
There is a rule of thumb for email marketing. For every email in your list, you should expect $1 in revenue per month.
Hence, by increasing the size of your email list every month, you are getting a raise every month.
Of course, this is not a fixed number. It depends on how good is your email closing skill as well.
One of the biggest advantages of email marketing is that you can track performance and present data to prove the ROI. This is especially important if you don't have extensive marketing budgets and every decision you make needs to be data-driven.
It's Your Turn To Launch Your Email Marketing Campaigns
Now, I had shared all you need to start an email marketing campaign. It's your turn to do so.
Before you go, I would like to offer you the last resource to get started. It's completely free for 30 days, no credit card is required. And what's more, you can do everything with a single tool. From building a landing page, website, and email list building to email marketing.
If any of that sounds interesting to you, just sign up for a free trial & start making some real results.