Want more website traffic?
Of course, the more traffic for your website, the more potential customers and sales are being made.
But how should you get more traffic to your site is a good question to start asking yourself and plan on how to get it done.
Today, we're going to share the 11 best ways we know and implemented to drive any website traffic consistently and systematically.
All the techniques shared have been proven to work for different types of businesses online. And of course, they will work for your business too.
But, before we get into that let me share a bit about the website structure to check whether your existing website is built to convert visitors to customers.
Get Traffic Secrets Now For Free!
Do This Before You Drive Traffic to Your Website
The ultimate goal for driving more traffic to your website is to get more leads and sales. Filling in new blood into your business is going to keep it moving and growing. And you as the owner, start running it in automation mode and you can slowly remove yourself from the business, living the entrepreneurial dream.
That is very possible.
But probably not with a website.
Why?
One of the things that online business owners have issues to convert visitors into buyers. You might have a website now for your business. But it's not converting well. You get some visitors through paid or organic ads, but not many sales.
The website is not structured to systematically turn visitors into leads and leads into customers. Hence, getting more traffic will not solve the problem and get the desired result.
That's why a website is not good enough to fight in the highly competitive online market. It's not going to get the result you want. Not even close to it.
Instead, you need a sales funnel.
What are sales funnels? And, how is it different from a website?
A website works like a digital brochure to show your company background, product catalogues, blogs, and content sharing. And, a sales funnel is a process that you experience like you are greeted and guided by an excellent salesperson. But now, it's virtual instead of a real salesperson.
A sales funnel is designed to guide the visitors to follow your sales process step by step and guide them to do what you want them to. Each step in the sales funnel is built to direct visitors toward one specific goal. To buy your product or service. And, it is designed to have a specific goal on each and every page.
A sales funnel is a series of pages that guide people toward taking an action down your sales process.
Depending on the action taken, different routes like upsell and downsell will come in place to make sure we tried our best to convert them.
There are a few different goals for a sales funnel page – opt-in to a lead magnet, purchase a product, sign up for a webinar, etc. Either action you want them to take, make sure it's one action a step.
Don't complicate the page and the decision-making process. It's best to only let the customer make simple decisions like "Yes" or "No".
Tripwire Funnel
Here's a simple Tripwire Funnel that we use to convert cold traffic into paying customers.
There are also different templates available in the sales funnel builder to help you get started. No matter what business you are in, there's a sales funnel for that.
And you can get access to all of our sales funnel templates and our sales funnel software for free for 14 days by clicking here.
We highly recommend building a sales funnel and driving traffic to it. A website is useful after someone leaves your sales funnel and wanted to know more about your company or wants to buy more from you.
Now, let's dive into the traffic-driving tactics you need to know.
Get Traffic Secrets Now For Free!
1. Search Engine Optimization (SEO)
Search Engine Optimization is the strategy implemented to rank your website in the search engines for specific keywords. You will first define the keyword in your niche market where people are searching.
For example, when we create content about the sales funnel builder, we would want to rank for keywords like "sales funnel", "sales funnel builder" and "sales funnel templates" because that's what our target market is searching for.
But, these keywords may be very hard to rank as everyone knows this and is fighting to rank on these keywords.
Hence, we should also target adjacent keywords like "conversion rate optimization" and "landing page builder".
Also, have a look at the long tail keywords. Keywords that have some searches but are not competitive. And, people who search on these keywords have a huge tendency to make a purchase.
The more content you create and the better that content is, the more rankings you're going to claim and the more traffic you're going to drive.
While SEO might take some time to rank for a keyword, once you claim a spot, you will be there for quite a while. Until someone outrank you or the new SEO algorithms change that outrank you with another post.
But… how do you do it?
Here's a quick oversimplified guide :
Understand your market and target customers
The words and terms used in the market.
Top-ranking keyword and long-tail keyword in your niche market.
Content creation around the keyword that is optimized to rank for it.
Publish and promote your content.
SEO is not simple, you need to really know what you are doing and how to rank the page. There is a lot of work involved. But it's worth it because once you get ranked, you will be there and start driving traffic to your page.
It's a long-term game and takes time to rank.
2. Social Media Ads
As social media is created to make money, there is literally no way to get huge organic reach on social media. A social media platform is also an advertising platform, hence the goal is to let you buy more ads to show your content to more audiences.
Hence, just by posting, it is almost impossible for business accounts to reach their target market in any meaningful numbers. The best you can do is to join a relevant group and post inside.
Fortunately, the cost of advertising on social media is relatively low.
You can still get started with a very small budget and scale up when you get the winning ads. And, you drive more traffic and sales.
Social media ads are one of the fastest and most effective ways to increase your website traffic. As soon as your ad is approved and you start paying them, the ad will start running.
You need a clear action item and a goal for running the ads.
Who is your target audience
What you want them to do
Cold traffic or warm traffic
Lookalike audience or retargeting audience
How To Optimize Your Sales Funnel
Different action items will require different sales funnels to make the most money out of them. Here are some tips to build successful social media advertisements…
Test, test, test. – A/B split testing is the key to finding the winning ads. To get the right ad copy, images, and offers that work best for your target market.
Regularly update your ads. – A winning ad may not always be winning. You need to check your Key metrics and see if the ad is still making money. A well-performing ad may not be performing due to the market trend or competitor's action.
Retargeting. – In eCommerce, we call this abandoned cart recovery. And in ads, you show ads to people who have already visited your website or taken some kind of action but had not converted. You show them the ads and persuade them to complete the transaction to be a lead or paying customer.
3. Google Ads
Google Ads is another way to increase your website traffic with paid traffic. It is very powerful as you can run ads on all the websites participating. You can run ads on Google's search engine results pages (SERPs) and on websites that are part of the Google Display Network.
The biggest advantage of Google Ads is that you can laser-target your audience. You can show your ads to people who are searching for exactly what you offer or who have visited similar websites in the past.
Then, you can also use the power of money to outrank SEO-ranked websites as the Google SERPs will always show on the top of the search result.
You can set a very specific budget and only pay when someone clicks on your ad. This is called "pay-per-click" (PPC) advertising.
Google Ads is a very effective way to direct traffic to your landing page and enter your sales funnel.
Here's what you need to do to get started.
Keyword research. – You need to know what people are searching for in your niche and target the keywords.
Create multiple campaigns – This will enable faster ad performance analysis and track the results of every ad set.
Negative keywords. – These are keywords that you don't want your ad to show up. This will help to show your ads more accurately.
Set a budget and bid strategically. – You want to make money with Google Ads. Don't overspend or underbid on the keywords to miss out on the opportunity to get the right traffic.
Monitor your results. – Google Ads provides a lot of data that you can use to improve your campaigns. Know your numbers to get success.
Google Ads is a bit more complex than social media ads but can be just as effective.
4. Google Business Profile
Another low-hanging fruit will be creating your Google Business Profile if you are a physical business or serving the local community.
Even if you are purely online, creating one is not harmful as it is a free listing that shows up when people search for your business on Google.
It includes your business name, address, phone number, website, directions, hours, reviews, and more. Both on the search engine and Google Maps.
When someone searches for a related service or product such as "Coffee near me", Google will prioritize the Google Business Profile listings in the search results.
This means you can get more traffic for free.
To create your Google Business Profile, go to google.com/business.
Get Traffic Secrets Now For Free!
5. Native Ads
With a newsletter or podcast sponsorship, you're paying to have your ad included in someone else's email newsletter or podcast. You are still buying ads but in a different form.
This is a great way as the newsletter or podcast owner had already an audience group full of people with similar interests within your target market. All you have to do is to pay to tap into their traffic source.
For example, if you sell keto diet products, you might want to sponsor a health and fitness-related newsletter or podcast.
There are different things to look into when you are buying native ads. And, the quality of the traffic, of course, does affect the price of the service as well.
Here's something to look out for :
An authentic seller with a proven track record
Large audience group and ready buyer
The service provider does not oversell his list
Best schedule to send out your ad or the podcast series.
CTA or call to action so people know what to do next.
6. Guest Blogging
Guest blogging is writing an article and posting it on another's website or blog. A very famous site will be medium.com where you can post your article on the platform. Then, leverage the platform's traffic to build your reputation and direct traffic to your site.
It's a great way to get exposure for your business and to build relationships with other businesses in your industry by providing value to the business owner. And at the same time, tap into their traffic.
In your article, what you should always do is include links that bring the audience to your site. Or, having an author bio that tells them who you are and what you are doing.
This can be a good industry collaboration where you can build relationships with other experts in your industries. And then, work together to provide more value to each other's business.
Here are some tips for guest blogging…
Make sure the content is high-quality. This is the impression you give to the blog owner and the audience. So, make sure you give your best effort for long-term partnership and traffic.
Provide lots of value in your articles. The more information you packed inside the article, the more someone will read it and would like to go to your page to learn more about it.
Include a call-to-action (CTA) in your article. This is how you link the audience back to your website.
Lead magnet. You can offer some free items for them to be sent to your landing page to convert them to become a lead in your list.
7. Influencer Marketing
One of the ways a business is able to grow fast is through influencer marketing. Influencer marketing is how you leverage others' fame in your niche to promote your business.
It is worth creating an influencer within your business but it takes time if you start from scratch. And you would need viral content to get there.
So instead, partner with some of the biggest names in your niche and work with them. You can at the same time tap into their traffic and use their fame to build a reputation for you.
Look for the top influencers in your niche and reach out to them. And then, tell them what you are doing and the value you can provide to them for partnering with you.
This can be a great way to get more website traffic and build relationships with other businesses in your industry.
You may learn more about the Dream 100 process in the Traffic Secrets book. In the book, it will show you different evergreen and proven traffic strategies.
8. Affiliate Marketing
This is a program to offer commissions for someone to promote and sell your product.
Affiliate marketing is a program where the affiliate marketers will promote your product and if someone bought the product/service from your link, you will get paid commissions.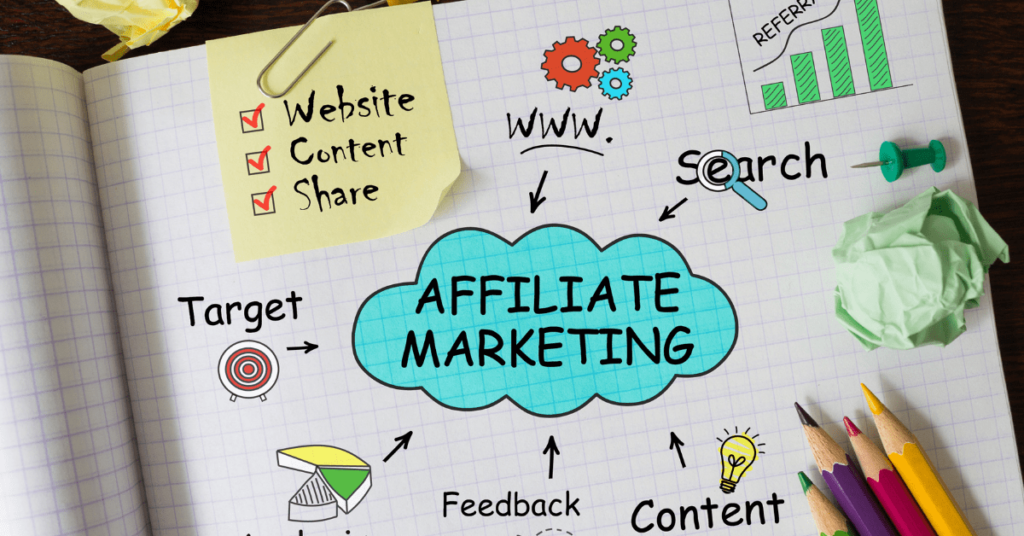 That's what affiliate marketing is all about.
Depending on whether are you selling a physical or digital product, the commission rate is different. Typically, digital products will have a higher percentage of commissions compared to physical products as the cost or effort to reproduce another digital product is lower than a physical product.
A physical product will be having a commission rate between 1-10% depending on the product categories. A digital product, on the other hand, can go from a 30-100% commission rate in some cases.
Why people will offer up to a 100% commission rate? The business owner does not earn any money.
The reason is simple, this type of product is usually a low-ticket item that business owners use as a lead magnet to bring in traffic. These types of products are good to cover the lead generation cost while the bigger offer will come in later.
This can be a great way to get more website traffic and increase sales.
9. Giveaways
Free stuff always work. No one will say no to free stuff unless the offer seems too good to be true.
And, that's why giveaways are very important to increase website traffic and grow your email list.
To do a giveaway, you should first have a group of audience to share the offer to. Then, in exchange for participating in the giveaway, they need to provide you with their contact information. Usually their name and email address. Ask nothing more from that, or else it may look scammy.
You can give away products, services, discount codes, vouchers, or anything else you can think of. The bigger the prize, the more likely people will be to enter your giveaway.
Alternatively, you can also have free + shipping giveaways. You can offer them something for absolutely free, and they will only need to cover the shipping cost. By doing this, the shipping cost will actually cover the product cost as well. But most don't realize it as the power of the word "FREE" covers it.
Just make sure that your giveaway is targeted at the right audience group. Else you will only end up with a big email list that does not convert well.
10. Review Posts
This is a very important thing that marketers do. Imagine if you are looking to buy a product or service, the first thing you will do is research the product and review it on the search engine.
If you want to get more website traffic, it's important that your site comes on the first page if not the first results when they search for it online. There is no point to be on the second or the third page as most people will only stop on the first page.
So, it is very important that you build a skyscraper post that consists of all the elements to rank high and outrank your competitor. Only with this, you will be more like to get more website visitors.
11. Funnel Hacking
Learn from your successful competitor and decode their success. Results don't lie and modeling the successful model is easier than reinventing the wheel.
I don't mean to copy what they are doing. But instead, learn and model what they are doing. Create your own copy from that.
We call this process funnel hack. If the strategies work for them, then it will most likely work for you as well.
If your competitors are focusing on paid ads. What kind of ads they are doing? Which platform and what copy are they using? What is the language that your customers speak?
All these can be something you want to look at and learn from your competitors.
Final Thoughts
There is plenty of traffics available out there. And getting traffic is not hard. The process can be simple. You can have tonnes of traffic flowing into your site once you start paying for the ads platform. But without the right, you are just throwing your money away.
You should understand the importance of having the right strategy and understand the power of focus. Pick on strategy and focus on getting it to work, then expand to another traffic source. When you try to learn and implement too many strategies at the same time, you will not be an expert in either one.
So, what you need to do now is to pick one method that you think will work for you. And then, keep implementing it. The more you practice, the better you'll get.