Online marketing can be a great way to grow your business. The customer acquisition cost for online marketing is much lower compared to other marketing methods.
However, without a good strategy or implementation plan, it's easy to burn all your marketing funds on it too.
That's why it's so important to be strategic about it to save both your time and money.
After working on online marketing for years, here are the five best online marketing strategies for small businesses that we found…
Build a Value Ladder Sales Funnel First!
There are 2 important things to online marketing. Irresistible offers and good traffic.
Getting good traffic is just the starting point, but convert them into leads and then customers. And finally, repeat customers are what we want.
As for the irresistible offer, we believed that the best way to increase the conversion rate and the cart value will be through a value ladder sales funnel.
This sales funnel has four stages:
Bait. Your lead magnet offers your potential customer in exchange for their email address.
Frontend. Your first least expensive and least valuable offer to the potential customer.
Middle. High price point product/service than the front end offer for your customer.
Backend. Your most expensive and most valuable product/service.
Continuity program. Subscription products that provide recurring revenue.
A continuity program is sometimes optional in some sales funnel. Ideally, you should design a continuity program in your business, which it will generate recurring income for your business. A typical type of product will be a subscription-based product.
This sales funnel is designed to work as below :
Start the relationship with that person by offering free value.
Nurture that relationship by continuing to provide free value via email.
Build trust by providing progressively more paid value at each stage.
If you don't have any products or value ladder now, sit down and think of your business. And then design your value ladder.
An example of a value ladder sales funnel for dentists will be :
Bait: free dental scaling
Frontend: Whitening
Middle end: Retainer
Back end: Cosmetic
Subscription : 3-6 months follow-up check-up
Strategy #1: Paid Advertising
Paid advertising is the most straightforward and fastest way to drive traffic to your sales funnel. Why?
Paid traffic is instant, predictable, and scalable. As soon as you start paying the ad platform, they will direct traffic to your ads immediately. That makes this strategy ideal for getting your business off the ground.
All major social media platforms allow you to run ads on them:
Facebook.
Instagram.
YouTube.
TikTok.
Twitter.
LinkedIn.
Pinterest.
Although most social media platforms allow running ads on them, not all are the same. You should first know where your audience congregates before picking the platform to advertise.
After you had identified the platform, now it's time to set up an ad campaign and start running it with a small daily budget.
The nice thing about social media advertising is you don't need to start with a big budget. You can have multiple ad sets with a small budget each to test which converts best.
And only scaling the winning ads.
The key for paid advertising is to get more data to analyze which combinations work. This is why paid advertising is also great for optimizing your sales funnel.
The more data you have, the better you can optimize your ads and sales funnel to improve your conversion rates.
Conversion rate optimization can help you 2x, 5x, or even 10x your sales funnel profits!
Keep in mind that paid advertising is a skill, which means that you need to be prepared for a learning curve.
Your goal shall be to lower the CPA per customer and increase the cart value.
You likely won't get it right immediately, especially if you have never run ads before.
But, just like with any other skill, if you don't give up and continue learning, you will get better at it over time.
Strategy #2: Influencer Marketing
Influencer marketing is growing in popularity – the industry is set to reach $22 billion this year.
Just like paid advertising, influencer marketing is another way to generate instant traffic, which makes it an appealing option to businesses that are just starting out.
You can start by paying for an influencer to share your product or service in their post as a sponsored post. Or even building your own brand as an influencer, which may take some time to get the thing moving.
Instagram is the most popular platform – it's used by nearly 80% of brands that engage in influencer marketing.
However, influencer marketing is by no means limited to Instagram – brands are collaborating with influencers on all major social media platforms.
This means that if you are selling something that you can afford to give away for free, then influencer marketing might be especially well-suited for your business.
Typically, the smaller the influencer, the more likely they are to accept free products as payment, so you can start by reaching out to micro-influencers (<10k followers).
Negotiate a single shoutout promoting your lead magnet in exchange for a free product, devise a way to track the results (e.g. a custom link, a coupon code), and then see what happens.
Once you identify influencers who can generate sales, start investing more in those partnerships.
It might make sense to start actually paying them. That can help you build long-term relationships with rising social media stars.
Strategy #3: Social Media Marketing
Other than leveraging others' influence, you can also build your own social media following.
While the best platform depends on who and where your target audience is, the same general principles of growing an audience apply everywhere:
Create a content schedule and posting plan. You can't just post on social media whenever you feel like it and expect to see consistent growth. Different platforms will have different posting times to get the highest engagement rate. Also, you should have a clear schedule that you can stick to in the long run and then commit to it. Consistency is the key.
Keep up the content quality. It's not just about consistency, it's also about quality. You want to make sure that each and every post provides value to your dream customers. You should always give, give and give tonnes of value before expecting a sale.
Interact with your followers. Engagement is the most important social media metric, so you should do everything you can to increase it. When you are just starting out, make sure to reply to every comment, as that incentivizes people to continue commenting. Of course, you won't be able to keep that up forever, but you should do it for as long as possible. But you should at least know how the platform works in interaction. For example, YouTube will rank you higher if you reply to the first hour of comments after a video is posted.
Social media is a long game, so be prepared to invest at least 12-18 months of consistent work into building an audience.
Strategy #4: YouTube/Video Marketing
Video is getting more popular in recent years with YouTube and TikTok coming up.
This means that no matter who your dream customers are, they are probably watching videos. And harnessing YouTube's algorithm can help you reach them!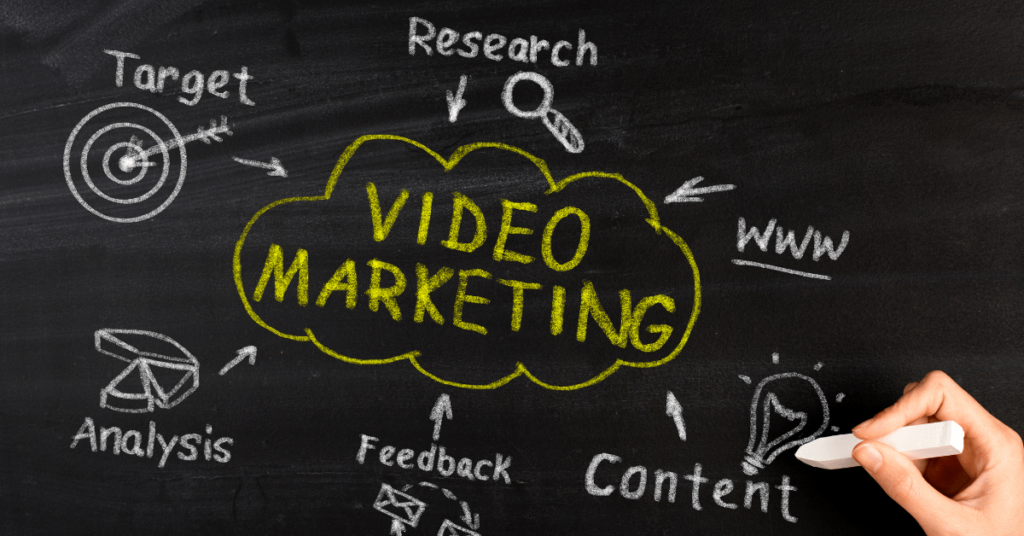 Here's a quick summary of what you need to do in order to grow a YouTube channel:
Create an upload schedule and stick to it. Two videos per week is a good place to start. Mention the schedule on your channel banner so that people would know that they can expect regular content from you (e.g. "New videos every Friday!").
Get a professional microphone. YouTube users can forgive low production value and poor video quality, but they won't put up with bad audio. Your microphone is the most important piece of equipment that you need to invest in.
Target popular keywords in your niche. You can find them by typing in a relevant generic term into the YouTube search, and then looking at the search suggestions. These search suggestions are related keywords that people are searching for.
Forget about the background. Instead of getting a nice background or going outdoors, you can just record the video in a corner of your house or even use a green screen. People don't care about the background that much. They care about the value you bring to the videos.
Do competitive research. Once you have chosen a target keyword, watch the videos that are currently ranking for that keyword and read through the comments. How can you make sure that your video is better than all other videos on the same topic?
Free Giveaway. Encourage discussion in the comment section and reply to each and every comment that you get.
A YouTube channel is a long-term asset that you build. A social media post will disappear in a day or two. But a YouTube video will get your views and traffic for years.
Don't chase popularity for its own sake. You are here on YouTube to make money. It's better to have 10,000 subscribers that are your dream customers than 100,000 subscribers that are just random people who find your videos entertaining but will never buy anything from you.
Strategy #5: Search Engine Optimization (SEO)
Finally, the organic search method. Search engine optimization is commonly known as SEO.
It's the most difficult long-term traffic generation strategy because Google only has ten spots on its first page of search results.
And the hard truth is if you are not on the front page, or even the top three spots, you are not going to get any views. That's the truth.
And, even if you are there, you will need to maintain the spot.
All that being said, it's still possible to build a popular blog, you just have to be serious and committed about it.
SEO is very simple :
Create SEO content.
Build backlinks to that SEO content.
It's probably safe to say that most people who attempt to build a blog struggle with the second step more.
While writing great blog posts isn't easy, you can still control and optimize them. But for link building, where you need to do cold outreach and deal with endless rejections. It's not that simple.
So if you decide to use this online marketing strategy, make sure you that are super aggressive when it comes to link building.
So, How To Start Online Marketing by Building And Launching Your First Sales Funnel?
Starting anything from scratch is hard. This is why I would like to share with you a free 5-Day Challenge where Russell walks you through it step-by-step.
In this challenge, you will learn how to:
Generate unlimited leads.
Create your first lead magnet.
Build your first sales funnel.
Create a simple 6-email follow-up sequence.
And launch your funnel!
…in just five days.
So don't hesitate and join us now.